Lifestyle
12 fresh and flavorful cocktail recipes for every spring season
ICYMI, spring has blossomed! And what better way to enjoy warm weather than to enjoy its variety of fruits? In this case, I'm talking about actual fruits – but maybe not in the way you think. They don't come in the form of juices or salads, nor are they topping with your favorite bowl of yogurt or oatmeal. Instead, today's spring celebration is brought to you with cocktails. More specifically, some of the best spring cocktail recipes around.
For me and I imagine that's true for many others, this season is about getting people closer together and enjoying more time outside. Like a warm-up to summer parties, if you will. So whether your spring plans include having a backyard soirée, taking in a great beach or mountainside vacation, or just enjoying some respite at home, you deserves to be celebrated. Read on for our collection of the best spring cocktail recipes. It's time to sip!
Featured image of Kristen Kilpatrick.
Vodka cocktail recipe
Watermelon Vodka Cocktail
Why we love it: I don't know about you, but as soon as there were watermelons to buy, they were in my kitchen. In the case of this cocktail, watermelon combines with vodka, agave and lemon to create a fruity drink perfect for warmer weather. The sweetness of melon and agave is balanced by its lemon flavor, so lovers of their sweet and opposite drinks can enjoy a sip of this fruit.
Hero composition: Have you ever squeezed lemon juice and sprinkled some salt on top of a slice of watermelon? That's the taste of this cocktail. Pure satisfaction.
Get the Watermelon Vodka Cocktail Recipe.
Grapefruit dill cocktail
Why we love it: Talk about fresh! This cocktail includes celery, fennel and grapefruit juices to bring all sorts of flavors to life. Don't be scared by celery. It is the color of the vegetables that makes this cocktail so great.
Hero composition: The bitterness of oranges round out this drink with all the notes of citrus.
Get the Dill Grapefruit Cocktail Recipe.
Sangria Ginger Cucumber
Why we love it: This sangria is perfect for spring gatherings. It's simple enough to do on the fly, yet sophisticated enough for any guest. And you have to prepare it the day before, so you can focus on enjoying your gathering.
Hero composition: Ginger helps balance things out with a little heat.
Get the recipe for Cucumber Ginger Sangria.
Fresh Grapefruit Greyhound
Why we love it: Grapefruit cocktails always bring a refreshing feeling, and this bar is no exception. It's super simple with just three ingredients, so you can make it in no time for any occasion.
Hero composition: With only vodka, club soft drinks and grapefruit juice to choose from, I would go with grapefruit juice. It turns vodka soda into a spring wine.
Get the recipe for the Fresh Grapefruit Greyhound.
Tequila cocktail recipe
St. Germain Margarita from Well Plated
Why we love it: This cocktail is delicious and perfect for springtime. Notes of elderflower bring fun over a classic wine and a really great floral element to the party. You'll want to keep this recipe in your back pocket, trust me.
Hero composition: If you're willing to go against the script, a little Topo will make this cocktail more refreshing.
Get the recipe for St. Germain Margarita.
Clayton's Margarita from The Defined Dish
Why we love it: While I prefer a classic frozen margarine, this is the best home iced margarita I've ever tasted. It's simple, light, and gives the tequila some breathing space. Plus, that soft top feels a bit taller.
Hero composition: The egg whites give it a foamy top that's delightful to sip.
Get the recipe for Clayton's Margarita.
Tequila Mule from the crowded kitchen
Why we love it: The Mexican mule is one of my favorite cocktails. It's on the sweeter side, but the spice from a good ginger ale balances things out. Mix that with a splash of lime juice and you've got a delicious cocktail to drink from those iconic copper cups.
Hero composition: Smash the mint leaves before sprinkling them into the cup to enhance the aroma.
Get the recipe for Tequila Mule.
Desert bird cocktail from Sips From Scripts
Why we love it: Desert Bird hails from San Antonio, and is essentially a riff of the Jungle Bird cocktail. It combines tequila, mezcal and Campari to create a sweet, smoky and earthy masterpiece you'll want to sip all spring.
Hero composition: Simple syrup pineapple gum sounds complicated, but it makes this drink.
Get the recipe for the Desert Bird Cocktail.
Recipe for making rum
Seagull
Why we love it: Another feathered fancy bird, the seabird is essentially an adaptation of the tiki drink. It's light, fruity, and definitely tropical — a staple for rum drinks in my book.
Hero composition: Garnish with plenty of pineapple for a rum-soaked morsel at the bottom of your glass.
Get the recipe for The Sea Bird.
Frozen Brunch from Half Baked Harvest
Why we love it: What's a brunch without a delicious frozen drink? If you ask me, that's a sin. Avoid going against nature by trying this frozen brunch treat. It's filled with frozen pineapple, orange juice, ginger, lemonade, and more to complement Campari and white rum. Holiday in a glass.
Hero composition: The ginger here is subtle but still keeps this cocktail from being too sweet.
Get the recipe for Frozen Brunch Punch.
Recipe for making wine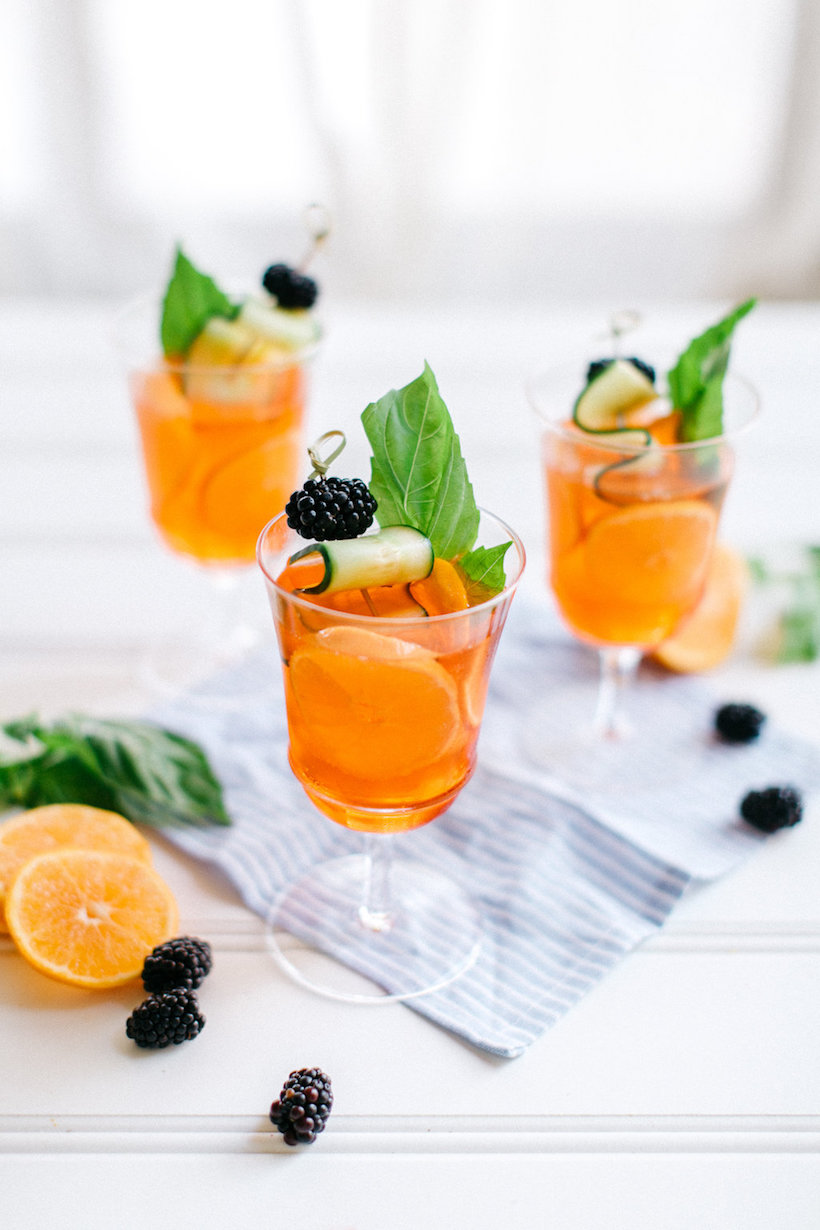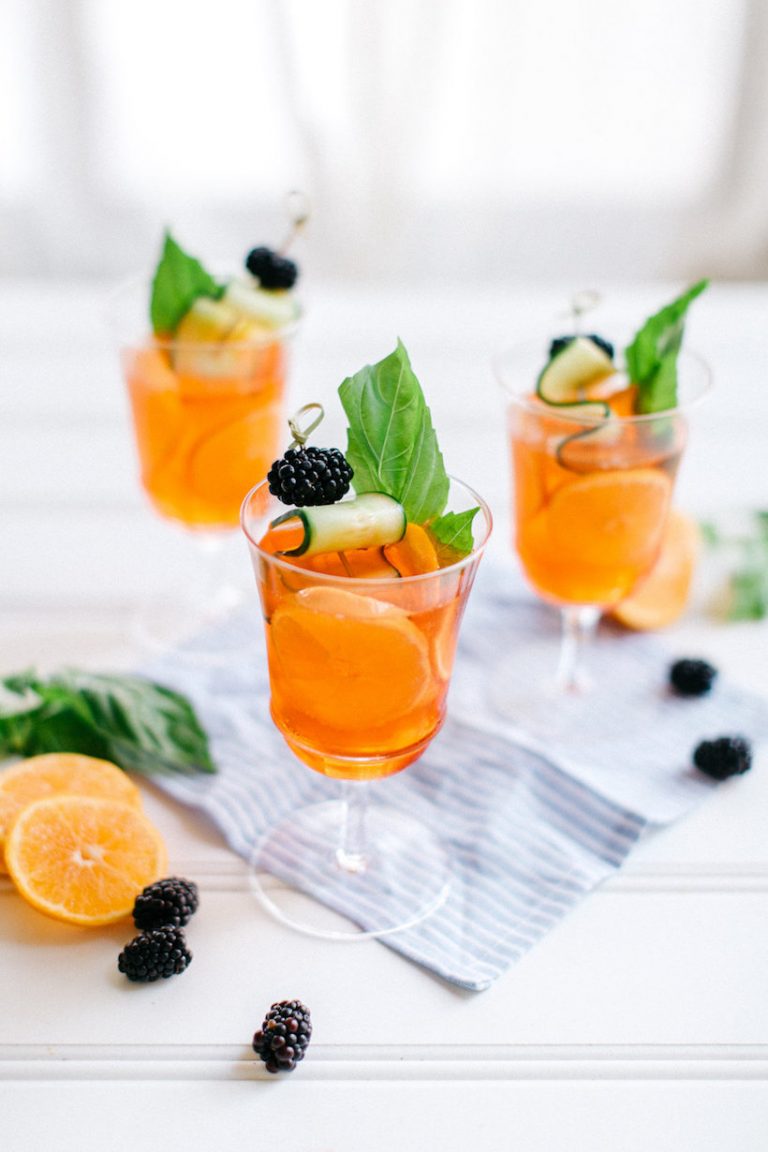 Ginger-Citrus Aperol Spritz
Why we love it: This ginger-citrus aperol spritz stirs up classic warm weather drinks for more complex flavors. It uses clementines, blueberries, cucumbers and basil to enhance the traditional recipe. Be sure to try this the next time you have a craving. You will not regret it.
Hero composition: Like I said for mint, smack that basil leaf vigorously to maximize its flavor and aroma.
Get the recipe for Ginger-Citrus Aperol Spritz.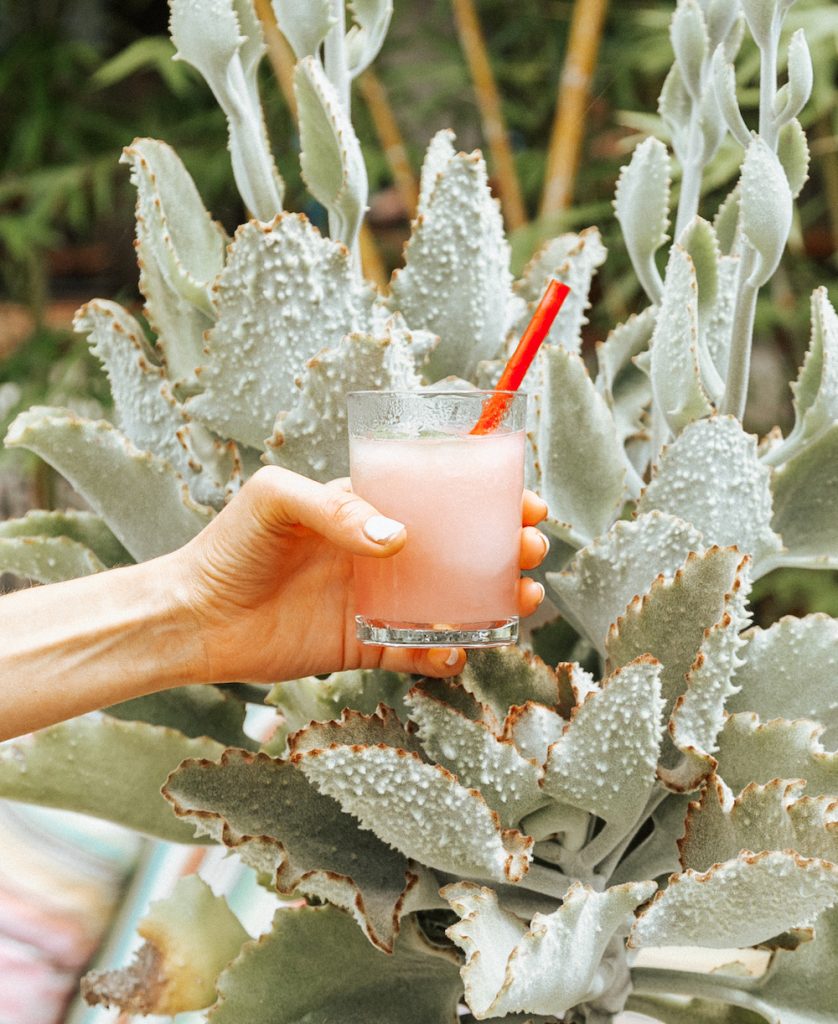 Homemade Frosé
Why we love it: Another brunch staple, frosé is best consumed at a table full of friends. Make it happen with this super simple recipe. All you have to do is pour some roses into the cake pan, let sit overnight, and mix the rest together in a pinch. This would be the perfect dish for a Mother's Day brunch. (Suggest.)
Hero composition: Strawberry syrup makes this dish. It's sweet, delicious, and everything I want in a frozen drink.
Get the recipe for DIY Frosé.
What's your favorite spring cocktail recipe? Share it with us below!
<! - Composite Start ->
<! - Kết thúc tổng hợp ->