News
47 lakh hit by flood in Assam, toll rises to 81 | India News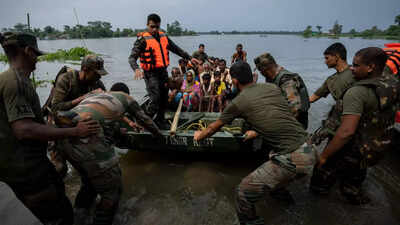 Indian army personnel rescue villagers affected by floods on a boat in the village of Tarabari, west of Gauhati, in Assam, on Monday. (AP photo)
GUWAHAT / SILCHAR: A police officer and a policeman on a mission to rescue people with their necks wrapped around their necks in the heart of Nagaon of Assam were swept away by the raging currents of Kopili Sông River on Sunday, the death toll is ongoing flood wave to 10 in 24 hours and 81 overall.
The casualties heralded yet another day of suffering as the terror of the flood split into two islands of despair – Brahmaputra Valley on one side and on the other is the Barak Valley – with the total affected population having increased by 5 lakh overnight in excess of 47 lakhs. More than 230,000 were sheltered in 810 temporary relief camps. In-charge officer Sammujal Kakoti of Kampur police station in Nagaon and officer Rajiv Bordoloi were among four policemen arrested during the high tide while responding to SOS from residents trapped in the flooded area. Disaster responders rescued two policemen, but were unable to save Kakoti and his colleague.
Seven others were reported missing on Monday amid a more severe weather warning from the IMD. Heavy to extreme rainfall has been forecast for the northeast areas for the next 48 hours before the intensity is likely to subside. Kaziranga . National Park report four death of wild animals.
Interior Minister Amit Shah called Assam CM Himanta Biswa Sarma twice a day for updates. He said a center team will soon visit the state to assess the damage. The state government requisitioned an IAF plane to transport fuel and bags to the Barak Valley, cut off from the rest of the state by floods and landslides. "Except Karbi Anglong, all other 34 districts are currently affected by floods and landslides. Surface communication between the Brahmaputra Valley and the Barak Valley has been completely cut off," said Sarma.
FOLLOW US ON SOCIAL MEDIA
FacebookTwitterInstagramKOOKS APPYOUTUBE
<! - Composite Start ->
<! - Kết thúc tổng hợp ->