Lifestyle
A vegan flatbread recipe is the no-cook lunch of our summer dreams
Non-recipe recipes have been coming to me for the past few weeks. I've relied on pizza, pasta, sandwiches, and salads (and really anything that can benefit from a variety of toppings) to use up the leftovers in my fridge—and that's correct. is how this vegan flatbread recipe came about. Lazy summer days mean that my grocery shopping is mostly impulsive purchases based on whatever products are in season that are screaming my name ("add me to cart!"). At the end of the week, my fridge is a concoction of bits, bob, and ingredients left behind without a specific recipe.
But a few weeks ago, what I usually consider the burden of preparing for compost became the inspiration for this vegan flatbread recipe. In an effort to use up what I have in my fridge, I've created what could be one of my new-to-work meals until Labor Day.
Now let me tell you, this vegan flatbread recipe has it all. * Insert SNL's Stefon accent here * From dreamy creamy hummus to fresh summer veggies to delicious naan – prepare yourself for a plant-based main dish, fresh and full of flavor.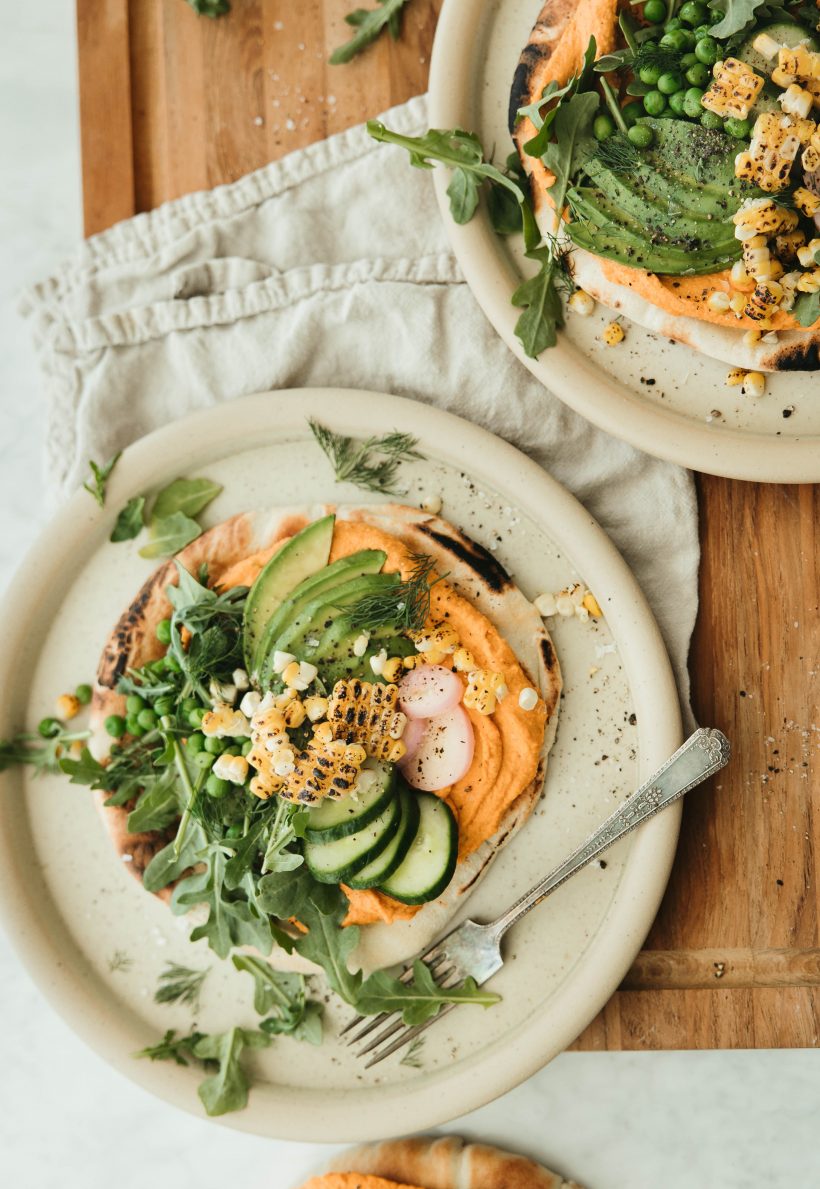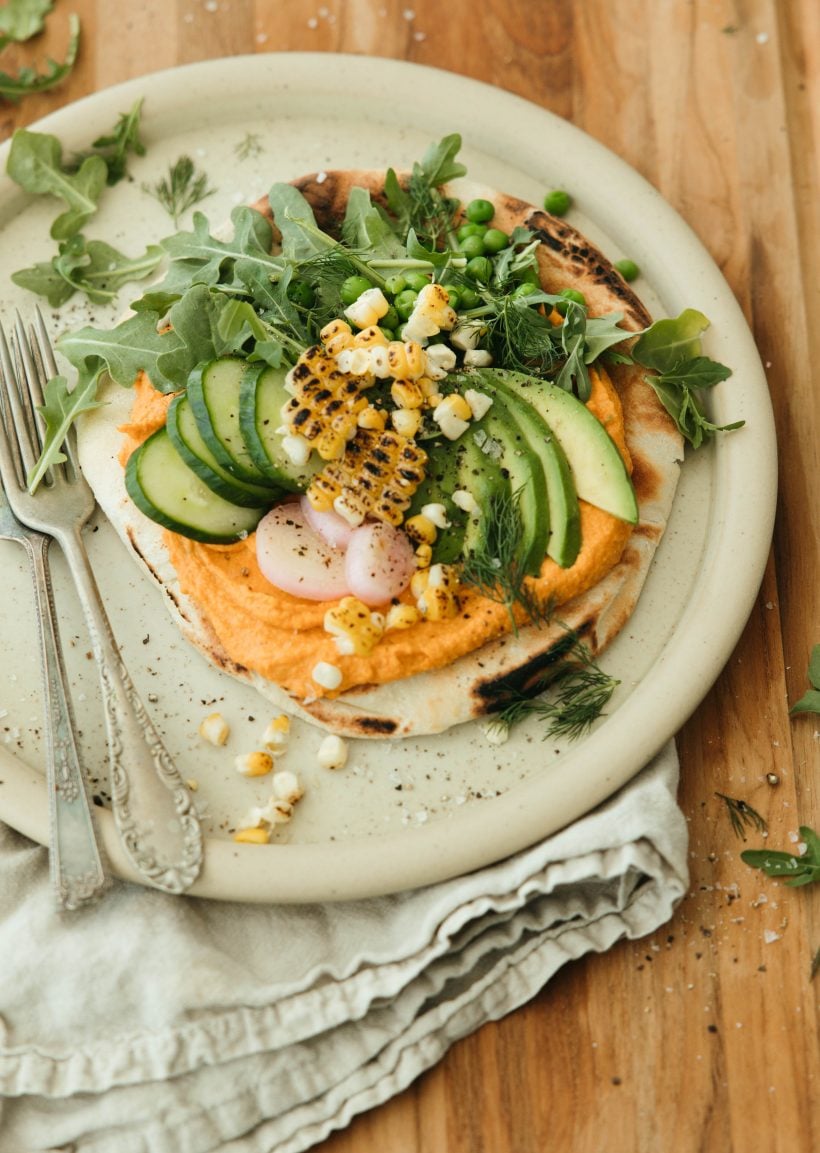 How to make the most delicious hummus
The real star of this vegan flatbread is the hummus that holds everything together and adds so much flavor that you'll want to eat it right away with a spoon. For years, I've been making roasted carrot hummus with such frequency that I don't even follow a recipe. This vegan flatbread recipe uses a slight variation of that hummus.
In addition to roasted carrots with paprika, cumin, and coriander, I also roasted garlic heads and red bell peppers on the same tray. Roasting these ingredients concentrates and caramelizes the flavors of the vegetables and, when added to hummus, makes the end result sweet, smoky and totally addictive.
I make hummus at the beginning of the week, simply mixing all the ingredients together and storing them in an airtight container to eat all week.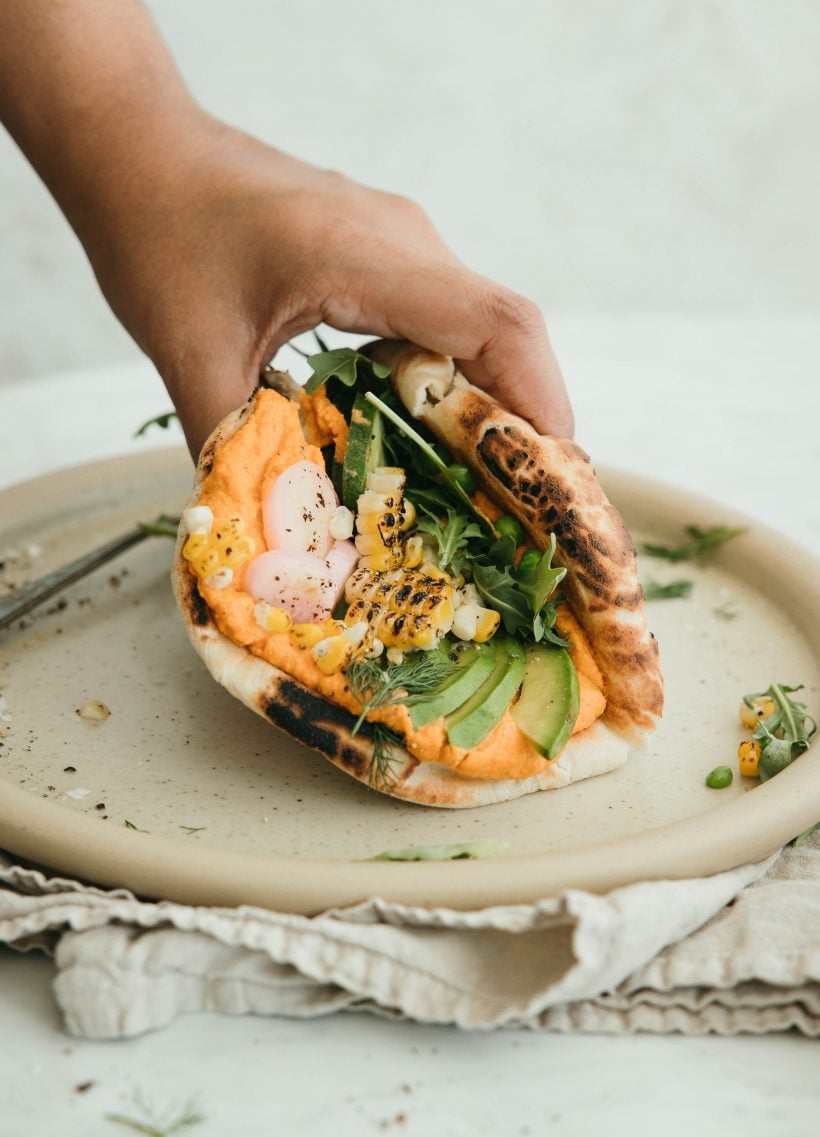 What toppings can I add to this vegan flatbread recipe?
The world at your fingertips. But just as you're building a delicious bowl of cereal, a simple recipe will help guide your flatbread combinations.
A bread of your choice. For this recipe, love a thicker, chewier bread like naan or pita. You can also use tortillas, roti, or even a slice of focaccia.
Dipping cream. While I love this smoky and sweet carrot and red chili hummus, you can also use green or plain green hummus as a base. If you don't like hummus, take inspiration from Camille's flatbread recipe and use a cream cheese like ricotta.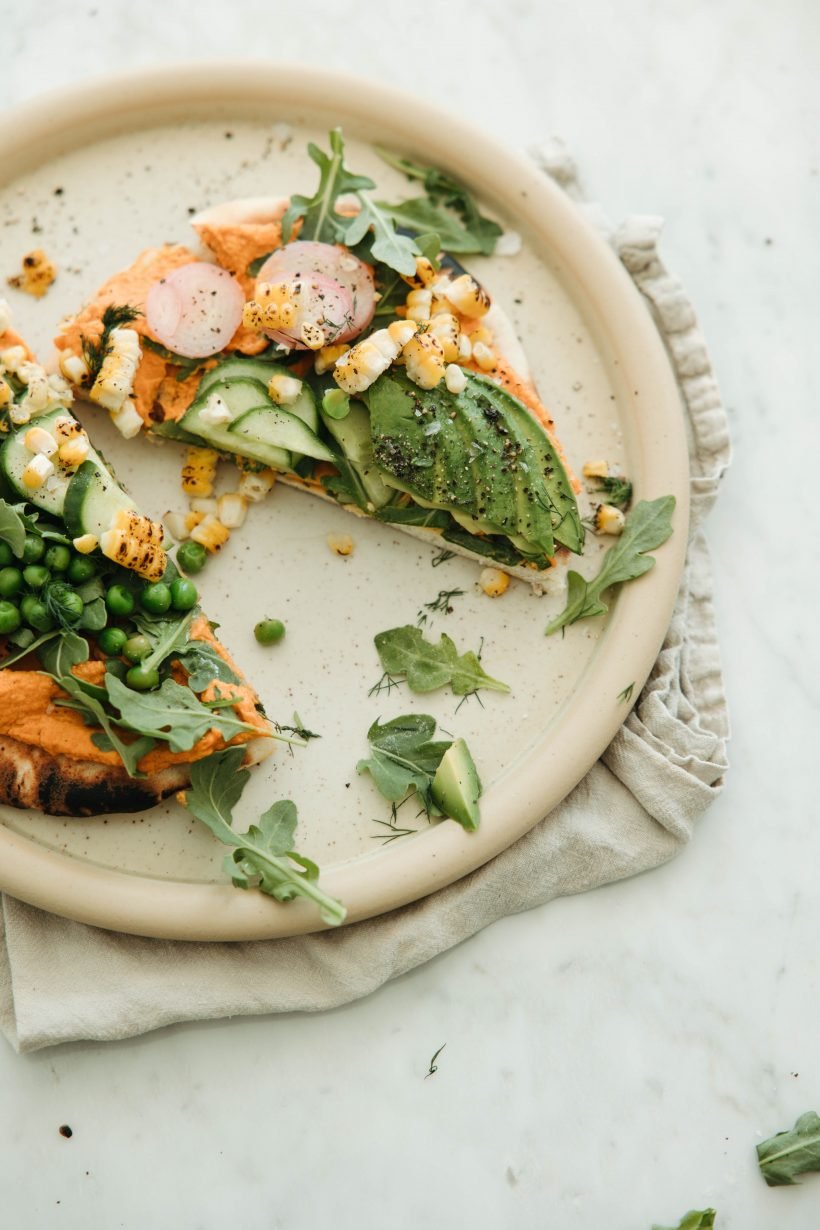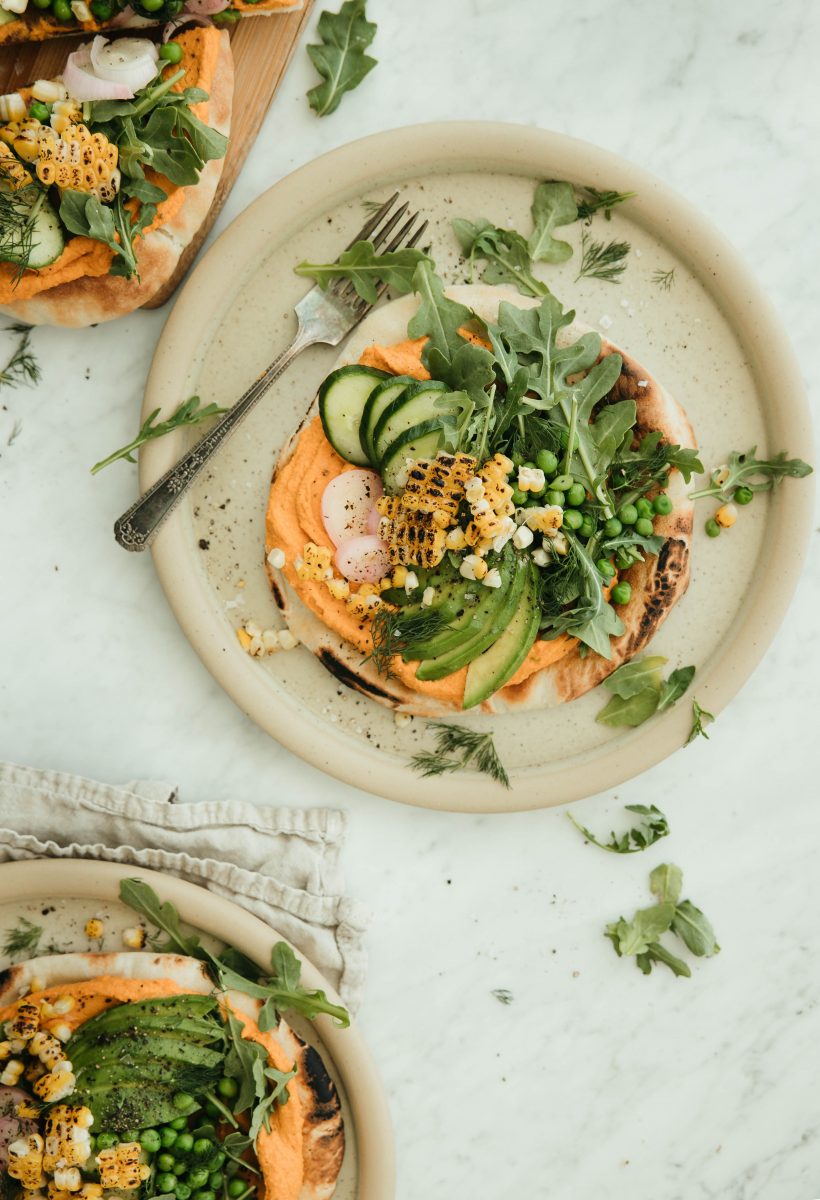 Vegetables A. Crispy, bright and fresh. Think cucumbers, peas, greens, radishes, etc.
VEGETABLES. Roast and burn. While optional, adding an extra vegetable to the smoky flavor of the dip only adds to the flavor. I use summer corn baked on the gas stove, but you can also roast more green or red peppers in the oven, or even eggplant or sweet potatoes.
Vegetables. Sour pickle. Quickly pickle some shallots or your other favorite vegetables for something luscious that will tie everything together.
A selected protein. I used avocado to keep this vegan dish, but frying an egg on top would also be delicious.
Don't forget the fresh herbs! Basil, mint, dill — whatever you have on hand is great and adds flavor.
The options are truly endless. Use up what you have in the fridge!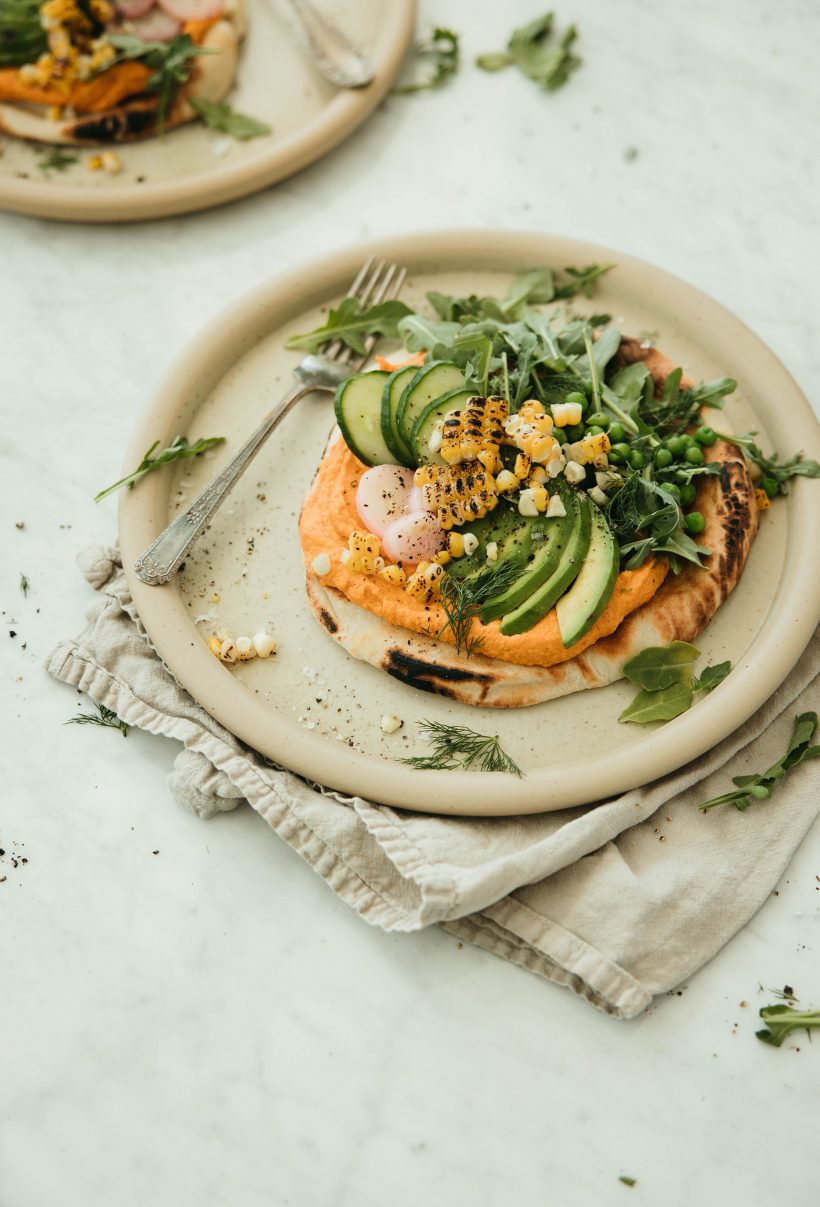 Can I make these flatbreads ahead of time?
These flatbreads will hold up a bit. I made one for lunch a few weeks back and got caught up in a call to work and forgot it was waiting for me on the kitchen counter for an hour or so. To keep things fresh and all the textures as they are, you can prepare ingredients separately as part of any weekly meal prep regimen and assemble them before eat.
Try your hand at any (or all!) of these flavor combinations. And we can't wait to know: what's your favorite flatbread topping pair?
<! - Composite Start ->
<! - Kết thúc tổng hợp ->