News
Africa drought: Some children just 'one disease away from catastrophe' UNICEF warns |
Children in the Sahel are also facing water insecurity. This crisis has led to an increase in severe malnutrition and increased risk of serious waterborne diseases.
Risk multiplies
"When water is unavailable or unsafe, the risk to children multiplies," speak UNICEF Chief Executive Officer Catherine Russell. "Across the Horn of Africa and the Sahel region, millions of children are It only takes one disease to recover from a catastrophe".
In Burkina Faso, Chad, Mali, Niger and Nigeria, drought, conflict and insecurity are leading to water insecurity, such as World Water Week underway, in the Swedish capital, Stockholm.
Based on WHO data, 40 million children are facing high to extremely high levels of water vulnerability. More children have died from unsafe water and sanitation in the Sahel than anywhere else in the world. UNICEF says this will only be heightened by the budding crisis.
Worst hit
Most people in the Horn of Africa depend on water delivered by vendors on trucks or donkey carts. UNICEF says that in the most drought-stricken areas, water can no longer afford many families:
In Kenya, 23 counties have seen significant price increases, led by Mandera with a 400% increase and Garissa with a 260% increase, compared to January 2021 figures.
In Ethiopia, the cost of water in June this year has doubled in the Oromia region and 50% in Somalia, compared with the onset of the drought in October 2021.
In Somalia, the average water price increased by 85% in South-Mudug, and by 55 and 75% respectively in Buurhakaba and Ceel Berde, compared with prices in January of this year.
Furthermore, in Kenya, more than 90% of open water sources – such as ponds and open wells – are in drought-affected areas. either exhausted or dried up, posing the risk of serious disease outbreaks.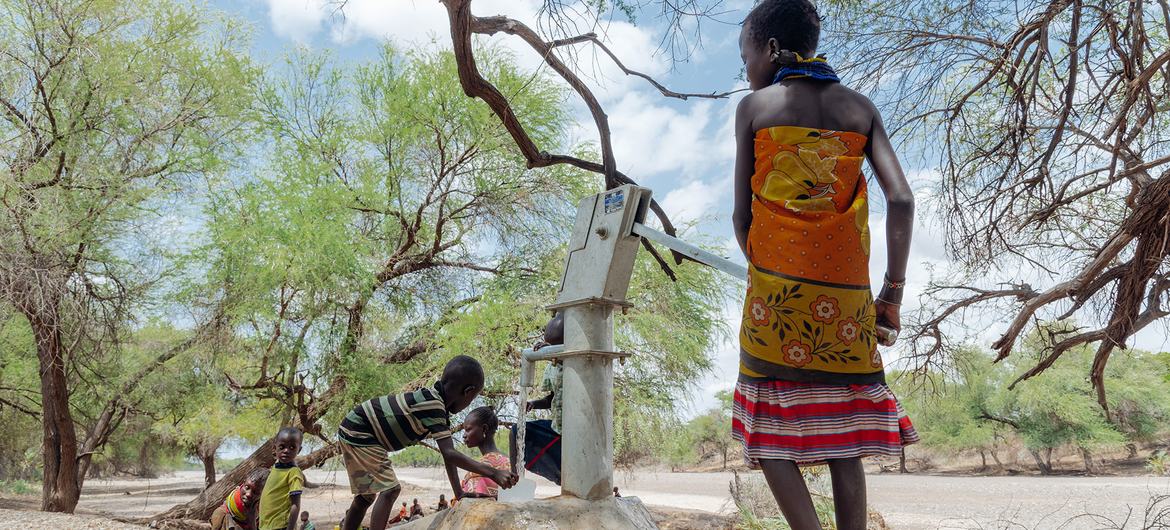 © UNICEF
A young girl operates a hand pump near a sand dam in Turkana County, Kenya.
Dry
Across the Sahel, water supplies have also decreased by more than 40% in the past 20 years. This dramatic decline in water availability is largely due to climate change and complicating factors such as destructive conflict patterns.
The effects of this insecurity also facilitated the worst cholera outbreak in the region in six years, resulting in 5,610 cases and 170 deaths in Central Sahel.
In particular, in Somalia, outbreaks of acute diarrhea and cholera have been reported in most of the drought-affected districts. 8,200 cases were reported between January and June 2022, more than double the number of cases reported during the same period last year.
Inside somewhere burdened 2.8 million children with malnutrition, water vulnerability puts children 11 times more likely to die UNICEF said.
Nearly two-thirds of these affected are children under the age of 5. Between June 2021 and June 2022, UNICEF and its partners treated more than 1.2 million cases of diarrhea in children under 5 years old in regions affected by the worst drought. such as Afar, Somalia, SNNP and Oromia of Ethiopia.
Life Saving Aid
To combat this crisis, UNICEF is providing life-saving aid and resilient services to children and their families in need across the Horn of Africa and the Sahel region.
Plans include improving access to climate-resilient water, sanitation and hygiene services; drill for reliable groundwater sources and develop the use of solar energy systems; identify and treat malnourished children, and expand prevention services.
UNICEF's call to improve the long-term resilience of families in the Horn of Africa – and prevent a life-destroying drought for years to come – currently funded only 3%.
Of those, almost no money is received for the portion devoted to water, sanitation and climate resilience. The call for the Central Sahel region to meet the needs of vulnerable children and families with water supply, sanitation and hygiene programs is only 22% funded.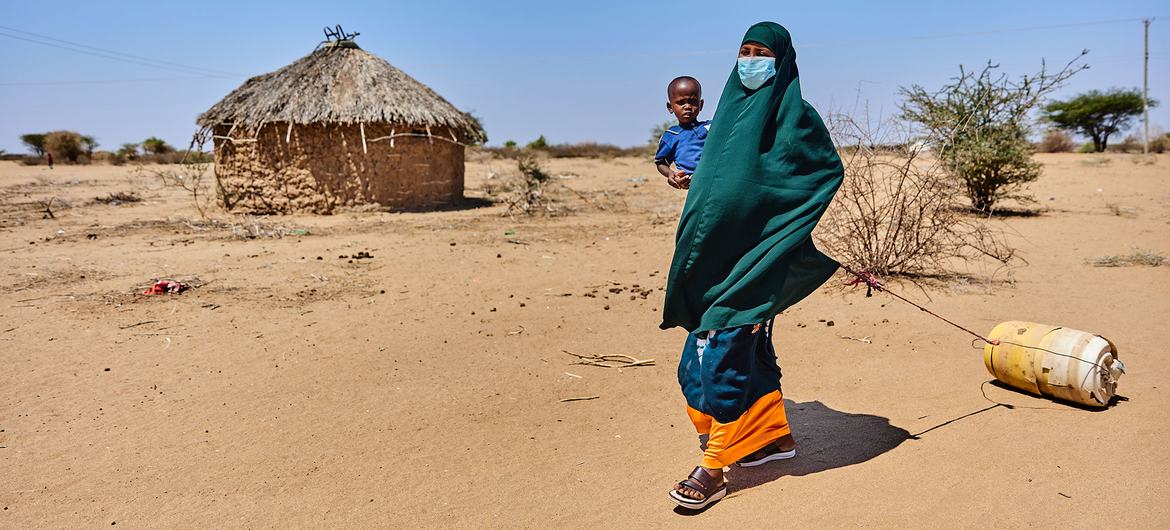 © UNICEF / Lamek Orina
A woman walks to a water kiosk with her two-year-old son in Garissa County, Kenya.
'Impossible choice'
Ms. Russell, at the start of this year's World Water Week, called for better funding: "Families across drought-affected areas are being forced to make impossible choices. The only way to stop this crisis is by governments, donors and the international community increase funding to meet children's most pressing needs and provide flexible long-term support to break the cycle of crisis. "
<! - Composite Start ->
<! - Kết thúc tổng hợp ->