Lifestyle
Alabama will rake in billions – but I-10 river bridge still unsecured | Mobile River Bridge and Bay Road Project | Tolls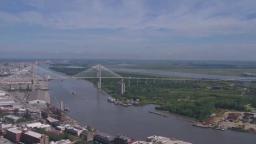 MOBILE, Ala. (WALA) – A big spending bill signed into law Second, President Joe Biden will invest nearly $7 billion in Alabama over the next five years.
But that doesn't mean state officials can simply write checks for the long-awaited Interstate 10 bridge over the Mobile River.
"It's more complicated than that," said Kevin Harrison, director of transportation planning at the South Alabama Regional Planning Commission.
Harrison said the state will receive a large amount. But he added that the law prioritizes road and bridge repair over new construction.
"As for the bridge… in this bill there is a new investment fund for new bridges, mainly for bridges that are in short supply and bridges that need repair," he said.
According to a fact sheet provided by the White House, the largest portion of money for Alabama — $5.2 billion — will go to road projects. That includes the inclusion of $225 million specifically for the repair and replacement of bridges. The roughly $1 billion annual allocation is up from the $830 million a year Alabama should have received, so the Alabama Department of Transportation budget would be about 20 percent larger.
"We expect to see an increase in federal funding, but by how much, how it's used, and specifically what restrictions might be," the department said in a prepared statement. yes, all remains to be considered. "It is too early to speculate on how much money will be available across different funding categories, or specifically how the new funding might be prioritized."
The spending plan has a huge sum in addition to the road and bridge. For Alabama over the next 5 years, it includes:
$400 million for public transportation.
$100 million to develop broadband internet coverage.
$782 to improve drinking water.
$140 million to improve the airport.
$79 million to build statewide charging stations for electric vehicles.
$23 million to help prevent wildfires.
$19 million to guard against cyberattacks.
But roads and bridges are still the primary focus. Tony Harris, a spokesman for the agency, told FOX10 News that the state will likely use the additional transportation dollars to accelerate existing and ongoing road and bridge projects. He noted that the increased funding resulted in a large sum of money.
"That would be good for the state. … That's very important," he said.
In addition to funds guaranteed to the state, the new law has billions of dollars in transportation funding that Alabama can apply for. But Harrison says that seems to be primarily about repairing existing infrastructure, not building new ones.
"We expect that there might be some funding in that scenario," he said. "Otherwise, we don't see funding for the bridge in the bill."
Harrison added that the fatter state transportation budget would provide more money for the I-10 project and other major spending items, like the push to widen US 98 to four lanes across the route. Mississippi State.
That's a potential new source of funding for the I-10 project, but Harrison said it's unclear how much Alabama could get. The same applies to other big-fare categories, he said, such as the proposal for a four-segment US highway to the Mississippi line. But those projects will have to compete with others across the state, he said.
"Again, it just comes down to the extent to which additional funding will be stretched," he said. "And it's going to stretch pretty far."
The law's overall $1 trillion price tag "sounds like a lot of money," Harrison said, "but when you trickle through all the states, it's not."
The only Alabama project specifically mentioned in the law is the Northern Ring Road in Alabama, but officials say that's because it's part of the Appalachian Regional Commission. US Representative Jerry Carl (R-Mobile) says that's not possible with the I-10 bridge.
"I couldn't achieve anything remarkable even if I wanted to. … I'd say we can take $2 billion out of it and build that road, build that bridge," he said. "And I will be everything for that. But at the end of the day, I don't have all the paths the governor has. I don't have the infrastructure problems she has across the state. "
Like most Republicans in the House, Carl voted against the bill.
"It's just a lot of money," he said. "They are spending money too fast. It's like a bunch of drunken sailors in the harbor."
All content © 2021, WALA; Mobile, AL. (A Meredith Corporation Station). Copyright Registered.
<! - Composite Start ->
<! - Kết thúc tổng hợp ->