Sports
Australia Captain Pat Cummins Addresses Nagpur Ground Concerns But Previous Great Calls For ICC Participation | Cricket News
Australia captain Pat Cummins has addressed pitch concerns in Nagpur ahead of his opening game against India, but former greats Simon O'Donnell has called on the ICC to intervene.
The pitch at Vidarbha Cricket Association Stadium was in the spotlight even before the match started with some Australian media indicating that field staff had left the area outside the tree stumps for forehands. The fruit is dry at both ends.
The typical Australian line-up, which Cummins won't reveal, may feature five lefties in their top seven, but the pacemaker doesn't appear to be worried at all.
"That's part of the challenge playing away," said Cummins, whose team only needed to avoid a blatant 4-0 scoreline to reach the World Test Championship final in June.
"The home teams want to win at home. In Australia we are fortunate that we usually have the speed and the bounce.
"Home advantage, I don't think that's a bad thing. It's another challenge and makes traveling here even more difficult when you know the conditions laid out for them."
Rivals captain Rohit Sharma has dismissed suggestions that India has launched a 'standard throw' for the competition.
"You just have to focus on the cricket that's going to happen in the next five days and don't worry too much about the pitch," he said.
"All the 22 players who will be competing here are quality cricketers… You just have to go out and play good cricket to win the game, as simple as that."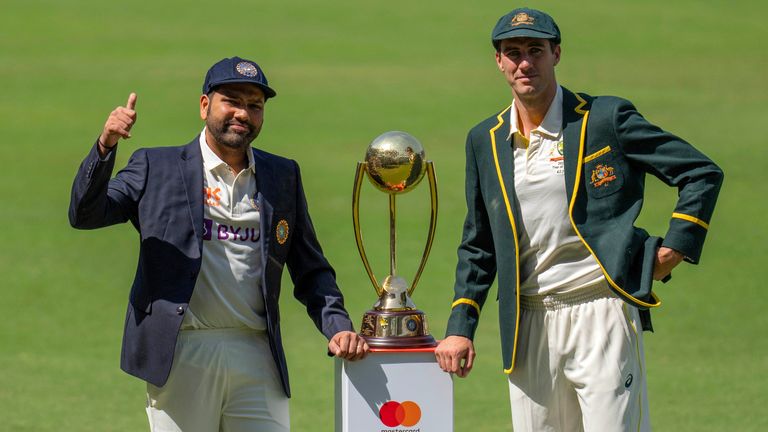 Rohit said hitters from both sides will have to think on their feet to counter.
The opener explained: "When the ball spins a lot, your scoring method becomes very important.
"You're going to have to alternate shots, and see how you can score on the run – sweep, sweep back, use your foot.
"That's what we said to the boys – 'find your own score'. It's going to be a challenge.
"Australia has some quality spinners that can give us trouble, that's for sure."
It comes after Australian great Simon O'Donnell called for the International Cricket Council to intervene in pitch preparation.
"The ICC should step in and do something if they think it's not right," O'Donnell told SEN Breakfast.
"If they consider the ground to be unsuitable, there will be an ICC referee at the match and the ICC will monitor the match.
"But there is so much that when it comes to India, we have all these discussions, and nothing seems to happen.
"If they really think there's a surface here that doesn't play to the normal standards of the Cricket Test and the characteristics of this surface, then the ICC needs to do something about it."
<! - Composite Start ->
<! - Kết thúc tổng hợp ->