News
China PMI: China is mining more coal again and that boosts their mills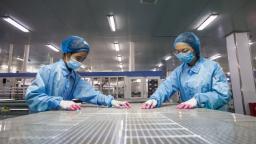 A government survey of manufacturing activity has increased 50.1 in November compared with 49.2 in October, according to data released by the National Bureau of Statistics (NBS) on Tuesday. This is the first reading above 50 – indicating expansion, not contraction – in three months. This is also the first time since March that the index has increased month-on-month.
Beijing attributed the improvement on Tuesday to "recent policy measures" that have boosted energy supplies and stabilized rising costs.
"In November, the power shortage eased and the prices of some raw materials dropped significantly," Zhao Qinghe, NBS senior statistician, said in a statement.
China has struggled with
Crisis power
for many months,
Inclement weather, soaring energy demand and strict limits on coal use have dealt a blow to the nation's electricity grid.
The results are remarkable. According to statistics from the National Development and Reform Commission (NDRC), China – which uses more than half of the world's coal supply and is already the largest emitter of carbon – has set a record. New daily for coal production in mid-November.
Citi analysts wrote in a research note Tuesday that the agency's "robust interventions" have mitigated "overall power shortages" and eased cost pressures on some industries. The electrical accident sent prices up for aluminum, steel and other raw materials, spreading across industries like auto manufacturing and construction.
Stress still coming?
Citi analysts say the production of raw materials – which causes high levels of air pollution – may be restricted in northern China as the government tries to "ensure blue skies for [the] Beijing Winter Olympics. "
Tuesday's data shows while the new orders received by factories have recovered somewhat, That measure has yet to enter expansion territory, suggesting domestic demand remains weak.
"The big challenge right now is the significant pressure that the real estate downturn is exerting on aggregate demand," said Citi analysts. Real estate – and related industries – make up 30% of China's GDP.
Tuesday's data also showed that The non-manufacturing PMI, which measures the performance of the services and construction sectors, came in at 52.3 in November, slightly weaker than October's 52.4.
Analysts say the Omicron variant could be a concern in the future, especially for the service industry.
However, China has long pursued a "zero Covid" approach and maintains what has been among the strictest border restrictions in the world.
"Looking ahead, most of the weakness in services will reverse in December unless – clearly a big warning given the arrival of Omicron – there are new outbreaks," wrote. economists with Capital Economics in a research report Tuesday. "In that case, the authorities will turn to stricter controls to prevent it."
<! - Composite Start ->
<! - Kết thúc tổng hợp ->