Lifestyle
Chopped kale salad with pear, gorgonzola and walnuts
Everyone needs a holiday salad recipe that's solid in their inventory—the one your family and friends beg you to bring for Thanksgiving dinner or Christmas Eve. For me, this is it. A massage kale salad with pear, gorgonzola, radicchio, pomegranate, candied walnuts, and shallots is also so vibrant that I called it the "Holiday Chopped Kale Salad." (Kale has never sounded so festive, has it?)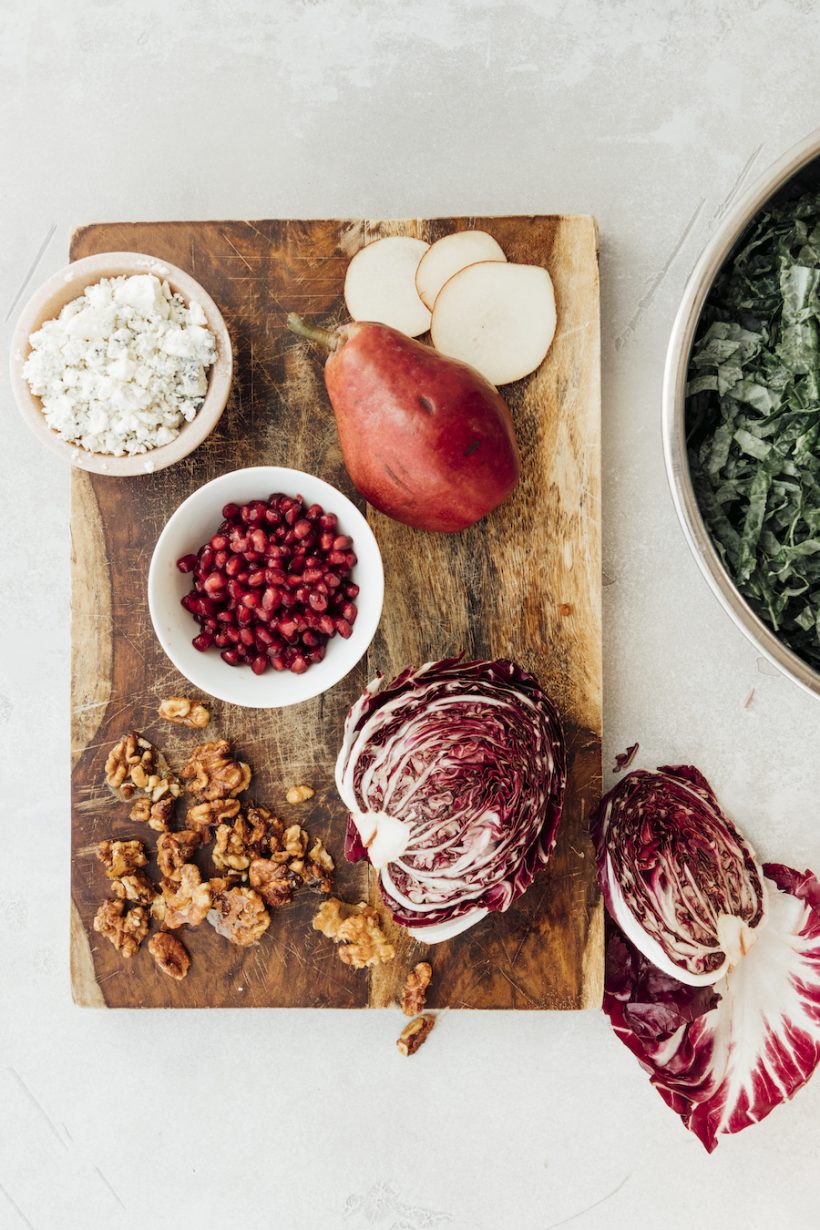 Holiday parties tend to lean on bigger, bolder flavors: braised short ribs, rosemary-encrusted pork loin, pasta…so I like salads that can counter other standout dishes. . Strong, flavorful kale is the answer, and it earns points for its ability to hold, fully coat for hours without getting soggy. In fact, it's better to have time to sit and absorb all the flavors, which means you can prepare this salad completely in advance, refrigerate it, and forget about it. So, let's talk about the basics of this salad and break down what makes it so special — and how to prepare this salad for your upcoming holiday get-togethers.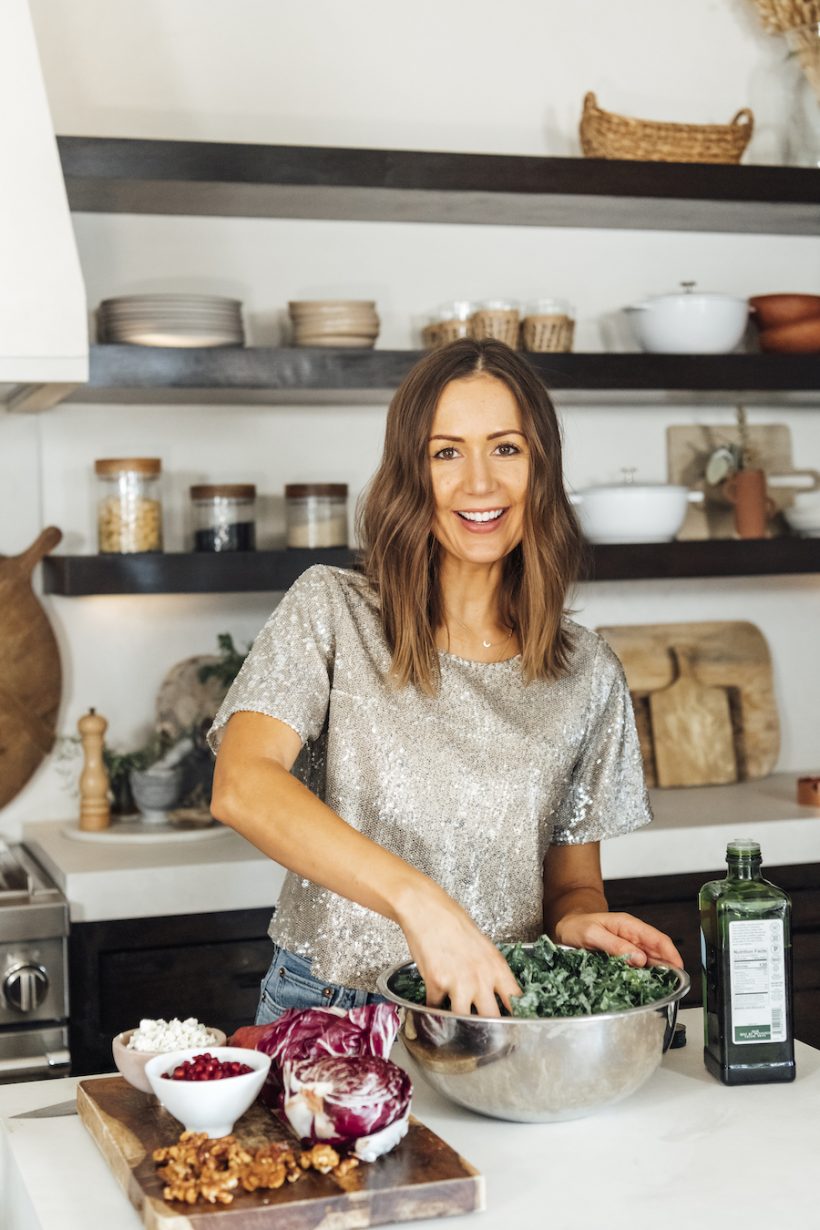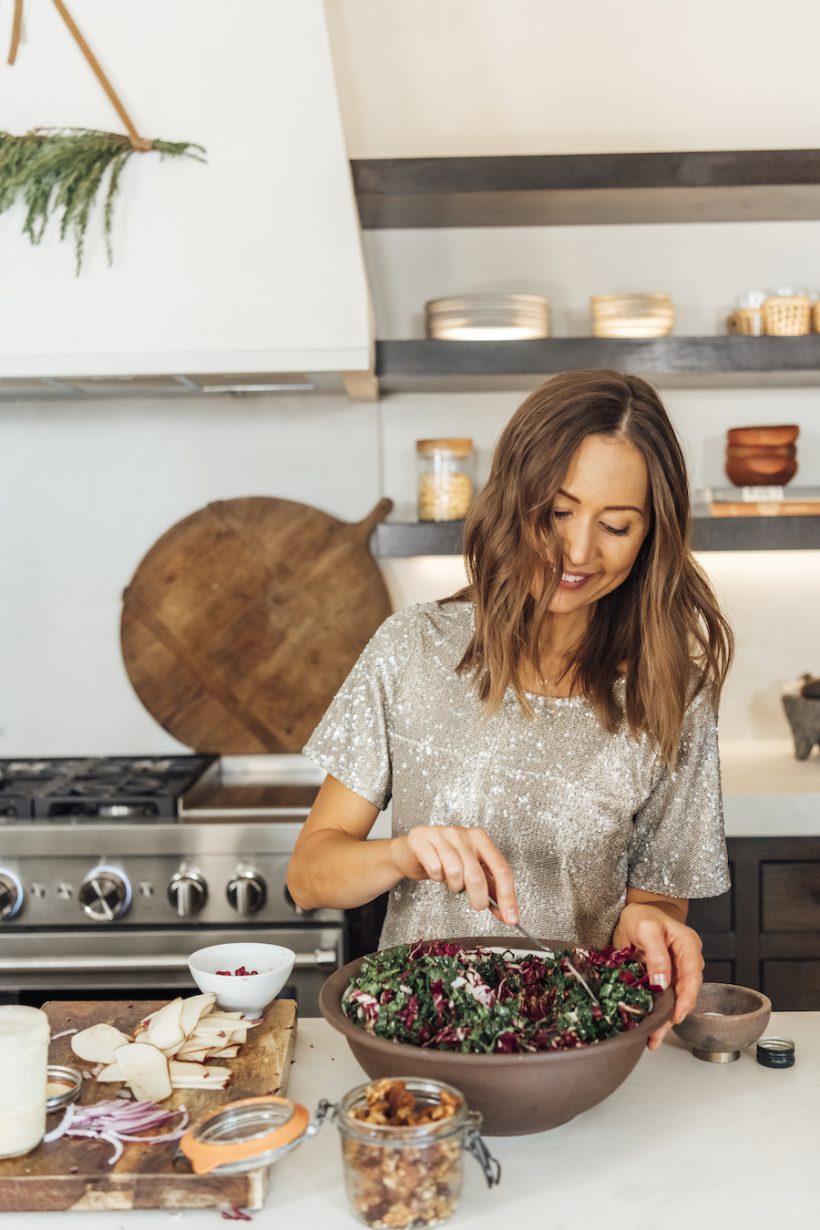 What kind of kale should I use?
When it comes to kale, you have options. Classic kale, Lacinato (or Tuscan or dinosaur) kale, Russian Red, or other heirloom varieties are all delicious, but for this salad, I like the 50/50 combination of kale and collard curly Lacinato. I love the different shades of green and the variety of textures this combination offers, plus when you throw the radicchio ribbons in, it's a bittersweet dance party.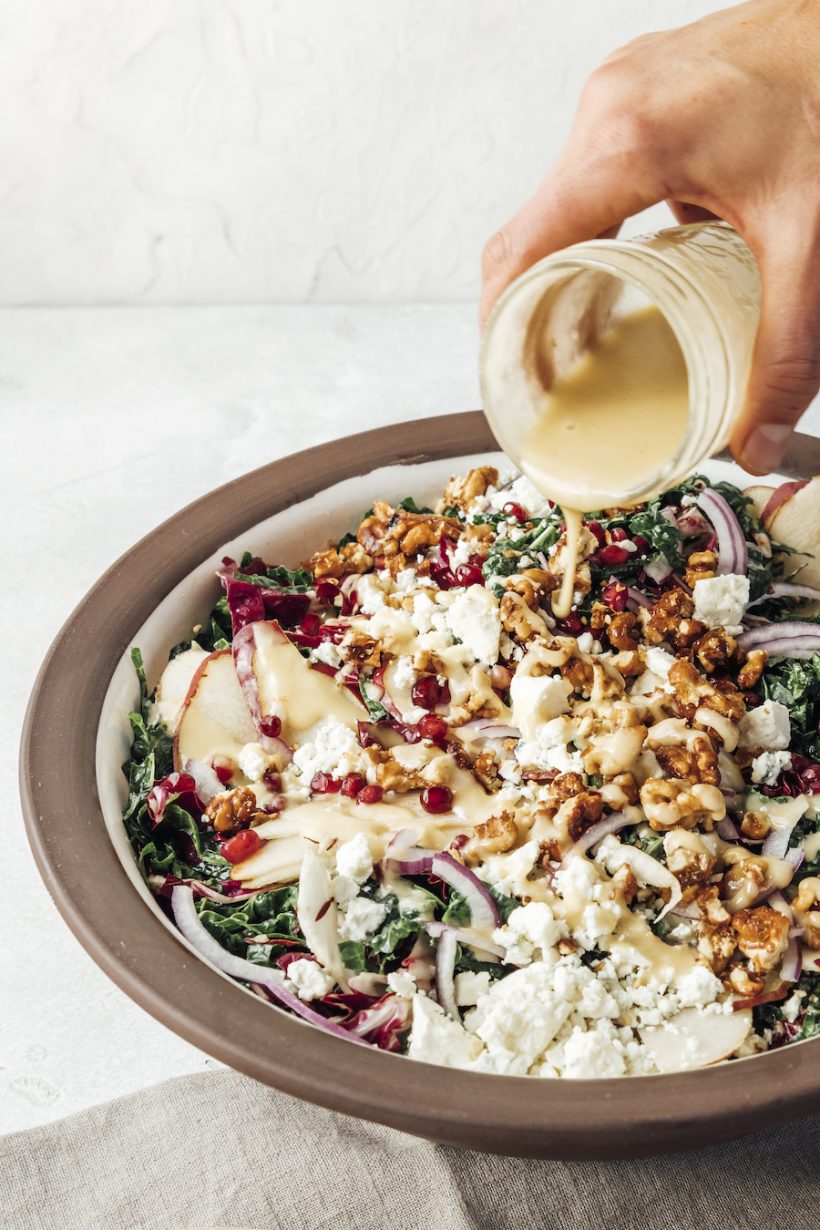 How to make kale delicious?
Okay guys, I've said it and I'll say it again: if you're not massaging your kale, it's time. But before you do that, you'll want to strip the leaves from the tough ribs, stack them and cut into ribbons, then put in a bowl and drizzle with some extra virgin olive oil. Use both hands to vigorously massage the kale for about a minute until the kale shrinks and becomes silky and bright green. Now you're ready for all those amazing beautiful top layers.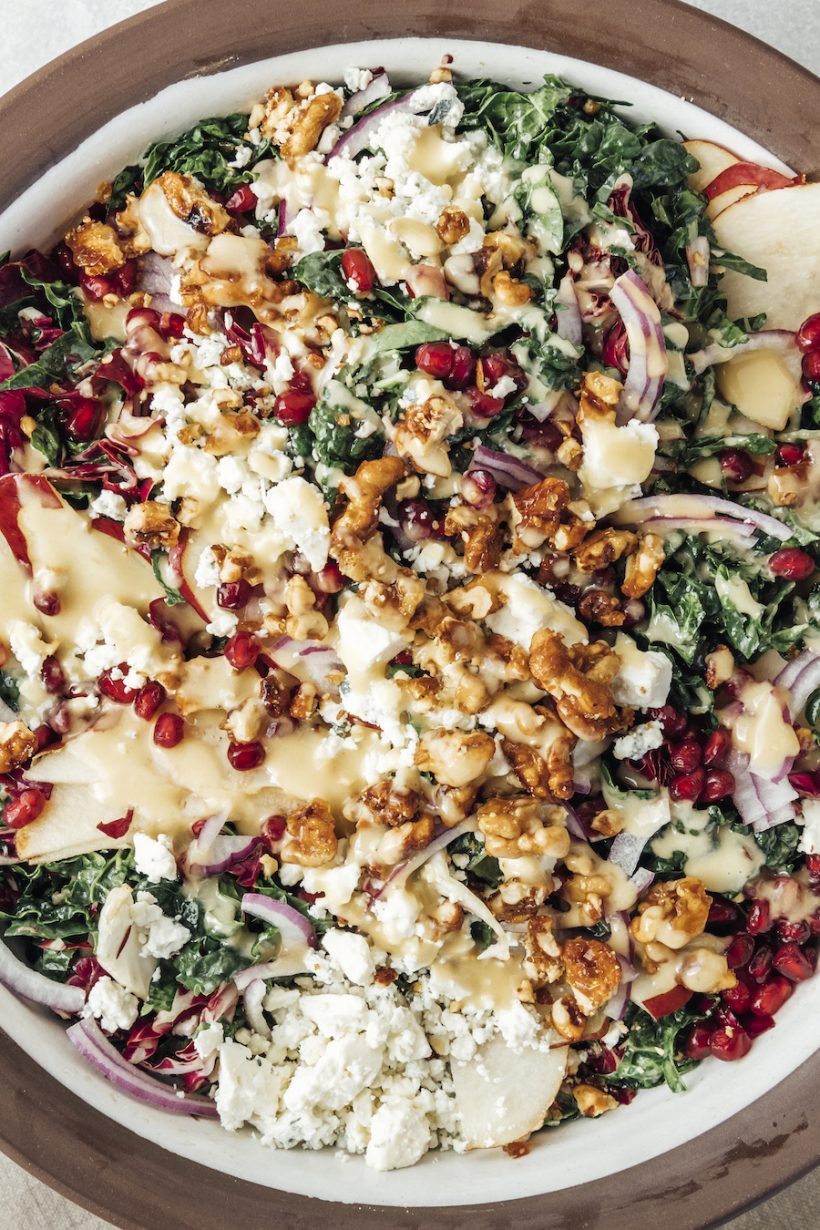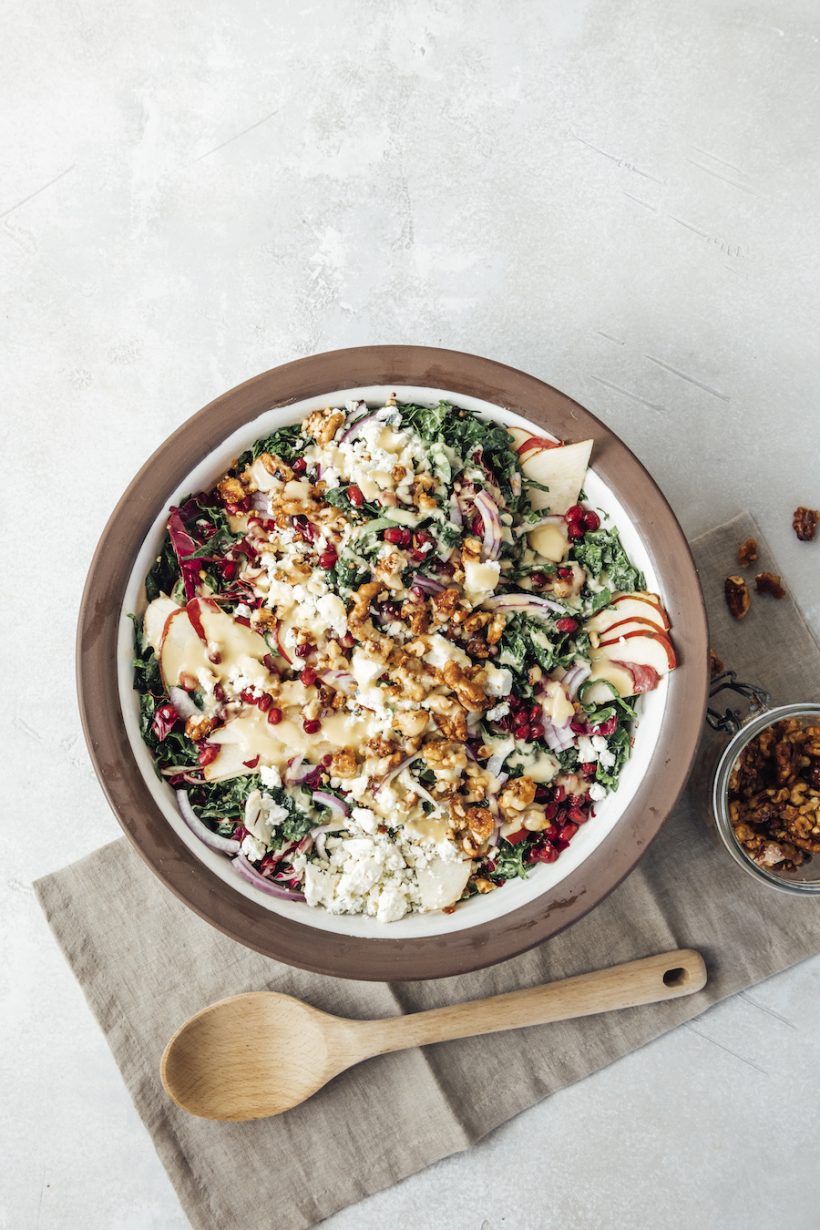 Salad toppings
For this salad, presentation is key. While I like to use simple ingredients year-round, the holidays are a time to put a little more emphasis on how you layer and blend them together visually. This dish is a real delight for the senses and it's a subtle way to bring back the traditional Christmas-y color palette (no red and green sprinkles required!) Here are the additions. The main makes this salad famous:
Kale massage. See above.
Radicchio. Yes, it has a bitter taste, but when combined with richness (like the oil in this sauce and creamy gorgonzola), radicchio becomes the most pleasing addition.
Pear. I love the year-round massages with a cucumber salad and chopped kale, but this combination is especially comforting during the winter months. This is a great time to try the beautiful pears that are in season. Just make sure it's cooked but still firm enough to hold completely when you slice it.
Gorgonzola. Any blue cheese will work well here, but for this recipe I like to buy crumbs that will somewhat hold together when you add this salad. There's nothing like the classic combination of blue cheese and pear at Christmas.
Pomegranate. Sure, I'm using them here mainly for their beautiful red color, but they also give this salad a delicious sweet and sour taste and a pleasant textured "bite." You can buy whole pomegranates and use this method to remove the seeds, or feel free to go the lazy route (like me) and buy pre-seeded pomegranates where you've finished the work.
Red onions. Pack a punch of flavors and more stunning jewelry colors. I love using my mandoline for superthin slices and bonus points for soaking them in cold water for 30 minutes to tone down the flavor.
Walnut candy. Get excited, because I'm finally sharing the walnut candy recipe I've been obsessed with for years. It is the time now! Just make a double batch, as you'll want extra snacks.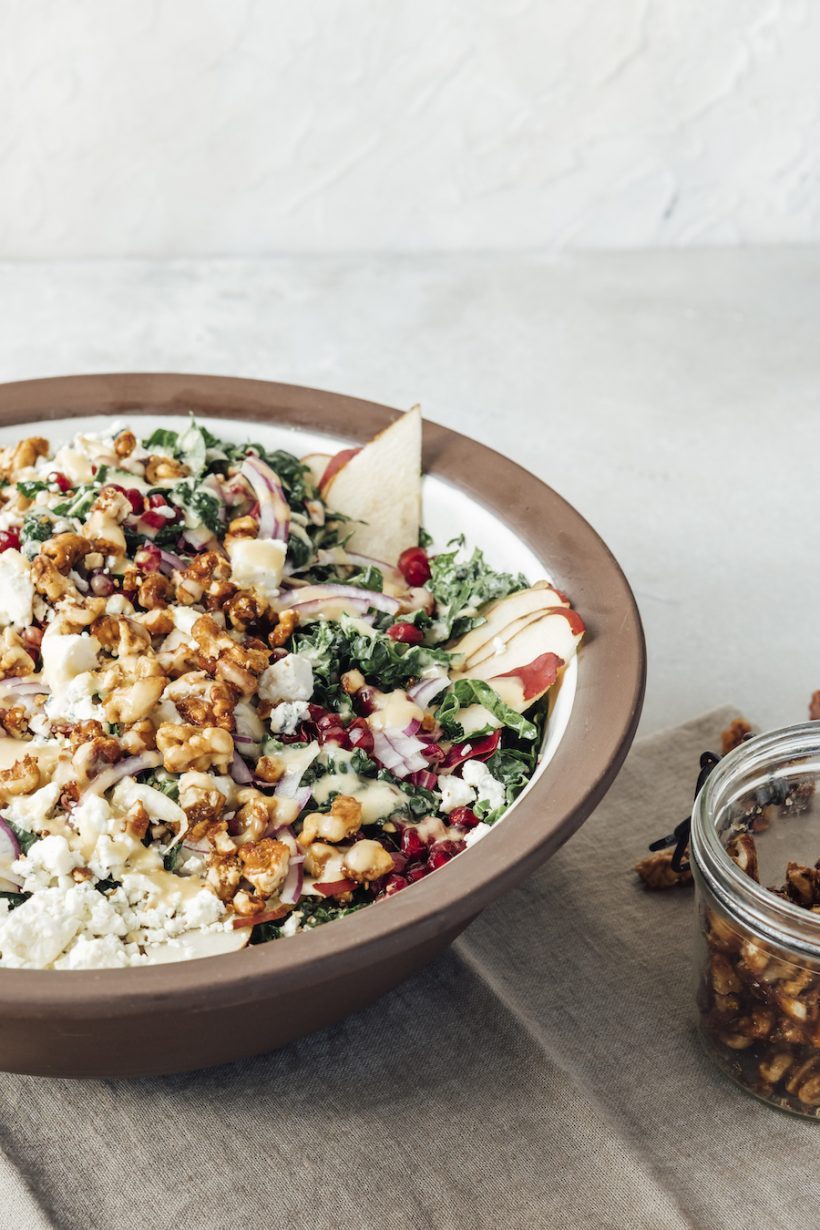 My favorite mustard-chives vinegar
Just as you need a chopped kale salad recipe in your inventory, you also need a thick mustard-vinegar recipe that you can keep in the fridge for all your salad needs. This is the person I've always looked up to. I've tweaked and tweaked it countless times over the years, but the ingredients are the same: dijon mustard, garlic, vinegar, onion or shallot, honey, and olive oil. It's sweet, sour, creamy, and when blended, coats each kale leaf like a great sauce should.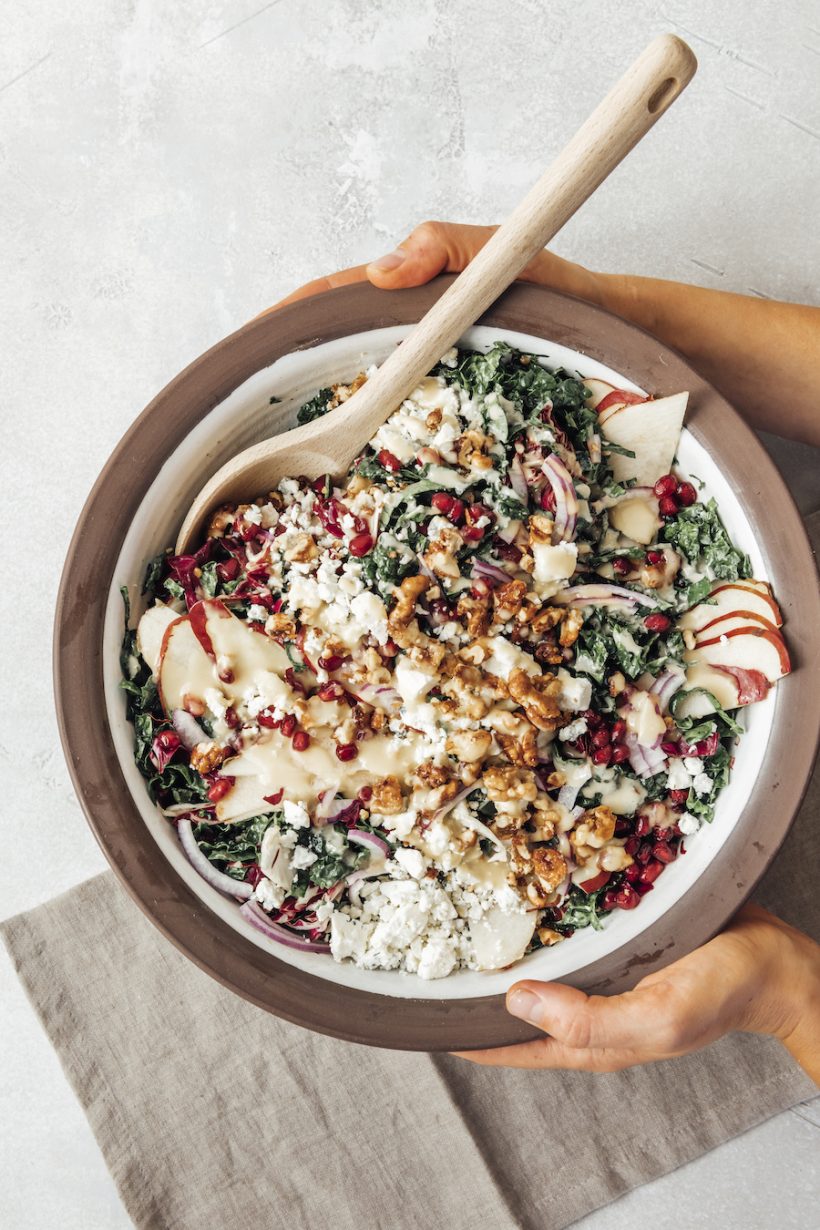 This holiday bejeweled chopped kale salad is amazing, nutritious and so satisfying — and we haven't even talked about all the health benefits these dazzling beauties have to offer, but we'll save that for another day. Now, scroll to see the recipe and tag us on Instagram @camillestyles if you try this salad!
<! - Composite Start ->
<! - Kết thúc tổng hợp ->