Sports
Chris Curtis of WEEI radio clearly throws stones at Mina Kimes on air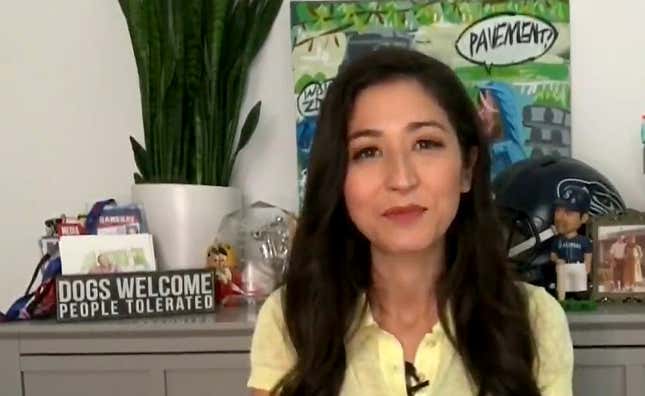 Radio is a tough gig. There are hours' worth of segments to fill, and on slow news days, there's plenty of time to exaggerate about things that aren't — and that's when things can go wrong. That's exactly what happened with WEEI Radio's Greg Hill Program on Wednesday. In a segment about their "top five," the hosts discussed several types of spirits. The topic seemed to be flowing smoothly until producer Chris Curtis stepped in and said, "Maybe I'll pick Mina Kimes."
Not only is it a gag comedy because it's so bad that no one laughs at it, but his weak attempt at humor is also a national slur. For those unaware, "Nip" is a racial slur for a Japanese person, while Mina Kimes is of Korean descent. It takes a deep investment in Asian profanity to have such a thing in your mental bank, and even worse to test it on the air.
In an effort to minimize the backlash, Curtis pinned his offensive joke into a concoction. WEEI company told Chad Finn of the Boston Globe that Curtis spoiled the joke by combining "Mina Kimes" with "Mila Kunis."
Rarely do you get an apology that makes things worse, but Curtis actually dipped his toe in the poop twice. Occasional slip-ups happen, but even the explanation confuses the mind. I'm still trying to determine the meaning of the joke behind the excuse WEEI and Curtis spent all morning trying to figure out – it seems like a misguided attempt to play the word "nip" as in "nipple". "? But that seems like a stretch. It's really stupid.
To highlight the absurdity of Curtis' defense, Mina Kimes changed her Twitter profile picture to a face-to-face shot of Mila Kunis.
Mina Kimes seems to be going all this smoothly, but something tells me that Mila Kunis will be confused the next time she logs on to Twitter.
<! - Composite Start ->
<! - Kết thúc tổng hợp ->