News
Climate change threatening access to water and sanitation |
Thomas Croll-Knight, spokesman for the Economic Commission for Europe (UNECE), said: "Climate change has been and continues to pose serious challenges to water and sanitation systems in countries around the world. .
Increased risk
According to UNECE and the World Health Organization's Regional Office for Europe (WHO/Europe), although affiliated with Paris Climate Agreementplans to have access to water in the face of climate pressures, "not available" in the euro area.
And "in most cases" in the region of 56 countries, there is also a lack of coordination on drinking water, sanitation and health, intergovernmental discussion in Geneva heard this week.
"From reduced water supplies and contamination of water supplies to damage to drainage infrastructure, these risks will increase dramatically unless countries," Croll-Knight warned. strengthen measures to increase resilience".
It is estimated that more than a third of the European Union will be "highly water stressed" by the 2070s, by which time the additional number of people affected (compared to 2007) is expected to increase to 16–44 million.
And globally, every 1°C increase in global warming is expected 20% off in renewable water, affecting an additional 7% of the population.
Danger is real
Meanwhile, as governments prepare for the next United Nations climate conference (COP 27) in November and United Nations Water Conference 2023UNECE paints a potentially bleak picture moving forward in parts of Europe.
From damaged water supply and drainage infrastructure to water quality deterioration and sewage spills, the impacts have been felt.
For example, increased energy demand and disruption of treatment plants in Hungary are threatening significant additional operating costs for wastewater treatment.
And the challenges of ensuring an adequate water supply in the Netherlands have increased, while Spain struggles to maintain a minimal supply of drinking water during times of drought.
Resilience
While there are adaptation initiatives to water management in many of the Nationally Defined Contributions (NDCs) and National Action Programs (NAPs) under the Paris AgreementManagement mechanisms and methods to integrate water and climate AbsentIn most cases, leaving the interface of drinking water, hygiene and health is a concern.
Lack of adequate management mechanism, strengthen measures according to Protocol on Water and Health – a single multilateral agreement implemented by UNECE and WHO/Europe – can play an important role
It can assist in developing more options for bringing water, sanitation and health into the NDC and NAP and ensure that national and local sanitation and drinking water supply strategies, integrating the Clear discussion of climate change mitigation and risk analysis.
Earlier, Secretary General António Guterres called on all countries in the region to accede to the Protocol and fully apply its provisions. – the appeal of Pedro Arrojo-Agudo, Special Rapporteur on human rights to safe drinking water and sanitation, who called the Protocol the an important tool linking public health and the environment.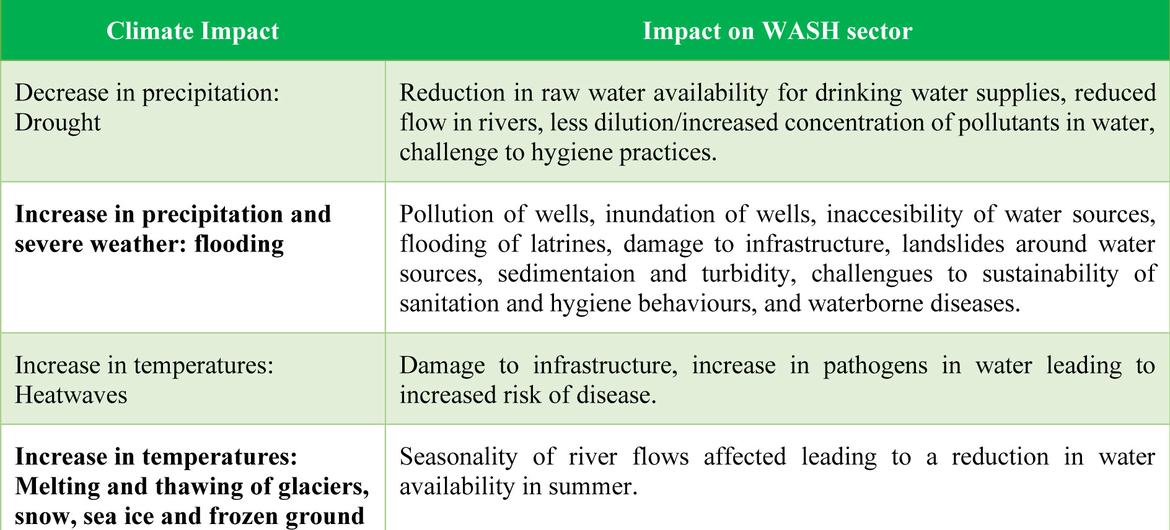 UNECE
Example of the impact of climate change on the Clean Water, Sanitation (WASH) sector.
<! - Composite Start ->
<! - Kết thúc tổng hợp ->