News
Countries urged to 'dig deep' and support Afghanistan in aftermath of deadly earthquake |
"Yesterday's visit reaffirmed to me both excruciating pain of the people in Afghanistan and theirs great determination in the face of great adversity," speak Dr. Ramiz Alakbarov, Deputy Special Representative of the Secretary-General and Humanitarian Coordinator for Afghanistan.
The UN and partners have developed a three-month emergency appeal, as part of their humanitarian plan for Afghanistan this year, to respond to the disaster.
Increase aid
The goal is to scale up and expedite the delivery of humanitarian and resilience assistance to nearly 362,000 people in two provinces, Paktika and Khost, which have been hardest hit.
"Despite the extraordinary generosity that donors have shown to Afghanistan over the past ten tumultuous months, I urge the international community to dig deep at this timeas people face another emergency, and is committed to supporting these life-saving and life-sustaining efforts," he said.
On Saturday, Dr Alakbarov visited the villages of Mir Sahib and Khanadin, located in Giyan district, Paktika province – one of the areas hardest hit by the 5.9 magnitude earthquake.
He was accompanied by representatives from the United Nations refugee agency, UNHCRUnited Nations Migration Agency IOMWorld food program (WFP), World Health Organization (WHO), United Nations Children's Fund (UNICEF), UN WomenFood and Agriculture Organization (FAO), and the United Nations Office of Humanitarian Affairs, OCHA.
'Unthinkable difficulty'
The mission met with residents, many of whom have lost family members and friends, including some orphaned and separated children, and are now homeless.
"In addition to food assistance, emergency shelter and repairs, interventions such as restoring damaged water lines and cholera prevention and preparedness activities are absolutely criticalAs well as restoring communication lines, access roads and basic livelihoods, Dr. Alakbarov said.
"Without such transitional support, women, men and children will continue to endure unimaginable and unnecessary hardship."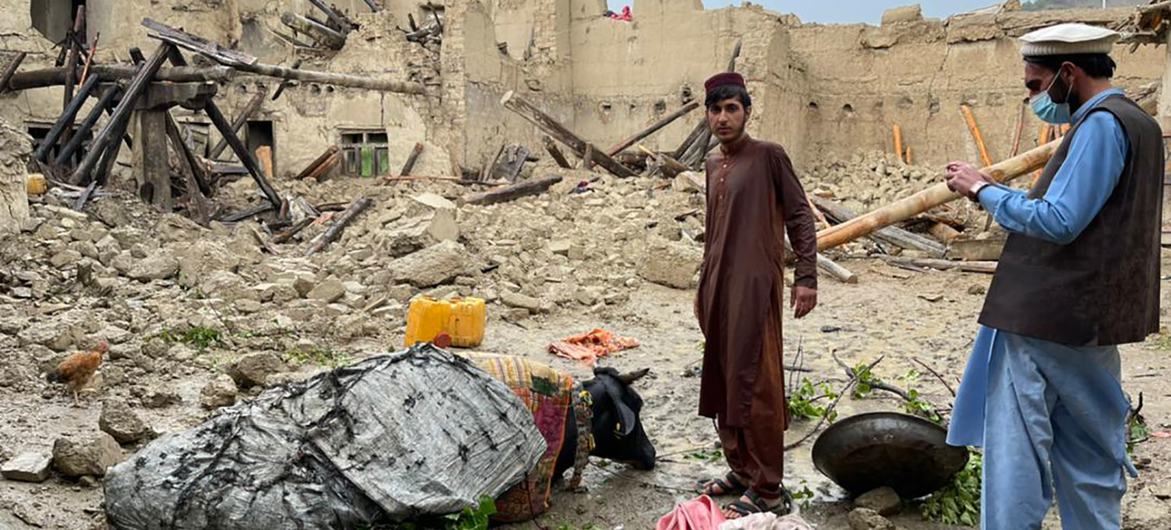 © IOM
The hungry people in Paktika are in urgent need of assistance after their homes were destroyed in the devastating earthquake in Afghanistan.
The OCHA reports that it has yet to determine the full scale of the devastation caused by the quake, and assessments are still underway.
Preliminary findings indicate that at least 235 people in Giyan district were killed, including 134 children. Nearly 600 people were injured, more than 200 of them children. More than 1,000 homes were destroyed, and two schools were damaged.
Across all earthquake-affected areas, satellite images showed damage to at least 2,000 homes more than 5km from the road in the worst-affected areas of Giyan and Barmal districts. in Paktika province and Spera district in Khost province.
Crisis women
Moreover, tens of thousands of houses that are still standing have suffered extensive damage and are in danger of collapsing.
The earthquake comes at a time when increased restrictions on Afghan women and girls have increased their needs and also complicated efforts to support them.
Alison Davidian, UN Women's Acting Country Representative, explains that women and girls are affected differently by the crisis.
"When their right to move and work is restricted, as in Afghanistan,This is disproportionately affectedespecially in access to food, health care and safe shelter," she said.
Going forward, women's humanitarian workers as well as women-led civil society groups must be at the center of the response.
"This is the only way to be sure needs and rights women and girls at risk and affected by crises are effectively identified and addressed," she said.
<! - Composite Start ->
<! - Kết thúc tổng hợp ->