Lifestyle
Couple traveling to South Africa arrested for 'running away' from Amsterdam quarantine hotel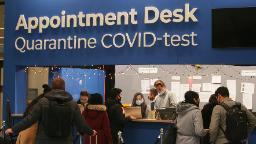 (CNN) – Dutch police on Sunday said they had arrested a couple who had "run away" from a mandatory quarantine area ordered by the government.
The couple, who AFP identified as a 30-year-old Spanish man and a 28-year-old Portuguese woman, are believed to have arrived at Amsterdam's Schiphol airport on Friday from South Africa, where the Coronavirus variant Omicron was first identified and discovered last week.
Marechousse, the Dutch military police, "arrested a couple this evening who escaped from an isolation hotel," police spokesman Stan Verberkt told CNN.
Marechousse did not specify whether either person tested positive for Covid. It is also not known how police discovered that the couple had left their quarantine hotel.
The couple boarded one of two flights from South Africa to Amsterdam, where at least 61 passengers have tested positive for the virus, with 13 confirmed cases of the Omicron variant.
A total of 600 passengers from the two planes have been ordered to quarantine at a hotel near the airport.
The couple was arrested" (on board) a plane that was about to take off on its way to Spain at 6pm local time (12pm ET) and both were transferred to GGD ( regional health authority of the Netherlands)", Verberkt added.
Dutch authorities will decide whether the couple face charges of endangering public safety.
GGD spokeswoman Stefanie van Waardenburg confirmed that the couple were among the passengers of the flight that landed in Schiphol from Johannesburg on Friday.
Health authorities are conducting further tests on passengers to see if anyone is carrying the new variant of Omicron, Waardenburg added.
The Netherlands is among the countries that have imposed a flight ban on southern Africa (including South Africa) following reports of the new variant.
Top image: Schiphol Airport's Covid test appointment desk. Credit: Paulo Amorim / Sipa USA