Game
Everything you might have missed in the new Pokémon Scarlet & Violet trailer (August)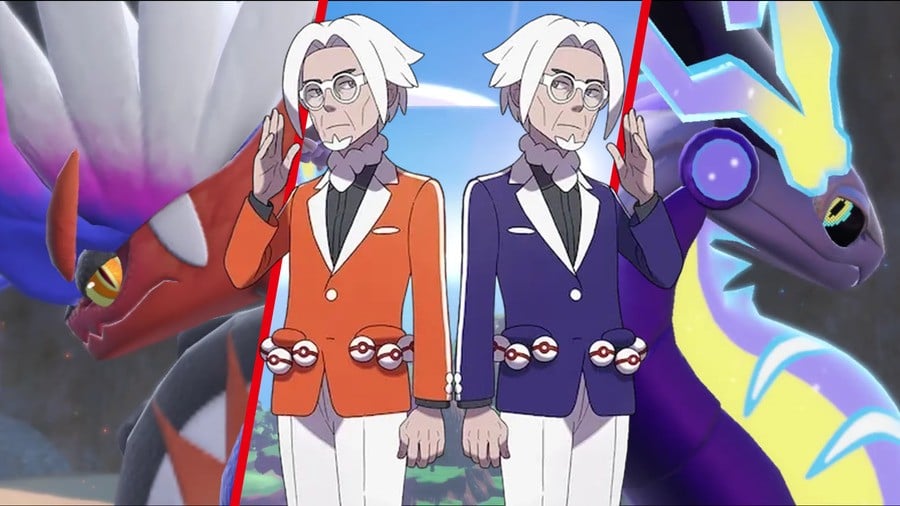 What about the new one? Pokémon Scarlet and Violet trailer huh? We've covered a lot of important news, which you can read in our separate articles:
(And, of course, we also had "Everything You Missed" for the trailer we watched in June, which you can read right here. We already know about the co-op, Toby Fox music and past vs future theme!)
But this new trailer is also chock full of little details – and we don't want them to skim us, so we've rounded up all the things we've noticed in this new trailer, and Pokémon website update, also. You can check out the trailer below and let us know if you notice anything new in the comments – we'll keep updating this post!
The motorbikes are… really bad motorbikes
At least, Koraidon is like that. Miraidon seemed to understand, more or less. They have wheels. They are literally shaped like motorcycles. Therefore, why does Koraidon use its legs? Evolution has some questions to answer here.
We also have more information about the different forms of tourism of Koraidon and Miraidon right here.
Scarlet & Violet difference
Larvitar and Stonjourner appear exclusively in Pokémon Scarlet, while Bagon and Eiscue appear in Pokémon Violet.
Also, your outfit and your academy will change depending on your version!
Three stores
The trailer talked about three main stories, only one of which was a normal Pokémon defeating all the gym leaders (though you can obviously do that in any order) . What are the other two stories? Will one of them follow some supernatural happenings, or some frenetic gang leader, like the other games in the series? We can but speculate!
Treasure hunt?
The trailer mentioned a lot about a treasure hunt. Like, A LOT. But it never really says what the treasure hunt is to be. What is treasure? Why do they force students to look for it?
Some NPCs may have different skins based on your version
Take a look at Professor Clavell, who seems to run the academy you're attending:
The horror of the trademark Pokémon is back
From Fidough's description:
"Fidough ferments things around it using yeast in its breath. It's said that yeast is useful for cooking, so this Pokémon has long been protected by people."
They might just say it's a cute lil bread puppy, but no! It has a strong breath!!
Can wild Pokémon be poisoned before fighting?
The description of Wooper's new Paldean form says the following:
"Their bodies are heavy and slow to move, but they can protect themselves by shooting powerful poisonous liquid from their gills. You can see the poisoned Pokémon in areas where the Woopers are. This live."
That sounds to us like we might find pre-poisoned Pokémon in the wild, unless this is just flavor text.
Grusha is a shy guy
We love him.
Terastal forms are all just… caps?
Grass type = Flower cap
Water type = Fountain cap
Fire type = Candle cap
Normal Type = Diamond Ring Hat
Flight type = Balloon hat
There may be more varieties and caps, but those are the ones we've seen so far! You can read more about the Terastal mechanic here.
Flying Pikachu can be a reference
You can get your very own flying Pikachu with pre-orders
Poor Wooper
Wooper. But brown. Pooper. Sorry. It also works for Poison + Wooper. Surely, they already knew about this?
Details of Wooper
Although it's been done before, Poop– sorry, WOOPER's Poison type is reflected in his official beard/antenna/sorry that looks like a crossbones, a symbol for substance poison.
Facts about Cetitan
Cetitan is a land whaleAnd you know what's interesting about that? Whales used to have legsand that makes Cetitan the ancestor of Pokéwhale, making it again Allusion to Paldea's past/future theme.
Also, fun fact: The word "cetacean" means "of the whale family"!
Paldea's map is huge
Oh, and Paldea seems to come from "pal" – you, apparently – and "aldea", Spanish for a village.
Amazing new villages
From the Pokémon website:
"You can find a lot of people and Pokémon living together in a variety of locations, from a farming village with a bountiful harvest to a port town with a bustling market."
Rotom Phone is back
The Pokédex will be an app on your phone that, along with your map, gives you information about nearby Poké and Pokémon Centers.
The Pokémon Center is… a gas station?!
And they are also combined with Poké Marts! It fits great with the motorcycle theme of the legendaries, Miraidon and Koraidon.
Car mystery…
Don't know what this is or to whom, but it was featured quite prominently in the trailer, so it's probably important.
Cooking and restaurants
Restaurants certainly seem to be on the menu (though don't look closely at that bacon's ingredient list), and cooking could return, too. Arven and your classmate's description says he's "a good cook and is working on healthy recipes", and we see Fuecoco burn an apple, which is basically… cooking , right?
Special forms for legendaries?
At the end of the trailer, we see Miraidon and Koraidon wearing some fancy feathered headgear. We can only assume this is an exciting new form for this couple. Is it a mechanical one? A tactic? An aesthetic? All three??? We'll have to wait and see.
Natural behavior of animals
A fairly small number of Pokémon in the trailer have… taken a nap. Mostly under trees. Paldea looks pretty warm, so we don't blame them – and it looks like this could give us a Pokémon Legends-style chance to sneak into a 'wild sleeping mon' for a good chance of catching get them more. They also sometimes seem to hang out in groups, with other Pokémon in their evolution line. Sorry!
Weather!
Weather in the Pokémon game has been around for a while, but we're not sure we've seen it thunderstorms before. It gives us the vibes of Breath of the Wild's Thundra Plateau! Can we get special evolutions or unique wild Pokémon if we go out in a storm? Who knows!
Photo mode?
This image, from the trailer, looks like a selfie mode to us. We know Nintendo has the technology! They put it in Animal Crossing: New Horizons relatively recently! We thought it might just be a cutscene, but… this is co-op, so that seems unlikely. Photo mode baby!!
Customize your outfit
We know this is possible, but not sure how it would interact with the uniform you seem forced to wear. However, it seems that the uniform is subject to change. Here:
"Variing from short-sleeve tops and shorts to warm evening coats, the academy has a total of four different types of uniforms. In addition, you can collect a variety of accessories from the shops. Wear items wear your favorites and try on different styles during your adventure!"
"In Pokémon Scarlet and Pokémon Violet, you can now make changes to your character's eye shape, mouth shape, etc. to look the way you want. Of course, you can also change your hairstyle, hair color and eyebrows at the salons, so look your best in Treasure Hunt! "
So you won't look total unique, but you will have a different face, hair, hat and uniform combination. And honestly? We think that's cute. In the end, our Pokémon protagonists will be like real 10-year-olds!
---
That's all we've noticed in this trailer – and some of it may be (and certainly is) pure speculation at the moment, but some of our predictions for July came trueso we feel a bit confident.
But tell us: Did you notice anything new in these trailers? Do you think you picked up some small, unnoticed detail? Turn it on in the comments!
<! - Composite Start ->
<! - Kết thúc tổng hợp ->