Sports
Fantasy QB Leaderboard Week 15: Who starts, sitting in midfield in fantasy football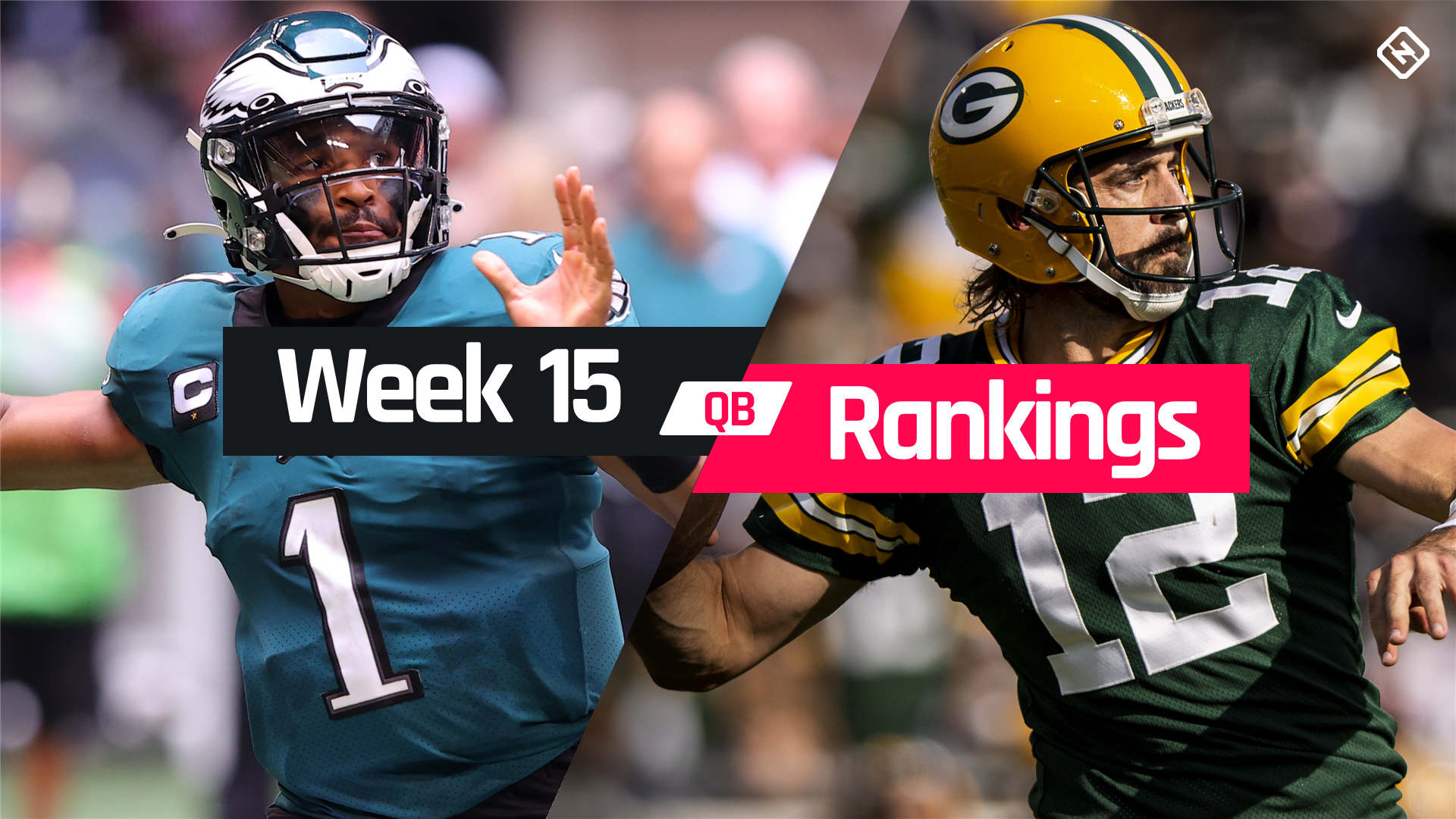 As most fantasy soccer leagues begin their knockout stages this week, deciding who will start in midfield is even more important. All teams will be playing with the bye weeks coming to an end, so while streaming may not be important to some, there are plenty of fantasy football owners who don't have a "starter". forced to start" weekly. Our Fantasy Week 15 QB Leaderboard takes a deep dive into nails, sleeping legs, and sellability ahead of the first "win or go home" game of the season.
Again, there's no team goodbye, so if you have Patrick Mahomes, Kyler Murray, Jalen Hurts, Josh Allen, etc., you probably won't be checking the leaderboard. It's worth noting that Allen (vs. Panthers) has had a tough game and is dealing with an ankle injury, but unless you have another stud you'll likely stick with Allen. However, Russell Wilson (@Rams) could reasonably sit depending on your other options.
WEEK 15 PPR RANKING:
Run back | Wide receiver | Tight ending | VND / ST | Kicker
Most people are here to watch players in the 10-18 range, so head to the top streamers. Tua Tagovailoa (vs Jets), Taysom Hill (@Buccaneers), Jimmy Garoppolo (vs Falcons) and Taylor Heinicke (@Eagles) are the guys you want to lead your team in the first round of the knockouts if you no one of the studs is consistent.
WEEK 15 STANDARD RATINGS:
Run back | Wide receiver | Tight ending | VND / ST | Kicker
Tassel, Jimmy G, and Heinicke all play teams with below-average fantasy QB containment, and all of those signal callers have proven to be effective when the games go well. Tampa Bay's numbers against QB have improved, but we've seen Hill put in two 20-plus performances in two starts thanks to his rushed comeback. That said, it will be the most complicated game to date as the Bucs match is one of the best in football. Ben Roethlisberger (versus Titans) could also be a good player, in terms of his game, his recent play and his expected number of passes.
It should also be noted that Mac Jones (@Colts), Baker Mayfield (vs Raiders), Justin Fields (vs Vikings) and Trevor Lawrence (@Texans) have favorable matches, but their decks have proven to be too low to believe in the first round of the fantasy knockout. However, as we saw on Sunday night, Fields clearly has a high ceiling, so he's playing in the deep leagues.
On the other side of the start or sit-down bubble, Carson Wentz (vs. Patriots), Teddy Bridgewater (vs. Bengals), Matt Ryan (@49ers) and Ryan Tannehill (@Steelers) are more likely to win matches. their respective matches. Wentz has become a top streamer on multiple occasions, but we're not ready to let him go before the Patriots' elite defense. Bridgewater clearly depends on the game, and Ryan and Tannehill regularly go bankrupt, so we don't expect a change of direction in the face of elite passing passes. It doesn't help that neither of them have their #1 WRs.
It's easy to overthink a QB position, but in general, it's best to trust the studs if you have one. Chances are, if you've made it to the knockout stages, you'll have one, but if you're playing the game online, there's no shortage of options. Count on recent matches and trends, and enjoy the production.
Note: We'll be updating these QB leaderboards throughout the week, so check back for the latest player movement and analysis.
Fantasy QB Leaderboard Week 15: Who will start in midfield
Rating based on standard, pass four points TD formats.
| | |
| --- | --- |
| Places | Player |
| first | Tom Brady, TB vs NO |
| 2 | Justin Herbert, LAC vs KC |
| 3 | Kyler Murray, ARI @ DET |
| 4 | Jalen Hurts, PHI vs. WAS |
| 5 | Aaron Rodgers, GB @ BAL |
| 6 | Matthew Stafford, LAR vs. SEA |
| 7 | Dak Prescott, DAL @ NYG |
| 8 | Patrick Mahomes, KC @ LAC |
| 9 | Russell Wilson, SEA @ LAR |
| ten | Joe Burrow, CIN @ DEN |
| 11 | Josh Allen, BUF vs CAR |
| twelfth | Taysom Hill, NO @ TB |
| 13 | Taylor Heinicke, YES @ FIRE |
| 14 | Kirk Cousins, MIN @ CHI |
| 15 | Jimmy Garoppolo, SF vs ATL |
| 16 | Tua Tagovailoa, MIA vs. NYJ |
| 17 | Justin Fields, CHI vs. MIN |
| 18 | Baker Mayfield, CLE vs. LV |
| 19 | Mac Jones, NE @ IND |
| 20 | Ben Roethlisberger, PIT vs. TEN |
| 21 | Zach Wilson, NYJ @ MIA |
| 22 | Carson Wentz, IND vs. NE |
| 23 | Derek Carr, LV @ CLE |
| 24 | Ryan Tannehill, TEN @ PIT |
| 25 | Trevor Lawrence, JAX vs HOU |
| 26 | Matt Ryan, ATL @ SF |
| 27 | Tyler Huntley, BAL vs. GB |
| 28 | Teddy Bridgewater, DEN vs. CIN |
| 29 | Mike Glennon, NYG vs. DAL |
| 30 | Davis Mills, HOU @ JAX |
| thirty first | Cam Newton, CAR @ BUF |
| 32 | Jared Goff, DET vs. ARI |