Sports
Fantasy QB Leaderboard Week 18: Who started, sitting in midfield in fantasy football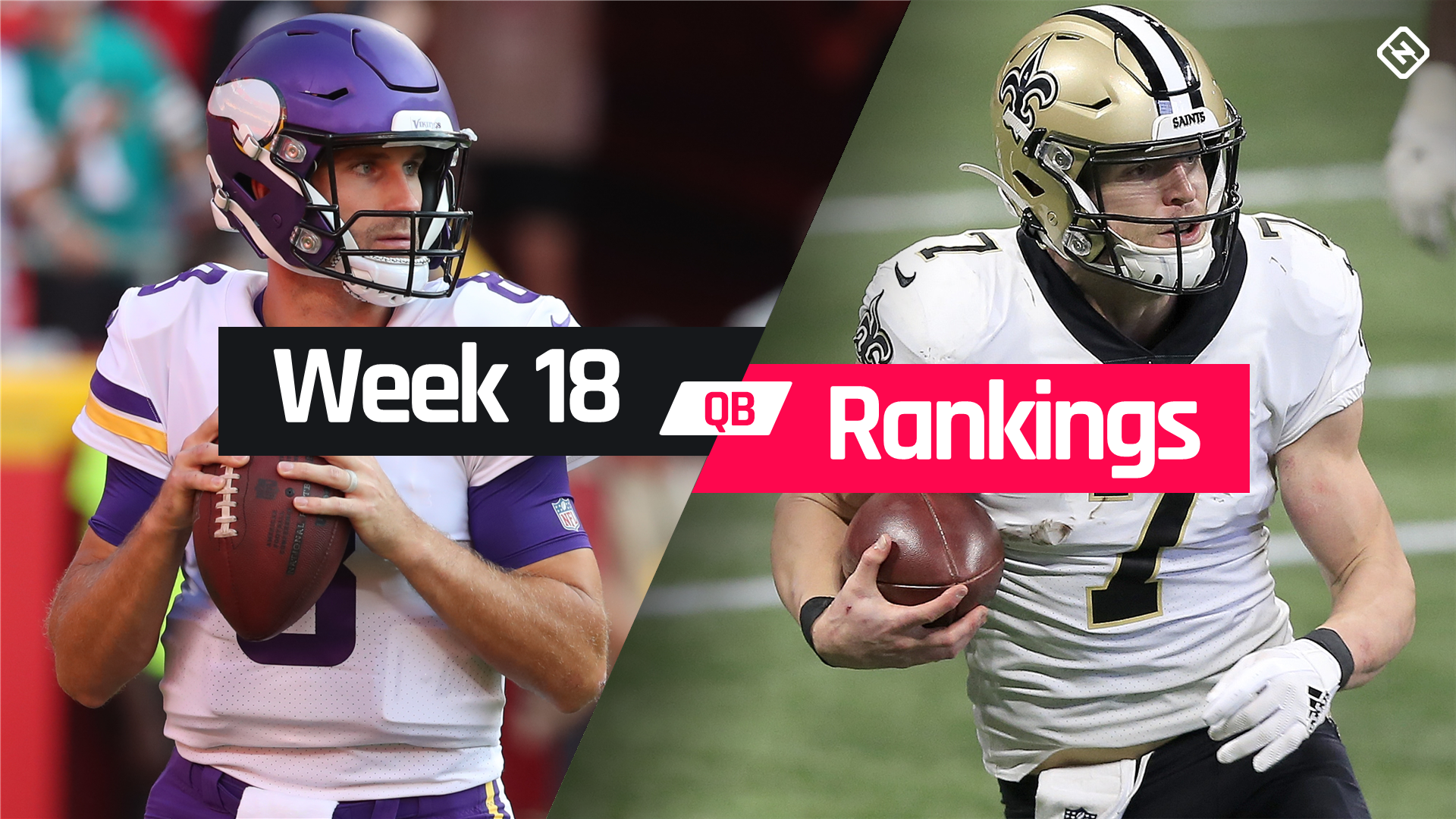 Let's face it: The majority of fantasy football tournaments have ended and a champion has been crowned, but a handful of tournaments are still going. Even if your league is done, our fantasy QB Week 18 leaderboard can help you identify some of the top DFS goals, so while most fantasy owners have completing their start or sit decisions, these rankings still carry some (albeit very little) value.
As is often the case with the final week of the regular season, you never know which team will actually play the starting game or decide which team to start mid-game. Especially at the start of the week these charts are conjecture, but we'll be sure to make adjustments after that. Obviously, teams vying for seed or playoff berth will be playing a full complement of their boys, so those are the safest options. This year, the teams were very close in the playoff race, so in the end, we might have more teams when there's something to play with than usual. Since the Packers won the No. 1 seed in NFC, it would be surprising if Aaron Rodgers and the other Packers main starters competed, so Jordan Love should be lining up to start.
WEEK 18 VIRTUAL RATING (PPR & STANDARDS):
Run back | Wide receiver | Tight ending | VND / ST | Kicker
As things go, Patrick Mahomes (@Broncos) and Tom Brady (vs Panthers) have the toughest games but assuming Kansas City and Tampa Bay will both win for "W" in Week 18, you have to start them anyway.
SATURDAY DFS GAME ONLY:
KC-DEN FD | KC-DEN DK | DAL-PHI FD | DAL-PHI DK
On the beginner bubble, Taysom Hill (@ Falcons), Kirk Cousins ​​(vs. Bears), Davis Mills (vs. Titans) and Justin Fields (@ Vikings) all have the top 10 games for QB. Ryan Tannehill (@Texans) is also about to have one. However, we know the Titans are competing for the AFC's No. 1 seed, and Houston has nothing to play with and has one of the worst squads in the league.. Technically, Mills and Fields don't have much to play with, but you have to think Houston and Chicago want to see as many games from their rookie QB as possible and will be looking to build momentum for next year. In particular, the Mills are trying to earn a starting chance next season.
SATURDAY DFS FULL-SLATE: DraftKings | FanDuel
We don't rate Tua Tagovailoa (vs Patriots), Jimmy Garoppolo (@ Rams), Derek Carr (vs Chargers) and Mac Jones (@Dolphins). We know none of these four signal callers are must-starts and the matches are too hard to actually consider. (If Trey Lance starts for San Francisco, though, he'll be more interesting.) There are players like Ben Roethlisberger (@ Ravens) and Carson Wentz (vs Jaguars) with decent games, but it's hard to beat. trust them. Big Ben has an extremely low floor, even with a lot of trying to get through, and he only gets worse as the weather gets colder. For Wentz, the match was obviously great on paper, but when Indianapolis beat the teams, Jonathan Taylor would begin a day of monster fantasies, and all the other Colts almost silent. A lot of the time, the game scenario is more important than a favorable match.
WEEK 18 USE DFS: FanDuel | DraftKings | Yahoo!
Again, a lot could change with this weird week being Week 18 as there are so many teams getting ready for the season and of course, we're likely to see a lot of players end up on the roster. reserve / COVID again . How unpredictable this week is, so you should seriously ask your manager if your league is still going.
Note: We'll be updating these QB leaderboards throughout the week, so check back for the latest player movement.
Fantasy QB Leaderboard Week 18: Who will start in midfield
Rating based on standard, pass four points TD formats.
| | |
| --- | --- |
| Places | Player |
| first | Josh Allen, BUF vs NYJ |
| 2 | Kyler Murray, ARI vs. SEA |
| 3 | Justin Herbert, LAC @ LV |
| 4 | Matthew Stafford, LAR vs. SF |
| 5 | Jalen Hurts, PHI vs. DAL |
| 6 | Tom Brady, TB vs. CAR |
| 7 | Dak Prescott, DAL @ PHI |
| 8 | Patrick Mahomes, KC @ DEN |
| 9 | Taysom Hill, NO @ ATL |
| ten | Kirk Cousins, MIN vs. SPEND |
| 11 | Lamar Jackson, BAL vs. PIT |
| twelfth | Ryan Tannehill, TEN @ HOU |
| 13 | Russell Wilson, SEA @ ARI |
| 14 | Derek Carr, LV vs LAC |
| 15 | Ben Roethlisberger, PIT @ BAL |
| 16 | Matt Ryan, ATL vs NO |
| 17 | Davis Mills, HOU vs. TEN |
| 18 | Carson Wentz, IND @ JAX |
| 19 | Taylor Heinicke, WAS @ NYG |
| 20 | Jimmy Garoppolo, SF @ LAR |
| 21 | Sam Darnold, CAR @ TB |
| 22 | Jared Goff, DET vs GB |
| 23 | Jordan love, GB @ DET |
| 24 | Mac Jones, NE @ MIA |
| 25 | Andy Dalton, CHI @ MIN |
| 26 | Tua Tagovailoa, MIA vs. NE |
| 27 | Trevor Lawrence, JAX vs. IND |
| 28 | Zach Wilson, NYJ @ BUF |
| 29 | Drew Lock, DEN vs. KC |
| 30 | Brandon Allen, CIN @ CLE |
| thirty first | Case Keenum, CLE vs. CIN |
| 32 | Jake Fromm, NYG vs. WAS |
<! - Composite Start ->
<! - Kết thúc tổng hợp ->