Sports
Fantasy WR Leaderboard Week 13: Who Begins, Sitting In Front Of The Wide Lens In Fantasy Football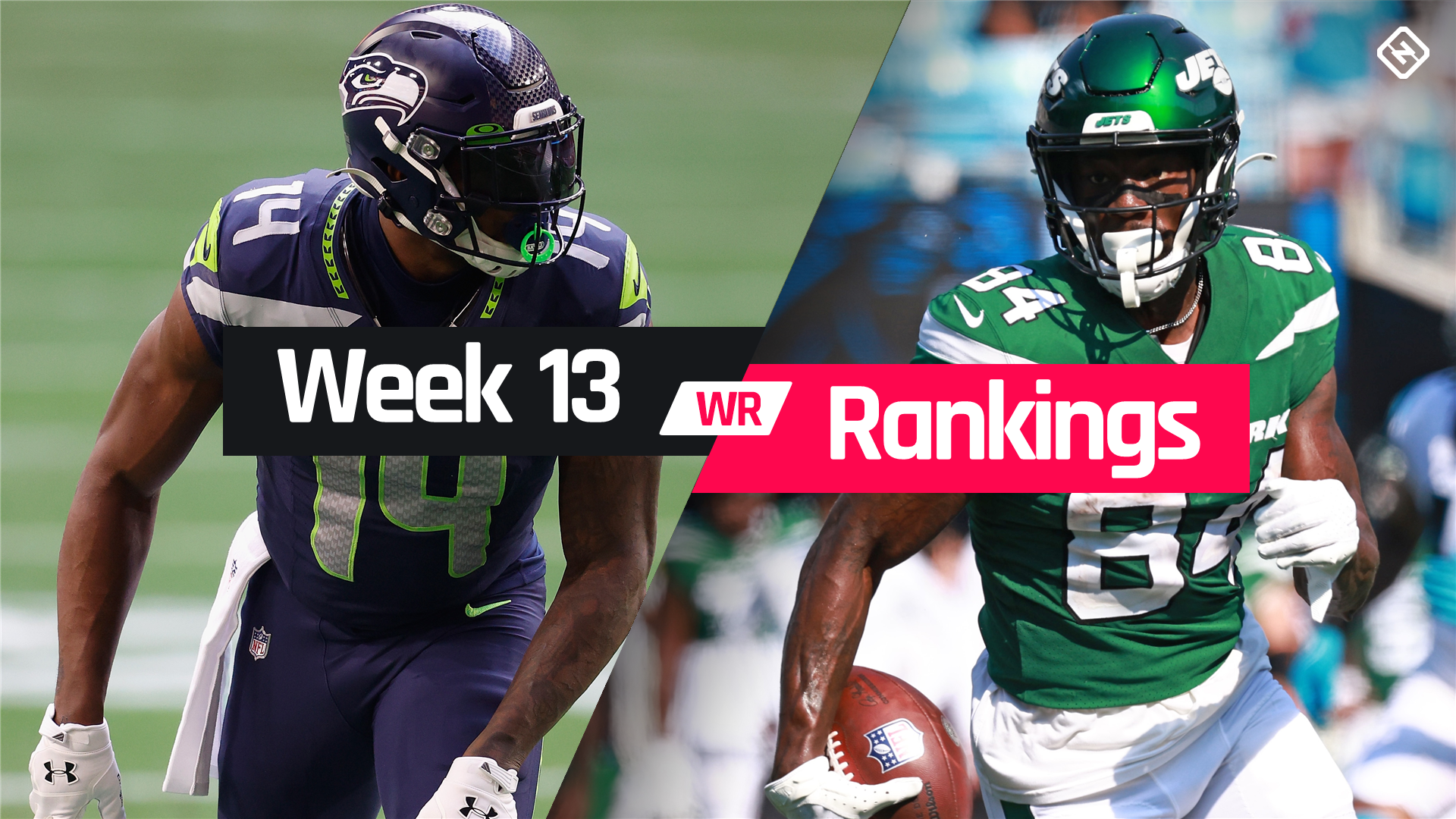 Our Week 13 fantasy WR leaderboard features some top studs with favorable matches, but also plenty of sneaky upside potentials in the middle of the leaderboard. Whether you're in need of a spacious receiver for your streamer or you're just overthinking every decision to get started, sit down, we can help.
Green Bay, Tennessee, Cleveland and Carolina have all gone bye, so the biggest – and indeed the only – losses here are Davante Adams and DJ Moore (with AJ Brown heading for IR). Goodbye four teams, you won't find a week easier with extended games than this week.
WEEK 13 STANDARD RANKING:
Midfielder | Run back | Tight ending | VND / ST | Kicker
It's also worth noting that Ja'Marr Chase (vs. Chargers), Stefon Diggs (vs. Patriots) Terry McLaurin (@Raiders) and Keenan Allen (@Bengals) are all in tough games this week, but you've got it. know they have to- get started. Teammates Tee Higgins (vs Chargers), Emmanuel Sanders (vs Patriots) and Mike Williams (@Raiders) are the tougher ones, but all have shown enough TD this season to remain in most places all squads.
WEEK 13 PPR RANKING:
Midfielder | Run back | Wide receiver | Tight ending | VND / ST | Kicker
On the "warm-up" side of the warm-up or bench bubble, Kadarius Toney and Sterling Shepard (@Dolphins) have a high ceiling if they play with a second worst defense against imaginary WRs. The same goes for Michael Gallup (@Saints) against the worst defense against fictional WRs. Seattle has been a center of defense against the expansions, but Brandon Aiyuk (@Seahawks) has done enough in recent weeks to be believed, so he's one of the better picks after the the "no brainer". Christian Kirk (@Bears) is sure to have a dream day even with DeAndre Hopkins (hamstring) returning, and Rashod Bateman (@Steelers) is also a good choice, as the Steelers defense has been quietly a bottom – 10 units from position.
Tre'Quan Smith (vs. Cowboys), Russell Gage (vs. Buccaneers), Van Jefferson (vs. Jaguars), AJ Green (@ Bears), Nico Collins (vs. Colts) and Josh Reynolds (@ Vikings) are among those riskier but they both have good games against defense in the lower half of the league against fantasy WRs. If DeVante Parker (vs. Giants) and/or Will Fuller (vs. Giants) finally return to the lineup after dealing with hamstring and finger injuries, then they could be seen as because the Giants are the defence. 12th worst player against fictional WRs. You could also try TY Hilton (vs Texan) if you're in a pinch, but he's obviously not so sure. DeSean Jackson (versus Washington) is a boom-or-bust pick who could be seriously considered after a nice performance on Thanksgiving.
Corey Davis (vs. Eagles), Tyler Boyd (vs. Chargers), Cole Beasley (vs. Patriots) and Jakobi Meyers (@ Bills) have tough roads to success against top WR stopping units and they we know three is rarely a great pick in standard tournaments. In the end, all Jets 'and Patriots' WRs should be considered limited, but Kendrick Bourne has set a tier high enough to be present in most lineups. We should also expect another explosive week for Marvin Jones and Laviska Shenault (@ Rams) and Allen Robinson (vs Cardinals), although Darnell Mooney (vs Cardinals) is still in the running.
We've covered a lot of worthwhile options here, many of which are available with a waiver. This is bye week Monday to the end of the week, so we'll finally have all the options at our disposal. However, we'll have to continue to weigh our options and make sure we're playing the best possible lineup as we get closer to the fantasy knockouts.
Note: We'll be updating these WR charts as needed throughout the week, so check back for the latest changes and analysis.
Fantasy WR Leaderboard Week 13: Who's Started at Wide Receiver
Rating based on standard, not PPR scored
| | |
| --- | --- |
| Places | Player |
| first | Cooper Kupp, LAR vs JAX |
| 2 | Tireek Hill, KC vs. DEN |
| 3 | Deebo Samuel, SF @ SEA |
| 4 | Mike Evans, TB @ ATL |
| 5 | CeeDee Lamb, DAL @ NO |
| 6 | Justin Jefferson, MIN @ DET |
| 7 | DeAndre Hopkins, ARI @ CHI |
| 8 | Chris Godwin, TB @ ATL |
| 9 | Stefon Diggs, BUF vs. NE |
| ten | Marquise Brown, BAL @ PIT |
| 11 | Amari Cooper, DAL @ NO |
| twelfth | Brandin Cooks, HOU vs. IND |
| 13 | Michael Pittman Jr., IND @ HOU |
| 14 | DK Metcalf, SEA vs. SF |
| 15 | Adam Thielen, MIN @ DET |
| 16 | Jaylen Waddle, MIA vs NYG |
| 17 | Diontae Johnson, PIT vs. BAL |
| 18 | Ja'Marr Chase, CIN vs. LAC |
| 19 | Keenan Allen, LAC @ CIN |
| 20 | Terry McLaurin, WAS @ LV |
| 21 | Hunter Renfrow, LV vs. WAS |
| 22 | DeVonta Smith, PHI @ NYJ |
| 23 | Sterling Shepard, NYG @ MIA |
| 24 | Antonio Brown, TB @ ATL |
| 25 | Tyler Lockett, SEA vs SF |
| 26 | Mike Williams, LAC @ CIN |
| 27 | Darnell Mooney, CHI vs. ARI |
| 28 | Kadarius Toney, NYG @ MIA |
| 29 | Christian Kirk, ARI @ CHI |
| 30 | Jerry Jeudy, DEN @ KC |
| thirty first | DeVante Parker, MIA vs NYG |
| 32 | Brandon Aiyuk, SF @ SEA |
| 33 | Michael Gallup, DAL @ NO |
| 34 | AJ Green, ARI @ CHI |
| 35 | Elijah Moore, NYJ vs FIGHT |
| 36 | Odell Beckham Jr., LAR vs JAX |
| 37 | Rashod Bateman, BAL @ PIT |
| 38 | Kendrick Bourne, NE @ BUF |
| 39 | Tee Higgins, CIN vs. LAC |
| 40 | Van Jefferson, LAR vs JAX |
| 41 | Russell Gage, ATL vs TB |
| 42 | DeSean Jackson, LV vs. WAS |
| 43 | Emmanuel Sanders, BUF vs. NE |
| 44 | TY Hilton, IND @ HOU |
| 45 | Tre'Quan Smith, DO NOT fight DAL |
| forty six | Courtland Sutton, DEN @ KC |
| 47 | Corey Davis, NYJ vs FIGHT |
| 48 | Jakobi Meyers, NE @ BUF |
| 49 | Cole Beasley, BUF vs. NE |
| 50 | Marvin Jones, JAX @ LAR |
| 51 | Laviska Shenault Jr., JAX @ LAR |
| 52 | Allen Robinson, CHI vs. ARI |
| 53 | Josh Reynolds, DET vs. MIN |
| 54 | Tim Patrick, DEN @ KC |
| 55 | Mecole Hardman, KC vs. DEN |
| 56 | Nico Collins, HOU vs. IND |
| 57 | Kenny Golladay, NYG @ MIA |
| 58 | Jamison Crowder, NYJ vs FIGHT |
| 59 | Marquez Callaway, NO DAL |
| 60 | DeAndre Carter, WAS @ LV |
| sixty one | Gabriel Davis, BUF vs. NE |
| 62 | Bryan Edwards, LV vs. WAS |
| 63 | Rondale Moore, ARI @ CHI |
| sixty four | Kalif Raymond, DET vs. MIN |
| 65 | Amon-Ra St. Brown, DET vs. MIN |
| 66 | Deonte Harris, NOT against DAL |
| sixty seven | Tyler Boyd, CIN vs LAC |
| 68 | Chris Conley, HOU vs. IND |
| 69 | Zay Jones, LV vs WAS |
| 70 | Nelson Agholor, NE @ BUF |
| 71 | Sammy Watkins, BAL @ PIT |
| 72 | Darius Slayton, NYG @ MIA |
| seventy three | Laquon Treadwell, JAX @ LAR |
| 74 | Olamide Zaccheaus, ATL vs TB |
| 75 | Demarcus Robinson, KC vs. DEN |
| 76 | Zach Pascal, IND @ HOU |
| 77 | Quez Watkins, PHI @ NYJ |
| 78 | Tajae Sharpe, ATL vs. TB |
| 79 | KJ Osborn, MIN @ DET |
| 80 | Jalen Guyton, LAC @ CIN |
| 81 | Byron Pringle, KC vs. DEN |
| 82 | Josh Gordon, KC vs. DEN |
| 83 | Adam Humphries, WAS @ LV |
| 84 | Freddie Swain, SEA vs SF |
<! - Composite Start ->
<! - Kết thúc tổng hợp ->