News
First Person: 'We are the hope, we are the power keeping Afghanistan together' |
"The first nights and days were especially horrible. Afghanistan is becoming chaotic – people are running everywhere; office is closed. It's all happening right in front of my eyes.
In 24 hours, a democracy that we have worked for for more than 20 years has collapsed. The first thing that comes to mind is what will happen to the women of Afghanistan? What we will do? August 15 is the day Afghan women begin to become inhuman, the day when we know that there is no place for women's rights anymore.
I was forced to leave the country once in my life, in 1978. I am young, have a lot of energy and I want to stay in Afghanistan; but because of the forces in power I had to leave. This time was different — now, I am an American citizen of Afghan descent. I felt it was time to leave Afghanistan, away from my sisters, away from the people I loved and cared about. I know they have nothing else. I thought my presence would give them strength — that's why I decided to stay; I decided not to become a refugee anymore.
'This too will pass'
I've always wanted to be a witness in my life too — a lot of Afghanistan's history happened before my eyes. I am 74 years old; I have seen beauty and disaster, achievement and destruction, and everything in between. I want to stay and remind everyone that, like everything else in history, this too will pass.
The lives of Afghan women have changed 180 degrees. As the democracy for which we worked so hard disappears, so does the work that we have done as Afghan women for our country. Afghan women have been around — from being a part of society, from working, from being part of every aspect of life as doctors, judges, nurses, engineers, executive women. office — become nothing. Everything they had, even the most basic right to go to high school, was taken from them. That to me is a sign that they don't want us to exist. Our brothers do not help us; we're left alone and what's happening is we're going extinct.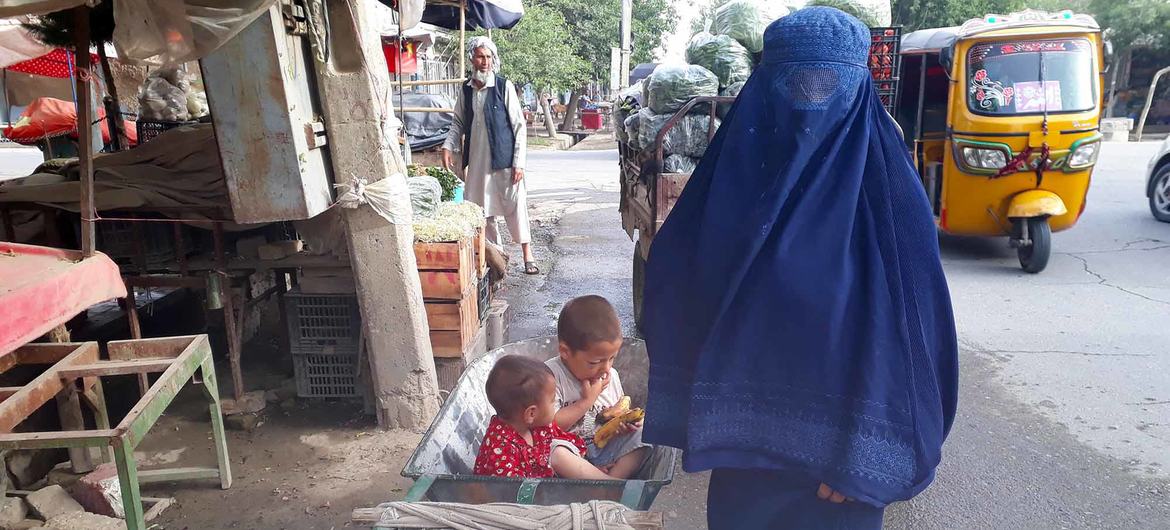 UNAMA / Shamsuddin Hamedi
Women and children are the most affected by the current humanitarian crisis in Afghanistan.
'We exist, and we are here'
Afghan women are some of the most resourceful and powerful women in the world: their resilience is unbreakable. But there's a lot of work to be done, and every time we need to start from scratch — and this is what completely kills us. But we have to do what we have to do, and we will do it.
Just because they don't want us to exist doesn't mean we will stop, because we exist, and here we are. We will do whatever we can. And we have the world standing by our side — the world has not given up on us. We are getting help: UN Women for example is helping me run a center in Kabul. Overseas Afghan women are helping; Our women friends around the world are helping.
Every woman in Afghanistan is doing something extraordinary — just by surviving, just feeding their families, and keeping the hope that maybe one day, everything will be okay for them. I am impressed with every single Afghan woman: those inside the country, and those abroad with broken hearts, who are also crying day and night for their work, for everything they have built, and for everything. what we fought for, is destroyed day by day.
The world must see us as the women of Afghanistan, not just second-class citizens somewhere. We are women of a country where a lot of mistakes have been made. The world knows us. Over the past 20 years, we've proven to the world who we are. Help us stand up again. Those of us who are standing up in Afghanistan, help us stand up in Afghanistan. Those of us who can't live in Afghanistan anymore, help us get out so we can stand up outside our country. The world shouldn't think they're bringing us debris – stand behind us, by our side, and see what we can do.
Give us the respect we deserve
We are the hope, we are the strength that holds Afghanistan together. The world should give us the respect we really deserve. We are reaching out and we ask you to help us.
There was a time when the world went into dark and bad places, when we thought the sun would never rise again. But nothing lasts forever – this I believe with all my heart. I hope; I must be. I have a lot of hope for a better Afghanistan, an Afghanistan that belongs to its people, to all of us.
There is one point that I want to make very clear: what is happening to Afghan women can happen anywhere. Roe v. Wade destroyed years of progress, taking away women's rights to their own bodies. Deprivation of women's rights is happening everywhere and if we are not careful, it will happen to all women in the world.
One day I won't be here anymore, but my hope for the world is that brave young women around the world will tell my story and they will raise generations of women to speak up. , like me, for centuries to come. "
<! - Composite Start ->
<! - Kết thúc tổng hợp ->