News
Fox keeps quiet about new texts exposing Hannity and Ingraham's hypocrisy on January 6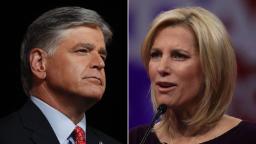 Fox News didn't even show Monday night's meeting of the House committee investigating the June 1 attacks. Newsmax or One America News too. So right-wing TV viewers didn't hear when Congressman Liz Cheney
disclosure
that some of Fox's biggest stars urged Mark Meadows to help during the siege of the Capitol.
"Mark, the president needs to tell everyone at the Capitol to go home," Laura Ingraham texted Meadows. "This is hurting us all. He is destroying his legacy."
She knows. They all know. They all knew the truth at once. But by the night of June 1, Ingraham had launched conspiracy theories about "ANTIFA" and made excuses for moderate "patriots" who, let's be clear, marched into DC based on a word lies that she pushed away time and time again. Fox's pro-Trump programming was partly to blame for the Big Lie, so when that lie led to violence, of course some of the hosts panicked and tried to put out the fire.
On Monday, Cheney read two other texts from Fox stars to Meadows from June 1. One is by Brian Kilmeade: "Please, put him on TV. Destroy everything you've accomplished." The other is Sean Hannity's: "Can he make a statement, asking everyone to leave the Capitol?" Cheney did not specify when the messages were sent. But I was struck by Hannity's dispassionate tone about the ongoing terror. At least Kilmeade said "please, put him on TV."
The 1/6 committee has thousands of other texts and emails. Cheney shared just a small sample on Monday. But the very small sampling left Fox and the Murdochs extremely confused. As Maggie Haberman put it, this "cuts down the effort of all the people whose names she reads who can say January 6th isn't that bad." It's "not as bad" as one of Fox's dominant themes this year. This banner on "Don Lemon Tonight" captures it perfectly: "The Fox hosts and Donald Trump Jr knew exactly what was going on and now they pretend it wasn't."
"These texts prove something essential"
Or as SE Cupp just posted on CNN, "Fox News viewers, you've got it."
Yes – but here's what the Fox hosts would probably say if they were ever challenged about this. They will say they condemned the riot at the time. And they all did, if only for a short while. But Hannity and Ingraham also continued to lie about the election and strongly blamed leftists for the chaos in the Capitol. And many Fox hosts have attacked other media outlets for their continued coverage of the prosecutions and investigations — in other words, for their continued interest in the terror. Memory rehabilitation efforts have become so widespread, precisely because characters like Ingraham know how bad it is. When she wrote "this is hurting us all," I'm sure she wasn't thinking about America or the rule of law. She's thinking about "we" in the Trump-controlled Republican party. But she was right: This is hurting us all.
Total silence from Fox
A Fox spokesman did not respond to my request for comment on the texts Monday night.
<! - Composite Start ->
<! - Kết thúc tổng hợp ->