Lifestyle
Grit and Polish share secrets for easy and elegant collection
Next, Cathy Poshusta shares her secret to gatherings that are comfortable and timeless in elegance.
It's every city dweller's fantasy: A quiet house in the countryside. Away from the hustle and bustle of everyday urban life, it becomes a safe little haven that we can share with family and friends. In our dreams, it is not modest and peaceful. The days go by slowly, and the only reason to hurry is so we can make the most of the sun. And while we will indulge in fantasy several times a week, others have made it into the reality they are living every day. Cathy and Garrett Poshusta, the couple behind Grit and Polish, are a great example — and we live vicariously through every glimpse of their lives.
After buying their first home in 2008, an elevated repair home in Seattle, they spent the next three months renovating. While they claim to know nothing at the start of their remodeling journey, quickly and with decades of projects behind them, they have developed their skills and become full-time renovators. Couple, Grit, and Polish blogs document it all — DIY insights, styling tips, recipes, and more. It is home to a multitude of design and lifestyle ideas, and provides an important reminder that by slowing down and forging a more mindful relationship with our surroundings, we can find inspiration. excitement anywhere.
Their self-proclaimed slow(ish) lifestyle extends beyond their home and into the way they gather, cook, and eat. Cathy's culinary ethos is all about fresh and unfussy meals. Garden-bought treats are a staple during the spring and summer months, and throwing a good party is as simple as a good IPA.
With the weather warming, the days lengthening, and the world about to bloom again, we've set our sights on all the spring gatherings. We sat down with Cathy to get all the details on helping us map out our organizing plan for the season. The design entrepreneur let us explore her family's playful and flower-filled life. Cathy reflects on her renewal journey (it involves a big career change!), recommends essentials for her morning routine, and shares her top tips for organize meetings with a savings budget. Let's dive in.
What does a great gathering look like to you?
We love hosting friends and family in the garden in the summer and early fall. We cook simple meals and pick up some of our favorite local beers and let the kids run around our block.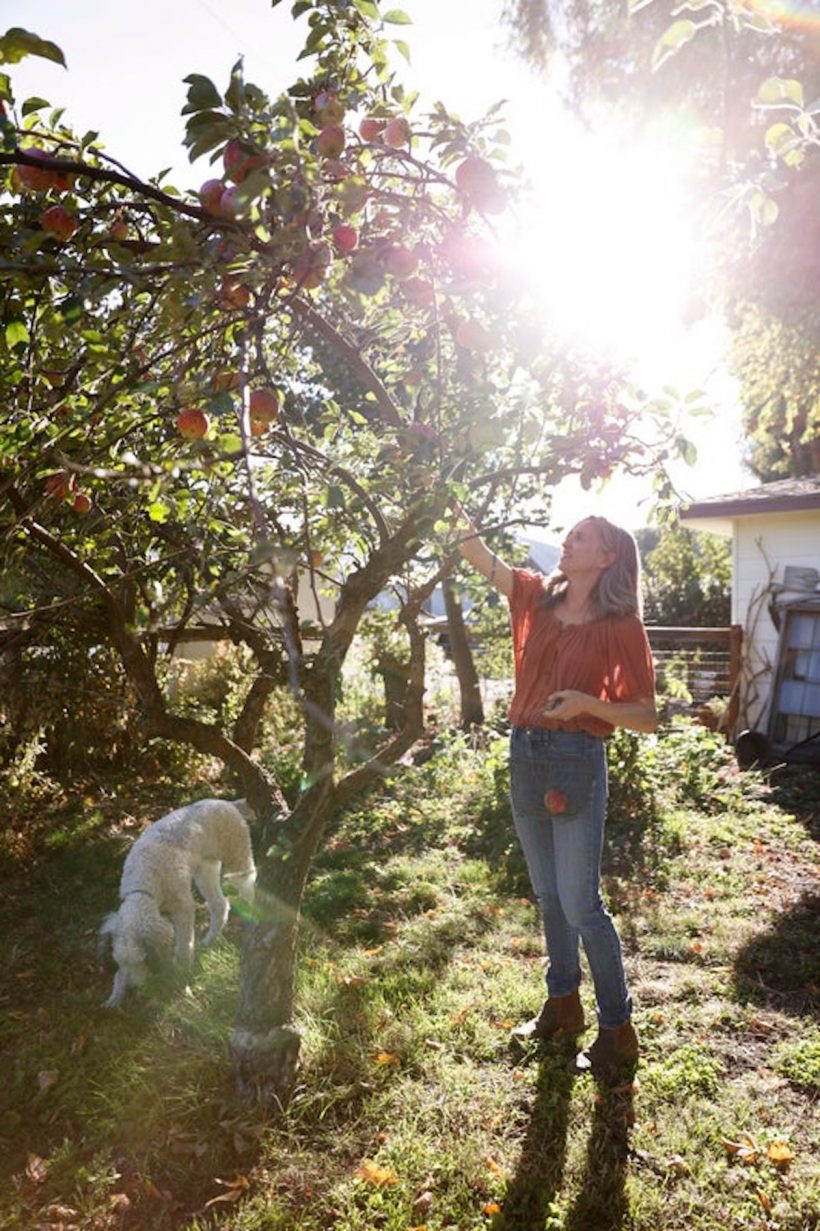 How did you learn to cook?
Garrett is actually the main chef in our family and he grew up helping out in the kitchen. He's one of those people who can open the fridge, see what's on hand, and simply prepare a delicious meal, no recipe needed. I'm so jealous! I make cakes at our house. Sourdough bread, chocolate chip cookies…
What informs your approach to food?
We like to eat what's fresh and try to keep things simple. We love meals that turn into leftovers that last for days. For example, one day we will have a bowl of roasted vegetables and the next day we will turn them into grilled tacos and the next day they will become Mexican salad.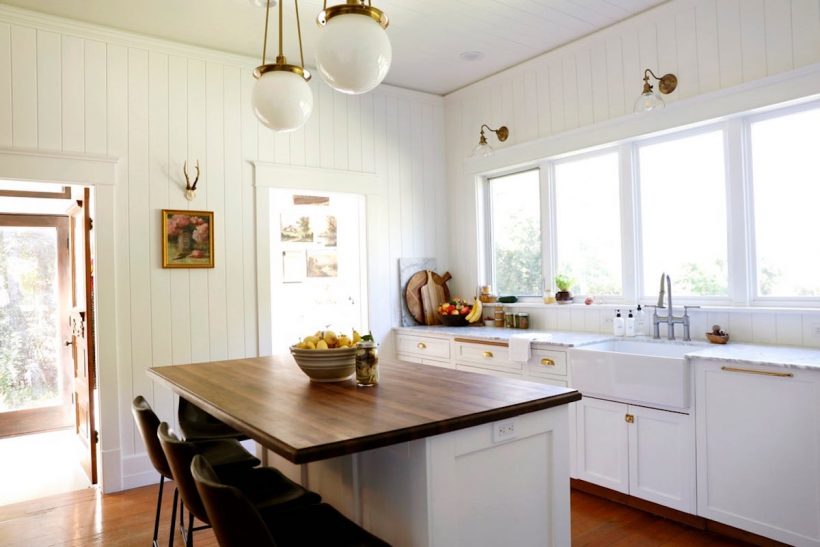 Our team is obsessed with your house and we want to know more! Can you share how you found it and describe the renovation process?
Thank you! We found our farm 5 years ago. It is located just outside of Ellensburg, Washington, the small town where Garrett and I grew up. We were living and working in Seattle at the time, and that's the area we had our eyes on. The first time we walked up to the front of my farm, I had a really special feeling. I don't just want to live in this house, I want to die here. We've been slowly fixing it ever since.
The kitchen is something we've dreamed of for years and spent a lot of time imagining how it would work. We let the house inform a lot of the design and did all the work ourselves. Thankfully, we're really pleased with how it turned out! Another favorite remodeled garden. We stayed there all summer.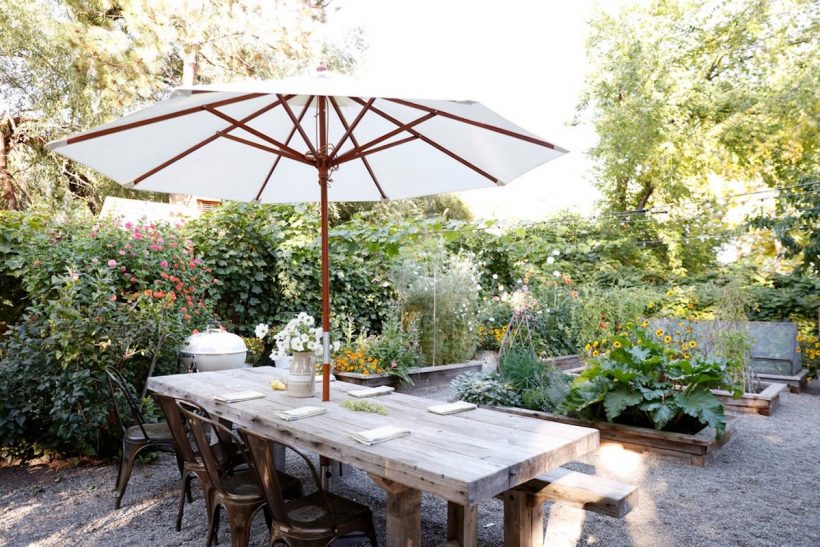 When did you plant your garden? What do you like to harvest in each season?
We plant the garden in April/May every year. This year, we made three food beds and three flower beds along with cherries, pears, grapes, and raspberries. It is a good mixture for the health of our body and soul. I think everyone's favorite time of year is when raspberries are at their peak. In July we harvest up to 6 pounds of berries a day and they are delicious. Honestly, they taste like summer! I make batches of jam, freeze and bake with them. It's not hard to get our place! In August and September, tomatoes and pears dominate the garden. Of course, cut flowers are always a delight.
What does a great gathering look like to you?
We love hosting friends and family in the garden in the summer and early fall. We'll pick up some of our favorite local beers, cook up a simple meal, and let the kids run around the block.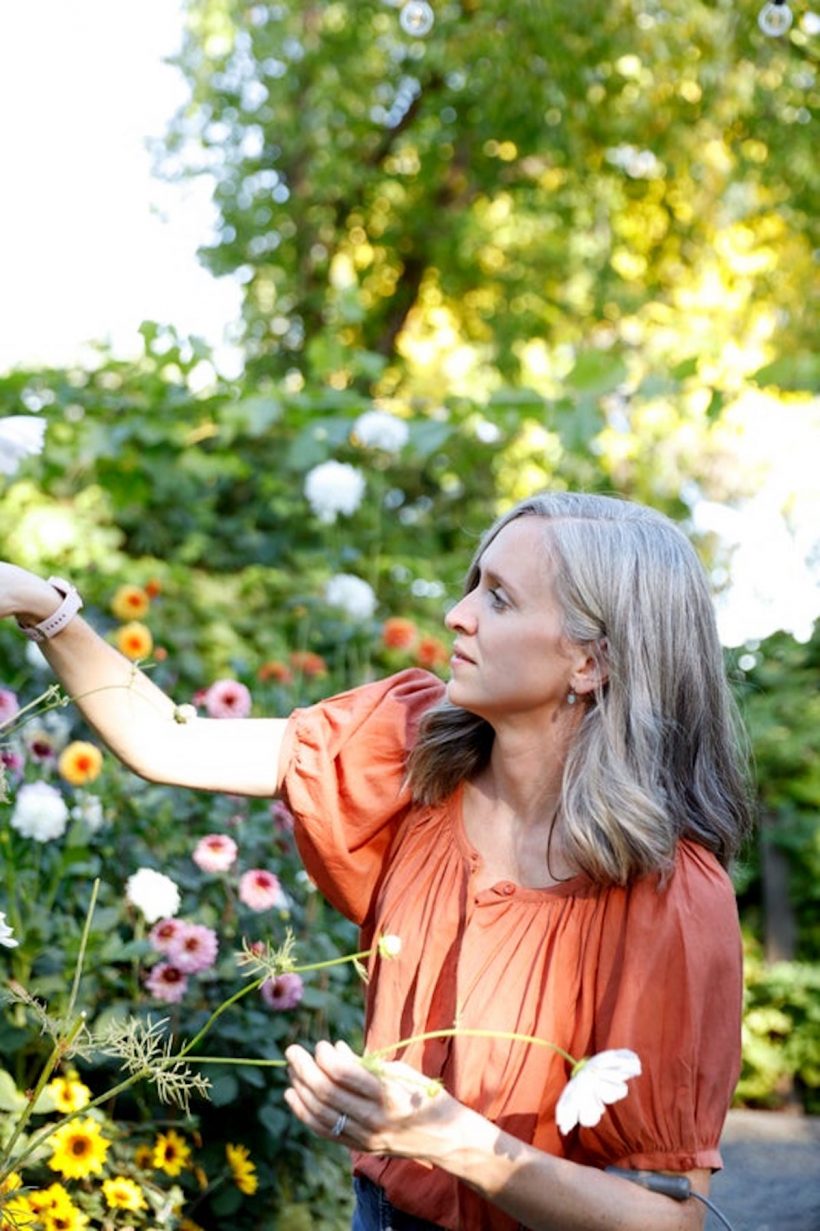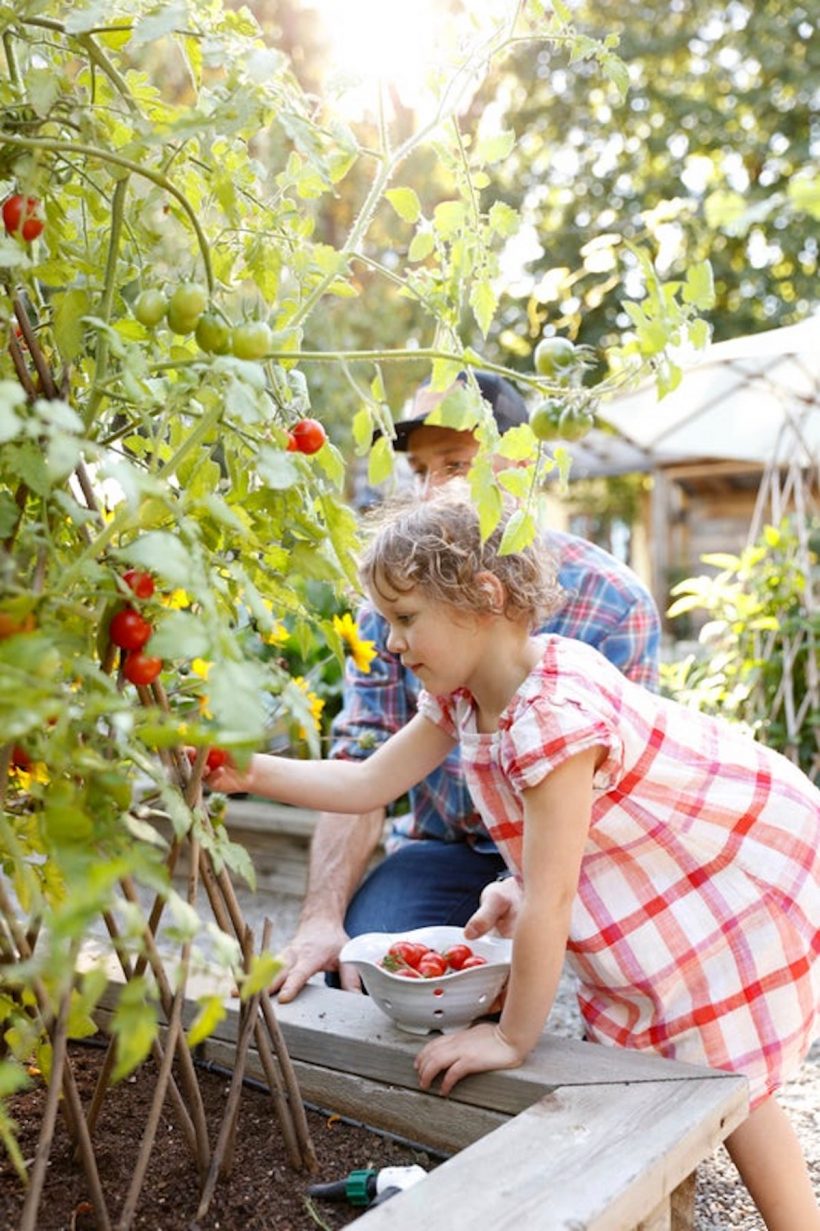 Guide us through your typical day.
Most of my days start early — around 6 a.m. I'll splash some water in my face and throw in my running clothes. If the kids aren't up yet, I'll usually hop on my computer or do some chores around the house until we can all sit down to have breakfast together. We've really made exercise a priority this year, and Garret and I make sure to jog or work out for more days than not.
Work is a really fluid thing for us. Garret and I work full-time on our rehab, Grit and Polish, and share parenting duties. Some days, work means renovating our farm or small rental in town. On other days, I sit at my computer writing, editing, and emailing all day, or taking pictures and creating content. I wish I was a little more organized or had more routines to follow — I tend to do whatever we need to get done that day or whatever I feel excited about.
The evening is filled with family dinners. Sometimes it's quick if we have sports and games to take part in and sometimes it's a slower meal in the garden. We play with the kids, then go to bed and read books. Story time is one of my favorite parts of the day. After the kids come down, I'll sit at my computer for a bit or spend time with Garrett watching a show, reading a book, and reading a letter.
What do you drink when you wake up? And what for breakfast?
I start my day with a glass or two of water and then have a cup of coffee. We ate breakfast as a family in the morning and the menu changed upon request. It could be oatmeal, crepes, pancakes, Dutch-style babies, yogurt and homemade granola, etc. We are definitely breakfast lovers.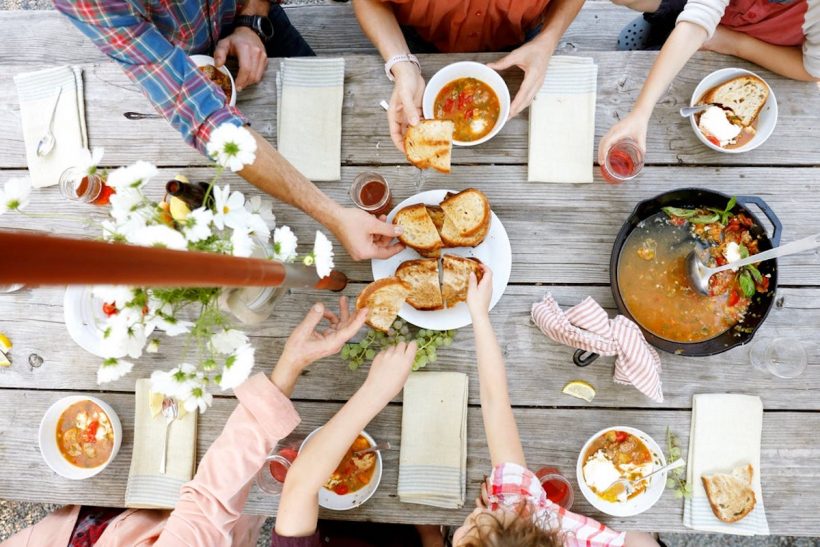 What are your three favorite products on the table, and why?
I almost always have fresh flowers on our table when we celebrate. My vase supplies are Farmhouse Pottery vases and cutters. I really wanted to be a tablecloth and napkin business, so I ordered these cloth napkins. And I love a good candlestick in a vintage brass stand. Our kids are still young and we use basic IKEA white plates every day to take the pressure off.
What are your must-have cookware and why?
My cast iron pan! It is very flexible. You can sauté, grill, bbq — so many possibilities. Plus, it lasts forever.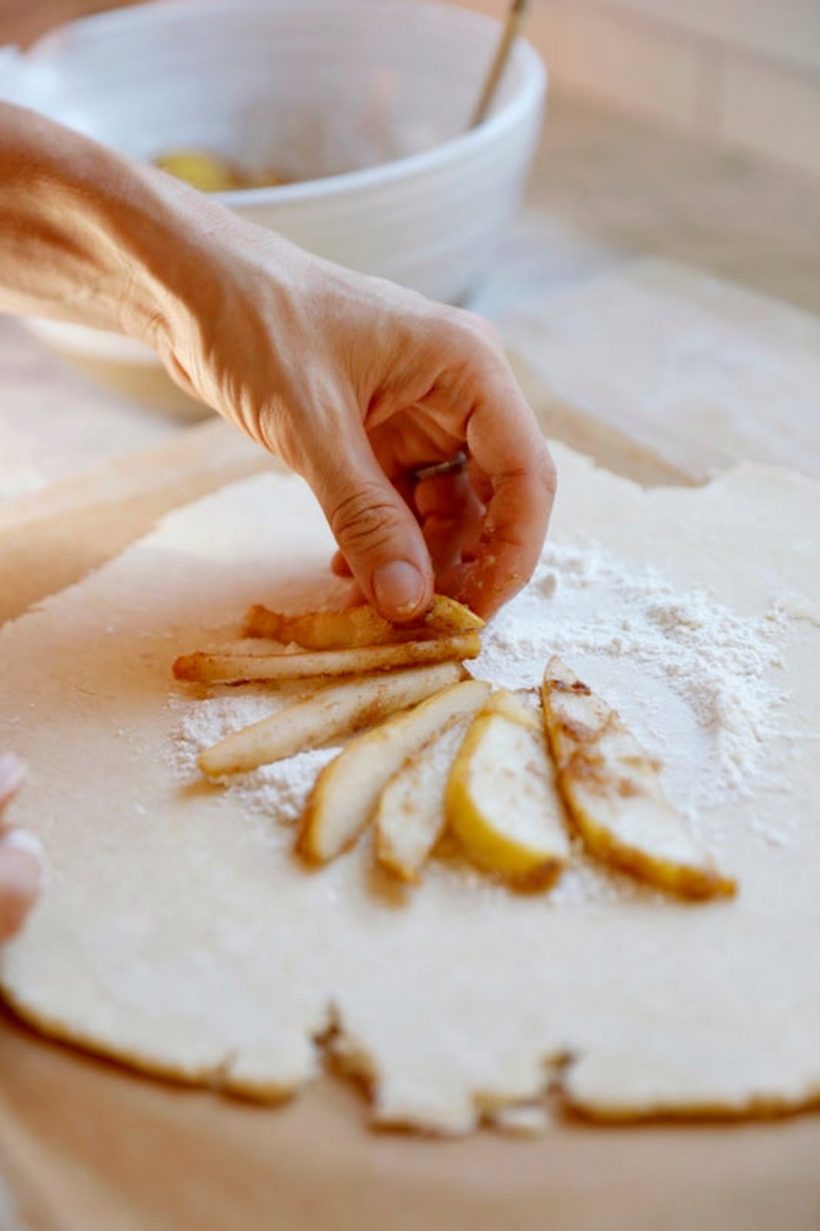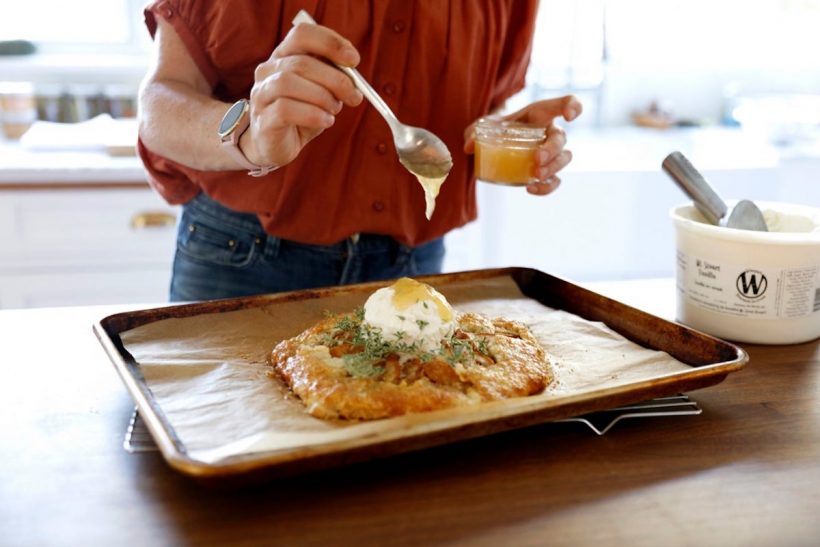 What is your favorite cookbook? Why?
Our three most used cookbooks are Dirt Handling, Tartineand Minimalist kitchen. Andrea Bemis' recipes are delicious and I love her down-to-earth approach to cooking. I'm a sourdough baker and Tartine is my bible. And by Melissa Coleman, Minimalist kitchen The cookbook is full of beautiful recipes and great tips to simplify the cooking process and help you stay organized.
Tell us some things we'll always find in your fridge.
Our fresh vegetables, chicken eggs and a good IPA.
What scares you about entertainment and why?
Preparation ahead of time. I'm one of those people who need to throw a party to really clean the house.
Your signature dish for gatherings?
We keep it as simple, fresh and local as possible. Usually veggie tacos, burgers, or sourdough pizza.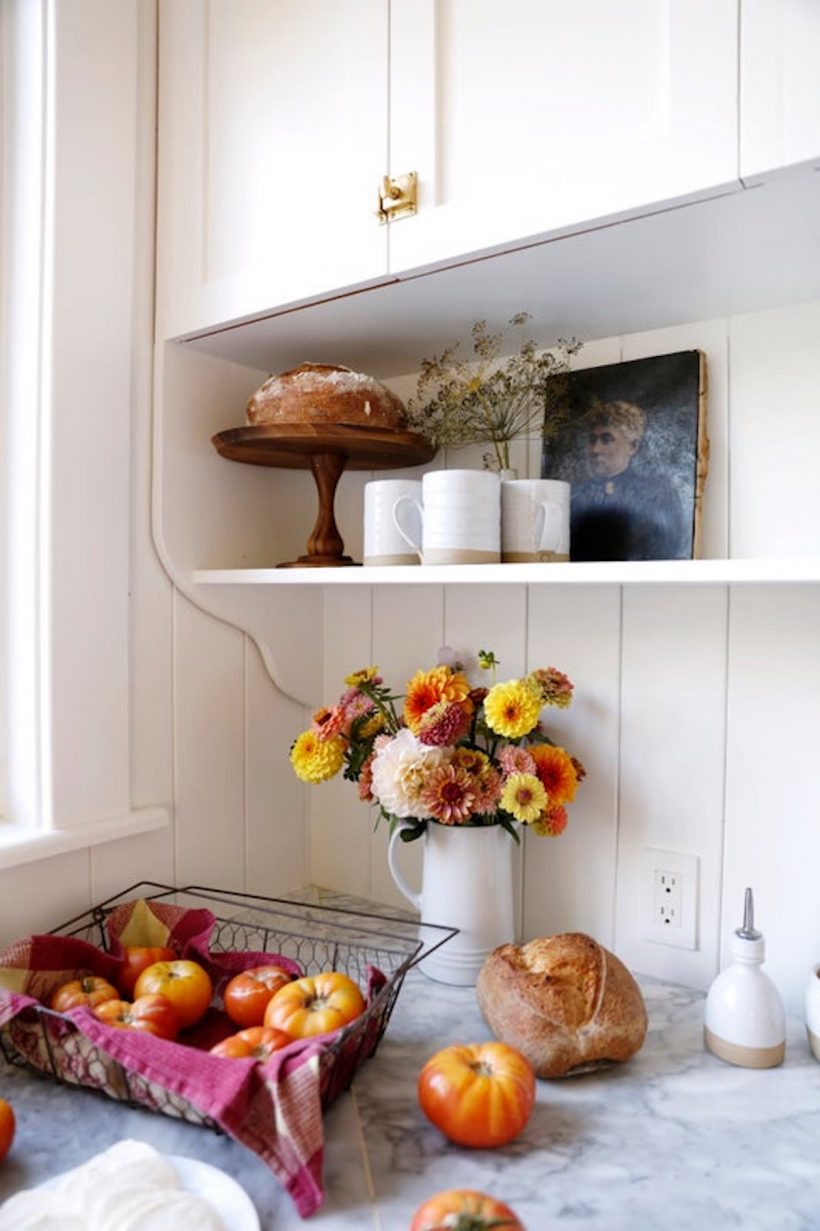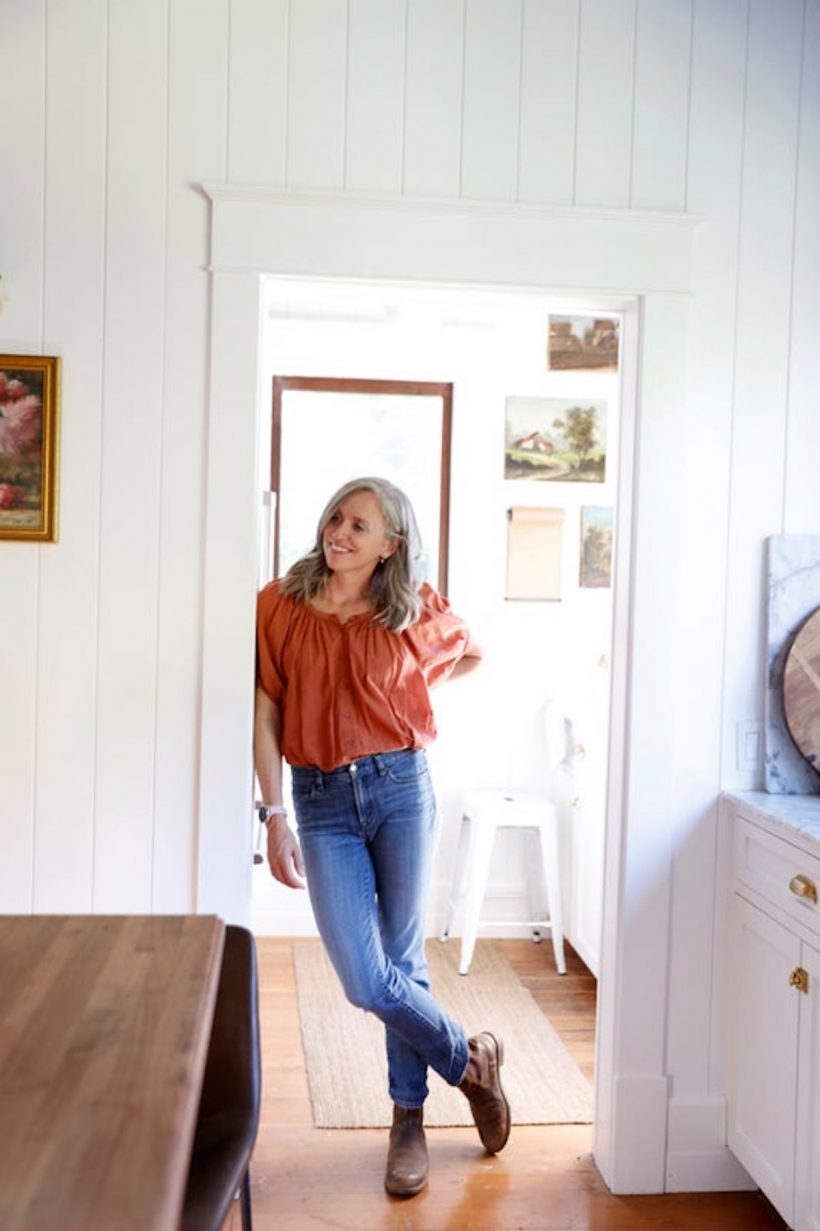 Your weekend dinner to eat at home?
Mexican! We started by tossing some beans mid-morning. In the evening, we bake a pan of vegetables (topped with smoked paprika, cumin, and paprika) and stuff them all into tortillas or quesadillas with butter, sour cream, and whatever else we have on hand.
What is a tip for those who want to organize a meeting on a budget?
Choose Mexican food. It's inexpensive, easy, flexible, and always crowd-pleasing.
The list of perfect dinner parties includes:
Nathaniel Rateliff! We saw him in a gig this summer and I'm obsessed.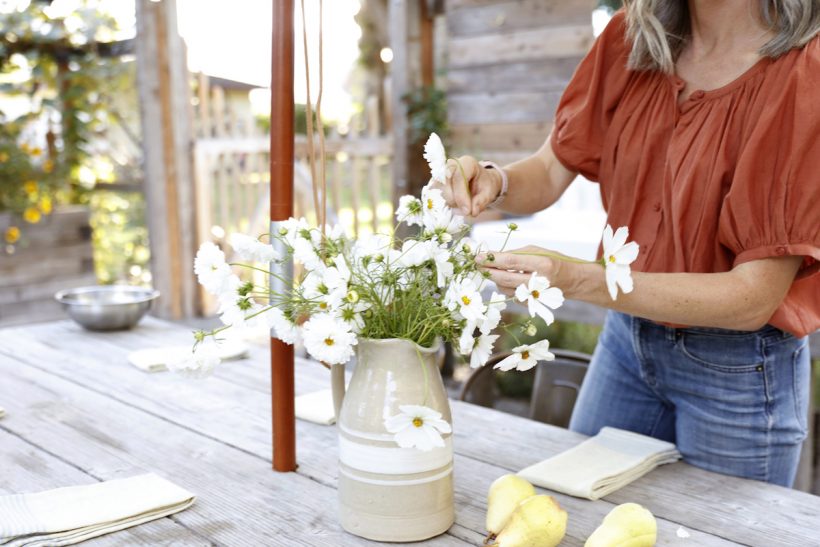 Go to central solution:
Fresh flowers, always.
What stress-free party principle do you live by?
Keep the menu simple and have plenty of beer on hand.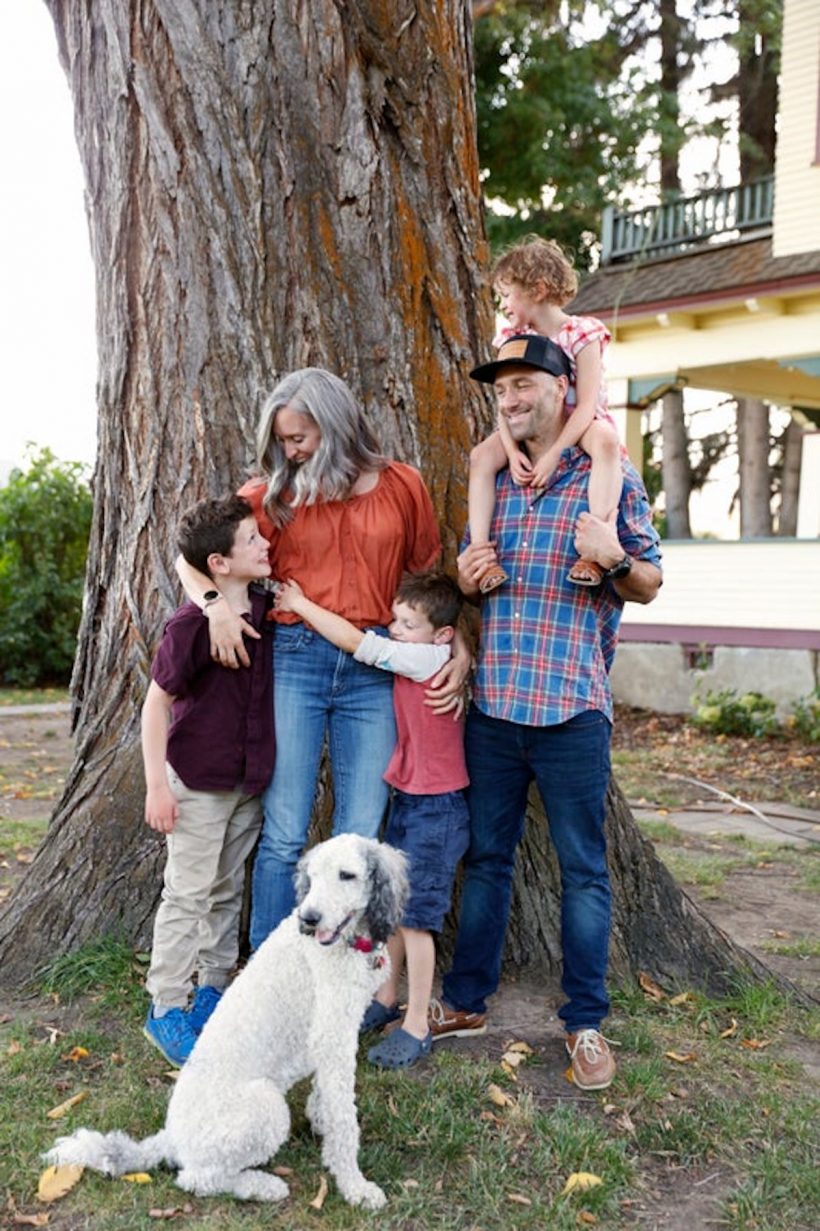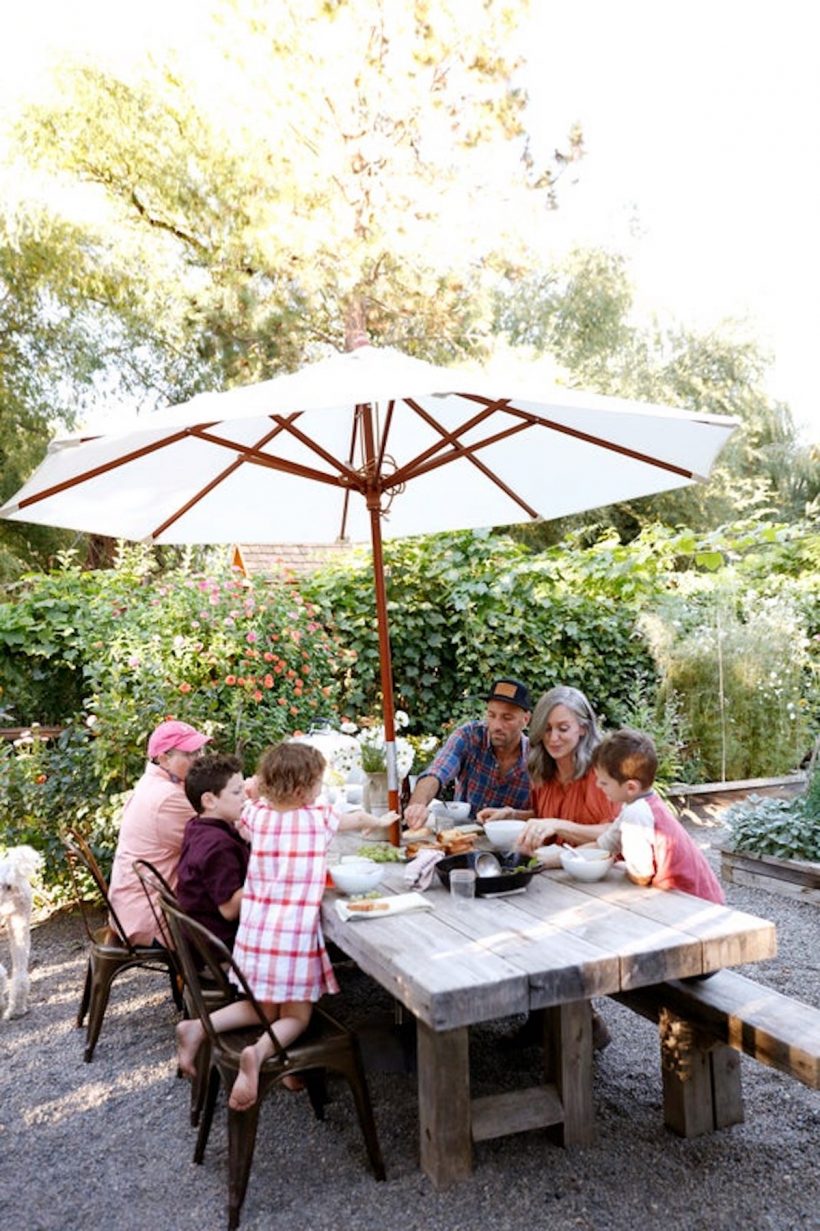 Dream dinner guests?
My twin sister and her family! She lives four hours away and we don't see each other as much as we would like.
Fill in the blank:
A perfect meal should… Made from scratch and includes fresh vegetables.
It's not a dinner party without… Delicious beer and kids running wild.
Every chef should know how to… Roast vegetables!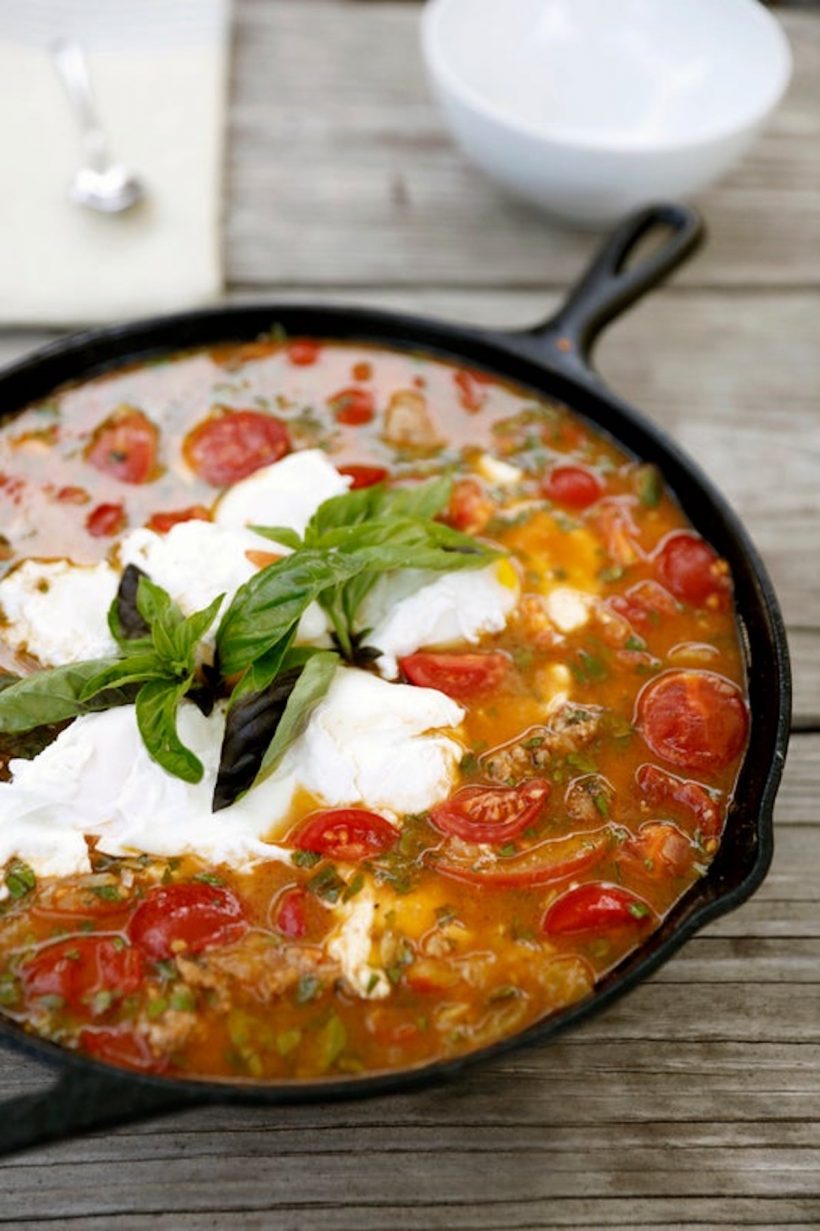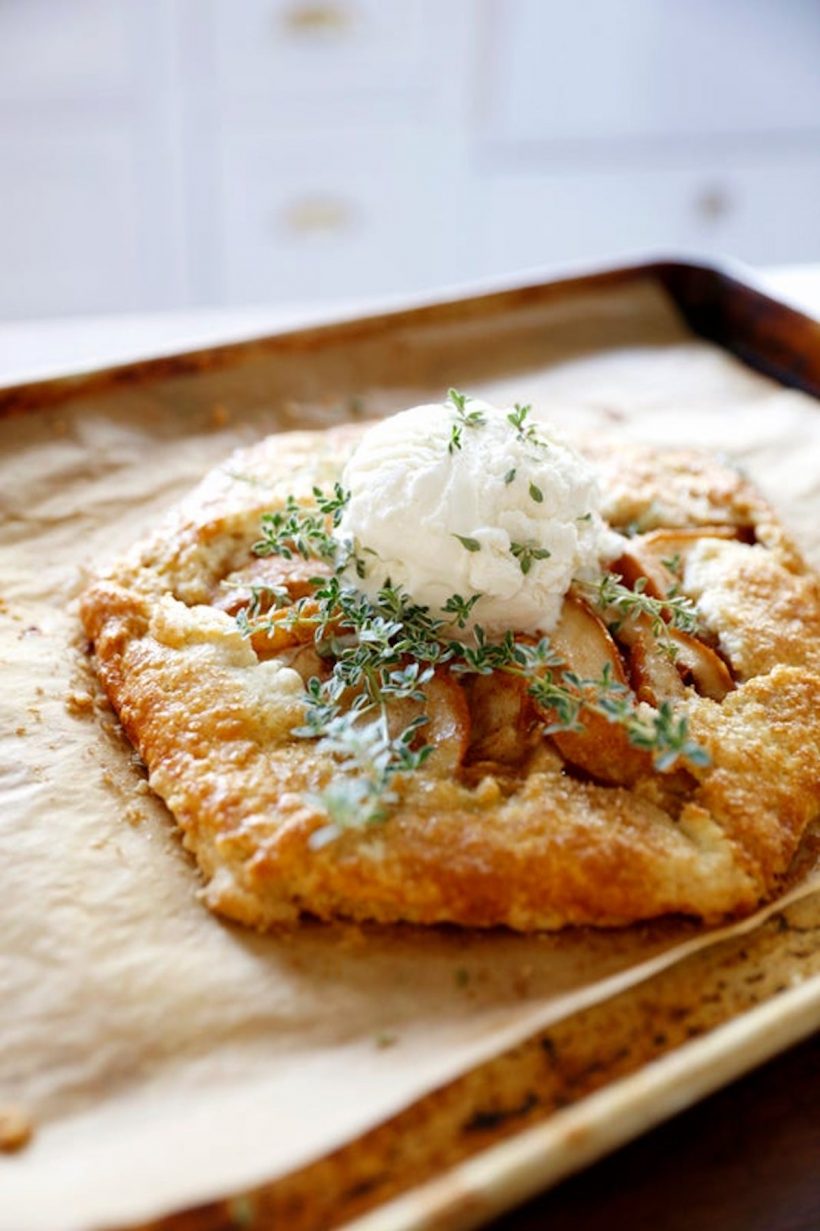 Get Cathy's recipe for Skillet Woody Tomato Soup and Pear Galette.
What entertainment rules do you live by?
<! - Composite Start ->
<! - Kết thúc tổng hợp ->