News
icu: Air turbulence: 2 in ICU, DGCA grounds SpiceJet crew
NEW DELHI: Driving a vehicle that is badly disturbed
Boeing
737 arrives in Kolkata hours after it encountered severe turbulence in
Durgapur
Sunday night approaches cost
SpiceJet
Dear. The DGCA has dismissed the aircraft maintenance engineer who cleared the plane from Durgapur, the pilots who flew it to Kolkata as a ferry (no passengers) and the director of the maintenance control center of the company. The airline is awaiting investigation.
Three passengers are still in hospital, including two in
ICU
after suffering brain and spinal cord injuries, the DGCA said.
DGCA officials say stern action will soon be taken against the airline's top flight safety organization. In addition, the director of DGCA Arun kumar ordered an inspection of SpiceJet's entire fleet.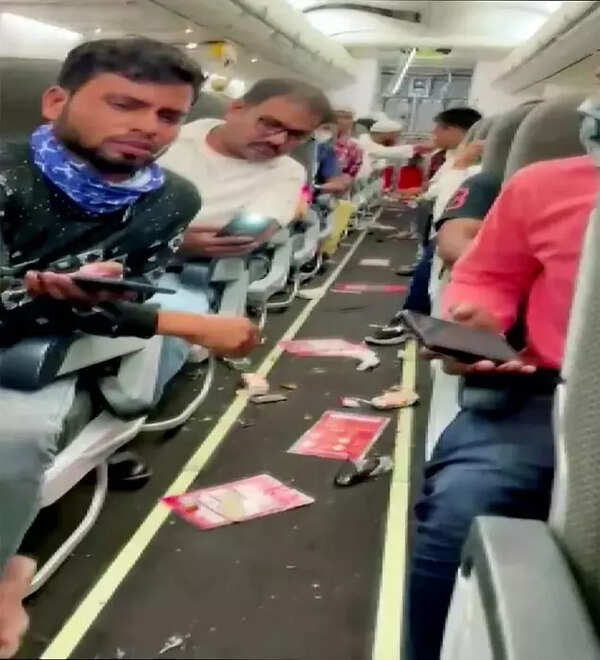 The SpiceJet aircraft faced air turbulence during landing, in Durgapur on Sunday.
Flight SG-945 took off from Mumbai at 5:13pm on Sunday to Durgapur with 199 people on board – 195 passengers, 4 flight attendants and 2 pilots. "During landing, the plane encountered severe turbulence. During this period, the autopilot was paused for two minutes and the crew manually piloted the aircraft," the DGCA said in a statement. "The B737's oxygen plates opened and the oxygen mask fell off. (A) Some of the seat armrests and top trim panels have been damaged. An overhead cabin Garbage can The (hatrack) key was found broken," it added.
Due to strong winds, 14 passengers and 3 flight attendants were injured. Wounds to the head, spine, shoulders, forehead and face.
SpiceJet then took the plane to the nearest maintenance facility, Kolkata, for repairs like a ferry flight. But flying this badly shaken plane is being considered a safety violation.
The regulator has established a multidisciplinary panel to probe the disturbance. SpiceJet said eight of the 11 hospitalized passengers had been discharged, and that both the cockpit and crew issued "multiple notices asking passengers to remain seated with their seatbelts fastened" when the Boeing 737 crashed. interference by waves.
Minister of Aviation Jyotiraditya Scindia tweeted Monday: "… DGCA sent a team to investigate the incident. The matter is being handled very seriously and skillfully…"
A SpiceJet spokesperson said: "SpiceJet is providing all possible assistance to the injured. The seat belt sign is turned on when the plane encounters a storm… Due to the strong wind, some passengers were injured. Timely medical assistance was provided upon arrival. "
<! - Composite Start ->
<! - Kết thúc tổng hợp ->