News
International community urged to support new administration in Somalia |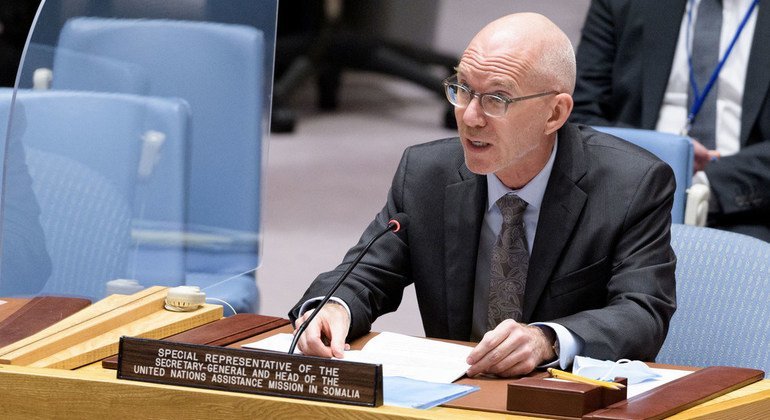 James Swan, who also heads the United Nations Assistance Mission in Somalia (UNSOM) calls on both the authorities and the international community to take advantage of this "Time of Opportunity".
Collaborative spirit
"We call on Somali leaders work together in a spirit of collaboration and national goals. We call on Somalia's international friends and partners, including those on this Council, to provide constructive support and encouragement," he speak.
Somalia's election process ended on May 15 when MPs voted to elect Hassan Sheikh Mohamud as the country's 10th President.
The presidential election was held according to what Mr. Swan called for "An unduly lengthy and controversial process" to choose the legislature.
Flaws and violence
While welcoming the successful vote, Mr. Swan also pointed out some shortcomings.
Somalis did not have a chance to vote for the House of Commons in a "one-man-one-vote" election, and only 21% of elected members of Parliament were women, despite 30% of the coin quota.
He added that many irregularities in the selection of MPs were noted throughout the process, which was repeatedly marred by violence, with many civilian casualties recorded.
President's Priority
Emphasizing the UN's readiness to work with the new Government, Mr Swan said he had heard directly from President Mohamud about his immediate goals, including national reconciliation and improved relations between the Government. central government and federal states, and address security threats from militants. al-Shabaab group.
Other priorities are completing constitutional review and judicial reform, finalizing election-related laws, ensuring compliance and international debt forgiveness requirements, and focusing on the drought situation. serious happenings in the region.
"We believe this is an appropriate initial priority list and look forward to learning more details as the new leadership takes over and the new Prime Minister and cabinet are named in the coming weeks," Mr. Swan said. next week," Mr. Swan said.
Direction of the humanitarian situation
Turning to the worsening humanitarian situation in Somalia, the United Nations special envoy reported that the number of people affected by the drought has reached 6.1 million.
"The country faces an increased risk of localized famine in six communities if food prices continue to rise and humanitarian assistance is not maintained," he warned.
Despite scaling up humanitarian work, the $1.45 billion call for this year is only 15% funded. Furthermore, donors must fulfill the pledges and commitments made last month at a high-level event in Geneva, focused on humanitarian needs in the Horn of Africa.
"Without immediate funding to expand our humanitarian activities, we face the prospect significant loss of life in the near term," he told the ambassadors.
"Even as we now focus on saving lives and preventing hunger, there is a need to strengthen resilience, development and climate resilience so that those affected by crises recurrence can adapt and evolve in the future."
Al-Shabaab Rises
Mr Swan also addressed the security situation as still "very volatile". The deadly attacks in Al-Shabaab in March and April appeared to be an attempt to disrupt the final stages of the election process.
He commended the Somali security forces and their partners from the African Union Transitional Mission in Somalia (ATMIS) "who have defended the electoral process and borne the brunt of the death attacks." Al-Shabaab's people then and after."
Earlier this month, the group carried out a complex attack on an ATMIS base in the Middle Shabelle area, killing several peacekeepers from Burundi.
AU representative Francisco Caetano Jose Madeira said attacks like this show a resurgent Al-Shabaab "will continue to pose many challenges for both Somalia and ATMIS, highlighting the urgent need for a strong and appropriate response to them."
He emphasized the critical need to scale up air support with transport and attack helicopters, as well as full attack weapons, for both ATMIS and Somali security forces.
The AU mission was established last month and follows on from an earlier activity known as AMISOM
<! - Composite Start ->
<! - Kết thúc tổng hợp ->