Sports
Lewis Hamilton clarifies support for British GP protesters after Silverstone racetrack invasion
Lewis Hamilton initially said "loud the protesters" after Sunday's racetrack invasion but later hit back on social media; Northamptonshire Police say 7 people have been arrested after the invasion in the opening round of the British GP
Last updated: 04/07/22 11:16 am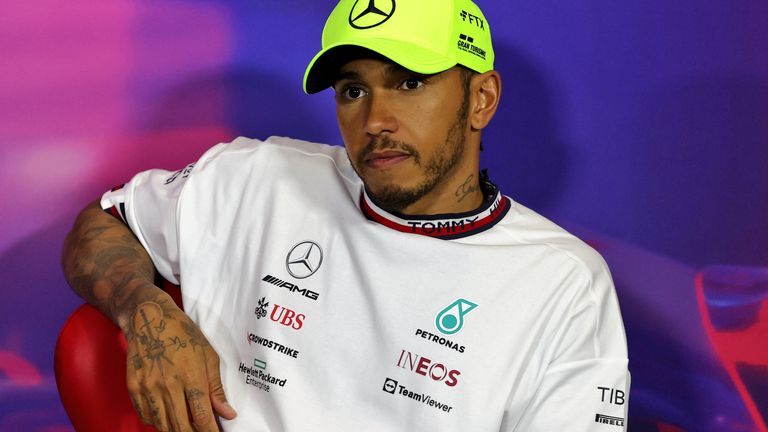 Lewis Hamilton has clarified his support for the protesters following their racetrack invasion at the British GP, saying he will "always support" people standing up for what they believe in, but insists that "it must be done safely".
Northamptonshire Police said seven people were arrested following the invasion on the Silverstone extension. Five protesters stormed the Wellington Straight – the track's fastest point – before sitting down.
The race was halted after Zhou Guanyu's high-speed collision, but some of the cars that sped up like a quintet – understood to represent the views of the Just Stop Oil group – launched a protest. their.
Speaking shortly after the race, Hamilton said he was unaware of the protest but added: "Grow up those guys. Grow up protesters.
"I love that people are fighting for the planet and we need more people like them."
But Hamilton later clarified those comments on social media.
"While I will always support those who stand up for what they believe in, it has to be done safely," he said.
"Please don't jump on our track to protest, we don't want to harm you."
Hamilton's team Mercedes released their own statement: "Lewis has endorsed their right to protest but not the method they have chosen, which compromises their safety and that of others. other."
Ferrari driver Carlos Sainz, who won the race, said: "As soon as I stepped out of Turn Five I saw three boys running towards me.
"Everybody has a chance to speak up because it's their right, but I don't believe that jumping on a Formula 1 track is the best way to do it, and putting yourself and other drivers in danger.
"You have to be more careful because you can get killed and cause an accident."
'Absolutely stupid' | F1 boss slams watch for invasion
F1 bosses were warned of the possibility of a rally earlier this week, and the sport's CEO Stefano Domenicali played down the invasion.
"Completely irresponsible," he told Sky Sports F1. "People may object to something with their voices, but to take risks on the track, to be dangerous and have really serious things for the driver and himself is completely stupid.
"This is unacceptable, whatever you want to protest, there is freedom of speech, but this is really ridiculous."
He added: "Everyone has the right to speak out about issues, but no one has the right to put their lives at risk. The actions of a small group of people today are completely irresponsible and dangerous. i thank the police for their great job and we should not be complacent about the risk this poses to the safety of the drivers, the sheriff, the fans and the individuals themselves ."
Events Chief Inspector Tom Thompson said: "I am deeply disappointed that this group of people ignored our warnings before race day and made the extremely dangerous decision to enter the race.
"We offered to facilitate a peaceful event at the track but instead they chose to put the lives of drivers, police and volunteers at risk.
"All seven people are currently in custody, where their details are being verified."