News
Live updates: Russia's war in Ukraine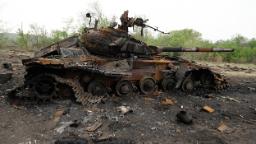 The Baltic states and Poland will start denying Russian tourists as of midnight Monday, a move aimed at tightening restrictions in response to the invasion of Ukraine.
Estonia, Latvia and Lithuania along with Poland reached an agreement earlier this month to limit the issuance of Schengen Area visas due to the "serious threat" to security posed by the influx of Russians.
Schengen Area covers 26 countries mainly EU allowing unrestricted movement within their borders.
The travel ban means Russian citizens will not be able to enter four of the five European Union countries that share a land border with Russia. The fifth country, Finland, has decided to remain open to visa holders but has reduce the number of consular appointments available for those who want to travel to Europe.
Dissidents, journalists, truck drivers, Russian refugees as well as residents of EU countries and those visiting family members in Europe are exempt from the new ban.
The rule will also not apply to humanitarian cases, family members, EU residence permit holders, diplomatic missions and "other legal exceptions".
In a joint statement published on September 8, the prime ministers of the four countries said that "going to the European Union is a privilege, not a human right."
"Among Russian citizens entering the EU/Schengen, there are those who come with the aim of undermining the security of our countries, of which three-quarters of Russian citizens support the war of aggression," the statement said. of Russia in Ukraine".
"Latvia, Poland, Lithuania and Estonia have agreed that the measures adopted on a common basis are to protect public policy and internal security, as well as to ensure the general safety of their common Schengen area. me," the statement noted.
Commenting earlier on the EU's decision to suspend the visa agreement with Moscow making it difficult for Russian citizens to obtain a Schengen visa, Kremlin spokesman Dmitry Peskov said it was "absurd" and would make life difficult for Russians. Europeans become more complex.