News
National Menorah Light: Doug Emhoff attends ceremony in DC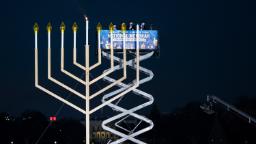 The first Jewish spouse of a president or a vice president, Emhoff publicly highlighted his various tenets of faith while his wife was in office.
"On this first Hanukkah night, Jews around the world will light their menorah on the windows of their homes – just as the vice president and I will do tonight in our home in DC," said Emhoff. said during the ceremony. "As we light this menorah on this lawn of freedom, let us dedicate ourselves to doing everything we can to shine a light on hate, so that we can put an end to hate."
"Let's always remember that Jewish history is American history; our values, American values," he continued.
Earlier this month, Emhoff announced that he and Harris had
paste a mezuzah
to the vice-president's residence for a private ceremony in October. That moment marked the first time an executive house bore the enduring sign of the sanctity of a Jewish home.
The lighting tradition dates back to 1979, when President Jimmy Carter was in office. But it was President Ronald Reagan who officially designated the candlesticks as the Menorah Nation.
Vice President of the United States at the time, Joe Biden, a very religious man, spoke at the ceremony in 2014.
"The truth is that our Jewish heritage, Jewish culture, Jewish values ​​are an essential part, an essential part of who we are," Biden said at the time, wearing a black yarmulke. "It's fair to say that Jewish heritage is American heritage. It's who we are as a people."
According to the National Menorah website, light acts as a catalyst – starting a "Festival of Light" across the country and globally, according to the National Menorah website.
They say the ceremony attracts tens of millions of viewers and see it as a symbol of the beginning of Hanukkah celebrations.
The National Menorah website says: "In this way, we reaffirm our celebration of freedom, inspired by the historic and current triumph of rights over strength, light over darkness. , understanding and justice for intolerance and bigotry," says the National Menorah website.
"As the vice president said just a few weeks ago, we must fight anti-Semitism and hate in all its forms, and call it out when we see it," Emhoff said in the speech. on Sunday. "We know that this hate is horrible but not entirely new, a fact that the vice president and I were told at Yad Vashem in Israel a few years ago, and just a few weeks ago at the Shoah Memorial. at France."
"But we also know that the story of Hanukkah is the history of a people who did not simply face tragedy, but who were committed to their faith, proud of their traditions, and knew Thank you for the many miracles and blessings in all of our lives."
This story was updated with additional developments on Sunday.
CNN's Paul LeBlanc contributed to this report.
<! - Composite Start ->
<! - Kết thúc tổng hợp ->