Lifestyle
Omicron coronavirus variant brings the world to the brink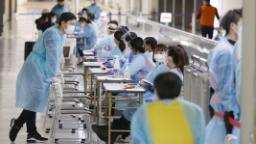 Two of Israel's top health officials have called for caution in the rush to report the impact of the coronavirus vaccine on the Omicron variant.
Nachman Ash, the health department's director general, told Galatz radio listeners Wednesday morning that it was simply too early to draw conclusions.
"There is no data at this time that can support this or that assessment [of vaccine efficacy] and we have no choice but to wait a few days and see the data," Ash said.
"Both here [in Israel] and in other parts of the world, vaccine evaluation is being examined. It takes patience," he added.
Elsewhere, 103FM's listeners heard a similar message from Salman Zarka, the head of the government's coronavirus advisory group.
"The data is really in its infancy. The information we have from South Africa is that among those hospitalized with the new variant, there are relatively younger people and fewer older people, so we cannot say anything about the risk for that. with older people," he said.
Zarka also reminds listeners of the fact that there are several vaccines on the market, with varying performances against the virus. In South Africa, many people have been vaccinated with Johnson & Johnson, while in Israel the majority have been injected with the Pfizer/BioNTech product.
"Among those hospitalized [in South Africa] with the new variant, some were vaccinated and some were not. Most of the people who got vaccinated probably got Johnson & Johnson, which was less effective than Pfizer, which is what we have in Israel," he said.
"There may be original data [from South Africa] that suggests it may be the case that the vaccine is less effective against the new variant than the vaccine against Delta, but even less effective could still mean 85% or 80%. This is initial data and I don't want to mislead the public."
While officials cautioned against drawing conclusions about the relationship between the vaccine and the new variant, Ash said one feature of the Omicron variant had become apparent.
"We know it's more contagious. The data from South Africa in this respect is worrisome. There is a very rapid increase in infections there. But that's all we can say for sure," Ash said.
The director-general of Israel's Health Ministry added that there are conflicting reports about the severity of the disease and whether there are more hospitalizations. "About vaccines, as I said, we really don't know.
<! - Composite Start ->
<! - Kết thúc tổng hợp ->