Sports
RB PPR Fantasy Leaderboard Week 13: Who to start, where to sit to run again in fantasy football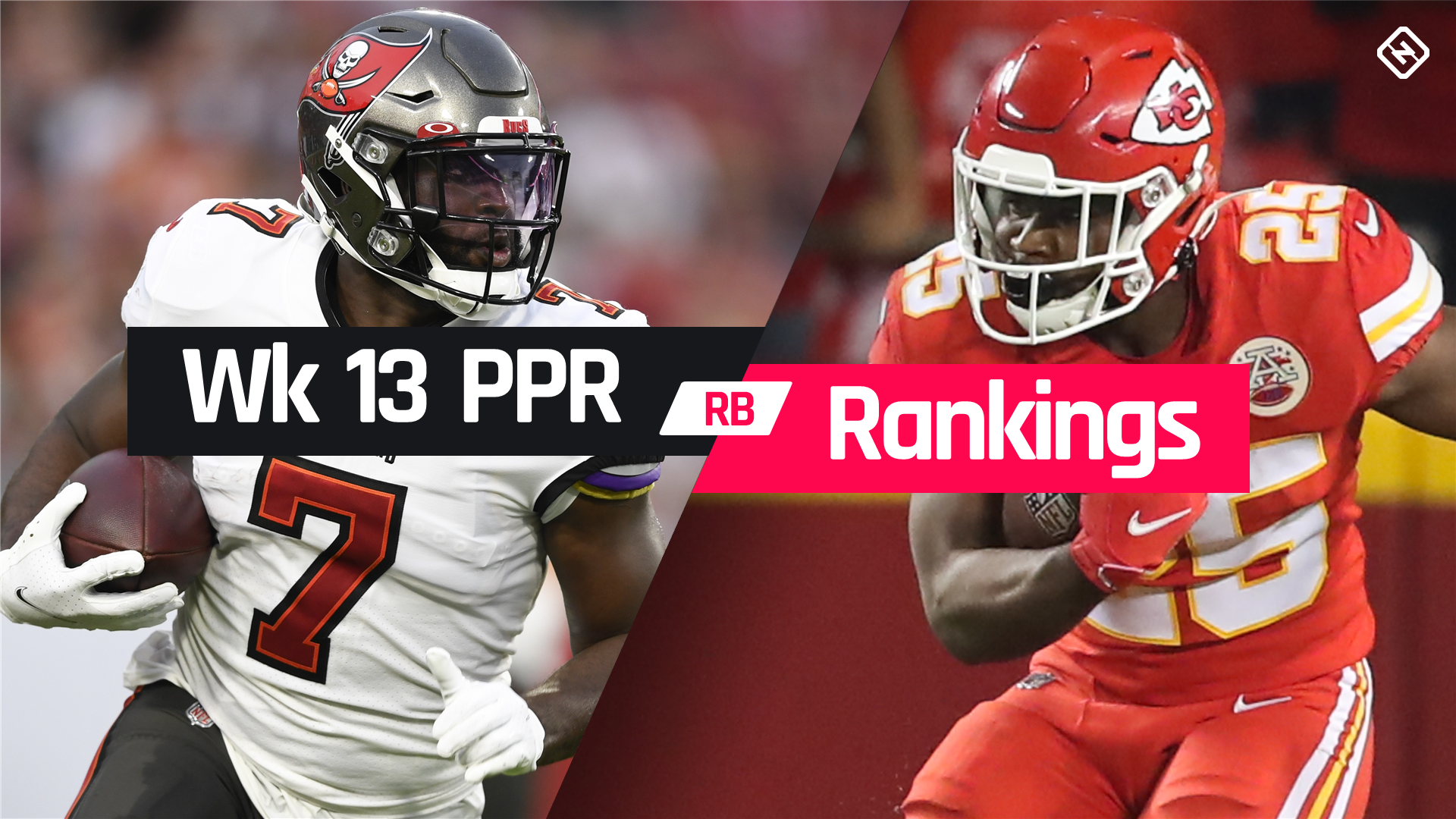 Fantasy football owners may not have some of the top passing defenders this week, as Christian McCaffrey and Kareem Hunt are saying goodbye and both Alvin Kamara (knee) and D'Andre Swift (shoulder) are in deal with trauma. The show has to go one way or another, and our fantasy RB PPR Week 13 leaderboard is here to help you make the tough starting decision.
In addition to McCaffrey and Hunt, Nick Chubb, Aaron Jones, AJ Dillon and Dontrell Hilliard/D'onta Foreman also said their goodbyes. That leaves some top defenders out, and could be even more lacking depending on who is absent through injury. We know Kamara and Swift will "have problems," but Dalvin Cook (shoulder), Ezekiel Elliott (knee), Jordan Howard (knee) and Mark Ingram (knee) will also require fantasy owners. see practice report.
WEEK 13 PPR RANKING:
Midfielder | Wide receiver | Tight ending | VND / ST | Kicker
Fortunately, some teams make good use of at least two defenders who have a very favorable position. The Lions (vs Vikings), Eagles (@Jets), Bengals (vs Chargers), 49ers (@Seahawks) and Washington (@Raiders) all have the top 5 for RB, so Boston Scott, Samaje Perine, Jeff Wilson Jr., JD McKissic, and Jamaal Williams or Godwin Igwebuike can play as flex. Most of those players, with the exception of Wilson Jr., are generally more valuable in PPR tournaments.
WEEK 13 STANDARD RANKING:
Midfielder | Run back | Wide receiver | Tight ending | VND / ST | Kicker
When it comes to PPR-specific sleepers, the Bengals (@ Chargers), Buccaneers (@ Falcons), Eagles (versus Jets), Patriots (@ Bills), Falcons (versus Buccaneers), Cardinals (@ Bears), Chiefs ( vs Broncos) and Giants (@Dolphins) have both entered Week 12 allowing for at least 6.5 RB per game (as well as the Jets and Seahawks, who we mentioned). Of those teams' opponents, only Ty Johnson (@Eagles) and possibly Devin Singletary/Matt Breida (vs Patriots) stand out as frontiersmen who are likely to have some extra value in the mix. PPR tournaments, but Singletary and Breida still have fairly low ceilings. .
Buffalo's backbenchers aren't the only ones with lousy games this week. Houston duo David Johnson and Rex Burkhead (vs. Colts) are also good picks despite being adept catchers. Alex Collins (vs 49ers) and Damien Harris and Rhamondre Stevenson (@Bills) are also in difficult positions, leaving them merely bending their backs.
For the most part, this is one of those weeks where squad selections are made for you. There are some people who are obviously drowsy often in that initial state, which helps, and there are some obvious "positions" where you want to be benched most of the week. It's quite possible – even likely – that more injuries/illnesses will wreak havoc on these charts before next Sunday, but we'll be watching the practice reports and making adjustments if need.
Note: We'll be updating this RB PPR leaderboard throughout the week, so check back for the latest player analysis and movements.
RB PPR Virtual Leaderboard Week 13: Who's Started Running Behind
Rating based on Full point PPR scored
| | |
| --- | --- |
| Places | Player |
| first | Jonathan Taylor, IND @ HOU |
| 2 | Joe Mixon, CIN vs LAC |
| 3 | Najee Harris, PIT vs. BAL |
| 4 | Austin Ekeler, LAC @ CIN |
| 5 | Leonard Fournette, TB @ ATL |
| 6 | Antonio Gibson, WAS @ LV |
| 7 | Alexander Mattison, MIN @ DET |
| 8 | Myles Gaskin, MIA vs NYG |
| 9 | D'Andre Swift, DET vs. MIN |
| ten | Alvin Kamara, NOT against DAL |
| 11 | Cordarrelle Patterson, ATL vs TB |
| twelfth | Saquon Barkley, NYG @ MIA |
| 13 | Miles Sanders, PHI @ NYJ |
| 14 | Elijah Mitchell, SF @ SEA |
| 15 | James Robinson, JAX @ LAR |
| 16 | Darrell Henderson, LAR vs JAX |
| 17 | David Montgomery, CHI vs. ARI |
| 18 | James Conner, ARI @ CHI |
| 19 | Josh Jacobs, LV vs. WAS |
| 20 | Ezekiel Elliott, DAL @ NO |
| 21 | Boston Scott, PHI @ NYJ |
| 22 | Melvin Gordon, DEN @ KC |
| 23 | Devonta Freeman, BAL @ PIT |
| 24 | Javonte Williams, DEN @ KC |
| 25 | Clyde Edwards-Helaire, KC vs. DEN |
| 26 | Jamaal Williams, DET vs. MIN |
| 27 | Tevin Coleman, NYJ vs FIGHT |
| 28 | Alex Collins, SEA vs SF |
| 29 | Tony Pollard, DAL @ NO |
| 30 | JD McKissic, WAS @ LV |
| thirty first | Ty Johnson, NYJ vs. PHI |
| 32 | Devin Singletary, BUF vs. NE |
| 33 | Damien Harris, NE @ BUF |
| 34 | Jeff Wilson Jr., SF @ SEA |
| 35 | Samaje Perine, CIN vs LAC |
| 36 | Matt Breida, BUF vs NE |
| 37 | Mark Ingram, NO vs. DAL |
| 38 | Latavius ​​Murray, BAL @ PIT |
| 39 | Rhamondre Stevenson, NE @ BUF |
| 40 | David Johnson, HOU vs. IND |
| 41 | Darrel Williams, KC vs. DEN |
| 42 | Rex Burkhead, HOU vs. IND |
| 43 | Kenyan Drake, LV vs. WAS |
| 44 | Devontae, NYG@MIA . Booker |
| 45 | Nyheim Hines, IND @ HOU |
| forty six | Kene Nwangwu, MIN @ DET |
| 47 | Phillip Lindsay, MIA vs NYG |
| 48 | Ronald Jones II, TB @ ATL |
| 49 | DeeJay Dallas, SEA vs SF |
| 50 | Sony Michel, LAR vs JAX |
| 51 | Kenneth Gainwell, PHI @ NYJ |
| 52 | Mike Davis, ATL vs TB |
| 53 | Eno Benjamin, ARI @ CHI |
| 54 | Brandon Bolden, NE @ BUF |
| 55 | Giovani Bernard, TB @ ATL |
| 56 | Jaret Patterson, WAS @ LV |
| 57 | Austin Walter, NYJ vs FIGHT |
| 58 | Carlos Hyde, JAX @ LAR |
| 59 | Ty'Son Williams, BAL @ PIT |
| 60 | Khalil Herbert, CHI vs. ARI |
| sixty one | Tony Jones Jr., NOT against DAL |
| 62 | Jerick McKinnon, KC vs. DEN |
<! - Composite Start ->
<! - Kết thúc tổng hợp ->