Sports
RB PPR Fantasy Leaderboard Week 15: Who starts, runs back in fantasy football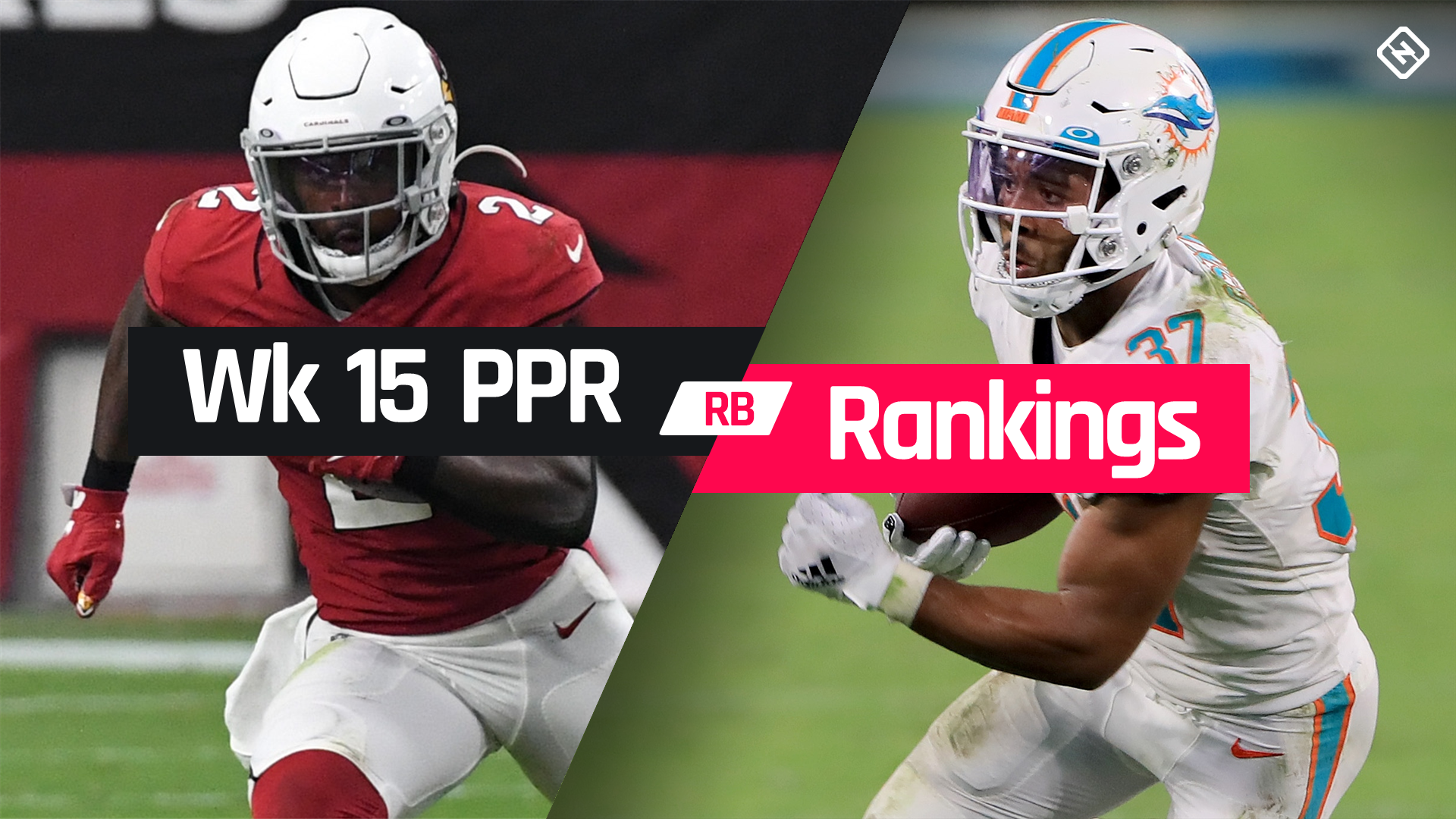 If you're still eyeing your fantasy soccer league, you've either made it to the knockouts or you're just over-competitive. Either way, this is a must-win week, and there's no more important position to stay on track than running about. Our Fantasy RB PPR Week 15 Leaderboard can help you overcome trauma (D'Andre Swift, Elijah Mitchell, Tevin Coleman, Austin Ekeler) and illness (Myles Gaskin, Darrell Henderson, Jamaal Williams) and catch head properly, sit their decision.
Fortunately, the goodbye minutes are over, but we still have some hot spots with a few teams that will say goodbye. Both the Patriots (Damien Harris) and Eagles (Miles Sanders, Jordan Howard) have injury problems in Week 14, so we'll have to keep an eye on injury reports throughout the week. It doesn't help that the Patriots (@ Colts) and Eagles (vs. Washington) have tough games, putting all their backs in the warm-up bubble.
WEEK 15 PPR RANKING:
Midfielder | Wide receiver | Tight ending | VND / ST | Kicker
There are plenty of other defenders with poor games, but many, such as Jonathan Taylor (vs. Patriots), Leonard Fournette (vs. Saints), Najee Harris (vs. Titans) and Aaron Jones (@ Ravens), still have to- start. Who starts for the Lions (versus the Cardinals) is much more of a question, though Swift (the shoulder) has always been something to play in PPR tournaments when healthy and Williams gets to compete if he's active and Swift out outside. If they're both out again, then Craig Reynolds – yes, the Craig Reynolds – has some versatile values.
WEEK 15 STANDARD RATINGS:
Midfielder | Run back | Wide receiver | Tight ending | VND / ST | Kicker
There is a range of favorable matches for some ailing RBs. Myles Gaskin (vs Jets), Darrell Henderson (vs Seahawks) and Chase Edmonds (@ Lions) have three of the top five, so if they're active, they have to start. Clyde Edwards-Helaire (@ Chargers) and James Robinson (vs Texas) are also in good positions, as are some backups from these teams. While Sony Michel (vs Seahawks), Phillip Lindsay (vs Jets) and Darrel Williams (@ Chargers) aren't necessarily known for their ability to catch passes, they're still valuable for versatility in tournaments PPR due to the number of floors being raised this week.
If you're looking for more side plays in good situations this week, Tennessee's D'Onta Foreman (@Steelers) and Houston duo David Johnson and Rex Burkhead (versus the Jaguars) will come in handy. Assuming Ekeler (ankle) is out, both Justin Jackson and Joshua Kelley come up against the Chiefs. Jackson is a better catcher, so gets the nod in PPR tournaments, but it wouldn't be a surprise if one of the returnees – or even rookie Larry Rountree III – leads the field. later on imaginary point.
All in all, squad decisions cannot be finalized until the weekend, as more people than expected will inevitably appear on the injury report and/or reserve/COVID roster. Have your reels ready so you don't let your guard down.
Note: We'll be updating this RB PPR leaderboard throughout the week, so check back for the latest player analysis and movements.
RB PPR Virtual Leaderboard Week 15: Who's Started Running Again
Rating based on Full point PPR scored
| | |
| --- | --- |
| Places | Player |
| first | Ezekiel Elliott, DAL @ NYG |
| 2 | Jonathan Taylor, IND vs. NE |
| 3 | Dalvin Cook, MIN @ CHI |
| 4 | Joe Mixon, CIN @ DEN |
| 5 | Nick Chubb, CLE vs. LV |
| 6 | David Montgomery, CHI vs. MIN |
| 7 | Najee Harris, PIT vs. TEN |
| 8 | Alvin Kamara, NO @ TB |
| 9 | Myles Gaskin, MIA vs NYJ |
| ten | Cordarrelle Patterson, ATL @ SF |
| 11 | Clyde Edwards-Helaire, KC @ LAC |
| twelfth | James Robinson, JAX vs HOU |
| 13 | Antonio Gibson, RED @ FIRE |
| 14 | Elijah Mitchell, SF vs ATL |
| 15 | Aaron Jones, GB @ BAL |
| 16 | Javonte Williams, DEN vs. CIN |
| 17 | Saquon Barkley, NYG vs. DAL |
| 18 | James Conner, ARI @ DET |
| 19 | Josh Jacobs, LV @ CLE |
| 20 | Devonta Freeman, BAL vs GB |
| 21 | Chasing Edmonds, ARI @ DET |
| 22 | Leonard Fournette, TB vs NO |
| 23 | Darrell Henderson, LAR vs SEA |
| 24 | D'Onta Foreman, TEN @ PIT |
| 25 | Justin Jackson, LAC vs KC |
| 26 | Chuba Hubbard, CAR @ BUF |
| 27 | Melvin Gordon, DEN vs. CIN |
| 28 | Tevin Coleman, NYJ @ MIA |
| 29 | Rashaad Penny, SEA @ LAR |
| 30 | Jamaal Williams, DET vs. ARI |
| thirty first | Miles Sanders, PHI vs. WAS |
| 32 | Damien Harris, NE @ IND |
| 33 | David Johnson, HOU @ JAX |
| 34 | Rex Burkhead, HOU @ JAX |
| 35 | JD McKissic, WAS @ PHI |
| 36 | Joshua Kelley, LAC vs KC |
| 37 | Jordan Howard, PHI vs. WAS |
| 38 | Tony Pollard, DAL @ NYG |
| 39 | Devin Singletary, BUF vs. CAR |
| 40 | Sony Michel, LAR vs SEA |
| 41 | Darrel Williams, KC @ LAC |
| 42 | AJ Dillon, GB @ BAL |
| 43 | Rhamondre Stevenson, NE @ IND |
| 44 | Phillip Lindsay, MIA vs. NYJ |
| 45 | Ty Johnson, NYJ @ MIA |
| forty six | Dontrell Hilliard, TEN @ PIT |
| 47 | Jeremy McNichols, TEN @ PIT |
| 48 | Mark Ingram, NO @ TB |
| 49 | Alexander Mattison, MIN @ CHI |
| 50 | Latavius ​​Murray, BAL vs GB |
| 51 | Matt Breida, BUF vs. CAR |
| 52 | Boston Scott, PHI vs. WAS |
| 53 | D'Ernest Johnson, CLE vs. LV |
| 54 | Nyheim Hines, IND vs. NE |
| 55 | Ameer Abdullah, CAR @ BUF |
| 56 | Devontae Booker, NYG vs. DAL |
| 57 | Samaje Perine, CIN @ DEN |
| 58 | Mike Davis, ATL @ SF |
| 59 | Peyton Barber, LV @ CLE |
| 60 | Carlos Hyde, JAX vs HOU |
| sixty one | Craig Reynolds, DET and ARI |
| 62 | Alex Collins, SEA @ LAR |
| 63 | Jeff Wilson Jr., SF vs. ATL |
| sixty four | Godwin Igwebuike, DET vs. ARI |
| 65 | Royce Freeman, HOU @ JAX |
| 66 | Brandon Bolden, NE @ IND |
| sixty seven | Ronald Jones II, TB vs NO |
| 68 | Giovani Bernard, TB vs NO |
| 69 | Jaret Patterson, WAS and PHI |
| 70 | Khalil Herbert, CHI vs. MIN |
| 71 | LaMical Perine, NYJ @ MIA |
<! - Composite Start ->
<! - Kết thúc tổng hợp ->