News
Results of the Kim Potter trial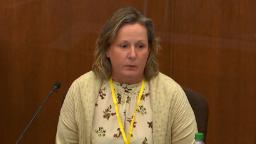 Body camera and patrol vehicle footage shown during the trial shows what happened during the traffic stop where Daunte Wright was shot and killed.
In the footage, Potter can be heard saying, "I'll tease you" before shooting Wright. "I just shot him. I had the wrong f-king gun," Potter said. "I shot him. Oh my God."
"Oh my God," Potter said, crying. Potter continued to scream, "Oh my God" several times as he lay face down in the grass, according to camera footage.
What led to the shooting: Officer Anthony Luckey, the intern who worked with Potter, testified that while they were on patrol, he came face-to-face with Wright's car and observed a white Buick with its right flasher in the lane. turn left. Then he immediately ran to register the number plate, on this license plate has expired registration.
Luckey also told prosecutors that he saw "an air freshener hanging from the rearview mirror," which was a "common violation of the law."
When he pulled over to Wright, Luckey said he noticed marijuana residue in the car and smelled marijuana. He noted that his interactions with Wright were respectful and that he had no reason to believe he had a weapon.
When he got back to the team car, Luckey ran Wright's information through the system and it showed that Wright had a complete warrant for a "light weapons crime" and a "command to protect women."
At some point, another officer, Sgt. Mychal Johnson, arrives and Luckey tells him the plan to get Wright out of the car and arrest him. He then returned to Wright's car and began house arrest.
When Luckey tried to handcuff Wright, Potter approached and tried to grab his arm. Wright was able to go and get back in the car, Luckey said.
At that point, Potter pulls out her gun and shoots him – later stating that she intended to use her Taser instead.
Read more about videos here.
<! - Composite Start ->
<! - Kết thúc tổng hợp ->