Game
Reviews on Lunistice (Transfer eShop) | Nintendo Life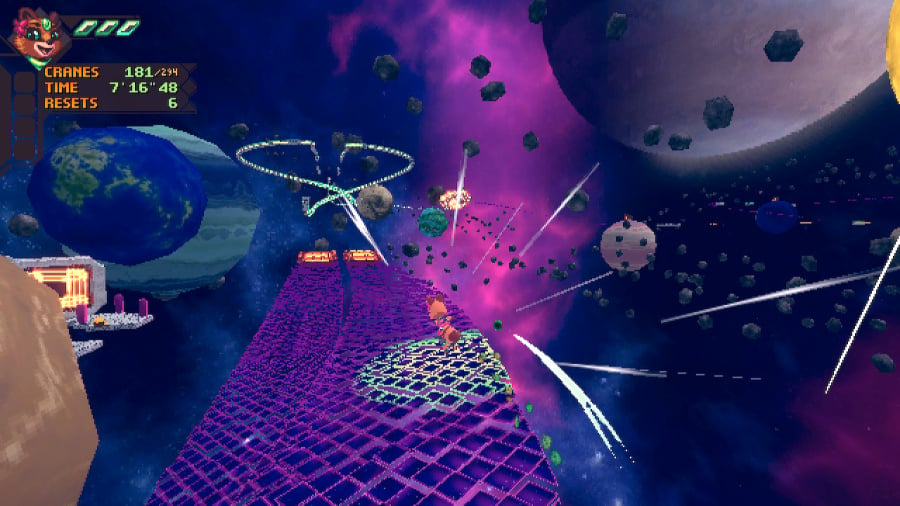 Ever since game fans came together to realize that crispy polygons are worth nostalgia, PS1 core indie games have evolved into new pixel art. With moon, one-man boutique A Grumpy Fox offers a prime example of this modernized lo-fi aesthetic. Sparkling in a chaotic yet well-coordinated technical jagged color palette, the game is instantly engaging – and once you start playing, it just keeps getting better.
The setup for this high-speed platforming adventure involves a tanuki named Hana traveling through her dreams to the moon. Or whatever. You won't sit through the cutscenes in this game – A Grumpy Fox allows the game to talk. The story of the skeleton is reason enough for a playful and imaginative stage design, ranging from a Japanese-style tropical resort-temple-flying-water-bubble-half-undersea resort to the sound of Sound color to a subdued forest of tranquil autumn leaves.
Spiral, dizzying background levels are low resolution but have large draw distances and high frame rates. Yes, it looks like a Saturn game – but it's a dream version of what a 32-bit game is really like. Cracked, floating walkways, zigzag rails, floating water spheres, and countless creative items wind toward the horizon, allowing you to survey the lines ahead and behind, and find uncover hidden secrets and shortcuts.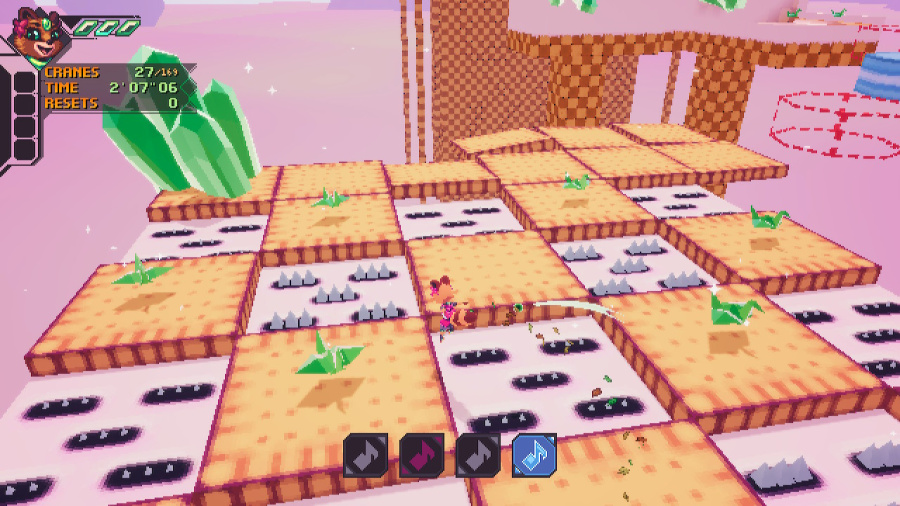 The striking contrast of the early 3D graphics with the pure flexibility of performance and the modern, player-friendly game design somehow caused a reaction in us as if seeing it. The incredible, groundbreaking engineering power of revolutionary new hardware – but in 1995. In a world where the new console generation seems to offer improved grass modeling with ease as well as gameplay. play smoother, it feels like a rare and luxurious gift – especially on Switch, the only console Lunistice currently has.
There's a Japanese theme throughout the game, focusing on Hana's dream world of temples, torii checkpoints, and odango candy, offering the main collectible: origami paper cranes. They are present in the number of hundreds on each stage. However, the linear level design keeps things from becoming a boring crawling contest – a throwback to the '90s that this game graciously chose not to modernize. There's no scouring every nook and cranny of open-world areas or tracing back and forth here, instead, you'll catch glimpses of lost havens just maybe within reach, then take the leap of faith to find out what's possible.
And if you fall, you'll put it back quickly for another time. There's no limit on that, but there's a reset counter that contributes to your level endpoint, along with your crane count. On our first pass, we had at least a few dozen resets at each stage, which is a frequency of tantalizing abilities that we couldn't resist testing. In addition, the game is not easy. While there's no frustration with limited life or unfair controls, the challenge to master some of the winding platforms is plenty. Most test scores are reasonably spaced, providing a welcome relief after tough sections, but don't undo the old-fashioned video game skill test served by special chains creepy.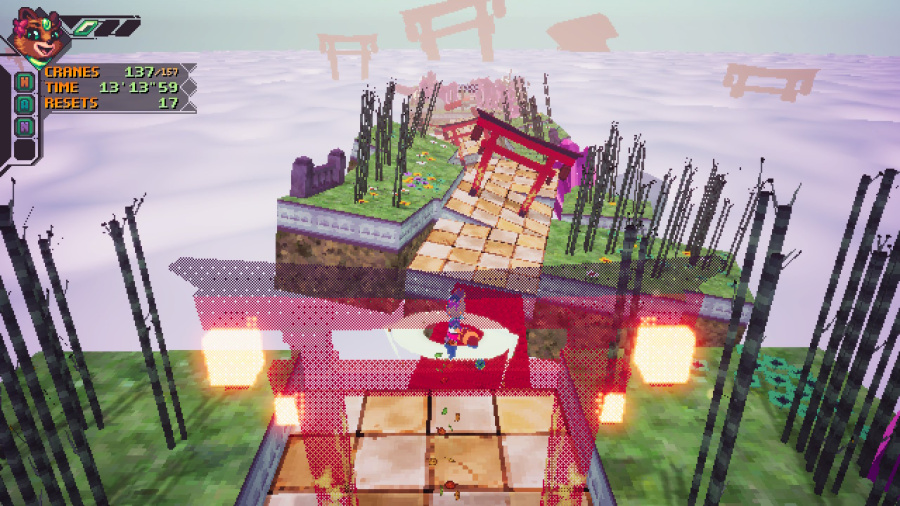 Everything about the game design feels tight, especially the controls. The Tanuki Hana is mostly glued to the analog stick, accelerates quickly and carries just enough inertia to feel wise to the ride. A spin and double jump attack that allows you to soar through gaps in the cave, complemented by increasing height if attacked simultaneously. With dynamics, precision, and fast contours, this feels like a fun 32-bit Sonic at times.
A major contributor to the gameplay is a well-functioning camera. The airy levels don't require constant fidgeting, and the rather restrained y-axis keeps you focused on the road ahead. Potential vertical paths are placed right in line of sight – or sneak out of sight to destabilize as boosters shoot you into the sky.
Although that tanuki suit-style spin attack is used to eliminate enemies, there are actually no battles in the game and no boss battles. Enemies are really just platform obstacles, cleverly placed to squeeze your jump time or test your reflexes and rhythm along a fast track.
Clearly a passion project, A Grumpy Fox — aka Deke64, Technical Producer at independent publisher Deck13Spotlight and a popular streamer — originally set out to create Lunistice in his spare time. their free time within 30 days. Over a year later, they're finally done. The love for the game is unmistakable when it comes to control details, art, and level design, but there's also a glaring joy to the video game that drives the whole thing. We're reminded of small chunks of countless games as we play: 3D Sonic's loop rails, Mario Odysseyluncheon kingdom, F-Zerocylindrical sky structure, a whole world vibrates in rhythm like NecroDancer's Crypteven the overwhelmed and speechless castle ruins of ICOs. And when we try to reach a difficult position, a smiley block acts as a quiet nod from the developer, a token reward for curiosity, just like a hard coin approach in mario 64.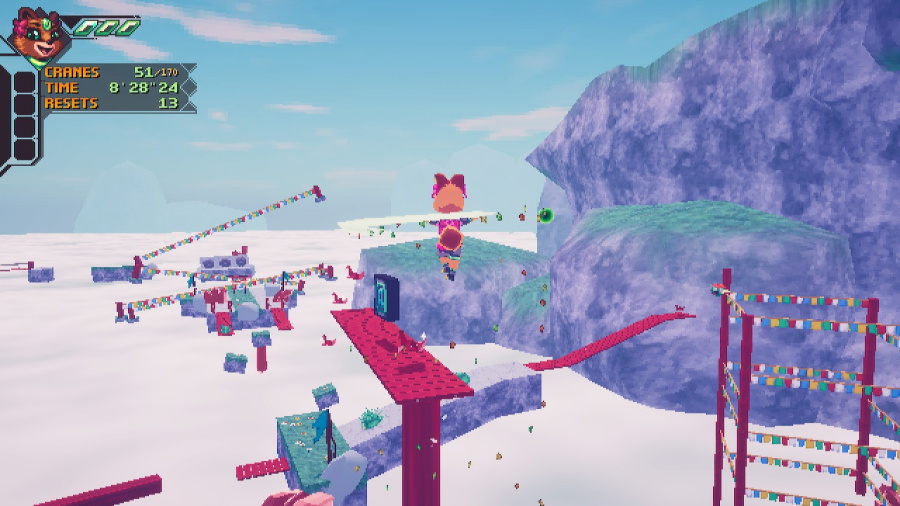 On top of this whole pack, there's a shamelessly hilarious soundtrack, which is overused. At one extreme, the entire level dances to the music – with a large beat marker even added to the HUD – at another, the SFX is eerily laid bare in complete silence. completely, until parts of the theme are unlocked by going through the . The sound style is certainly designed to match the graphics, with a classic feel that is perfectly exploited.
Inference
Presenting itself humbly as "a simple and short experience", Lunistice has a lot to offer. The first run can take several hours, but the desire to try again is so strong that it is almost difficult to transition to each new phase. Added the challenge of finding all the cranes and hidden items, avoiding resets, and setting faster times, plus unlockable characters with different moves, and it's a full pack and generous. Launched at $4.99 or similar in your region, lightweight at 600MB and with an eShop demo, Lunistice is simply a must-try.
<! - Composite Start ->
<! - Kết thúc tổng hợp ->