Sports
RFU and Gallagher Premiership bosses face congressional committee over rugby union financial crisis | News about Rugby Union
Officials from the RFU and Premiership Rugby will appear before the Digital, Culture, Media and Sport committee next month, to answer questions about issues facing the Wasps and Worcester Warriors, as well as like the broader sustainability of the game
Last updated: 10/17/22 7:08 pm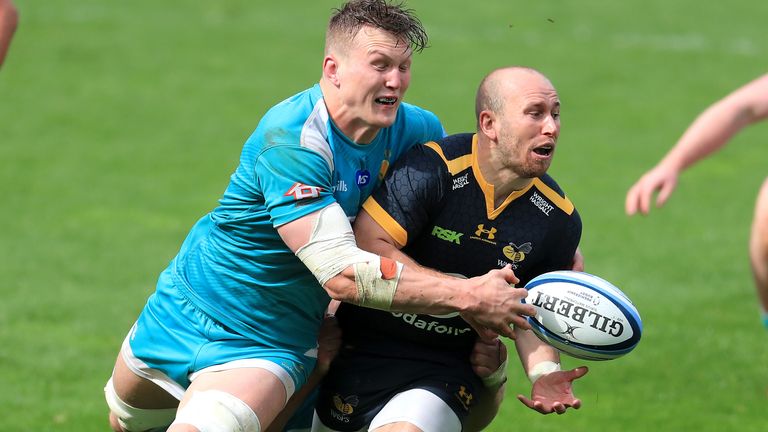 The RFU and Gallagher Premiership will face a parliamentary committee next month to tackle the sport's financial crisis.
Wasps joined Worcester Warriors management on Monday, leaving 167 staff members, including players and coaches, redundant. Both clubs have been suspended from the Gallagher Premiership, which now have 11 teams after starting the 2022/23 season with 13.
Officials from the Rugby Football Union and Premiership Rugby are now preparing to appear before the Digital, Culture, Media and Sport (DCMS) committee next month, to answer questions about issues raised by the teams. That club faces and the broader sustainability of the game. The exact date is still to be confirmed.
DCMS committee chairman Julian Knight said: "The fate of two of the country's top clubs at the hands of the authorities raises serious concerns about the future of the sport and its potential. its financial viability.
"RFU and Premiership Rugby have acknowledged the need to establish a more sustainable path for club rugby.
"We're going to urge them to make sure they're laying the groundwork to ensure sport's health from the top down to the grassroots."
Wasps was hit by a tortuous order from HM Revenue and Customs with £2 million in unpaid tax, and they also face having to repay the £35 million bond that helped finance the move. the club arrived at Coventry in 2014.
Wasps have been in the Premiership since the competition began 25 years ago, winning in 2003, 2004, 2005 and 2008.
They have also been crowned European champions twice, in addition to a win in the European Challenge Cup, and have owned some of England's most famous players in the professional era of rugby union. .
RFU chief executive Bill Sweeney said the governing body favors a move to the 10-team Premiership from the 2024-25 season onwards to try to avoid the current overlap between domestic and international matches. .
"I found it feasible for a number of reasons, and we were told that less is more," Sweeney said. when asked if Premiership 10 team reduction could be an answer.
"I don't know if 10 is an absolute number but it's the number being used now, but in that, and the central distribution around broadcast and commercial revenue, there's clearly a benefit. financing for the lesser teams in that league.
"Obviously one of the big problems we face is the calendar and one of the things that keeps us in England is the overlap between the international game and the club game.
"So reducing the size of PRL (Premiership Rugby Limited) will help us with that."
Blackett: Wasp management is 'sick' | Vaughan on takeover prospects
Former Wasps head coach Lee Blackett revealed the impact of Tuesday's news that the club will go into administration and that 167 redundancies are on the squad and non-playing staff.
"I'm just sad," Blackett said as he spoke outside the club's training ground. "I think if you look at the players I just watched over there, the staff is nasty, it's sick
"Perhaps things are going [regarding a takeover]. Hopefully that'll happen at some point, but there are players and staff that want to play Premiership Rugby this year and unless something happens very quickly, I don't know how that will actually turn out. .
"I'm deeply saddened that people in this environment care so massively about those men and see them where they've been devastated. It's harsher than that – it's sad. We were working hard as a team to get together There are staff and players who have been here for a long time so to get to this day, where this team parted, is really sad.
"It takes me a little while to understand this over the next few days and see if any positive news comes out on the other side. You realize that it's not just the players and the staff here, there's also the players. there are big families behind them, and my thoughts are with everyone."
Wasps chief executive Stephen Vaughan confirmed the club were still in dialogue with the RFU and Premiership Rugby, and raised hopes of an announcement regarding a possible takeover at some point in the week. this.
"Hard to say [how close a takeover is]"Vaughan said." Everyone knows we've been on the market for a long time, so this shouldn't come as a surprise to anyone.
"We're having a real conversation with people, we have more conversations going on tomorrow and the day after tomorrow, and we're really hoping to get the right people involved.
"If that happens, we imagine there will be a decision and announcement in the next three or four days."
<! - Composite Start ->
<! - Kết thúc tổng hợp ->