News
'Spider-Man: No Way Home' trailer shows Peter Parker in a lot of trouble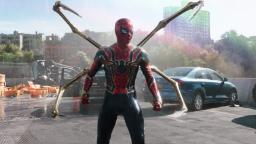 More than two years after "Spider-Man: Far From Home" was released, the trailer for the third film starring Tom Holland has been released.
The trailer, which was released on Tuesday, features what the poster had previously suggested: appearances by villains from previous Spider-Man films, such as Electro, the Green Goblin and Doctor Octopus .
"They are a danger to our universe," Doctor Strange told him, explaining the mayhem they were in.
That mess, more specifically, was a spell that went wrong after Peter
thanks to Strange's help
in repairing the damage inflicted by Mysterio at the end of the final film, in which Peter is exposed to the world as Spider-Man.
"Spider-Man: No Way Home" hits theaters on December 17.