Game
Spidersaurs land in July, WayForward talks about Saturday and contrasts cartoons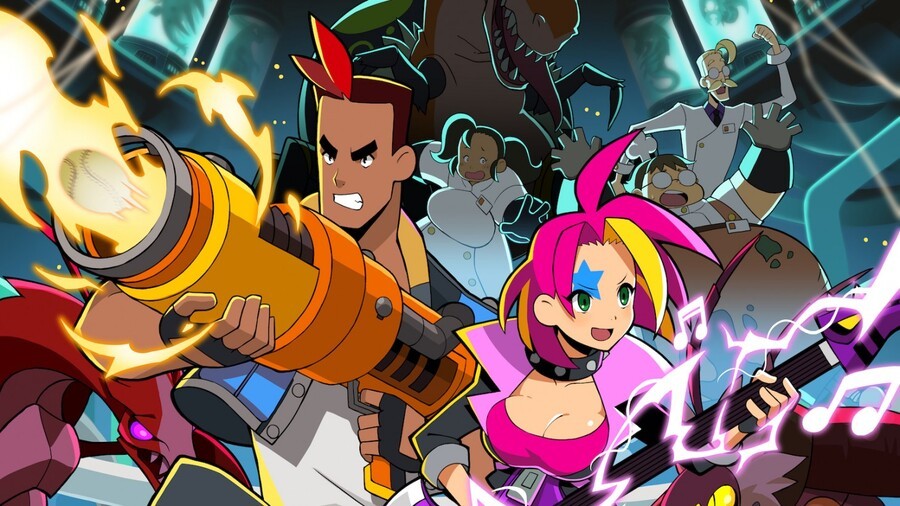 For the past 30 years, WayForward, the maker of Shantae series, has made a name for itself by crafting classic flavored gems that combine the best of modern gaming with unashamed classic gameplay aesthetics and feel. Whether it's included in their own projects (such as powerful the aforementioned Shantae games or series) or for one of the many excellent developer/publisher licensed property projects (DuckTales Remastered, Contrast 4, Batman: The Brave and the Bold, The mummy is destroyed, River City Girljust to name a few minor highlights), the studio has always kept an eye on gaming's illustrious past as it enters its fourth decade.
As for its latest project, SpiderWayForward wasn't just looking for a run and gun behemoth for inspiration, but it also gravitated toward the energy and aesthetic of '90s Saturday morning cartoons. Formerly an Apple Arcade exclusive. , the game is come to Switch and other consoles on July 14.
We recently reached out to director Tomm Hulett (formerly of Konami and Atlus) via email to discuss the design inspiration behind this run 'n' gunner, what has changed for the release. upcoming console and what he's been playing lately…
---
Nintendo Life: What sparked the original idea for Spidersaurs?
Tom Hulett: Matt Bozon (WayForward's creative director) wanted to create a new IP that combines classic arcade action with the feel of an animated movie tied to a toy. He and I certainly have the same encyclopedic knowledge of those things. While our knowledge base overlaps in the '80s cartoon era, he's a bit older so there's also the late '70s, and my experience comes in the mid '90s. We both agree the goal for Spidersaurs is "the kind with a theme song where a deep-voiced narrator explains the plot."
The Saturday morning cartoons of the 90s are not off the charts and give the game a splash of energy. What in particular do you look to for inspiration when developing games?
Some of Matt's favorites are Jayce and the Wheeled Warriors and Orbotswhile I have fond memories of MASK, COPSand of course Inhumanoids. Our shared touchstone is Bionic Six, a show that only Matt and I remember. But it is true. They are a family.
Writing the game's story, I've probably channeled a million different cartoons from where ever. I remember watching Dungeons & Dragons and Donkey Kongwas there when Alvin and the Chipmunks took down the Berlin Wall, and stayed Saturday morning devotee until that time slot is destroyed Gargoyles (you have to draw the line somewhere). Have I named everything? Tick! Command the sky!
Victoria and Adrian's designs are outstanding and we particularly like the way Victoria uses her guitar as a weapon. Can you talk a little bit about how those designs evolved and if there are other ideas or characters on the cutting room floor?
One goal of Spidersaurs is to be a game that people my age can play in two-player mode with our kids, and the character designs are the right mix of characters. modern with those 80s roots. Matt explains what he wants our heroes to be and then transfers the art quest along with our Shaun Healey secret weapon to evolve them.
Victoria started off like a punk rocker with slightly longer hair, before we added hearts and Jem energy. Adrian was initially a bit more serious action person, but ended up owning a very eye-catching sports gun. Just imagine how many Adrian you would buy if you could! Football Rocket Adrian, Cricket Hero Adrian, Jai Alai Adrian with karate chopping action…
Our heroic combat interns gain special abilities that make you feel more like Capcom-y than you might find in the Contra canon, but there's nothing that hides the run gun's RNA- 'n' in our veins
How long did it take to go from the initial concept to the finished Apple Arcade product?
We don't usually give exact development timelines but I've devoted at least a year of my life to these crazy 'sars'.
With the team that worked on Contra 4, do you feel that Spidersaurs belong to the group of 'spiritual successors'?
I think that's a fair assessment. Our heroic combat interns gain special abilities that make you feel more like Capcom-y than you might find in the Contra canon, but there's nothing to hide the run-gun RNA-' n' in our veins.
But even that is mostly core gameplay. Our stage design and boss don't try to simulate any alien invasion so there are a lot of unique ideas and a few concepts inspired by other games of the same genre. .
Can you elaborate a bit more on the additions and tweaks made to the console version of the game?
When you're busy perfecting a game for submission and release, of course additional ideas will come in, or just small tweaks to improve areas you notice after hundreds of plays. via. So going into the console portal, we have a wish list of things that weren't initially possible. Lots of little things just to improve the gameplay experience.
The phase 1 boss actually moved near the end of the game for a reason (he's shy) and the update brings him home for a more dramatic phase 1 climax. We've added easy and hard modes, and rebalanced all three difficulties a bit. The biggest change is the End stage with its own true final boss… and then when you've finished the story but just want to master each level, we've added Arcade and Speed ​​Run modes.
Talking about Saturday morning cartoons, as a former Konami employee and an experienced Turtle game developer, how do you feel about the recent school-age TMNT love? Do you like dedication game with Shredder's Revenge?
Love it! There is a big corner of my heart for TMNT. Shredder's Revenge has done a really great job at keeping the gameplay accessible, but avoiding the relative shallowness inherent in classic arcade games. They accomplished the noble goal of making a game that feels like the way you MISS, compared to how an old game can sometimes let you down when you try to relive your childhood. . Expected Cowabunga Collection next – will try eventually Radical Rescue!
We have great memories of Trauma Center the game you've been working on and it seems like the perfect time for Derek Stiles to come back after 12 long years. Do you have any strong memories of your time working on those games?
I miss Trauma Center! I was one of its champions when the DS was still being explored, before we had proof people would love the lawyer and puppy games. I even had to fly to Japan to help discuss the Wii controls for Second opinion.
But the most important question is what reference names will the new characters receive in the sequel? Sadly, the series skips a generation so we never get to see Derek Stiles III, but could there be a mysterious doctor with new mysterious powers? She's a rumor, whispering about the halls of every medical center in the country… The mysterious surgeon witch? S. stands for Witch? (I want to settle for eShop resale, sadly my copy Injury team is still factory sealed! Come on Atlus, we need portals, stats!) [I concur – Ed.]
Along with its other output, over the years, WayForward has truly created a niche for itself when it comes to quality neoclassical experiences that strike nostalgia for the old-school way of doing things. . Is there any series or genre you and the group? not yet Already working on something that you want to tackle in the future?
I've also spent the past few years working Bloody: Ritual of the Night, specifically in terms of stretch goals and DLC content. That includes Classic Mode and Classic Mode 2. So my teams have been going in the Konami-inspired direction for a while. That's obviously super comfortable, but I wouldn't mind Mega Man. You know, if anyone is asking. Interested in a super hotel Ice climber reboot? Or, since I'm here, might also be suitable for Rocket Knight. Call me, publishers! You've got my number.
Finally, which game have you enjoyed lately, on Switch or elsewhere?
After a four-month quest to conquer Elden Ringand quickly dive in Stanley's Parable and TMNT… I'm not sure what to play next. Maybe I can finally finish Deltarune? There is also this Holo night people keep talking about the game?
---
Many thanks to Tomm for talking to us. You can follow him on Twitter @Hypnocrite. Spidersaurs launches on Switch on July 14.
<! - Composite Start ->
<! - Kết thúc tổng hợp ->