News
Sudan: UN human rights chief alarmed over killing of protesters by security forces |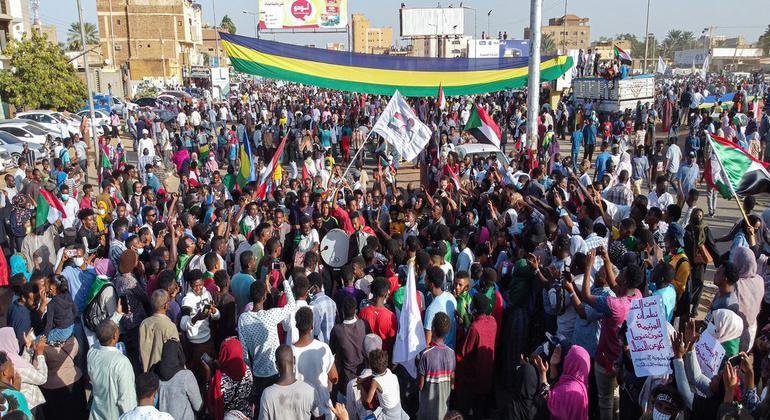 The High Commissioner said in a statement that the deaths had occurred, "even after the police have announced that they will not use lethal force to disperse the protesters. "
Protests in the capital, Khartoum and elsewhere, mark the third anniversary of major protests that led to the ouster of longtime leader, Omar al-Bashir.
Thousands on the street
Tens of thousands of people took to the streets, according to news reports, many against a military coup eight months ago that ended a power-sharing agreement between top military and civilian leaders, ended transitional government, towards national elections.
Security forces are said to have fired tear gas and used water cannons in an attempt to prevent protesters from marching towards the presidential palace.
The UN High Commissioner said reports indicated that security forces had also Used real ammo.
No responsibility
"The latest killings, which come at a time of nationwide internet and mobile communications shutdowns, raise the number of people killed by security forces amid protests since the coup. Last year, it was 113 people," she said.
"So far, no one has been held responsible for these deaths. "
Mrs. Bachelet said that according to medical sources, most of those killed were shot in the chest, head and back. Security forces also made arrests at lThere were 355 protesters across the country, she added, including at least 39 women and a significant number of children.
"I once again emphasize to the Sudanese authorities that Use force only when absolutely necessary and in full compliance with the principles of lawfulness, necessity, prudence and proportion," said the United Nations' head of rights.
Lethal force must be 'last resort'
"In all cases, force is permitted to prevent or threaten protesters from exercising their right to freedom of expression and peaceful assembly, or threaten to harm them in doing so. The use of lethal force is a last resort and only in cases where there is an imminent risk of life-threatening or serious injury."
She reminds that the right to freedom of speech and peace assembly and participation in public affairs protected under international human rights law, "including International Covenant on Civil and Political RightsSudan is a Member State".
She called on the military authorities to conduct a independent, transparent, thorough and fair investigation on the response of their security forces, in accordance with relevant international standards, including the Minnesota Protocol for the Investigation of Potentially Illegal Deaths, and compel responsible person must be held accountable.
"Victims, survivors and their families have a right to truth, justice and redress."
<! - Composite Start ->
<! - Kết thúc tổng hợp ->