Lifestyle
The Best Way to Cook Corn is Easier Than You Might Think
PSA: corn season has arrived! It's time to start incorporating this versatile vegetable into your summer diet. But what's the best way to cook corn, you might ask? Boiled, quick and easy? Or does grilled corn take the cake? Corn salsa, perhaps? The answer will vary, of course, but there are several ways to cook and use corn that yield amazing results. Before we dive in headfirst, let's take a beat to appreciate the sunny, golden delight.
While I'm sure you've enjoyed a sweet, juicy corn on the cob at many a summer soirée (and discreetly wiggled it out of your teeth after), did you know that corn boasts nutritional benefits alongside being totally delish? Let's break it down.
Corn packs plenty of key nutrients. Potassium, vitamin A, antioxidants, and more.
Aids in preventing and lowering the risk of certain diseases. Including corn in your diet supports healthy digestion and lowers your risk of heart disease.
It's naturally gluten-free! Corn is a whole grain vegetable that gluten-free eaters can enjoy, too.
Salsas, salads, enchiladas, cornbreads, and more are all in our very bright futures. But first, let's dive into the best way to cook corn.
Tips for Cooking Corn
There are a few things to consider when you're cooking corn. Generally, corn cooked in-husk will be more juicy and sweet. When you're working with charred corn, on the other hand, you'll get that smoky, grilled taste that everyone knows and loves. It's equally as flavorful as in-husk corn, just in a different way.
There are also many different ways to cook corn based on your preferences and needs. Generally, corn doesn't take long to cook, so be sure to keep a close eye on those ears to prevent them from becoming tough, mushy, dry, or flavorless. Whichever method you choose, you can't go wrong! Corn is so versatile in summer cooking and only takes a few minutes to prepare.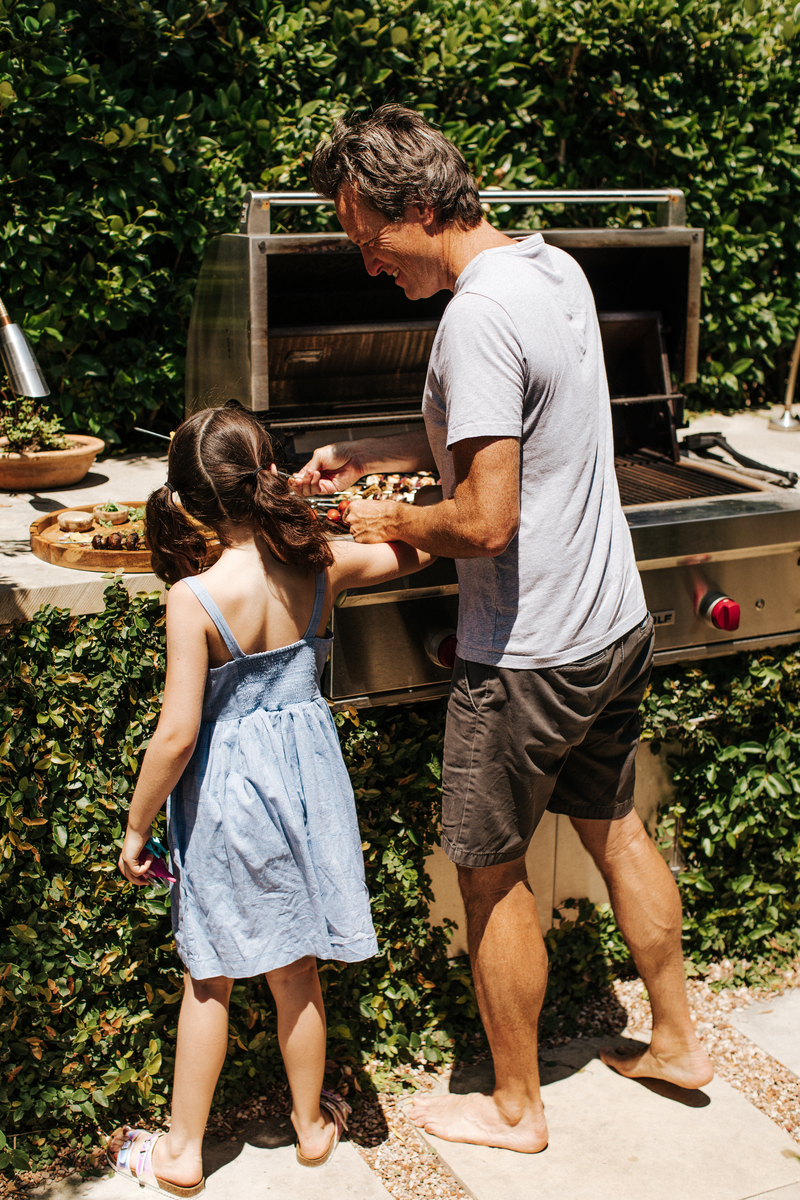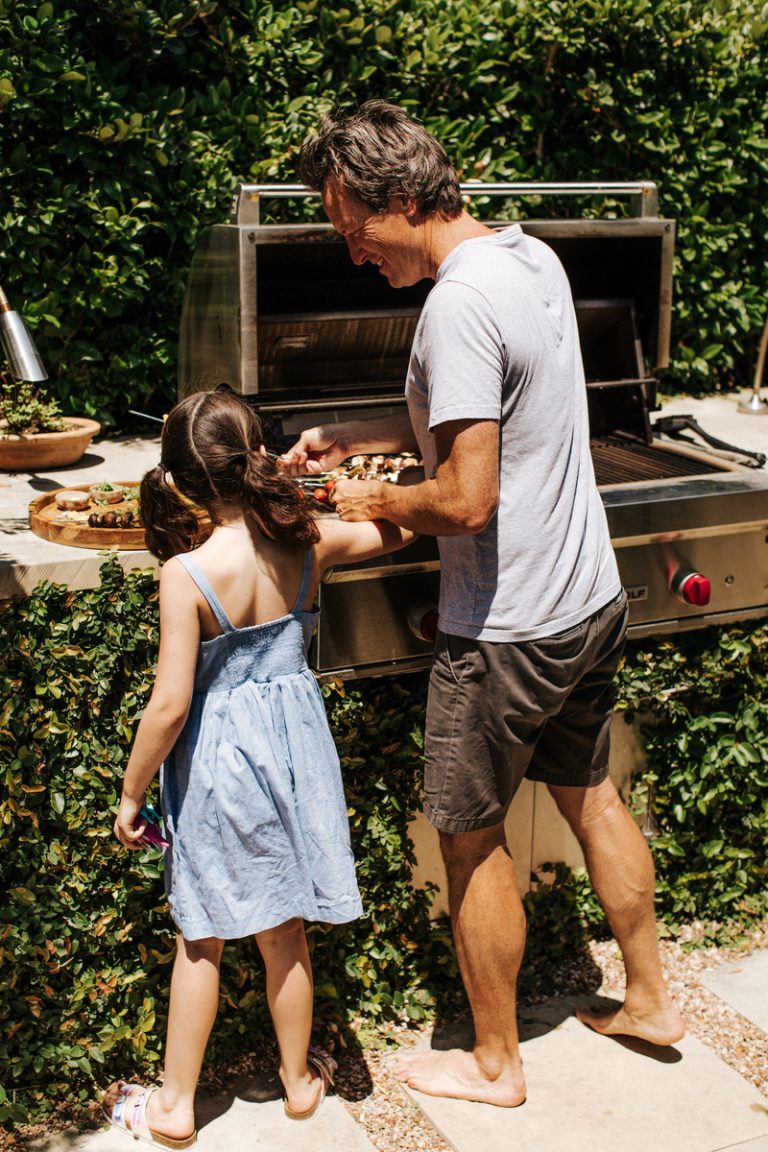 How To Cook Corn on the Grill
There are two methods for grilling corn that yield slightly different, but equally delicious results. If you're looking for juicy, sweet grilled corn, I recommend trying the in-husk method. But for a charred, smoky corn stalk, you'll want to follow the kernel-to-crate method. Both yield that sweet corn that we all crave during the summer.
In-husk method
This method is a little more hands-on than the charred corn method, but is the best way to preserve maximum moisture in each sweet kernel.
Pull the husks back while leaving them attached to the base of the stalk. Remove any silk and discard.
Pull the husks back around the corn and soak the stalk in cold water for about ten minutes to preserve moisture and prevent the husks from burning.
Once you've soaked the stalks, pat them dry and place them on the grill.
Grill the stalks until the corn is tender and the husks are slightly charred (about 15 minutes).
Serve as-is or use in one of the recipes below! You'll enjoy the sweet, juicy *vegetable* of your labor.
Kernel-to-grate method
Charring the corn directly over the grill will leave you with a smoky, slightly-less-juicy cob that's equally as delicious as the in-husk result (plus, it's faster!)
Pull back or remove the husks entirely, remove any silk, and place the stalks directly on the grates.
Grill them until they're tender, steaming hot, and charred on the outside (about ten minutes).
With this method especially, I like to brush the cooked corn with olive oil, melted butter, or herbed butter to restore some of that moisture loss. Either way, you really can't go wrong with grilled corn on the cob. It just screams cookout.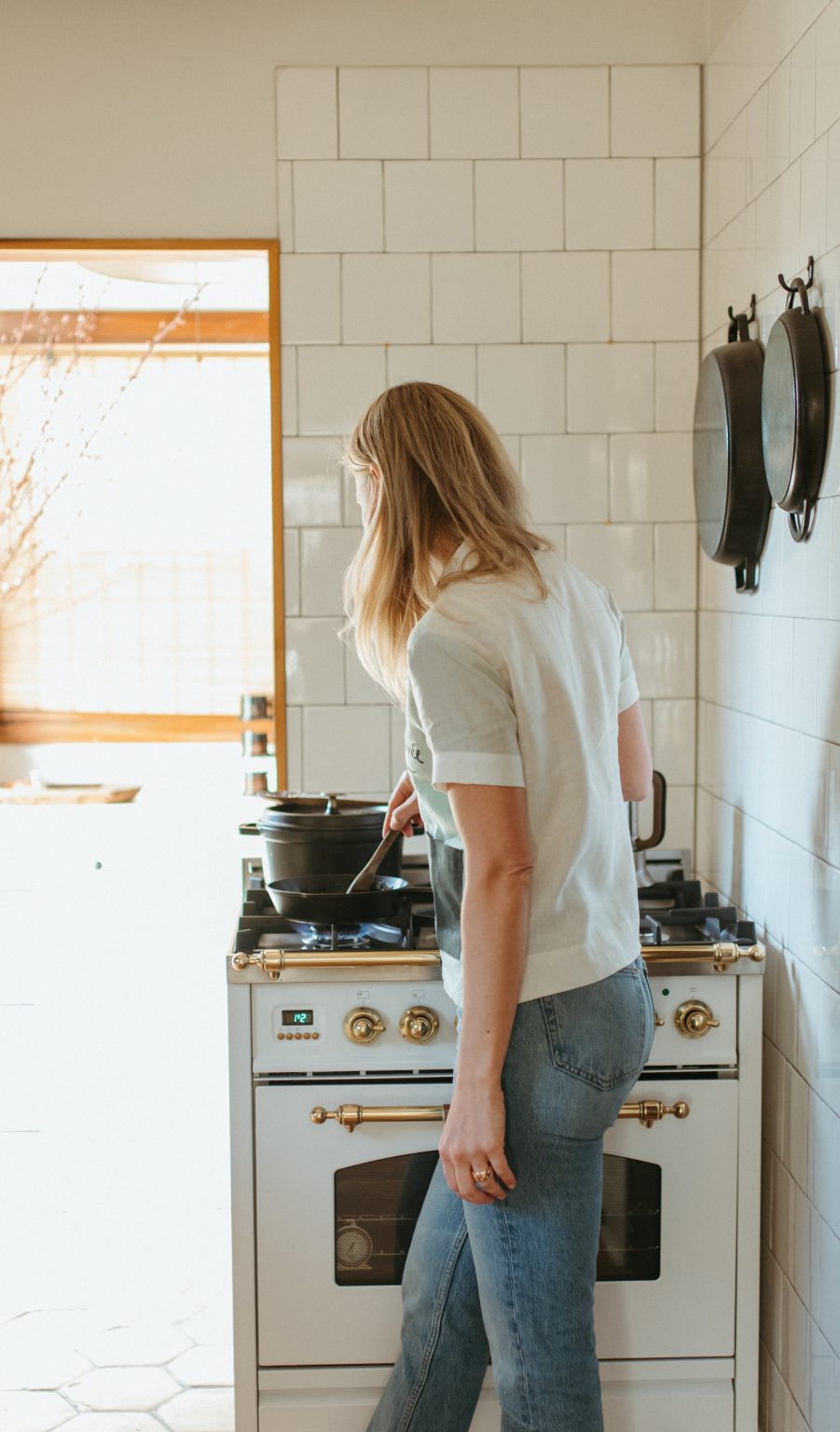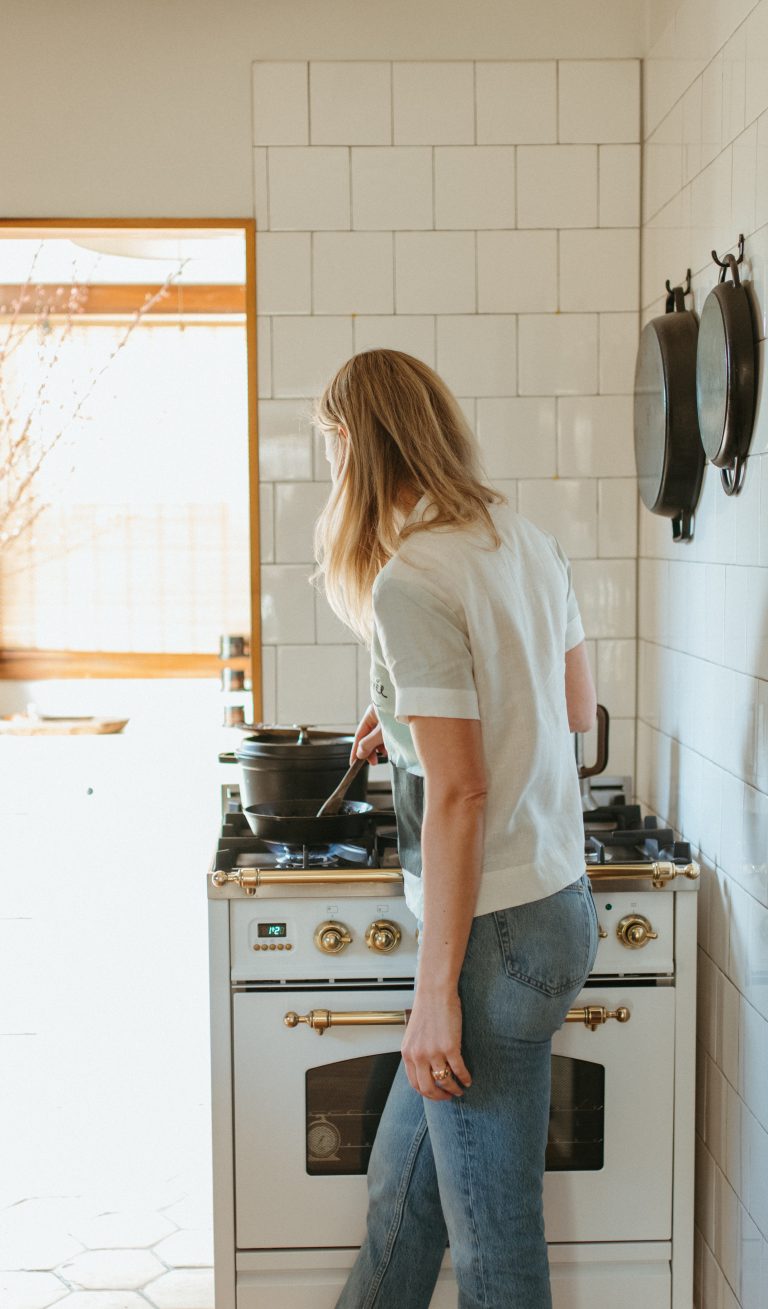 How To Cook Corn on the Stove
Cooking corn on the stove is an easy solution if you're short on time or not in the mood to light up the grill. Like the grilling methods, there are two ways to prepare corn on the stove: boiling the stalks and roasting it in a skillet.
Boiled Corn
Bring a large pot of water to a boil on the stove.
Salt your water heavily. Don't worry, it doesn't leave the corn tasting like the ocean or pull out any moisture. Instead, salty water actually enhances the flavor of the corn.
While your water is coming to a boil, shuck your stalks completely and remove any silk.
When your water reaches a steady rolling boil, gently place the stalks into the pot and cook for about five minutes. Be careful not to overcook or you'll be left with tough kernels! Pull them out when the kernels are plump, bright yellow, and juicy-looking (again, about five minutes).
Once they're out of the pot, you're ready to serve or use in a tasty recipe!
Skillet-roasted corn
Like the boiling method, this method is a simple and efficient way to cook corn indoors.
Heat a pan over medium-high heat with a little oil.
Since this is a kernel-only operation, you'll want to cut the corn off of the cob. To minimize the mess, cut the entire stalk in half before shaving off the kernels. This keeps those kernels from shooting across the kitchen and landing all over the floor.
Toss kernels into the pan and sauté for about ten minutes, or until they're browned to your liking.
You'll get a little char from this method and preserve a lot of the moisture that makes corn so yummy, so it's pretty much the best of both worlds! Whichever stovetop method you choose, you'll be left with perfect, juicy corn.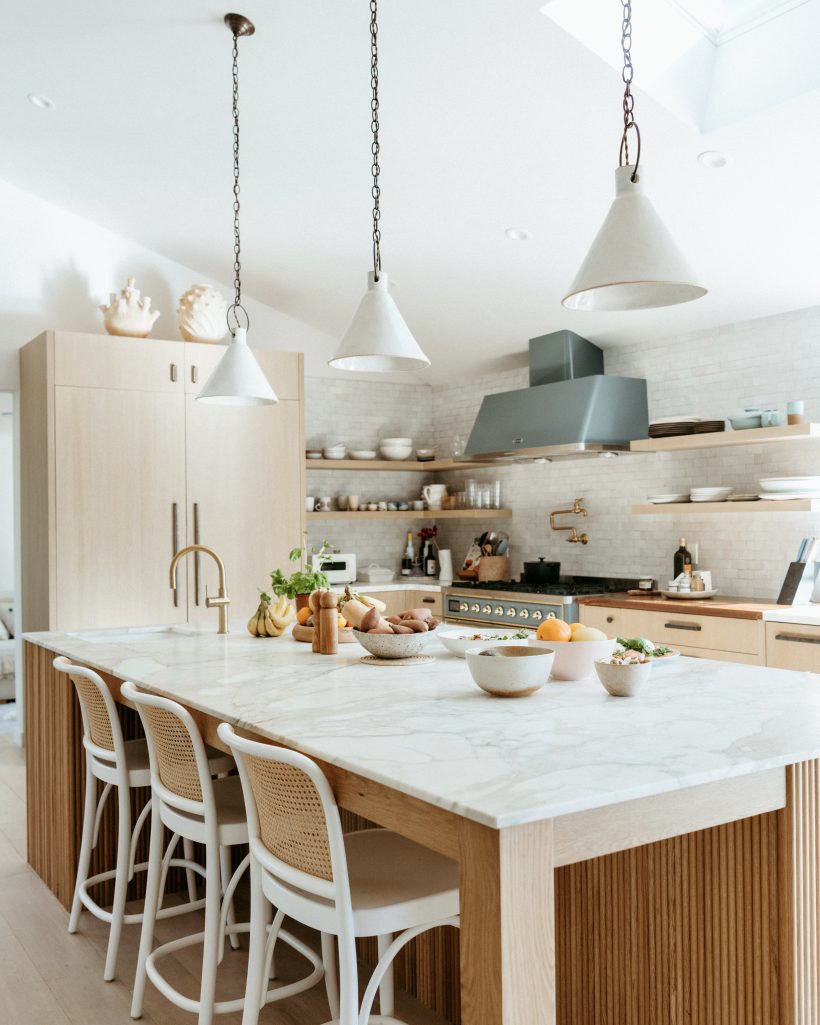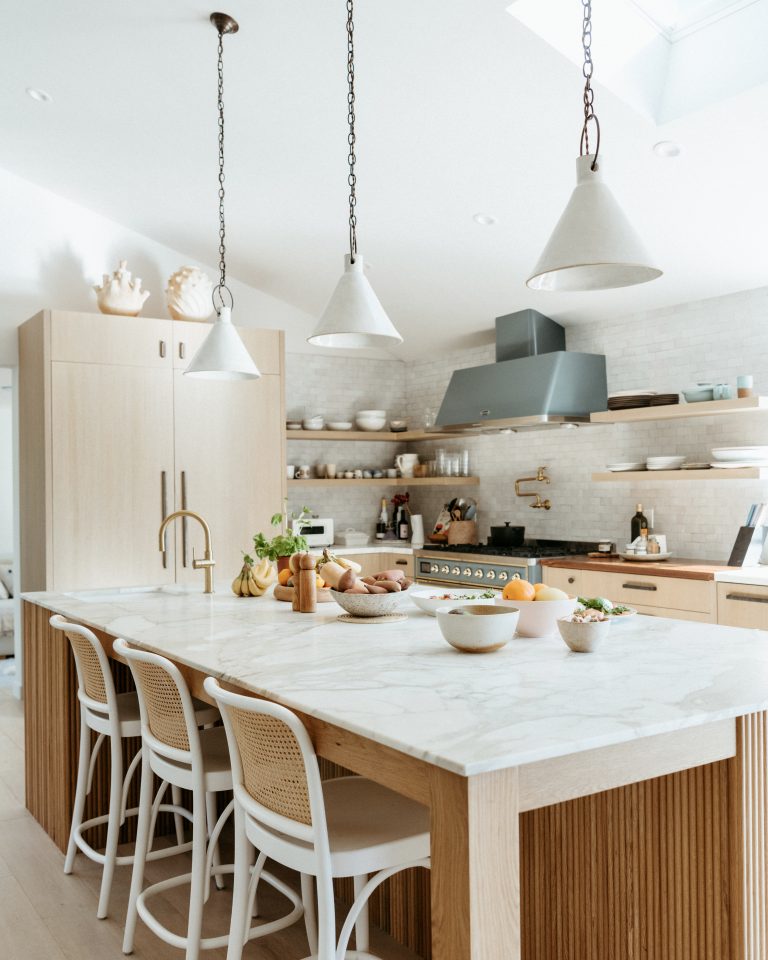 How To Cook Corn in the Microwave
Cooking corn in the microwave is probably the fastest way to deliver juicy cobs. If you're cooking more than about four stalks, however, you'll probably want to choose a different method so the final result is more consistent. But, for just a few ears of corn, the microwave is a great option for quick and easy corn cooking.
Place entire corn stalks in the microwave and cook on high for a few minutes.
To retain moisture, microwave the stalks in their husk (when you cook them in-husk, the corn steams in its own juices and even extracts flavor from the husk!).
A good rule of thumb for cooking time is to start with two minutes and add two more minutes per ear.
One ear = two minutes
Two ears = six minutes
Three ears = eight minutes
Four ears = ten minutes
Once your corn is done cooking, remove it from the microwave and slip the husks off. Remove any silk and cut off the base, if desired. Then you're ready to serve! Or, if you're using your juicy corn in one of the recipes below, leave it on standby.
11 Best Corn Recipes To Try This Week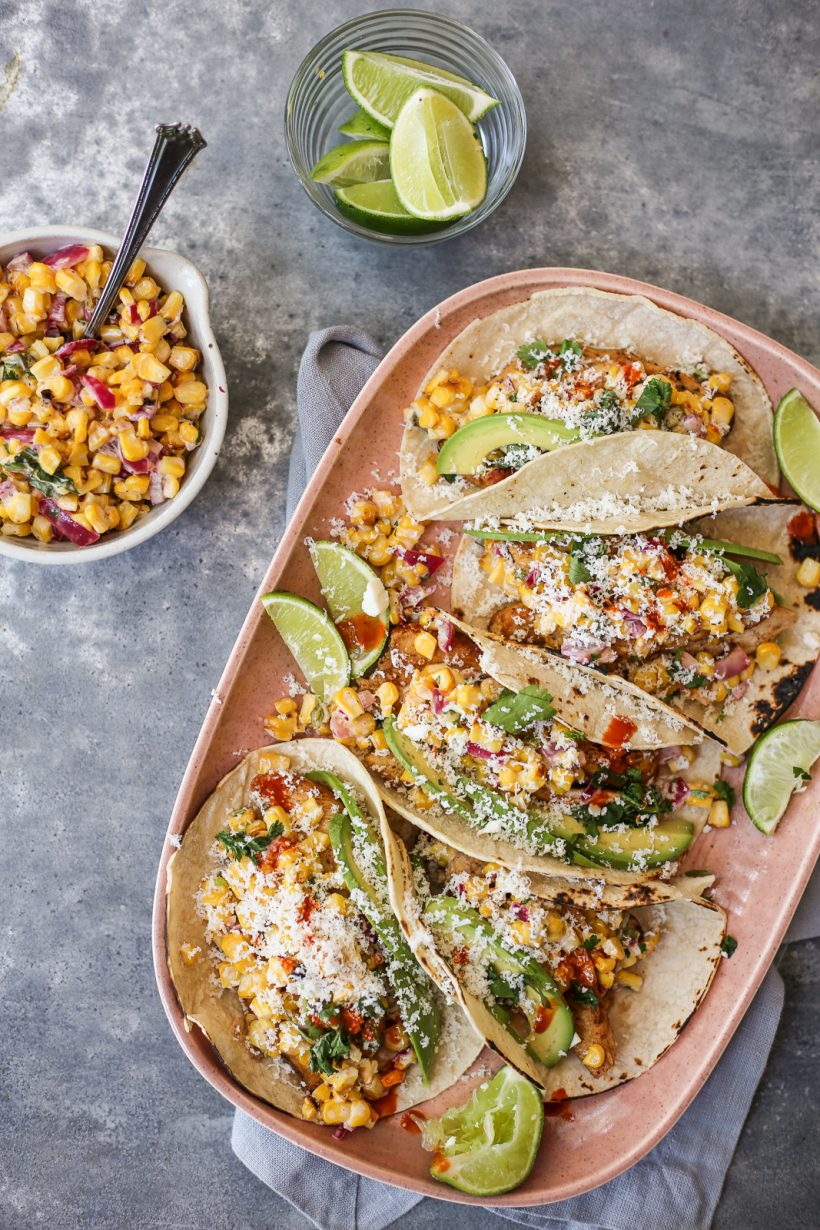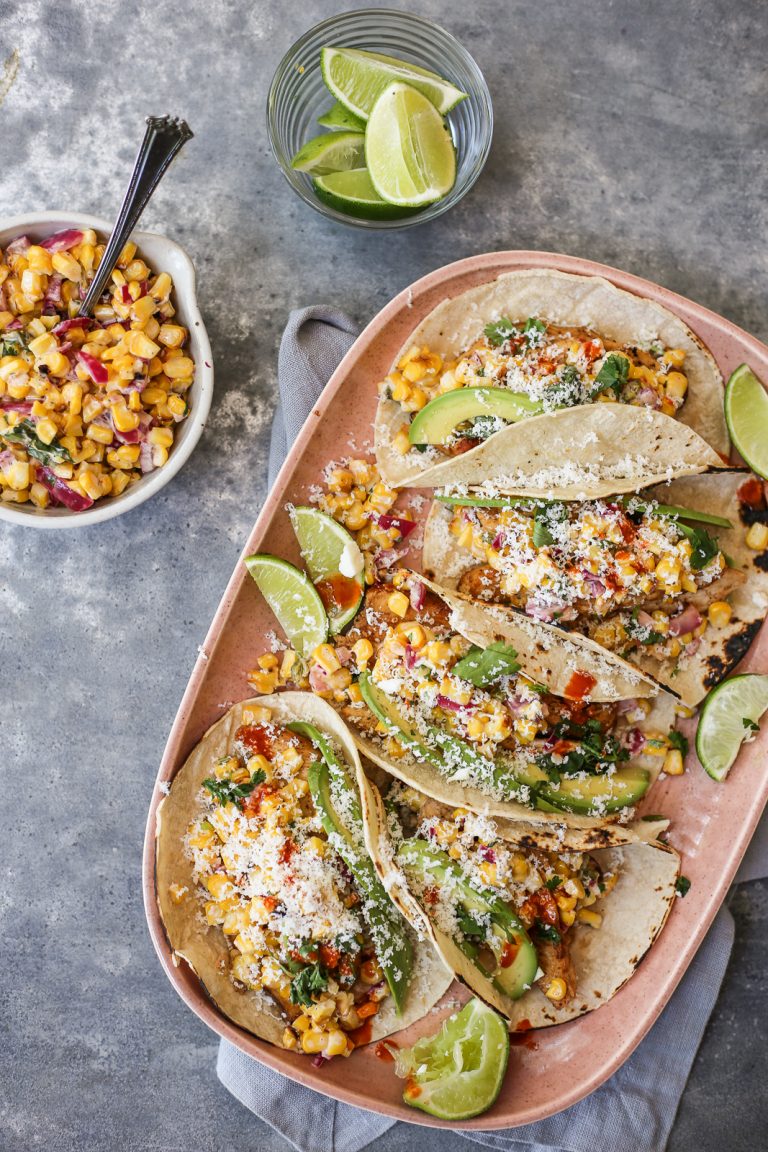 Seared Chicken Tacos With Street Corn Salsa From The Defined Dish
Why We Love It: These tacos are my official Taco Tuesday go-to. They're a little more hands-on than your lovable sheet-pan fajitas, but are totally worth the extra elbow grease. The recipe is made for indoors, but if you're in an al fresco mood, take your corn and chicken to the grill! Both methods are equally delicious. The tacos feature next-level seasoned chicken, creamy avocado and queso fresco, and an unbelievable corn salsa—all wrapped up in a charred corn tortilla.
Hero Ingredient: The corn salsa almost left me speechless. It's the perfect accompaniment to the taco elements and is even better the next day with tortilla chips. As soon as my roommates and I polished off the original batch, I came back to this recipe just to make just the corn salsa. You've been warned—it's addicting!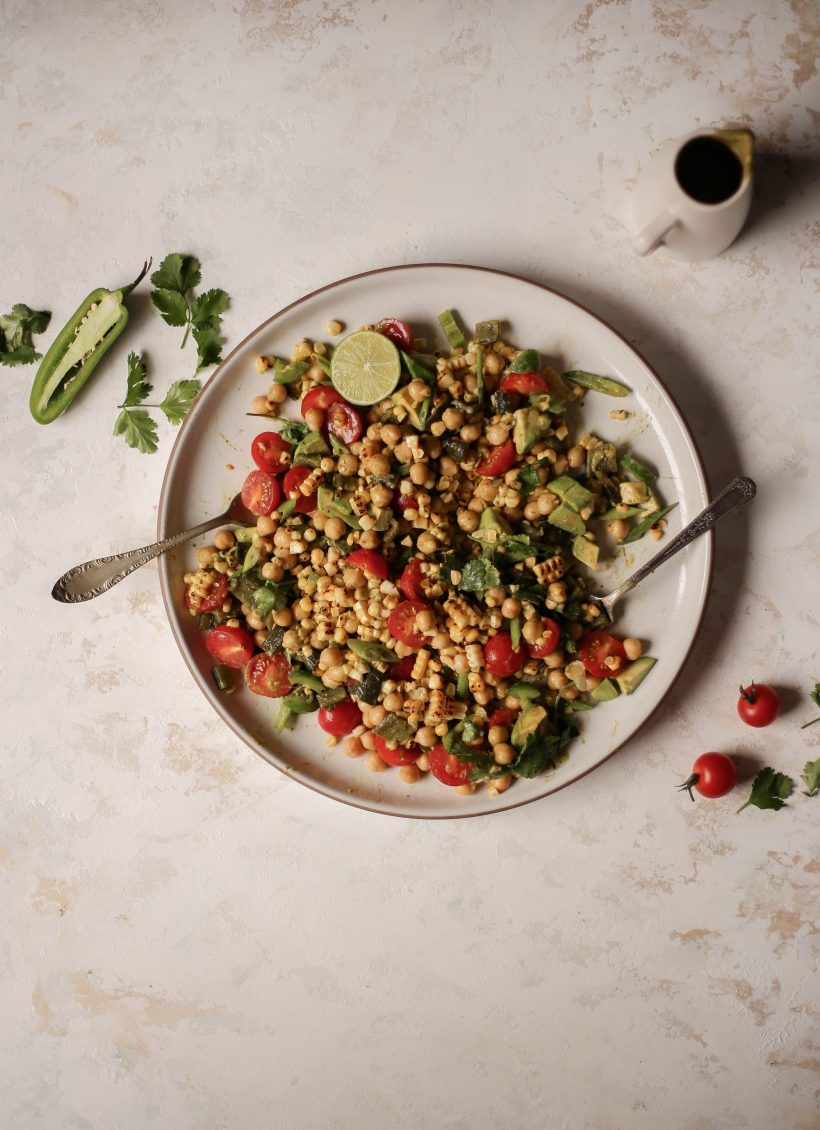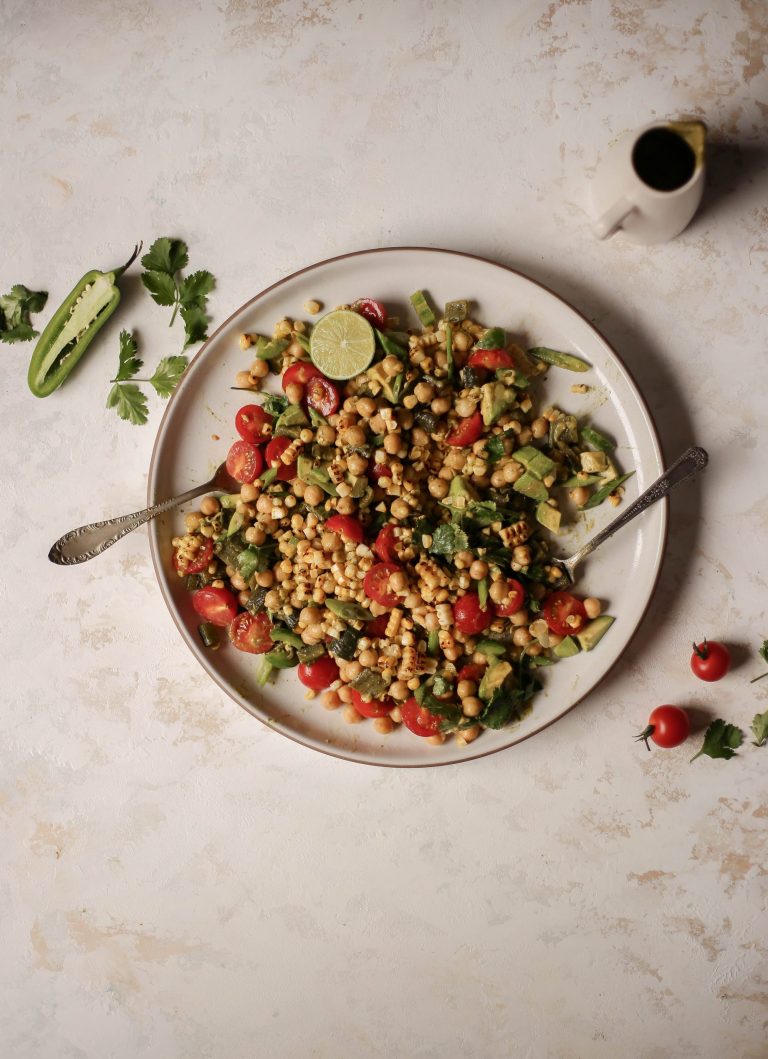 Roasted Corn, Chickpea, and Avocado Salad With Poblano Vinaigrette
Why We Love It: Who doesn't love a good chopped salad? It's such an easy way to utilize fresh produce and provide you with something a little more substantial than your typical greens-based salad. And what's more, this salad might just come out on top for one of the best summer salads. Here's why: It celebrates peak summer produce (corn, tomatoes, fresh herbs) and jumbles up all kinds of great flavors in one easy-to-make bowl. Ready to grab and go or sit and savor. Personally, I'm a fan of eating it right over the counter. To each their own.
Hero Ingredient: Roasted poblanos might seem a little intimidating, but never fear! This recipe takes you step by step and leads you into the endless world of opportunity that is the roasted poblano pepper.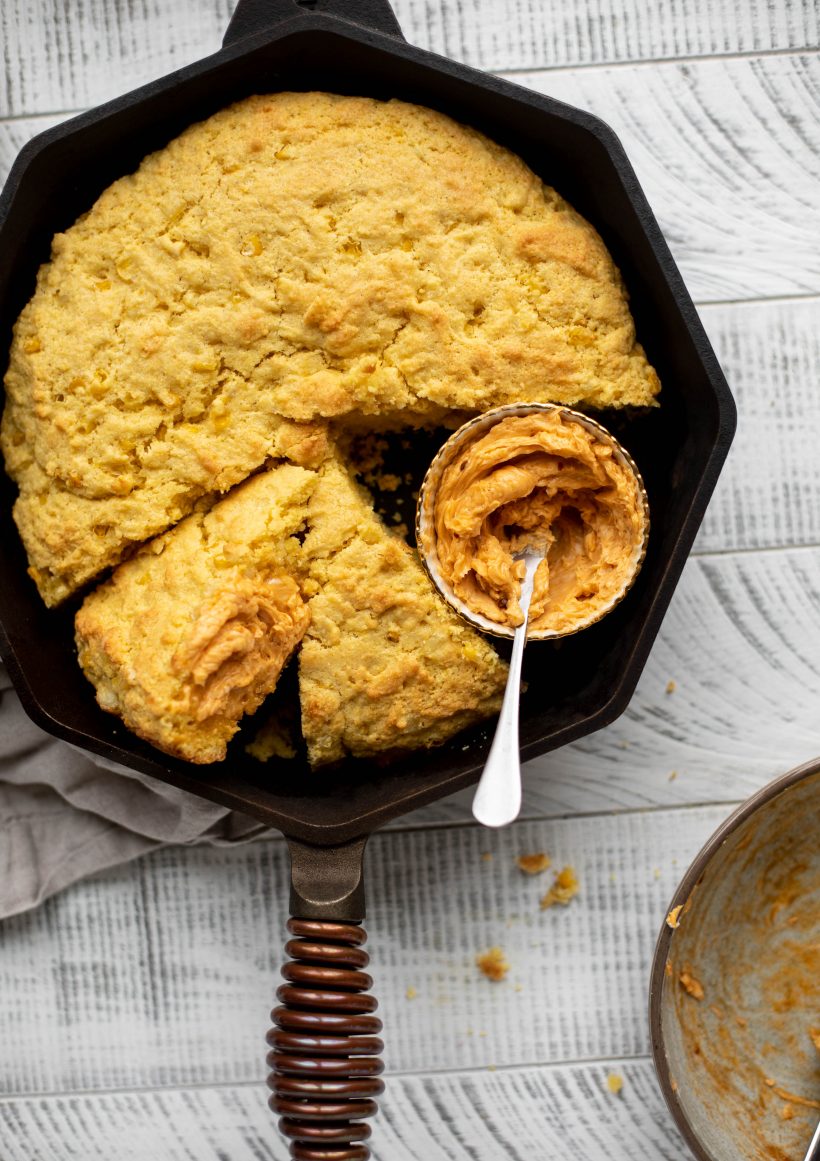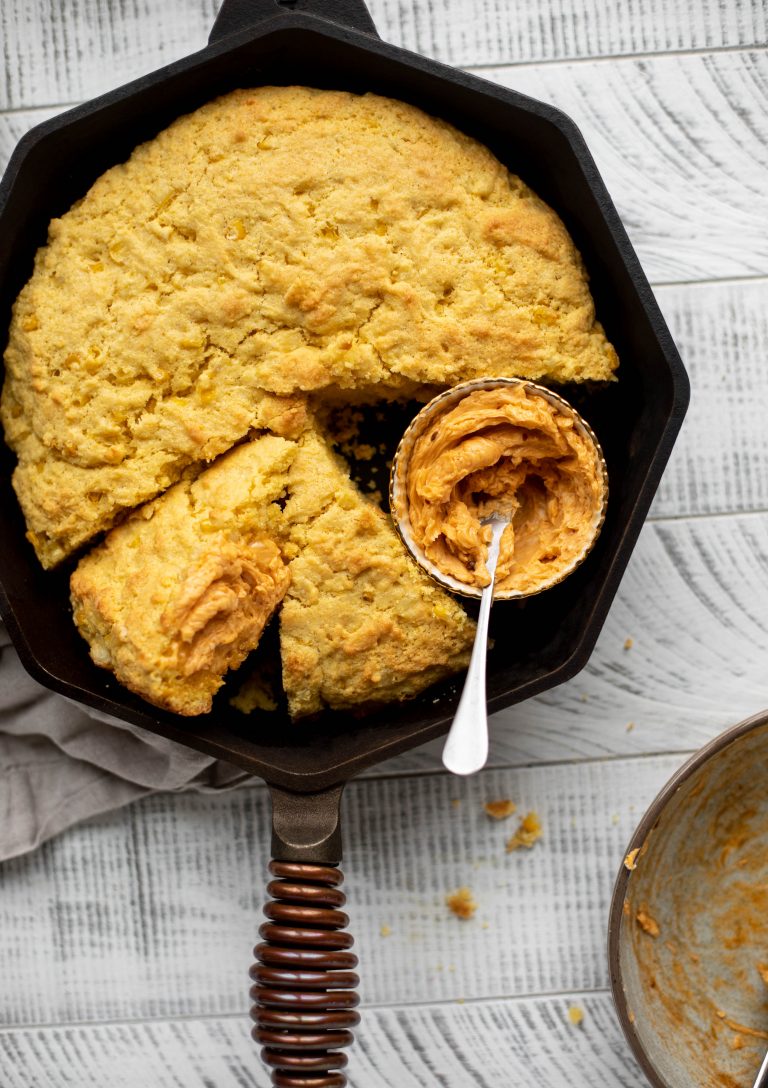 Skillet Cornbread With Chipotle Honey Butter from How Sweet Eats
Why We Love It: One of my favorite summertime suppers is a meal consisting of whatever farmer's market produce I can find (cantaloupe, black-eyed peas, cabbage, peaches) with a slice of warm skillet cornbread. And while I usually just whip up the recipe on the back of the cornmeal package, I'm stepping it up with this upgraded version.
Hero Ingredient: That chipotle honey butter will keep in the fridge for up to a week. Need an interesting spread for your dinner rolls? Or a change to your morning toast, perhaps? The options are endless.
Smoky Sweet Corn Tostadas from Love & Lemons
Why We Love It: If you're in the mood to switch things up this week, try these corn hummus tostadas. You'll start by making a smoky/sweet corn hummus with chickpeas, tahini, corn kernels, garlic, lime juice, chipotle paste, and paprika—all the basics with a few welcome twists. It layers all those flavors so nicely that you'll want to eat it with a spoon, but be sure to save some for the crispy corn tostada shells.
From there, you can top your delicious-enough-to-stand-alone base with whatever vegetables or herbs you have on hand. Grilled corn is a must, though. The recipe also calls for avocado, scallion, jalapeño slices, and baby greens, though I would suggest fresh tomato, radish, cabbage, and/or slow-cooked chicken if you're looking for more protein.
Hero Ingredient: If you have the bandwidth, make extra hummus. It's seriously so good and you can use it throughout the week on sandwiches, raw veggies, wraps, or salads for a boost of complex flavors and protein.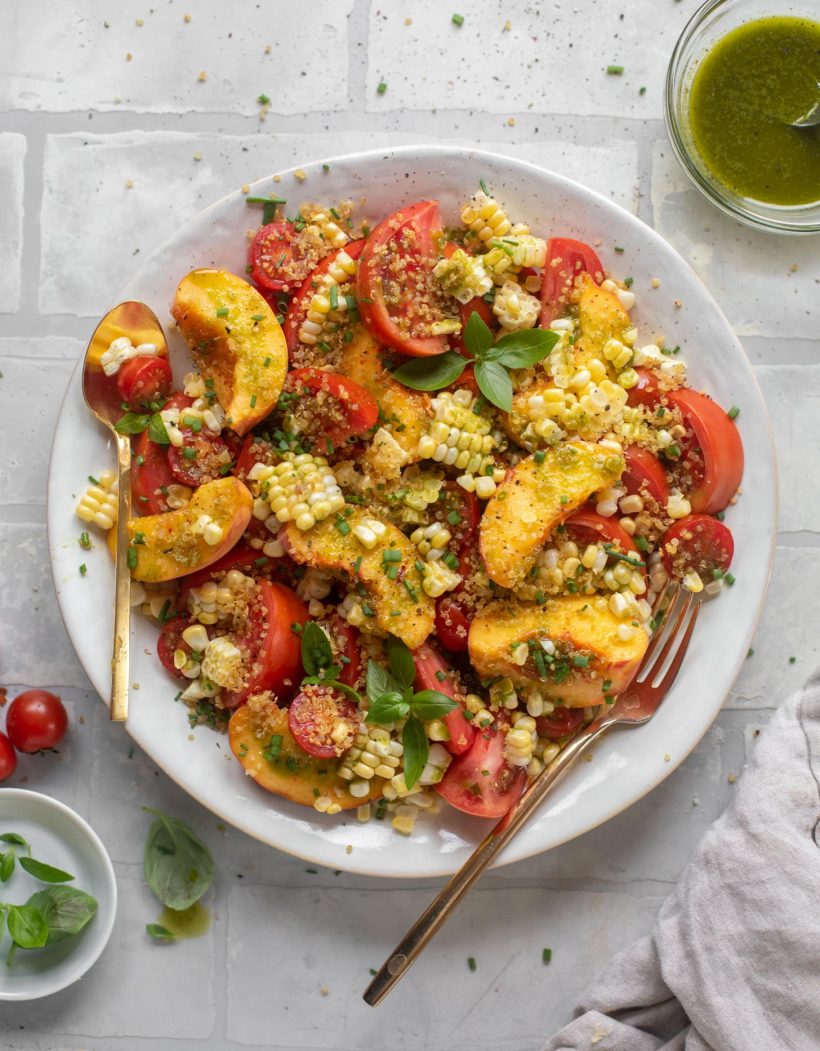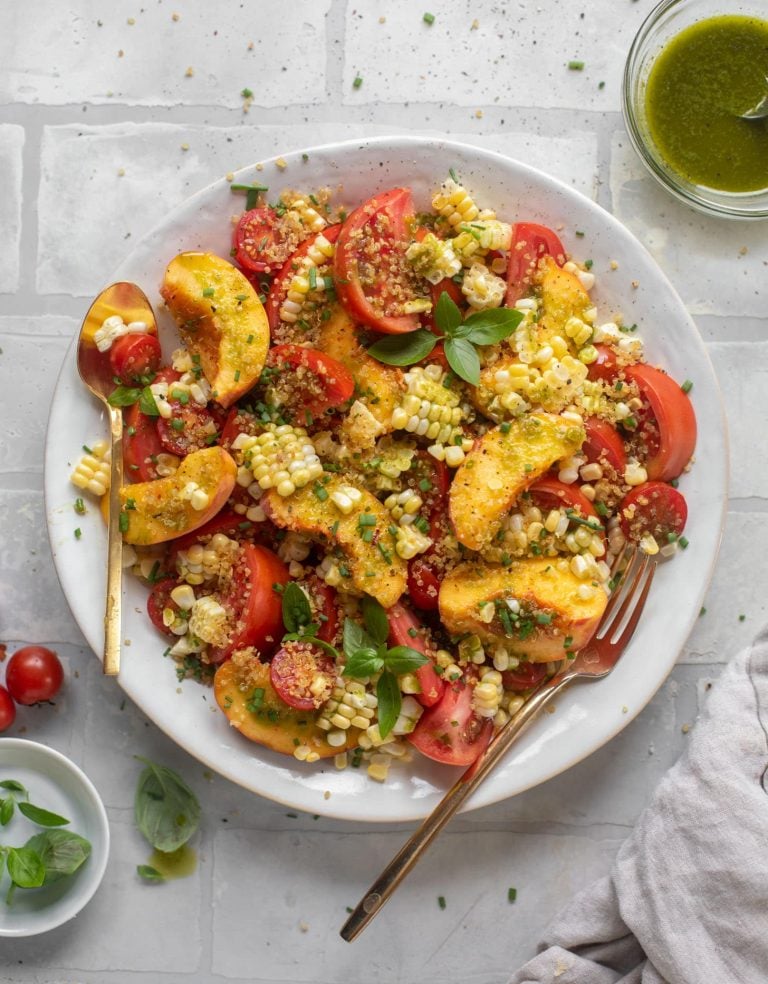 Peach Tomato Salad With Sweet Corn and Crispy Quinoa from How Sweet Eats
Why We Love It: This recipe just screams farmer's market. Take a trip to one nearest you to snag some of the ripest peaches, tomatoes, and fresh corn while they're at peak season. This salad does a great job of letting all those flavors shine and even makes things a little more substantial with crispy quinoa.
Hero Ingredient: The basil vinaigrette complements everything perfectly and provides your produce with a nice floral, earthy tone.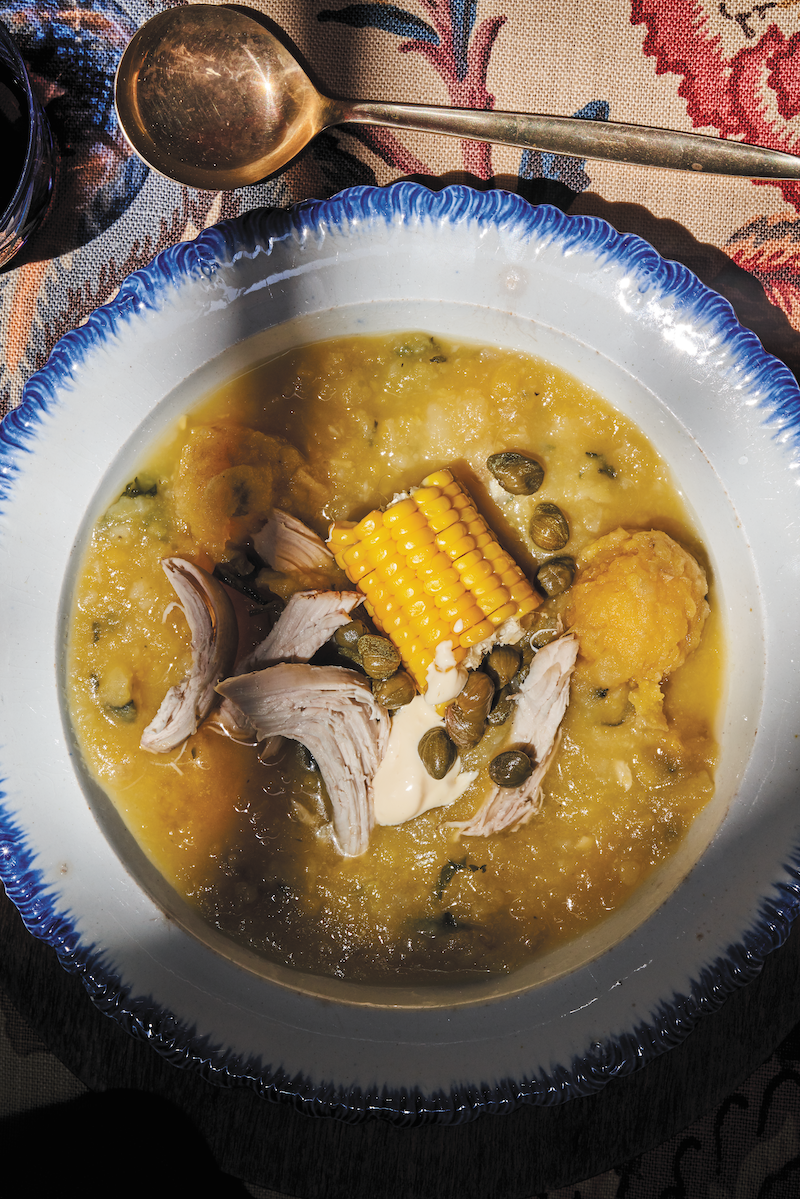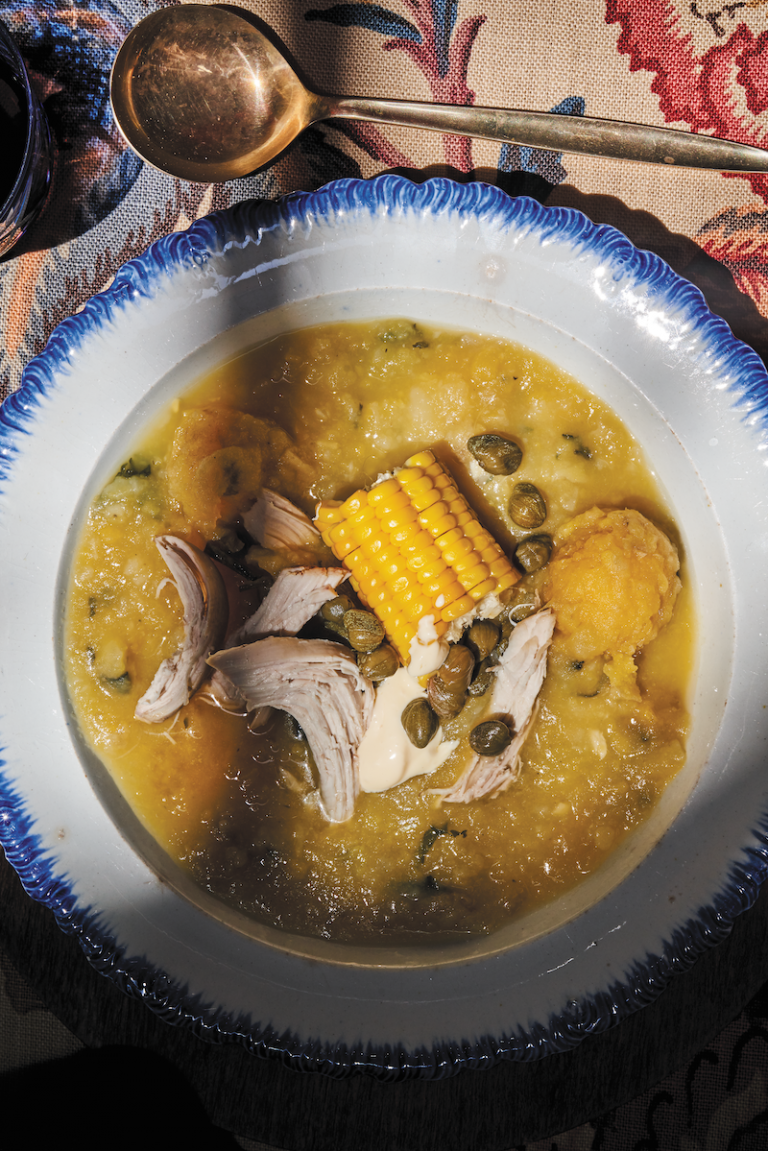 Bogotánian Ajiáco
Why We Love It: This recipe comes to us from Mariana Velásquez, who shares that this soup is an expression of Bogotánians. Bogotánian Ajiáco is a potato soup with corn, chicken, and capers and was declared cultural patrimony, or "a set of goods and values that are an expression of the people," by the mayor's office in Bogotá about 20 years ago.
It uses three kinds of potatoes, corn, chicken, guasca herbs (which can be found at the farmer's markets, ask for potato weed), cream, avocado, and capers to create something totally unique and immersive.
Hero Ingredient: If you haven't been able to tell yet, I'm a total sucker for capers. You just can't beat that little burst of salty, briny goodness. I digress.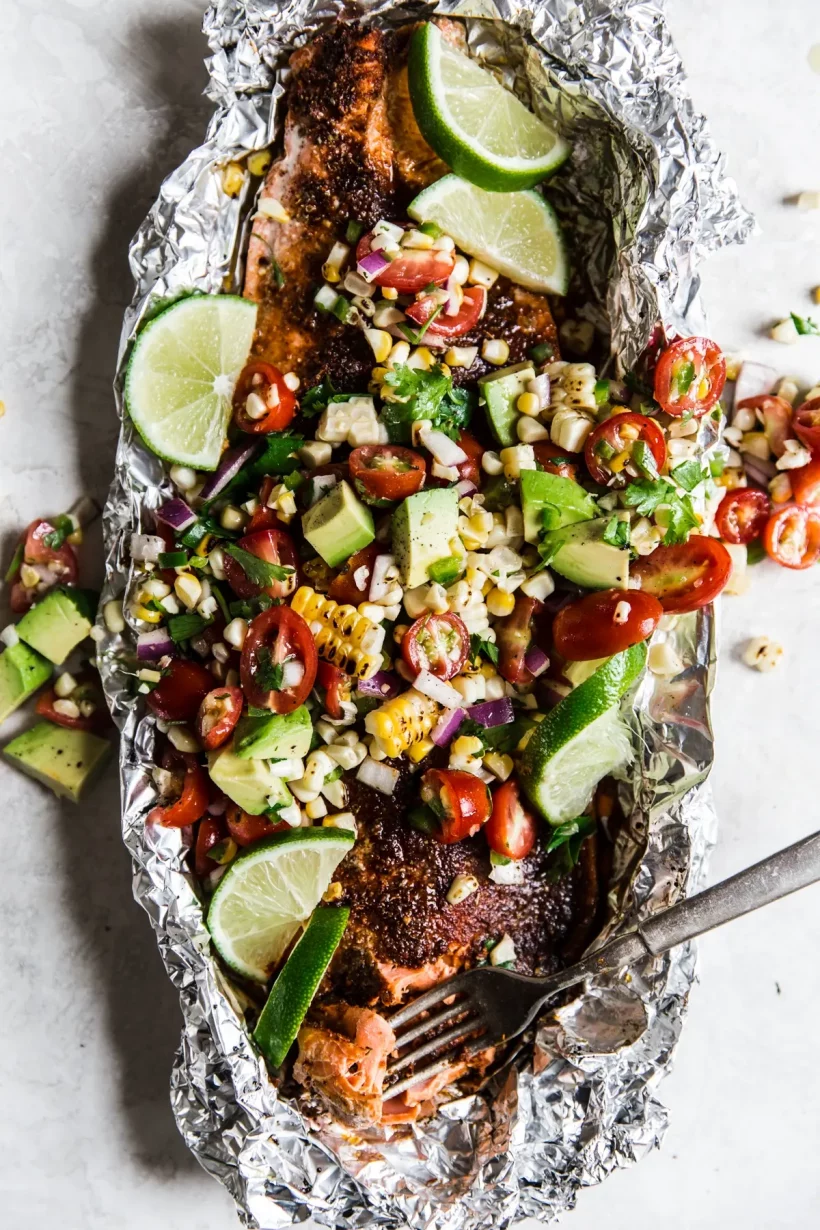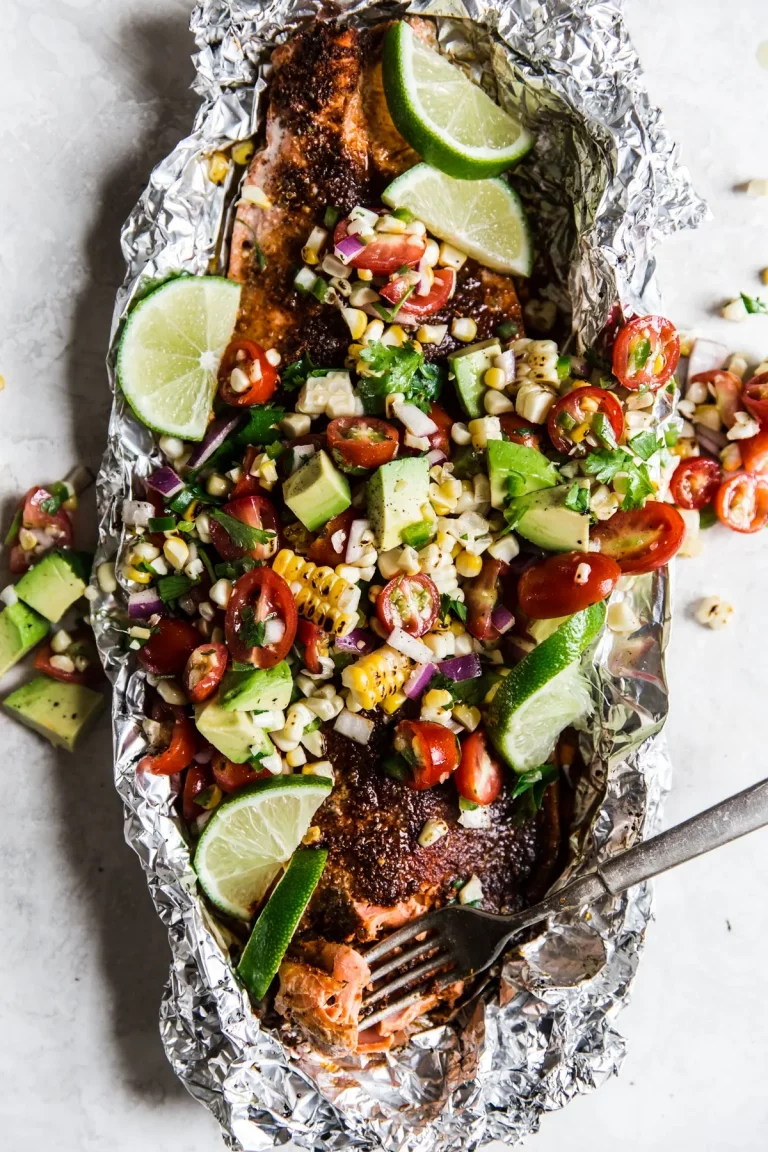 Smoky Grilled Salmon With Avocado Salad from The Modern Proper
Why We Love It: Looking for a quick and easy weeknight dinner? Or maybe a dinner to impress guests? The great thing about this recipe is that it's perfect for both. It comes together in under an hour and yields a whole that's so much greater than the sum of its parts.
The salmon is seasoned with lime juice and taco seasoning, grilled to perfection, and topped with a corn and avocado salad that's tasty enough to eat on its own. Basically, this is a home run dinner recipe. And not to mention the health benefits of salmon. Healthy fats? Check. Blood sugar balance? Check. Clear skin? Check. The list goes on and on, but I won't—just take my word for it.
Hero Ingredient: The recipe doesn't call for it, but I'd recommend throwing that jalapeño on the grill with your corn before you seed and dice it. A little char goes a long way.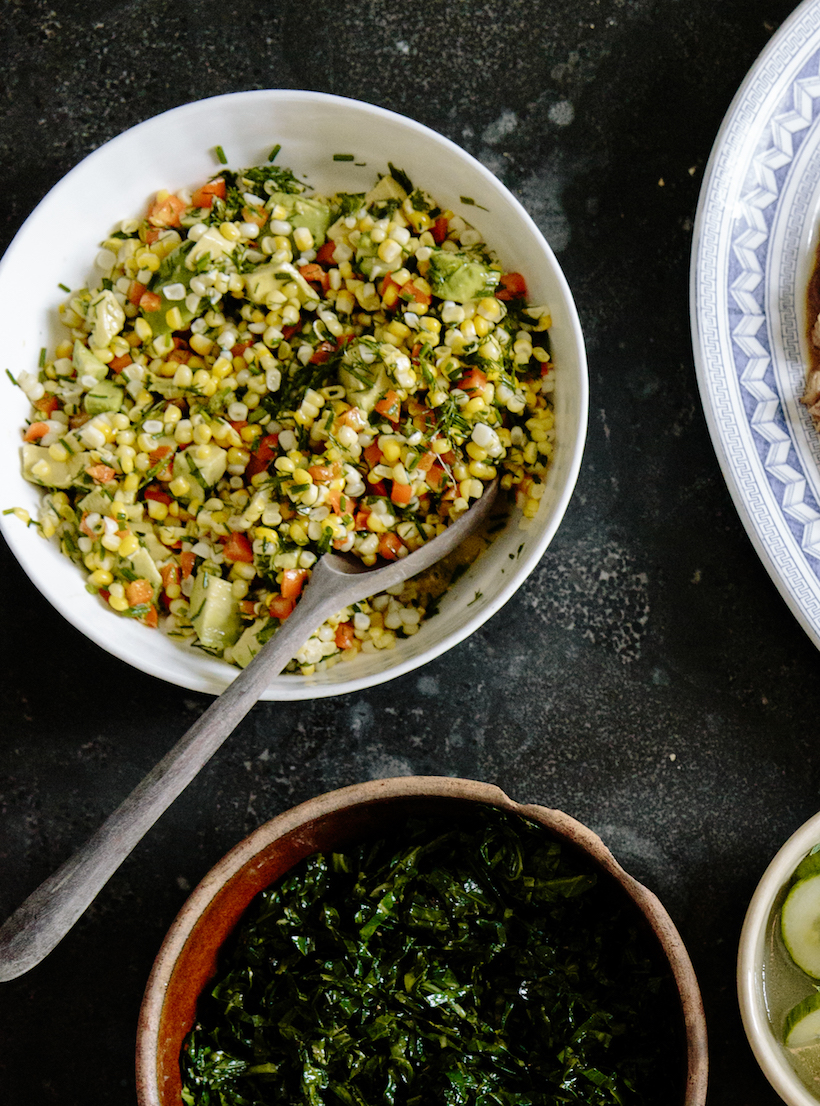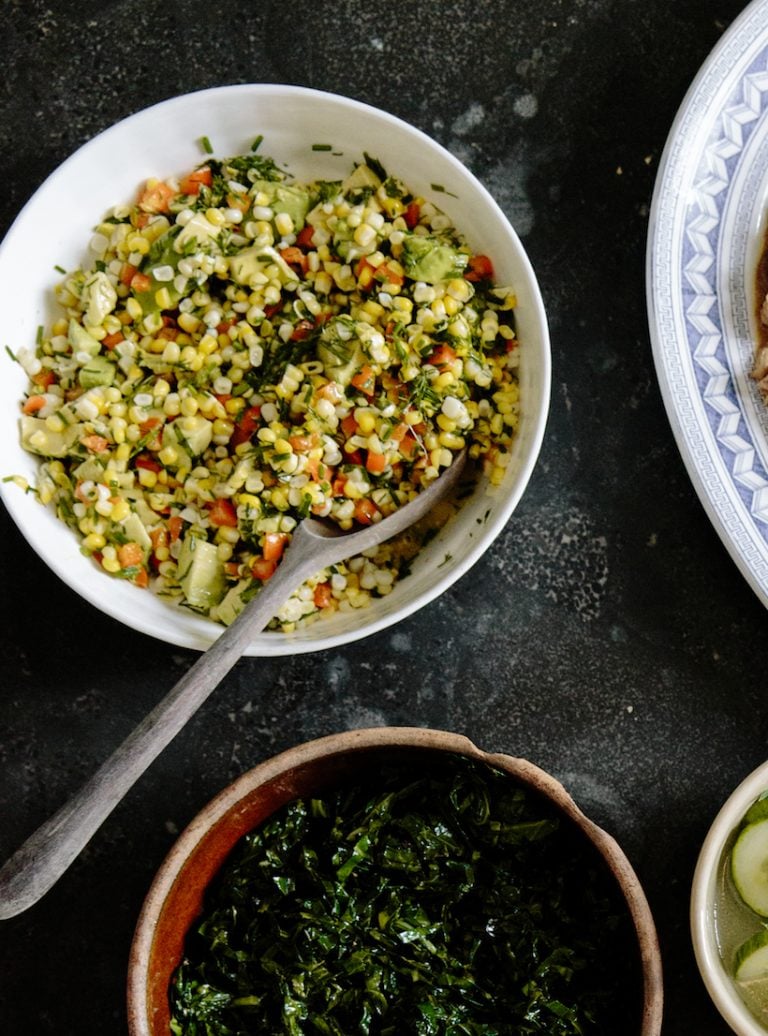 Corn and Avocado Salad
Why We Love It: If you're doing any kind of hosting this season, this corn salad should be immediately bookmarked and added to your rotation. Largely because it's the ideal gathering recipe, but also because it's incredibly easy and completely satisfying. Bring it to your next [insert summer party here] because let me tell you—it's a total crowd pleaser. It only takes about 20 minutes to assemble and acts as the perfect appetizer for hungry guests, entrée accompaniment, or afternoon snack on a warm day. Cool, sweet corn meets crisp bell pepper and creamy avocado? I'll take two, please.
Hero Ingredient: A handful of dill brings a citrusy note to the table that I'm prepared to welcome with open arms. And appetite.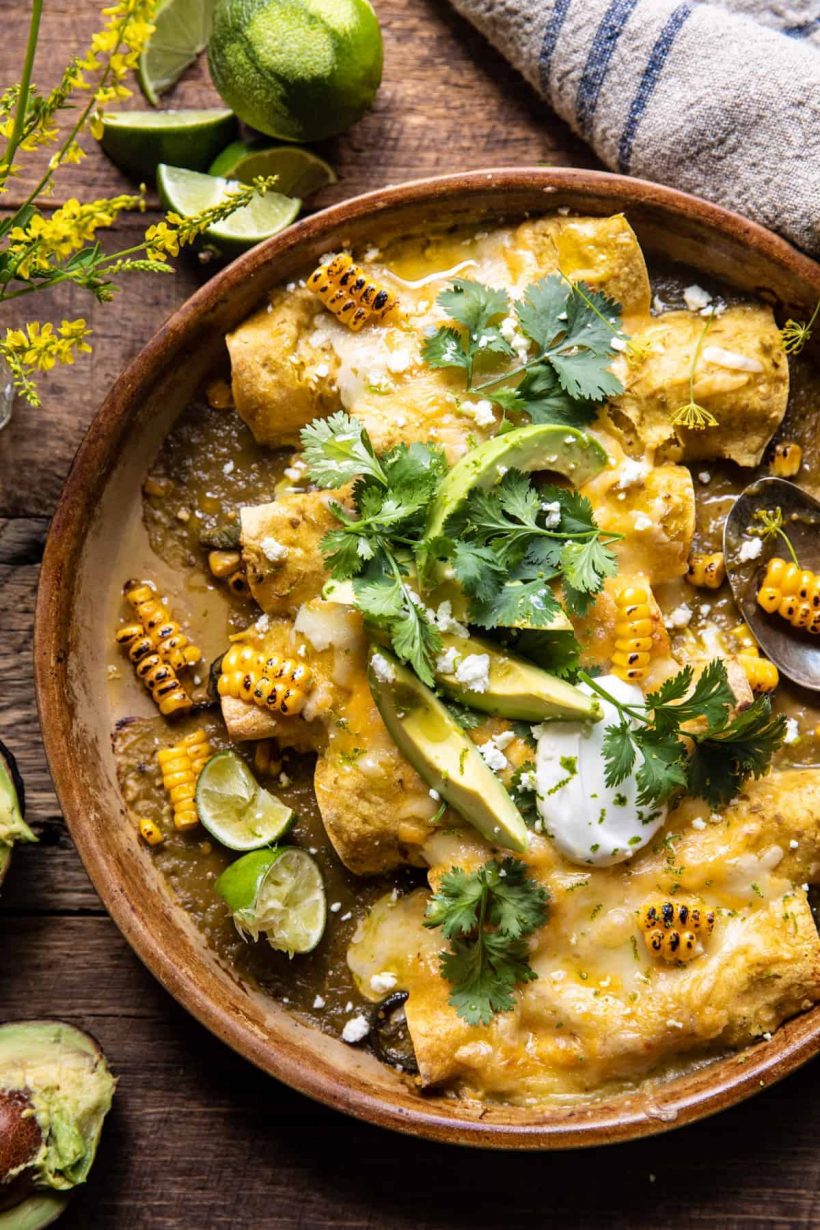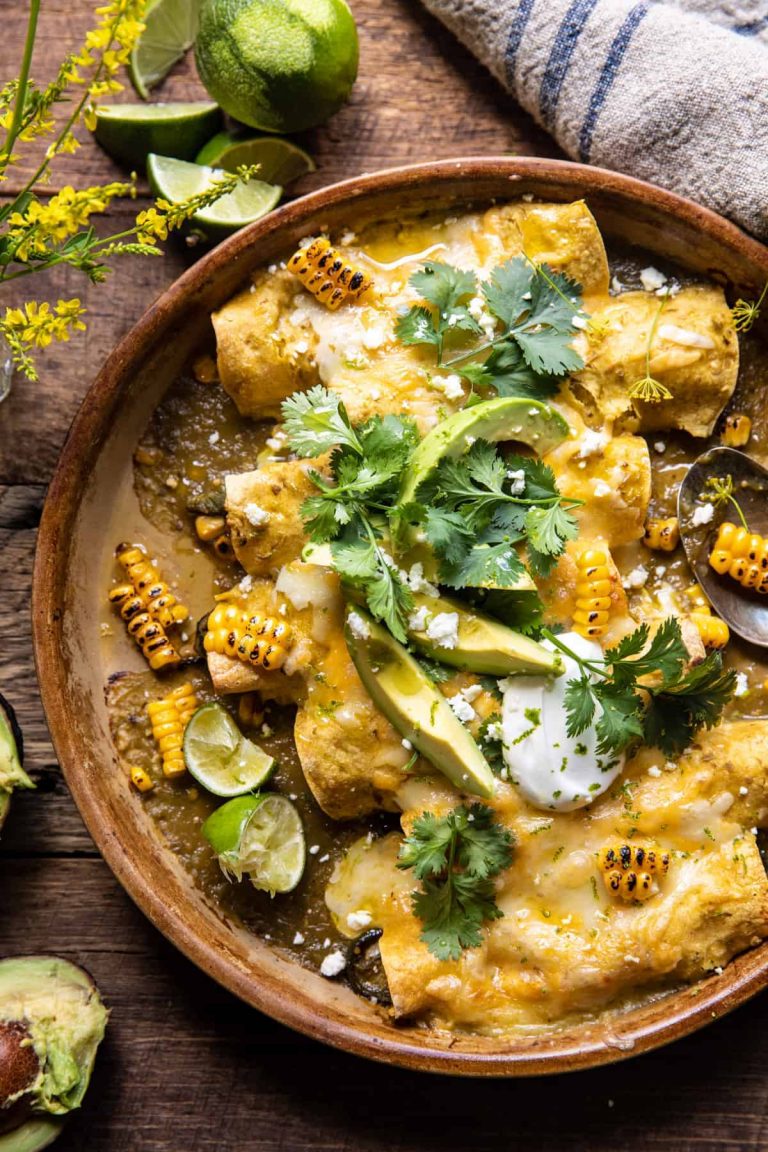 Sheet Pan Chipotle Cheddar Corn Chicken Enchiladas from Half Baked Harvest
Why We Love It: These sheet pan enchiladas are your answer for the dreaded "what's for dinner?" question. They're ready in under an hour and are guaranteed to satisfy any Tex-Mex craving. You're getting smoky chipotle chicken, charred corn, poblano peppers, sweet yellow onion, and cheddar/pepper jack cheese wrapped up in a warm corn tortilla and smothered in salsa verde. And, as if that doesn't sound amazing enough, you can enjoy lots of edible accessories including avocado, Greek yogurt or sour cream, cotija cheese, and lots of fresh cilantro. Customize accordingly.
Hero Ingredient: Canned chipotle peppers in adobo are key. They give the chicken a slightly spicy, very smoky flavor that just makes these enchiladas.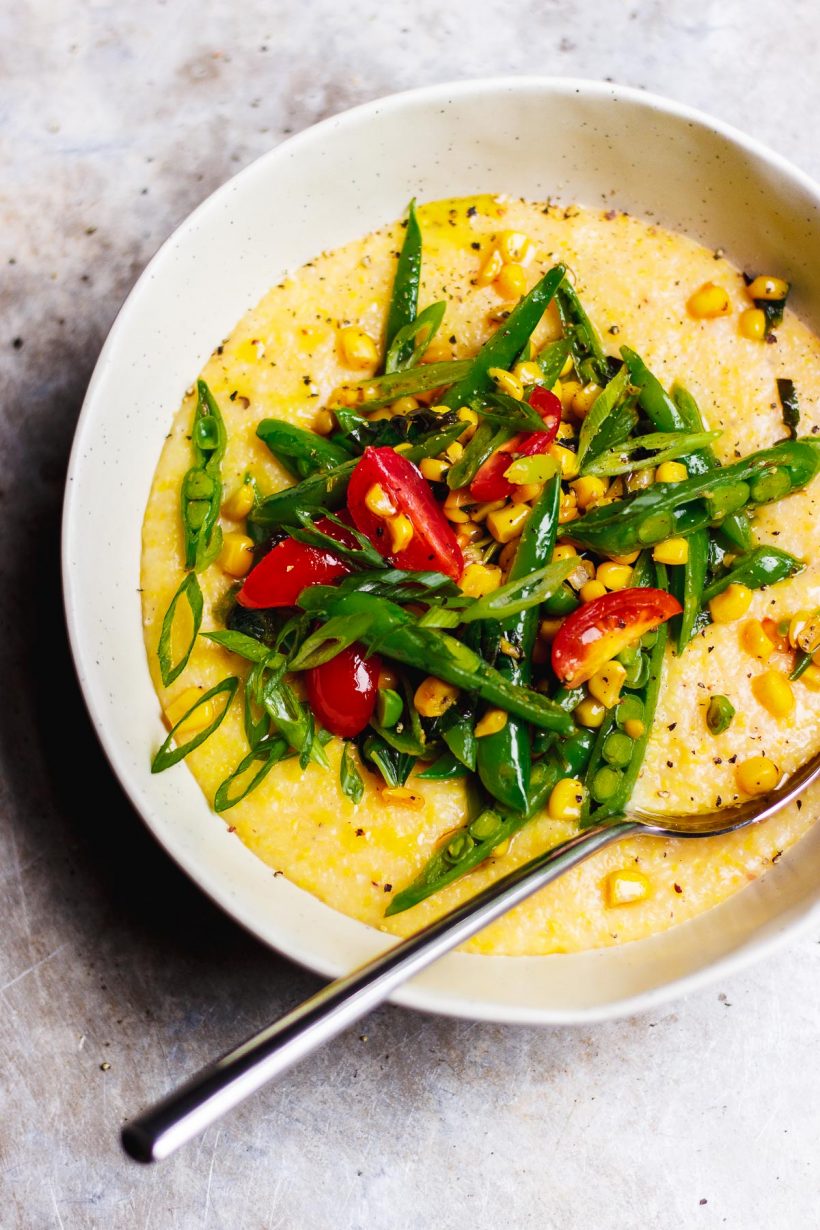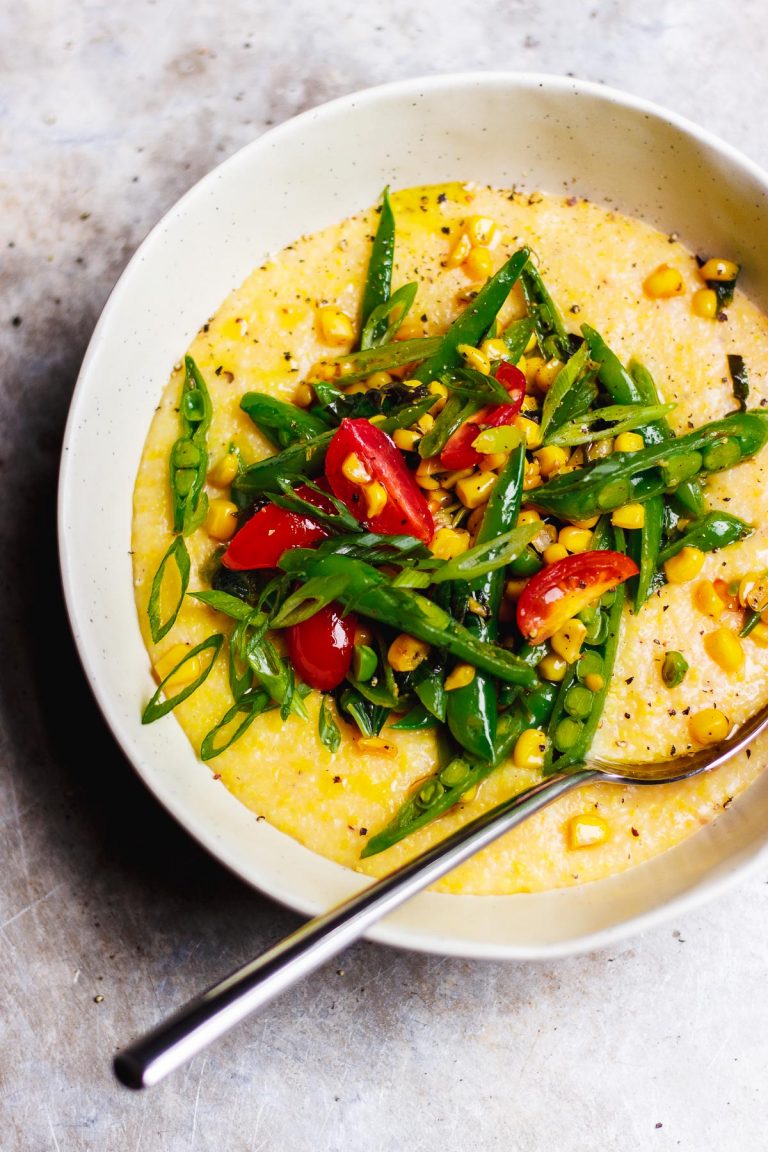 Summer Polenta with Sautéed Peas and Corn from With Food and Love
Why We Love It: I know what you're thinking: Polenta? A summer food? In this case, absolutely. It's creamy, cheesy, garlicky, and both simple and comforting in all the best ways. And while polenta can often be viewed as a side dish, the addition of sautéed snap peas, corn, green onions, and tomatoes really crowns this as a stand-alone main. This recipe is perfect for a veggie-rich dinner that will leave you satisfied without feeling saturated.
Hero Ingredient: While this combination of veggies is undeniably delicious, feel free to incorporate whatever vegetables you have on hand. Zucchini, summer squash, eggplant, and bell pepper would be great additions. Empty that vegetable drawer in style.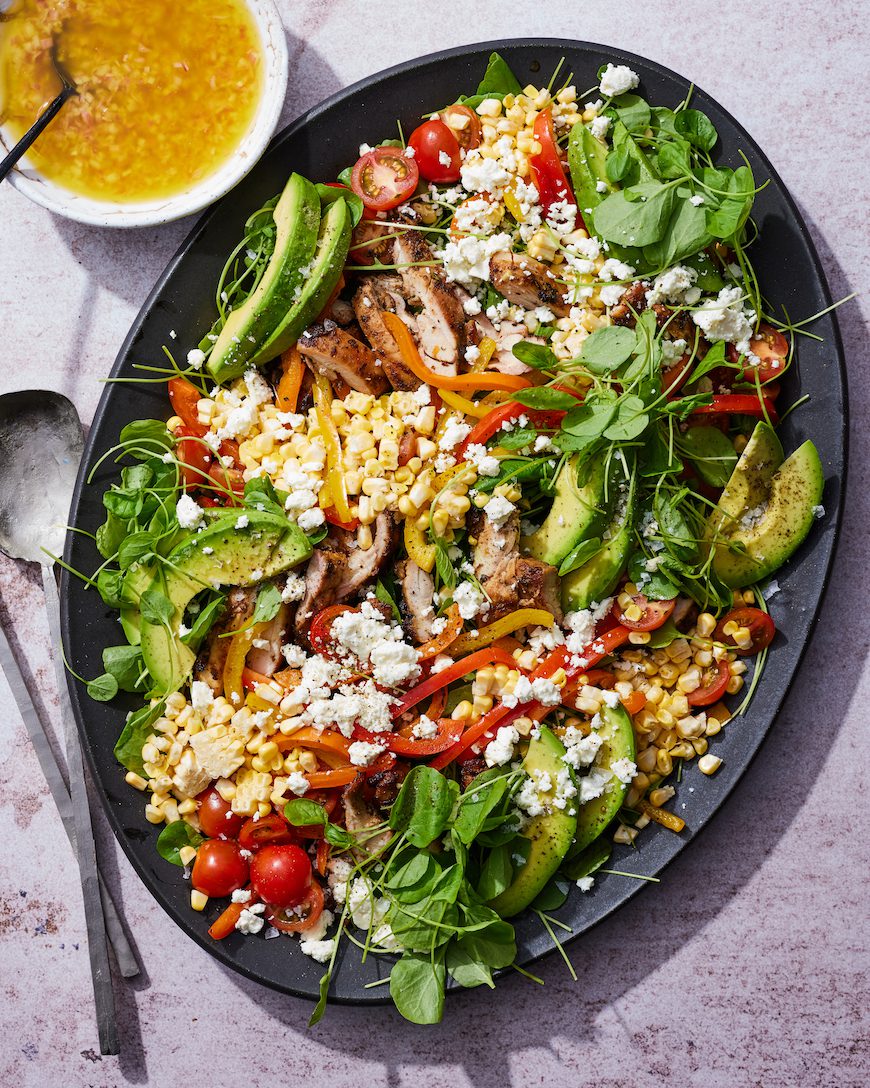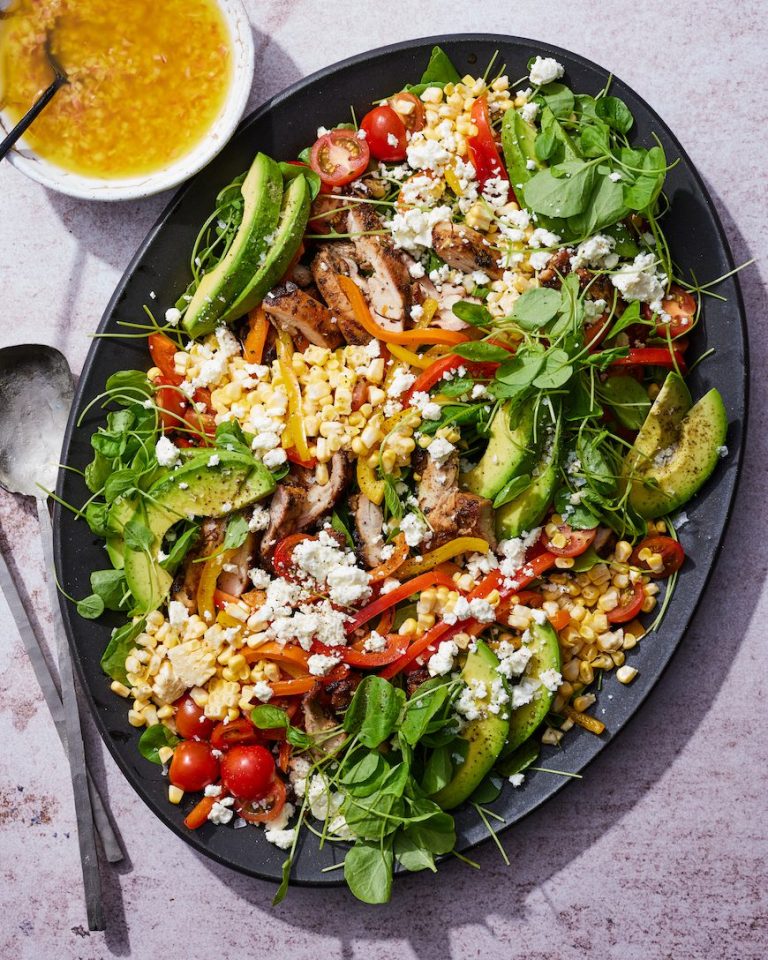 Avocado Chicken Fajita Cobb from What's Gaby Cooking
Why We Love It: Loaded salads, meet your new addition. This salad has a little something for everyone and puts a twist on your traditional cobb salad. When it's too hot to turn on the oven this summer, try this hearty cobb out for dinner—you won't regret it. Can you really go wrong with marinated chicken, sautéed bell peppers, cherry tomatoes, corn, avocado, and feta? I think not, but you might have to see for yourself.
Hero Ingredient: A simple lemon vinaigrette lets each element shine through without overpowering the flavors of that produce.
What are your favorite ways to use corn?
<! - Composite Start ->
<! - Kết thúc tổng hợp ->