Lifestyle
The Guardian: Trump tested positive for Covid-19 before 2020 debate with Biden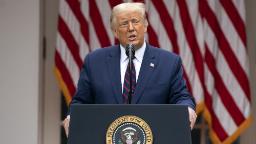 The previously unknown positive test result was revealed in Trump's former chief of staff Mark Meadows' memoir, "The Head of the President," a copy of which was obtained by the Guardian before the book. The book is published next week.
Trump said in a statement on Wednesday, "the story about me having COVID before or during the first debate is Fake News. In fact, a test showed that I did not have COVID before my life. discuss."
CNN has reached out to Meadows and then White House physician Dr Sean Conley for comment.
Trump tested positive on September 26, 2020, according to Meadows, The Guardian reported. That day Trump held
a ceremony at the White House
Rose Garden
for the Supreme Court nomination Amy Coney Barrett, later considered by medical experts to be a super viral event. At least 12 people who attended the event have tested positive.
Trump, who Meadows said looked "a bit tired," was on his way to a rally in Middletown, Pennsylvania, that night when Meadows received a call from Conley announcing that Trump had tested positive for Covid-19, according to the excerpt. Meadows wrote that Conley told him, "Stop the president from leaving. He just tested positive for Covid."
Meadows claims in his book that the positive test was carried out using an old set of models, the Guardian reported.
According to FDA guidelines, when using the Binax test, "A negative result does not exclude SARS-Covid-2 infection and should not be used as the sole basis for patient management or treatment decisions. , including infection control decisions."
Meadows writes that Trump has taken the negative test as "completely allowed to press as if nothing were happening," but Meadows instructs those in Trump's "immediate circle" to treat him as if he was positive," the Guardian reported.
"I don't want to take any unnecessary risks," Meadows wrote, according to the Guardian, "but I also don't want to alarm the public if there's nothing to worry about."
A former senior WH official told CNN that rumors were circulating inside the West Wing before the first presidential debate that Trump had tested positive for Covid.
The next day, Trump held an event on the South Lawn of the White House, where he met with workers from Lordstown Motors, and then appeared in the Rose Garden of the White House to devise a new test strategy for the White House. coronavirus.
During the debate, Trump and Biden adhered to social distancing regulations, but the two candidates – both in their 70s – were indoors in a room with dozens of spectators, some of whom did not. wearing a mask.
Trump on September 30 went to Minnesota for an outdoor rally in Duluth and a private fundraiser in Minneapolis.
According to the White House, Trump tested positive for coronavirus on October 1, just two days after the debate.
During a press conference on October 3, 2020, while Trump was being treated at Walter Reed National Military Medical Center in Covid, Conley would not disclose Trump's final negative test results for the virus. withdrew, saying, "I won't go into rollback testing, but he and all of his staff are tested regularly."
In his book, Meadows wrote that although he knew each candidate was required to test negative within 72 hours of the start of the debate "…Are not will stop [Trump] from going out there," the Guardian reported.
After the then-president announced he had Covid, Meadows declined to tell his staffers the exact timeline of when Trump tested positive at the time, said the former senior House official. White added.
The official went on to say that the virus was simply not taken seriously by some senior aides.
Employees are sometimes present in meetings and around other assistants before going home due to Covid.
"There is a strange indifference about making others sick among some on the west wing," the official said.
A personal aide also said Meadows was keeping the exact details of Trump's illness secret from employees.
CNN's Gabby Orr and Kevin Liptak contributed to this report.
<! - Composite Start ->
<! - Kết thúc tổng hợp ->