Lifestyle
This Genius Rice Cooking Hack completely changed the game for my veggie plate Pan Curry
There's a lot I like about this vegetarian sautéed curry, but its real genius lies in a great cooking secret that I didn't believe was possible until I tried it: rice. Cook right along with vegetables on the pan. Just like in, don't cook the rice in a separate pot – this is a real vegetarian wok curry made ALL in one pan (or in one pan to serve one or two people, as we did when we spin the recipe.) I know – mind blown!
Aside from being easy to cook (and easy to clean), this curry is amazing for the amount of flavor and delightful texture it packs with just a handful of easy-to-find ingredients. The coconut milk provides a satisfying creamy taste without any added milk, and the peanut butter, garlic, and green curry powder combine to form a delicious sauce that brings a pure dinner. Vegetarian and simple rice to a new territory.
I've made this vegetarian wok curry recipe a few times as I finalize the proportions for our upcoming plant-based RE:SET menu, and I can honestly say it's now turned out to be one of my favorites. a main dish in the family. We really couldn't have enough, and one of the best things about it is that you can adjust the ingredients based on whatever seasonal produce you have in the fridge. Well, that and the after-dinner cleanup is surprisingly easy. Read on for everything you need to know about this vegetarian sautéed curry and grab the recipe at the bottom of the page. And don't forget to subscribe to our free plant-based RE:SET! The full 5-day plant-based menu will hit your inbox on January 21st.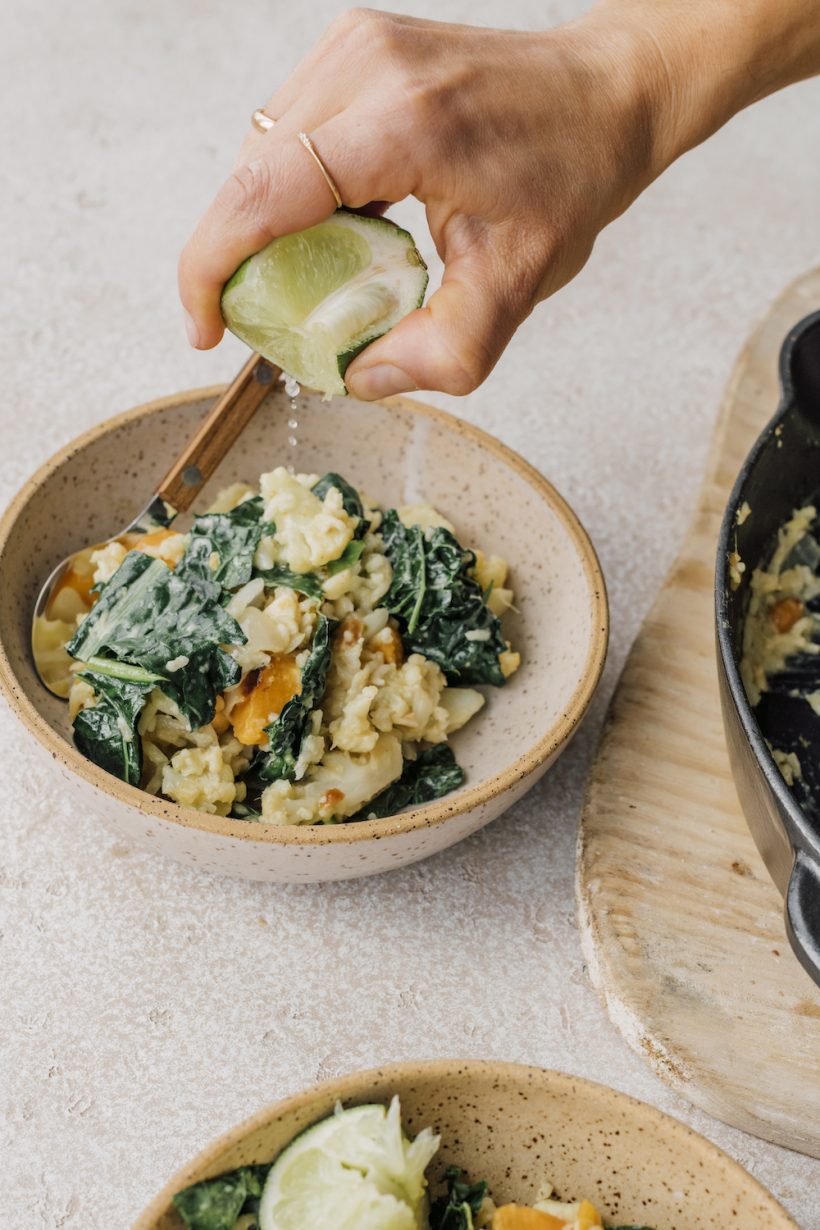 I love the simplicity found in this vegetarian sautéed curry. Everything on the succinct ingredients list is a powerful tool: the coconut milk gives it a slightly sweet creaminess that pairs well with the spice of the green curry sauce. A slice of peanut butter combines it all with a nutty aroma that makes kale, cauliflower, and sweet potatoes taste almost intoxicating. This is a serious comfort food that won't leave you bummed, and I love to bathe the entire pan with fresh herbs, chopped peanuts, and large chunks of lime right out of the oven.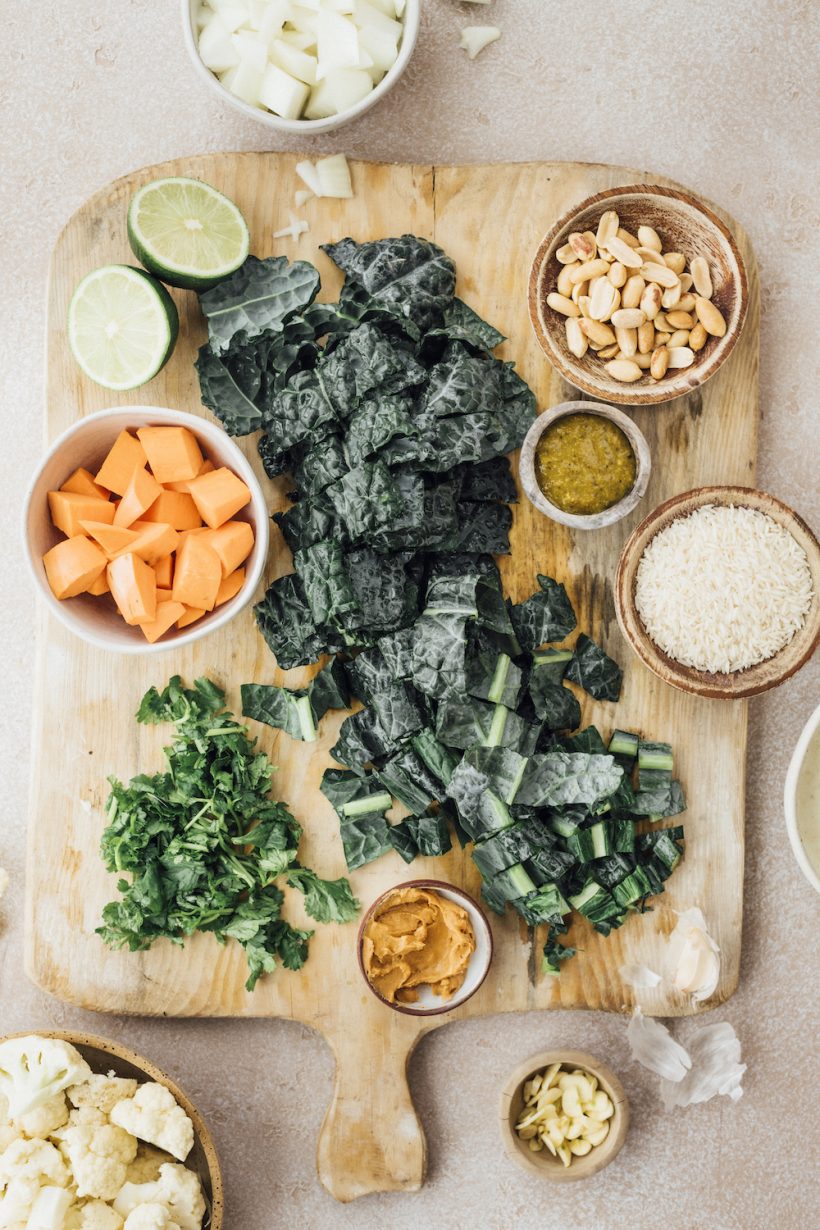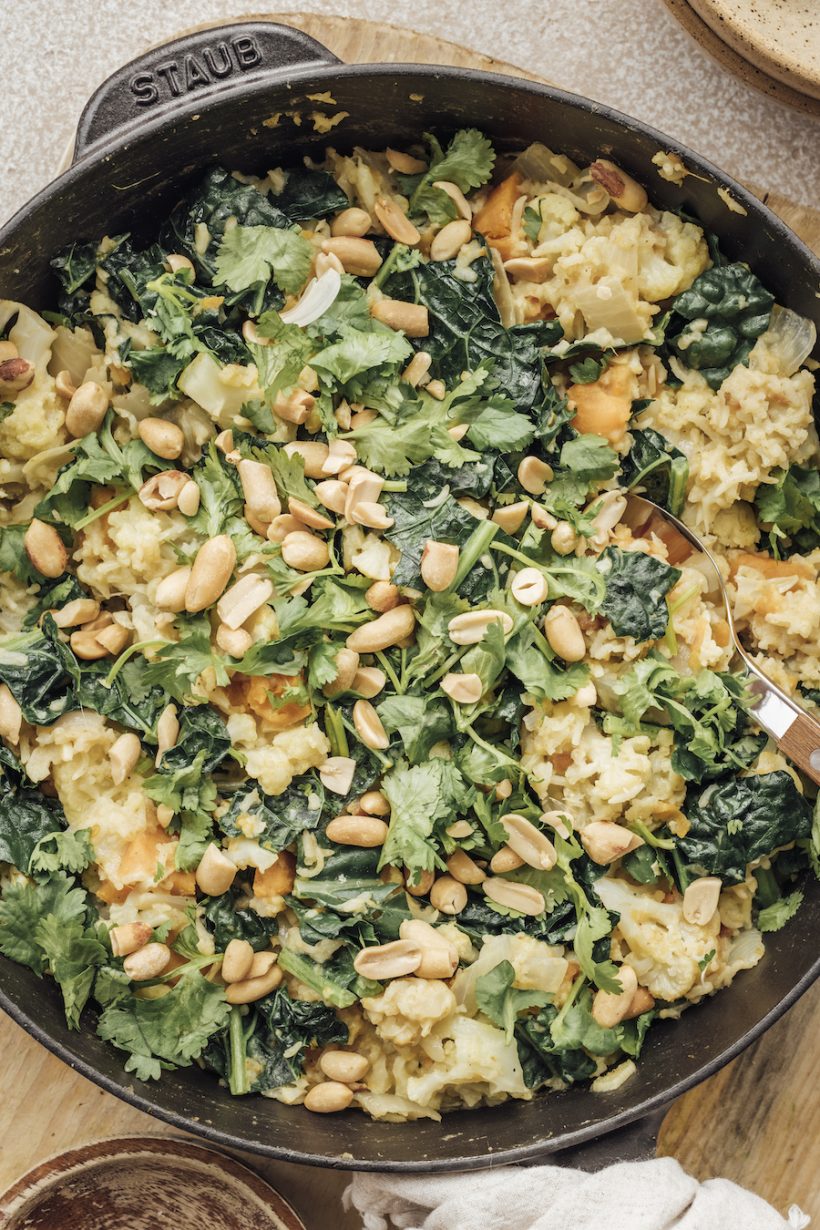 Can you make rice on a pan?
I had the same question, and since I was determined to make this a real one-pan dinner, I experimented to make it just right. Turns out, you CAN make rice on a pan! Here's what you need to know:
Make sure your rice is completely submerged in the liquid. If the liquid evaporates, just add a little water to make sure it is covered.
Make sure your water is boiling just before you add it and use foil to create a good seal to retain heat and cook the rice along with the other ingredients.
What ingredients can you substitute in this recipe?
In general, I like to have one good green, one root vegetable, and one cruciferous vegetable. In that formula, the sky is the limit! Here are some swaps I've done with great success:
Green curry powder: substitute any other curry powder – just be aware of the fact that different types of curry powder have different heat levels. In general, green is usually quite hot, which is why I only used a few tablespoons here.
Kale: use any sturdy green from the spinach to cut into rinds.
Sweet potatoes: Change to pumpkin, baked squash, or regular old baked potatoes, peeled and cubed.
Cauliflower: Think broccoli, half a brussel sprout or shredded cabbage.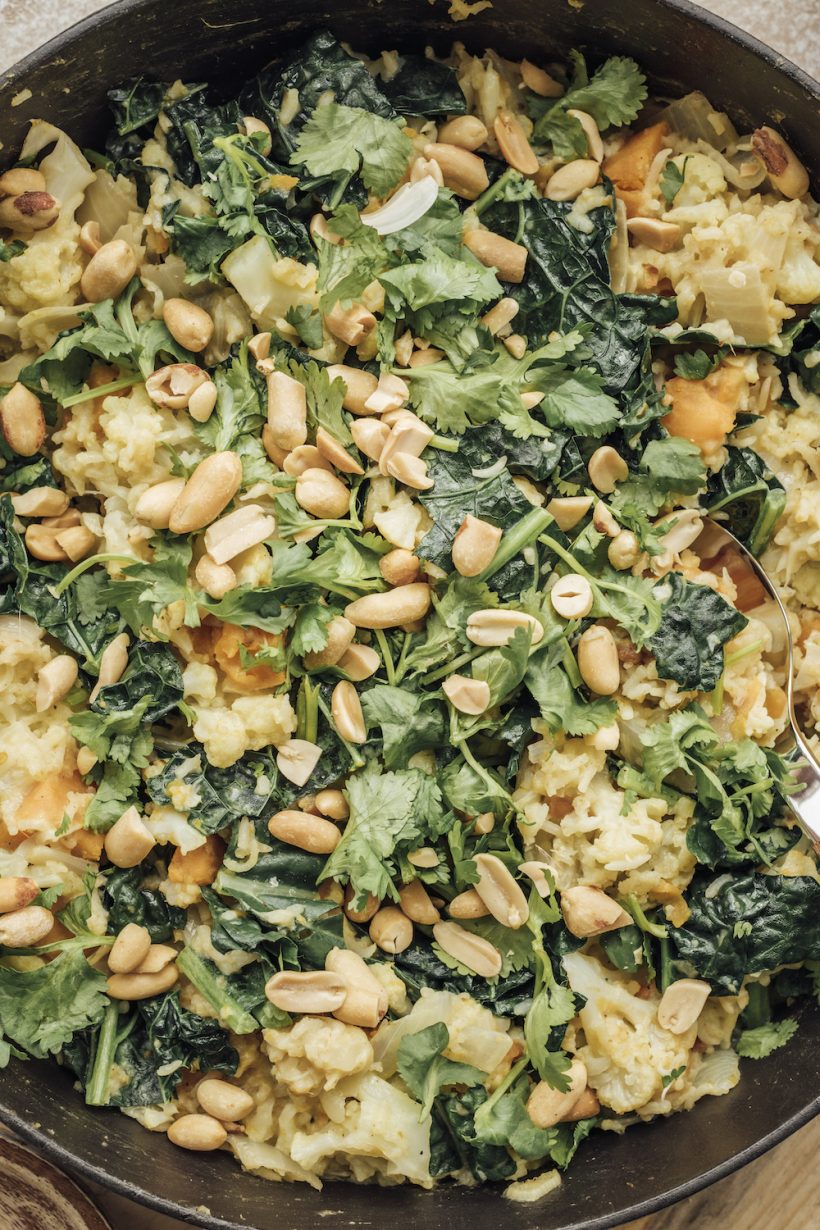 How to halve this recipe for 2 people? Make it a "Vegetarian" Frying pan Curry. "
For our shoot, we halved the ingredient list and made it in one pan, which turns out to be the perfect size for two hearty dinners. I love using my Staub cast iron pan for this recipe because it goes from oven to table so delicious and keeps the whole dish hot. All you have to do is divide all the ingredients by two – but make sure there's still enough liquid to cover the rice. If not, can add a little water or add coconut milk.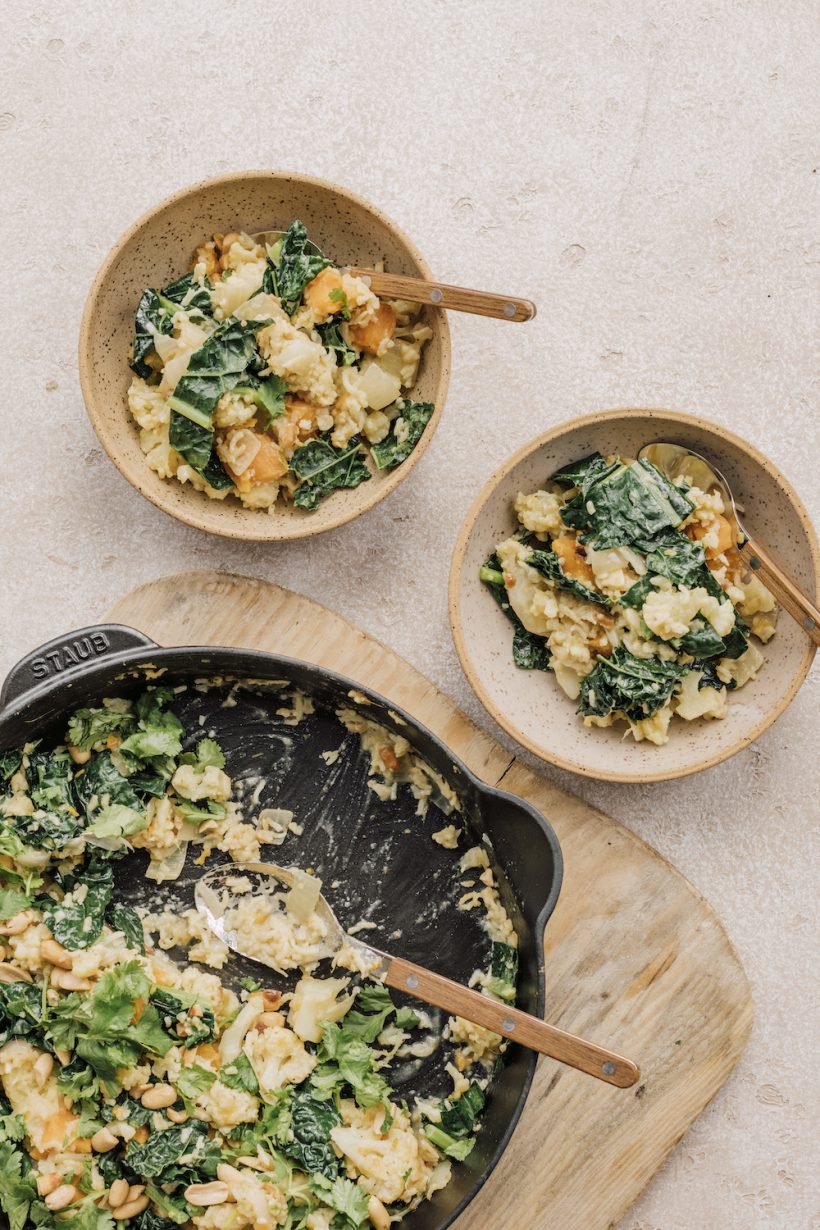 This frozen vegetarian curry is so pretty! Here's how to store leftovers…
This curry makes the perfect workday lunch, so I usually chill any leftovers in an airtight container in the fridge and gently reheat the next day on the stove or in the microwave. wave. However if I Actually In my game, I'll duplicate this recipe to make a large batch, then transfer the cooled curry to several covered containers, label, then store in the freezer for up to a week. month. When ready to eat, simply defrost overnight in the refrigerator, then reheat in the pot on the stove. Prepare once, dinner twice. And remember, when it comes to leftovers, a final sprinkle of herbs and chopped peanuts will help.
Looking for a recipe, as part of our plant-based RE:SET, a new 5-day meal plan will hit your inbox on January 21st! With delicious breakfast, lunch, and dinner recipes, this is the week's worth of meal that will leave you feeling lighter, brighter, and full of energy. Sign up here!
<! - Composite Start ->
<! - Kết thúc tổng hợp ->