Lifestyle
Updated Camille backyard design with everything we planted this year
Our backyard is back! If you've been here a while, you know our lower back yard is a multi-year process – what I call that because for most of us, it's the reality of designing. an outdoor space. Few of us have the budget (or foresight) to do a massive "installation" that creates a complete yard or home. Plus, where will the fun be? Adam and I get a lot of fun from always having a creative outlet at home. Usually, we tackle a big project every year, and after 12 years living here, our house is closer to our ultimate vision. Although I doubt that we will really end up.
Plus, this slower approach has given us time to dream, create, and allow design to evolve according to our personal style that has evolved over the years.
In fact, I'm really grateful to us are not had enough budget to finish the entire yard after we first moved into our house. I could have done things a lot differently, and I'm glad my now 38-year-old self is making some design decisions that my 25-year-old self wouldn't understand. So since it's been a while, let's do a quick recap of how the lower back yard has come together since we started actually working on it three years ago, and then I'll Share the latest photos so you can see the new changes we made this summer.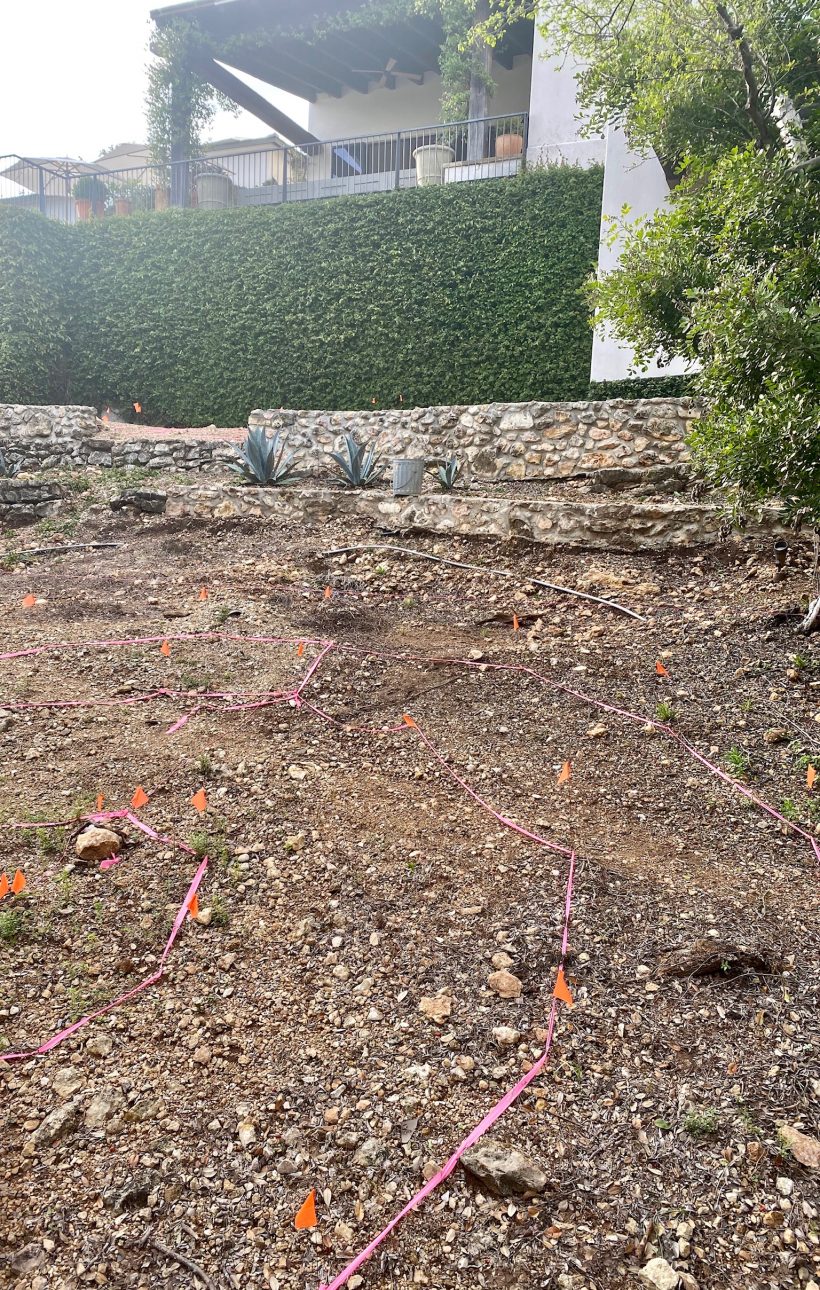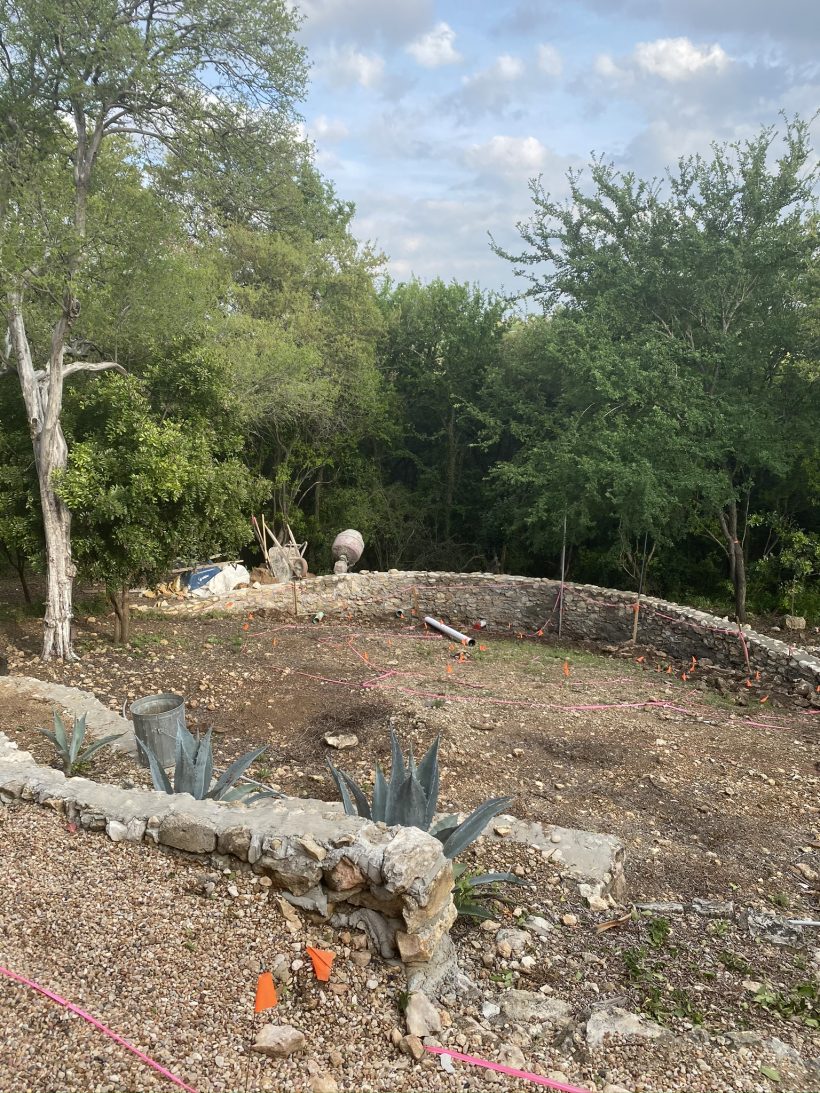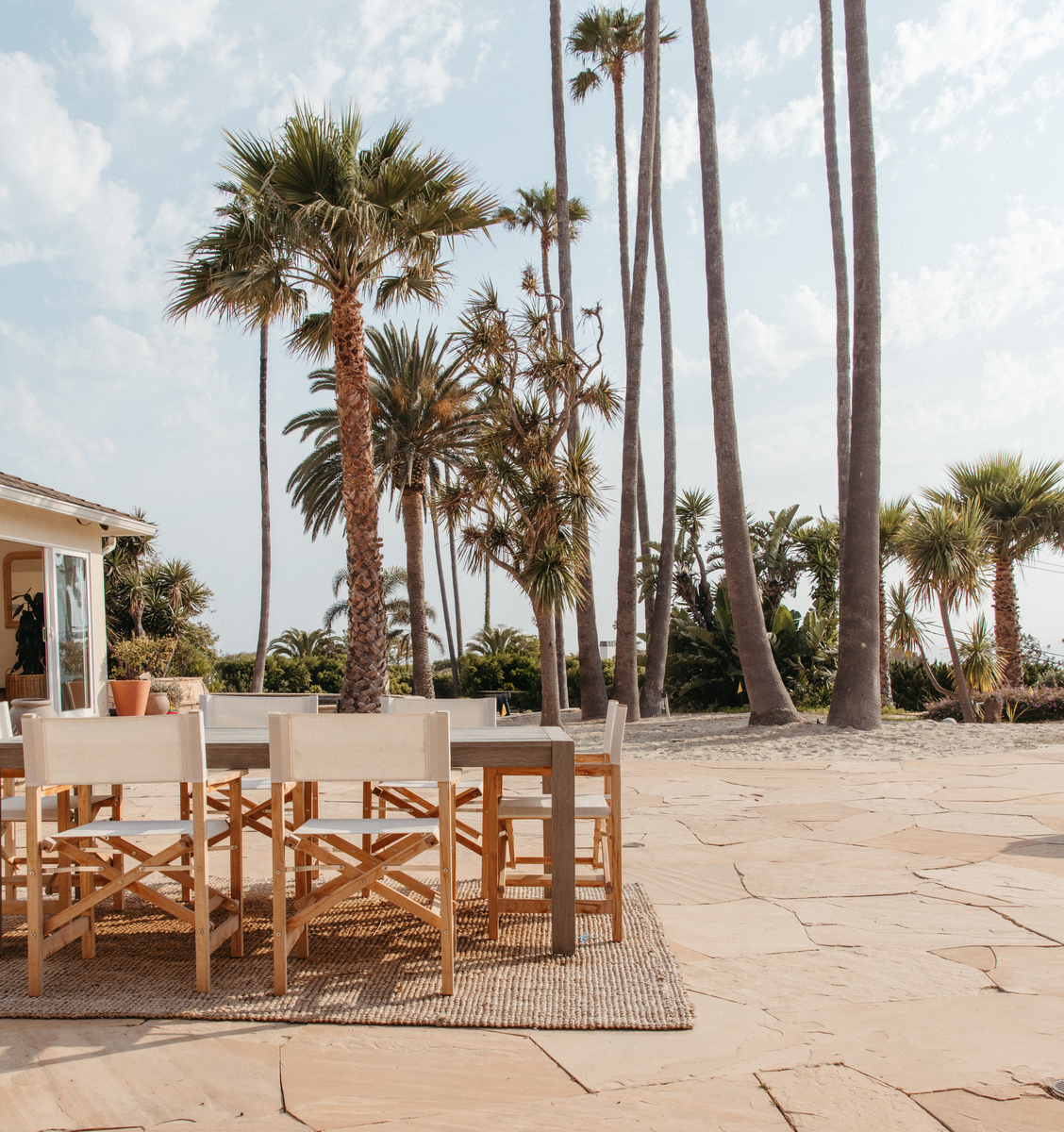 Ordered
Design obsessed?
Sign up to receive #ZumaBeachHouse monthly updates delivered straight to your inbox.
Thank you for registering!
Oh!
Looks like you registered or your email address is not valid.
Oh!
Looks like you unsubscribed before clicking here to subscribe again.
"Before"
For the first 10 years we lived in the house, our entire focus was on the highest level of backyard design — that is, the much smaller space that our living room opens up to and includes. our whole pool, so we naturally put our budget on this the most visible and most used space. We will look over the railing at the overgrown forest 30 meters below the pool deck and imagine what it would look like with a small a lot of work. We knew this space had a lot of potential, but we also knew it was going to be a big project and we wanted to wait until we were ready.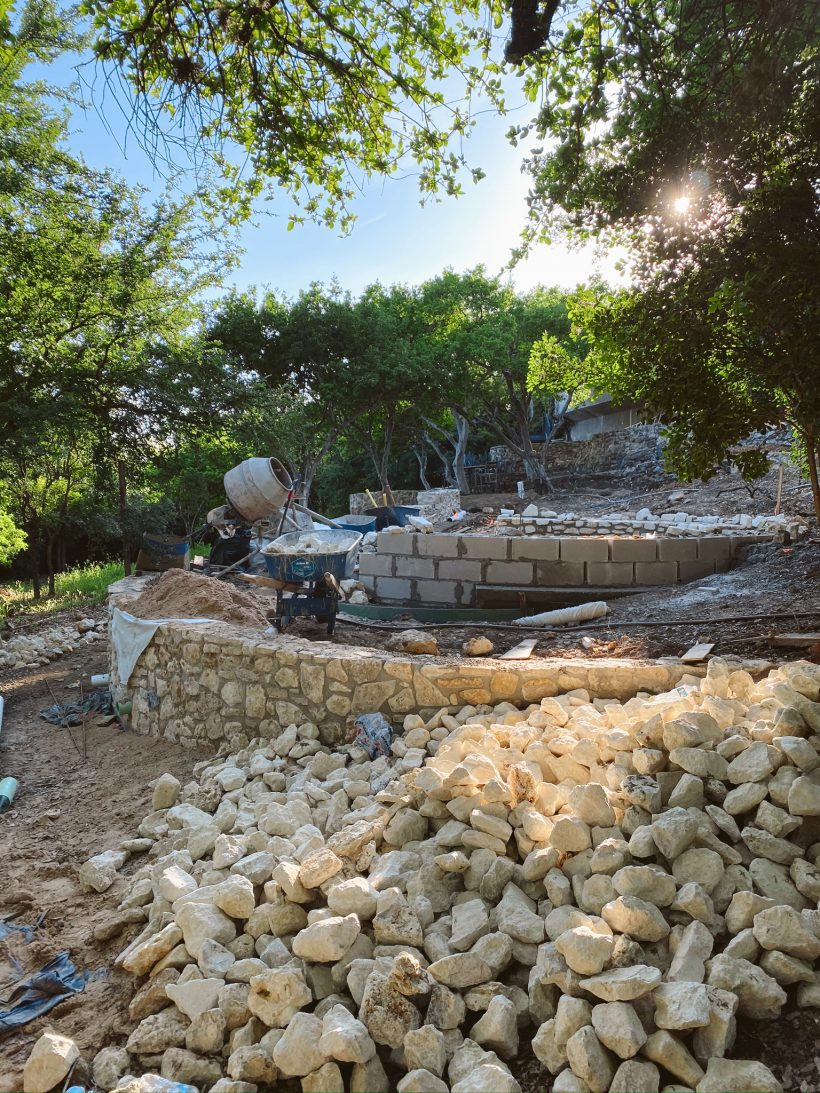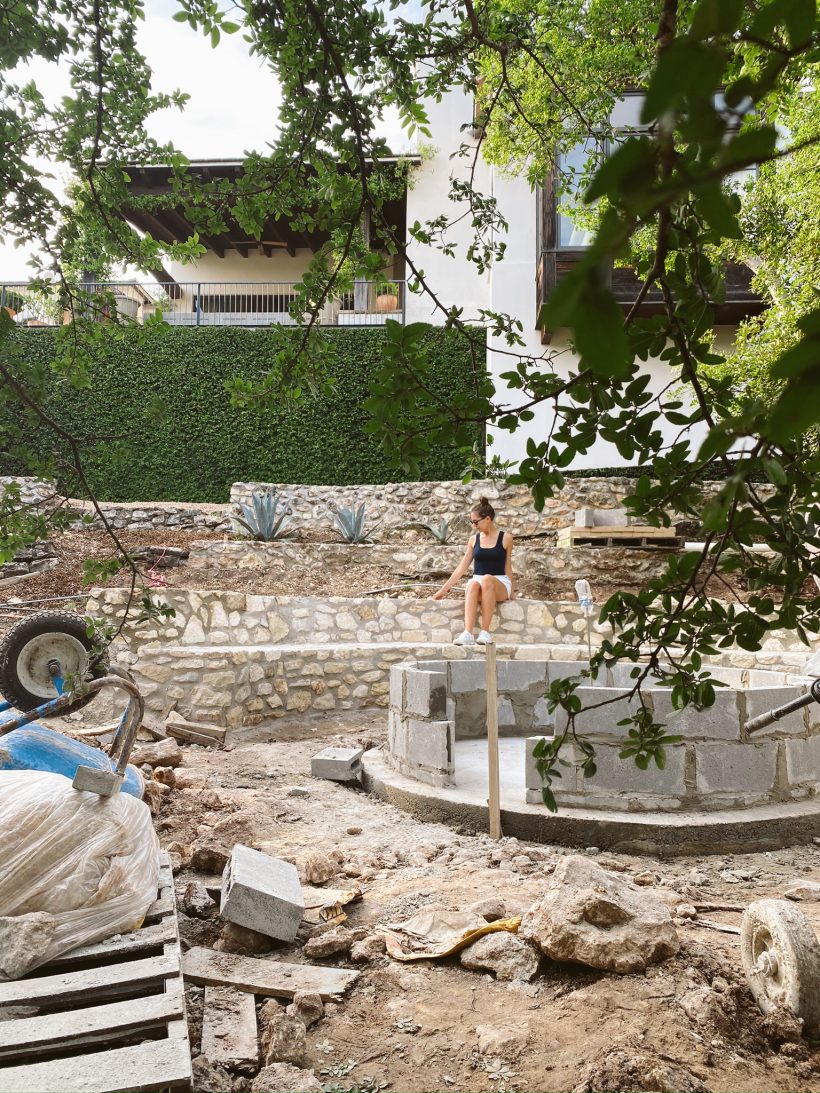 Stage 1: Levels and Ladders
In 2019, we decided to start a project to step up some of the backyard areas to make them flat enough to be usable. Our backyard is very steep, and I learned that you really can't do much on such a hillside without building terraced walls and bringing in enough soil to fill them. We dreamed of a backyard where the kids could explore, where we could gather around an open fire and have a campfire dinner with friends and really where we could really mingle. into nature.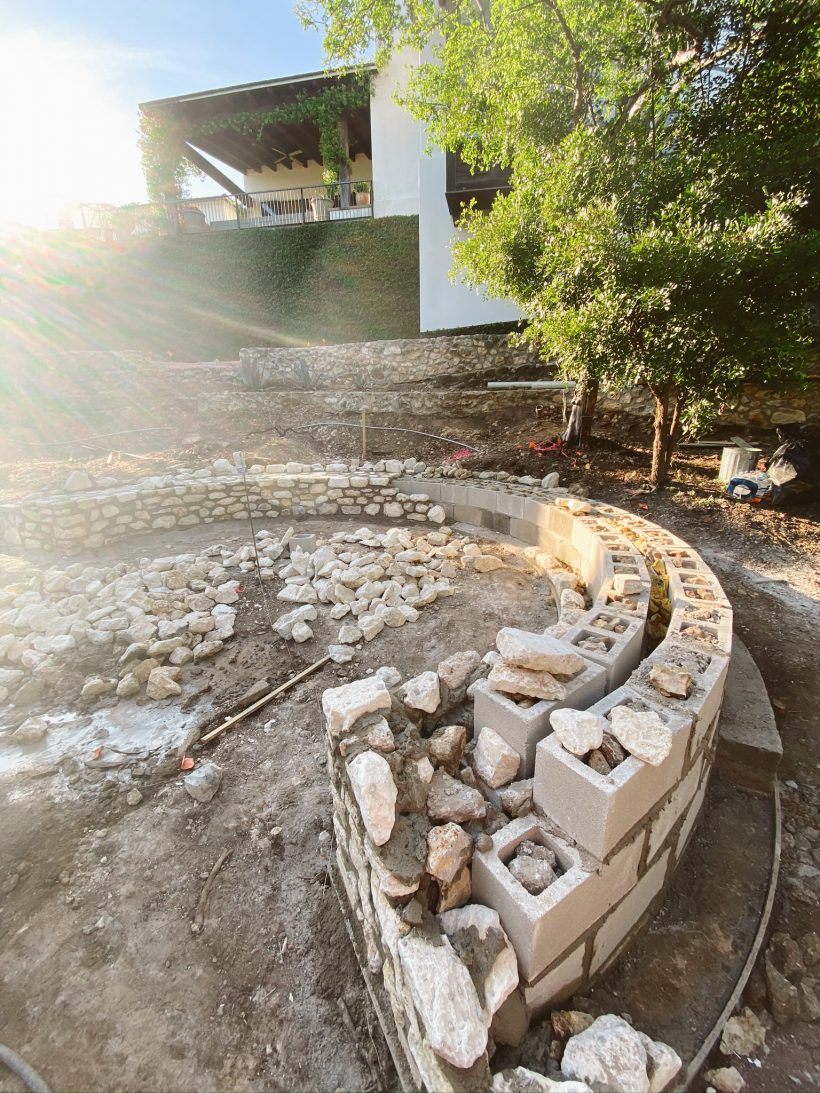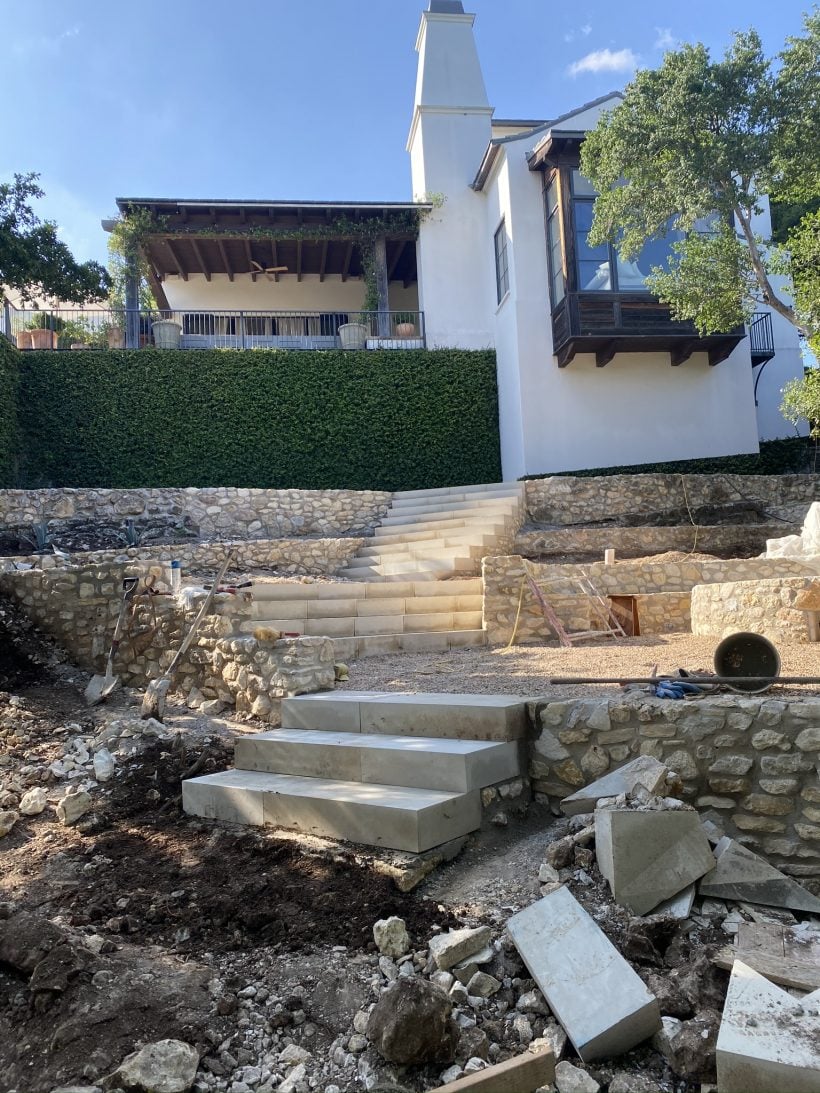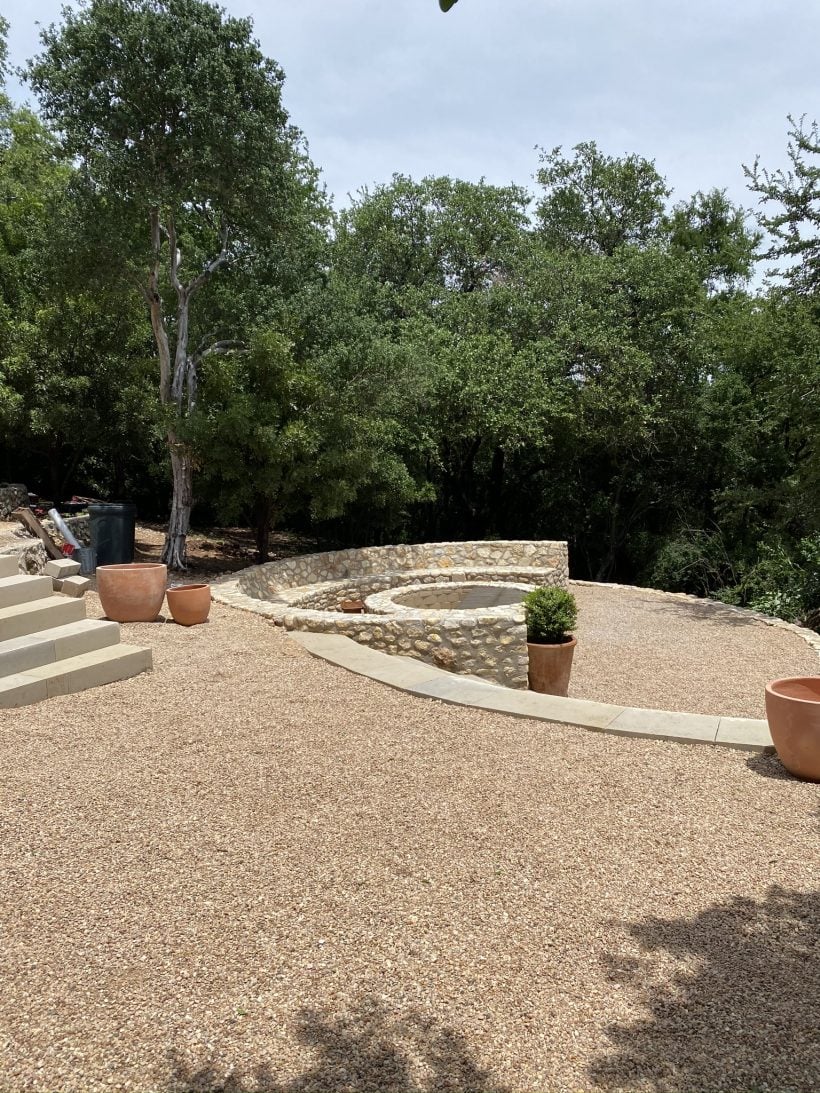 Stage 2: Firepit and steps
The next year, we leveled everything up enough to bring in gravel, and we added a large fire pit and stone steps leading from the upper terrace to the two lower terraces.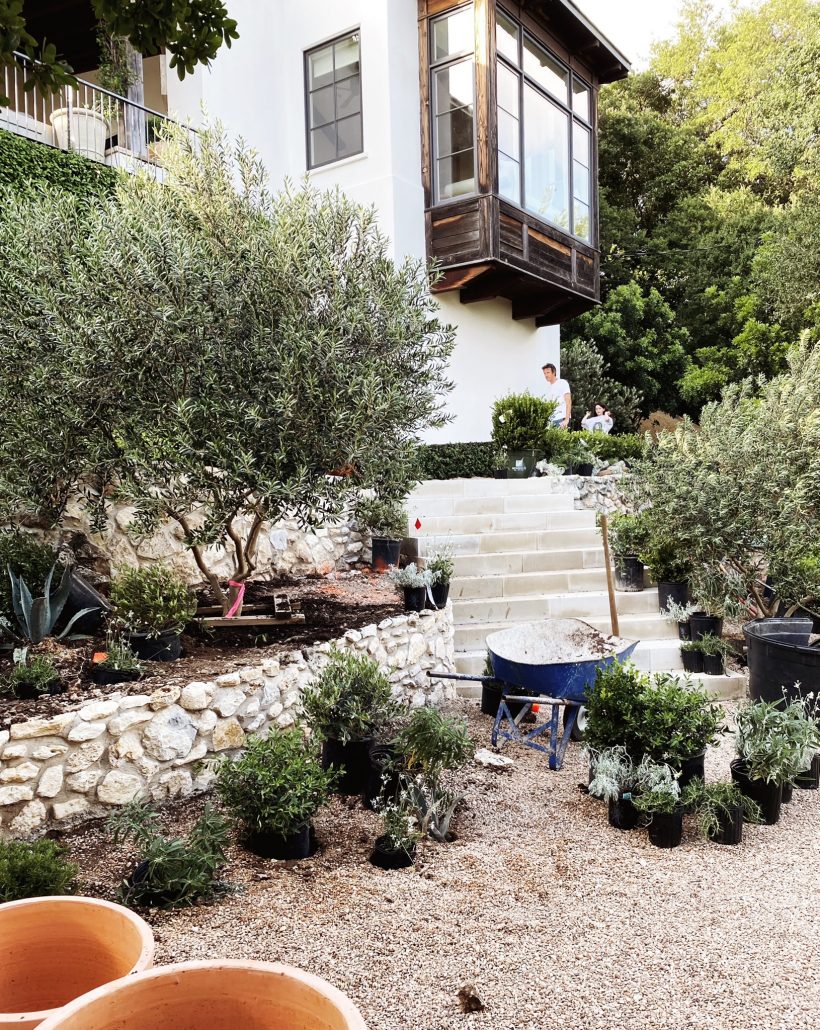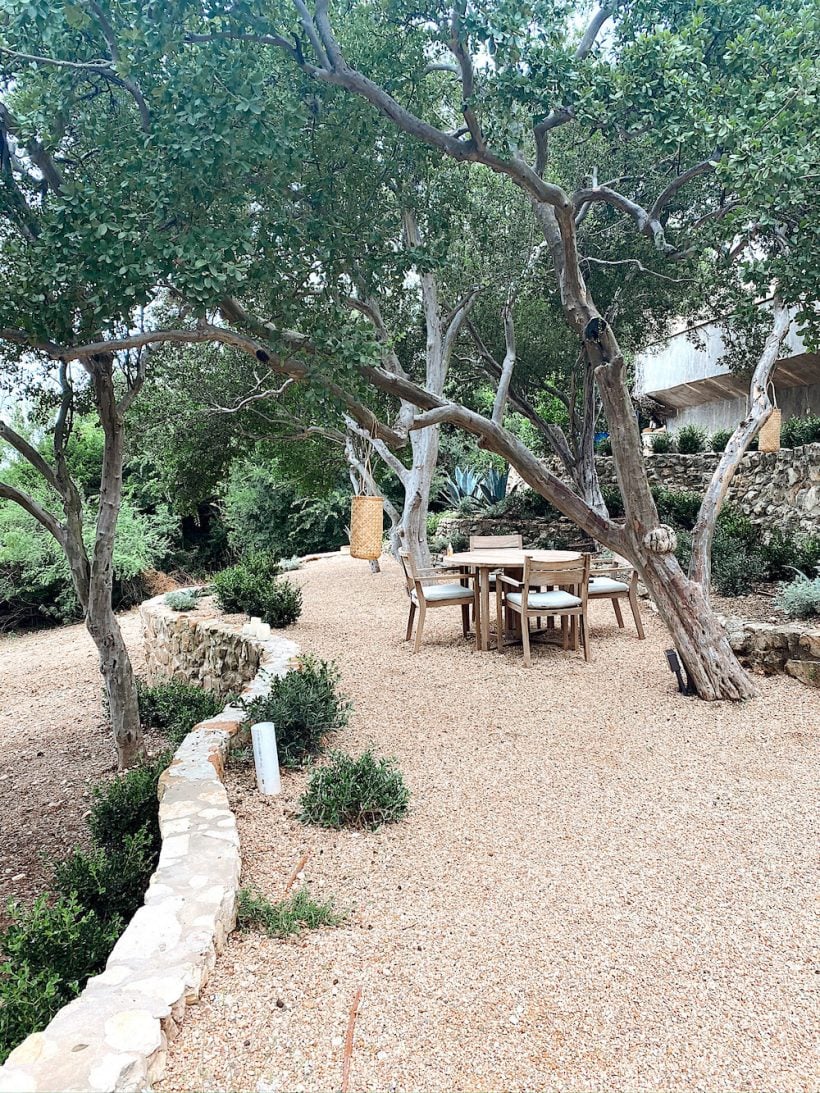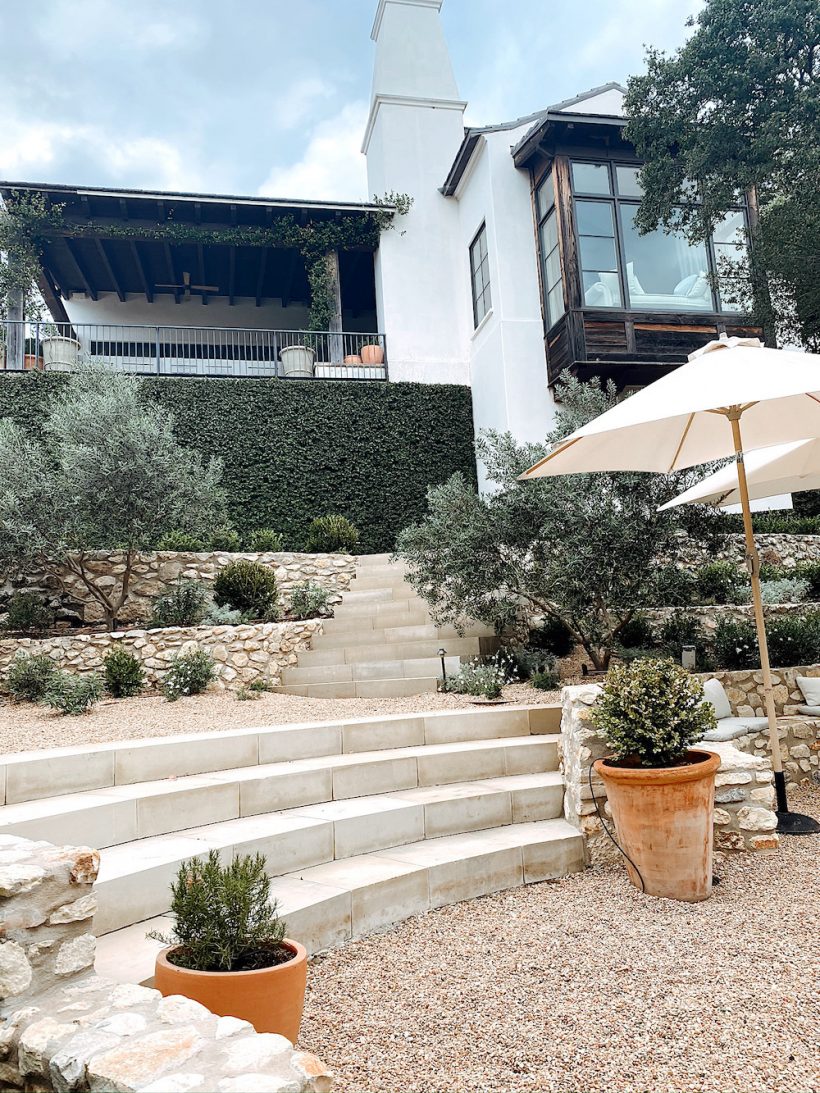 Stage 3: Plants!
We also made the very interesting decision to add a lot of plants, turning it into a lush garden with olive trees, rosemary, loads of heather and boxwood. It really felt like heaven, and even Architectural Digest ran a story on our backyard space.
Stage 4: The Great Freeze (Goodbye, Plant)
Then in 2021, there was a big freeze in Texas, and like everyone else in Austin, we lost almost all of the vegetation we added. It was heartbreaking to see that our new olive trees had to be stumped, the giant pines completely frozen, and much of the ivy and jasmine we had grown over the years failed. . We let things sit idle for a year, and finally in the spring of 2022 we can see what's still alive and where we need to start from scratch.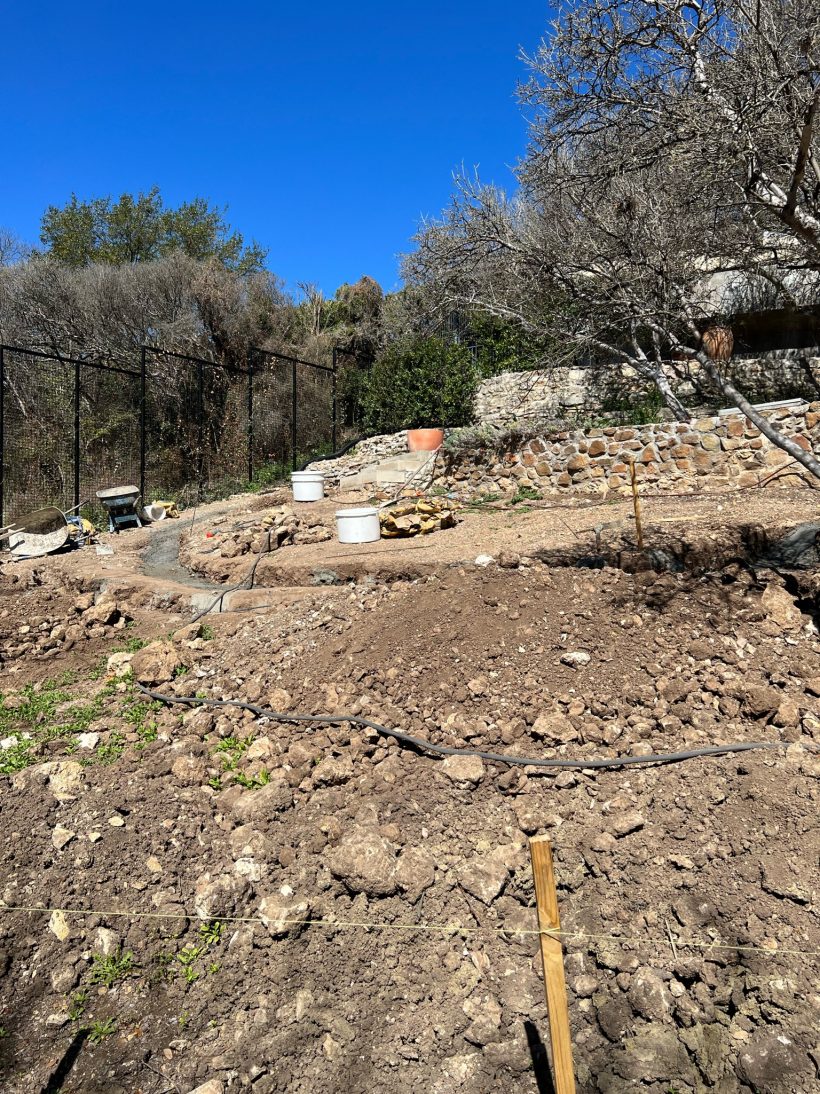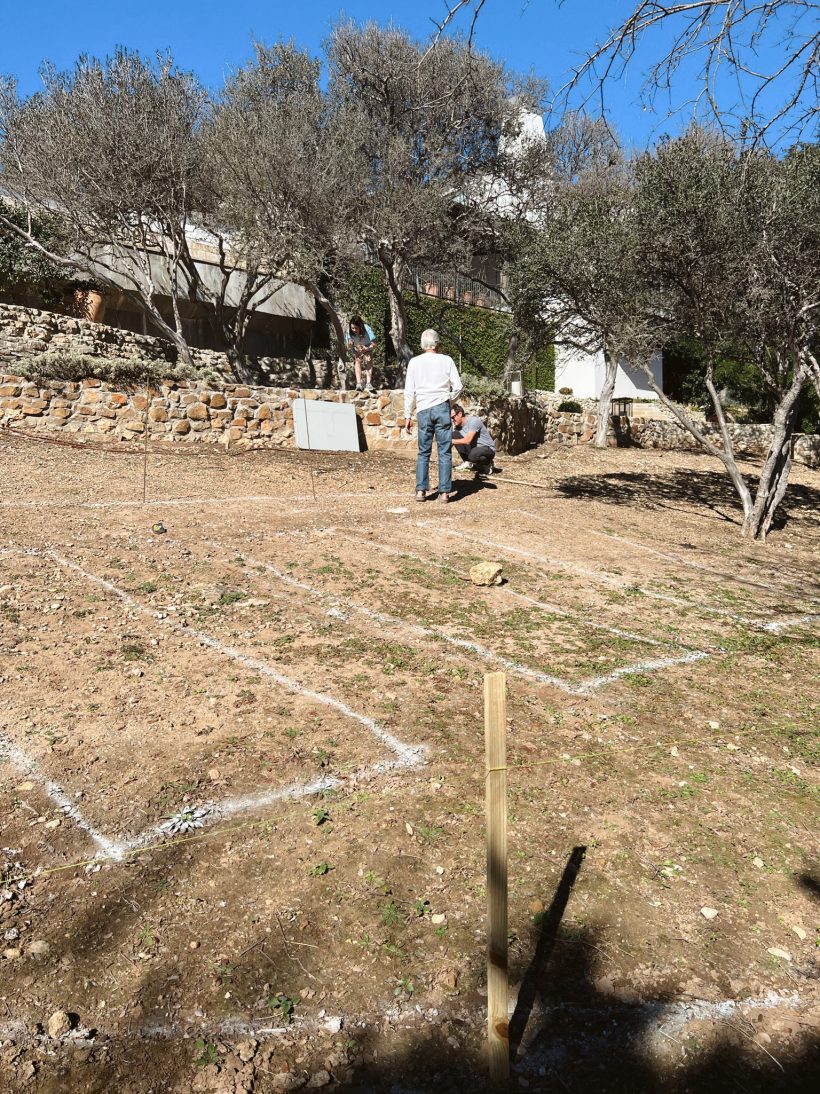 Backyard design lesson we learned the hard way? Native plants are those that will outlast the elements. The best plants are the ones we use as our dominant cultivar when it's time to replant, and we avoid more tropical varieties like palm, petunia, bougainvillea and agave americana, which can't tolerate extreme cold. degree.
Stage 5: Wooden floors and beds in the vegetable garden
This summer, we start the next phase: a large wooden deck and growing vegetable gardens — something I've dreamed of here for years. When I first started planning my vegetable gardens, I envisioned a very simple project. Bring some dirt, build the frame and call it a day. However, it turned out to be a big undertaking. The ground here is therefore there were no floors where we actually had to build two more stairs just to be level enough for Adam to add raised raised beds.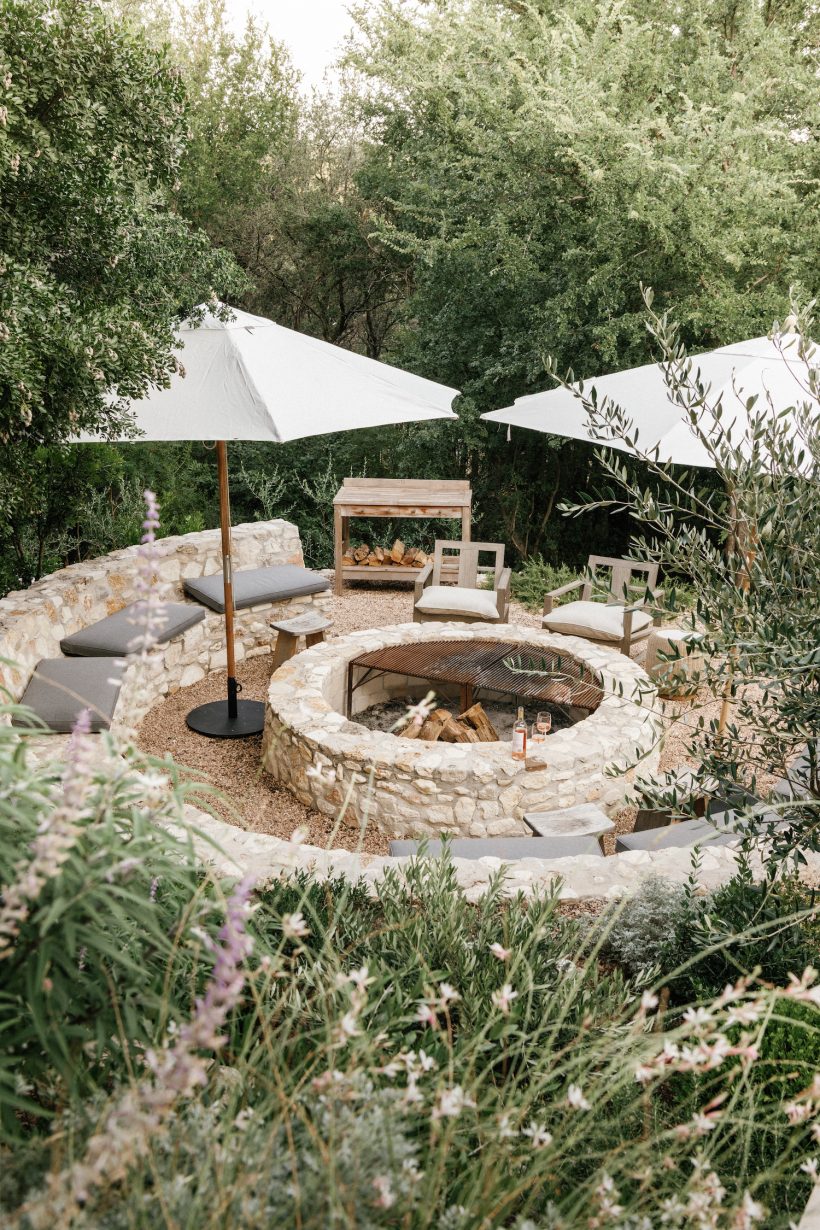 upper: indio lounge chair, 11′ market umbrella with teak base, outdoor cushion in slate ceramic barn
Building the stone steps took several months, so when that phase is complete, it's time to replant the backyard areas that have died from freezing.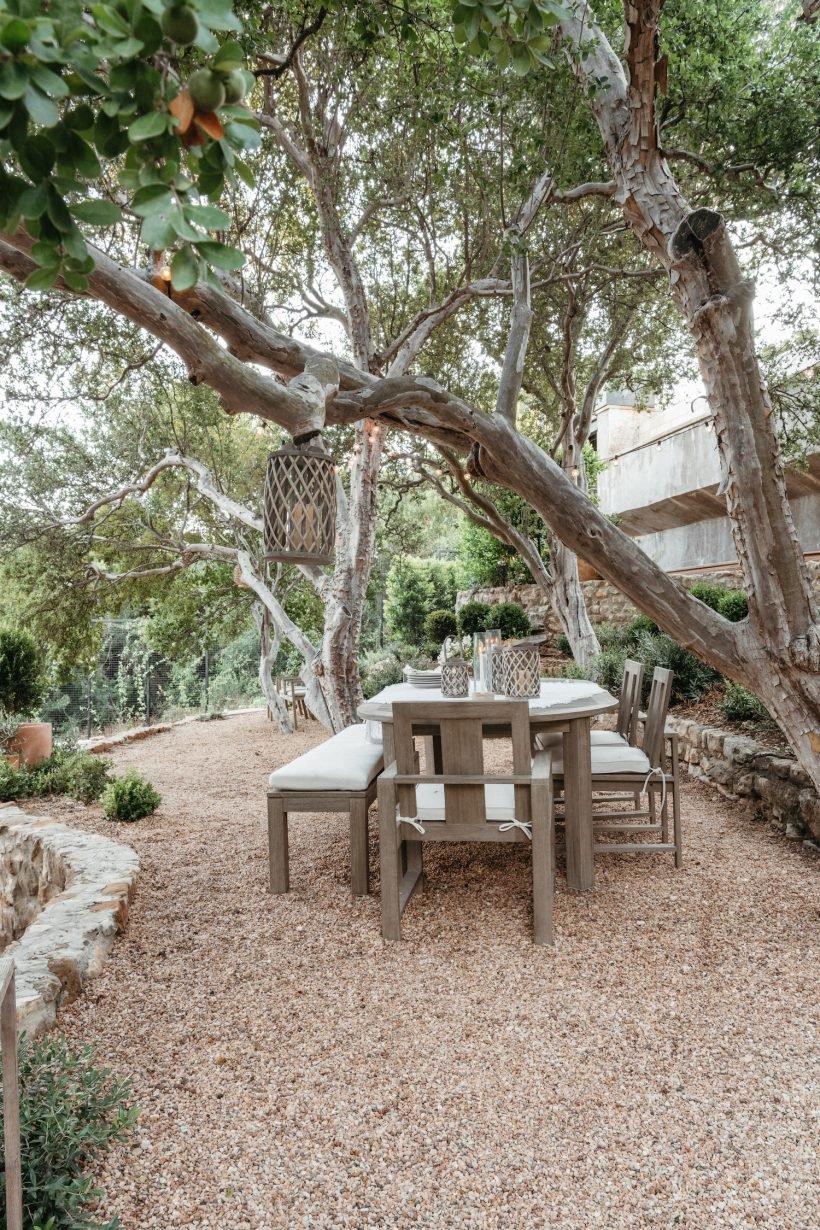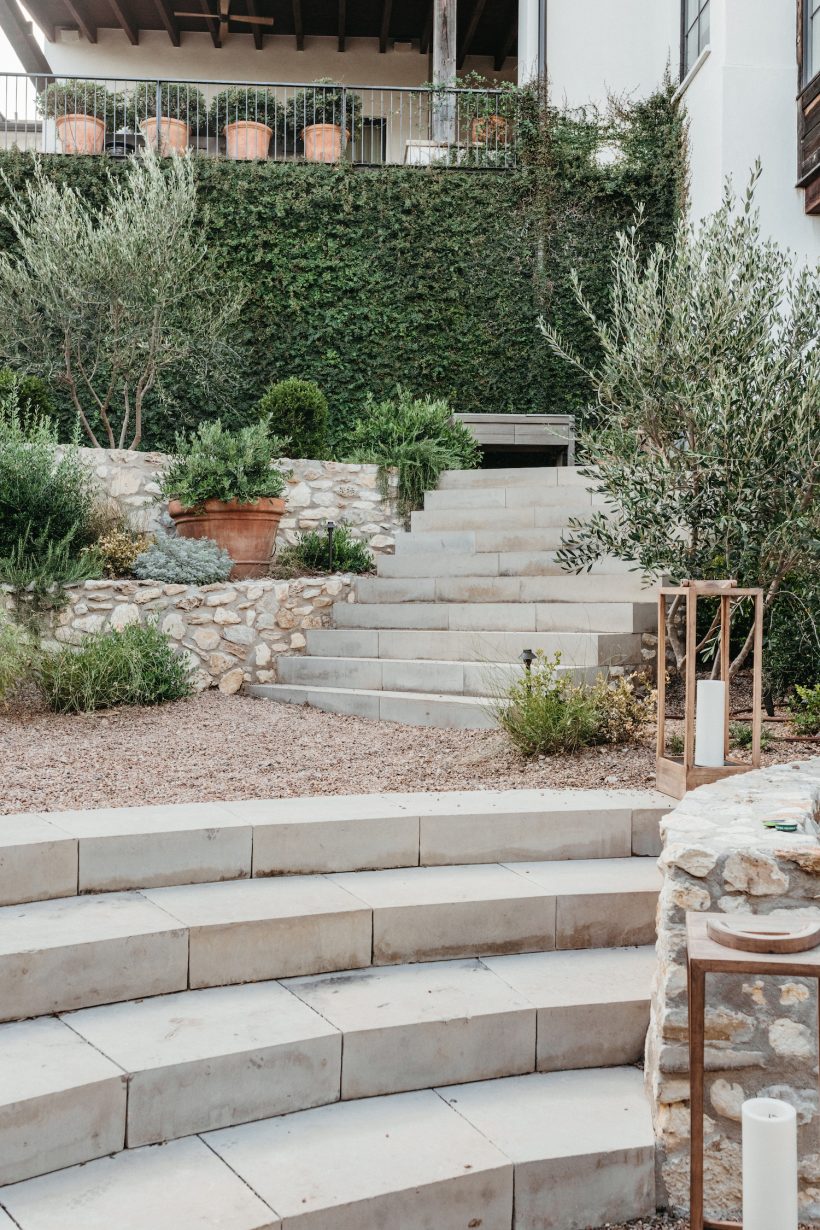 top: indio extendable dining table, indio eucalyptus dining chair, gray willow lantern, mango deck lantern
Stage 6: Replanting, this time with more native varieties
Adam's 2022 planting strategy includes more negative space, grouping new plants into "clusters" with a few additional varieties. This not only adds the height difference that makes for a nice overall backyard design, it also gives us the most profit as it doesn't require spreading the plants over every area of ​​the large space. this big.
After freezing, we cut off most of the dead-looking plants, but leave them in the ground so they have a chance to come back. We were amazed when the olive trees returned as beautiful olive bushes, which we trimmed into arches and embraced it as part of a natural design. The jasmine plants along the perimeter fence are back as well, and while it's sad to have to "start over" from scratch, we're amazed at how much they've grown the hedge in a year.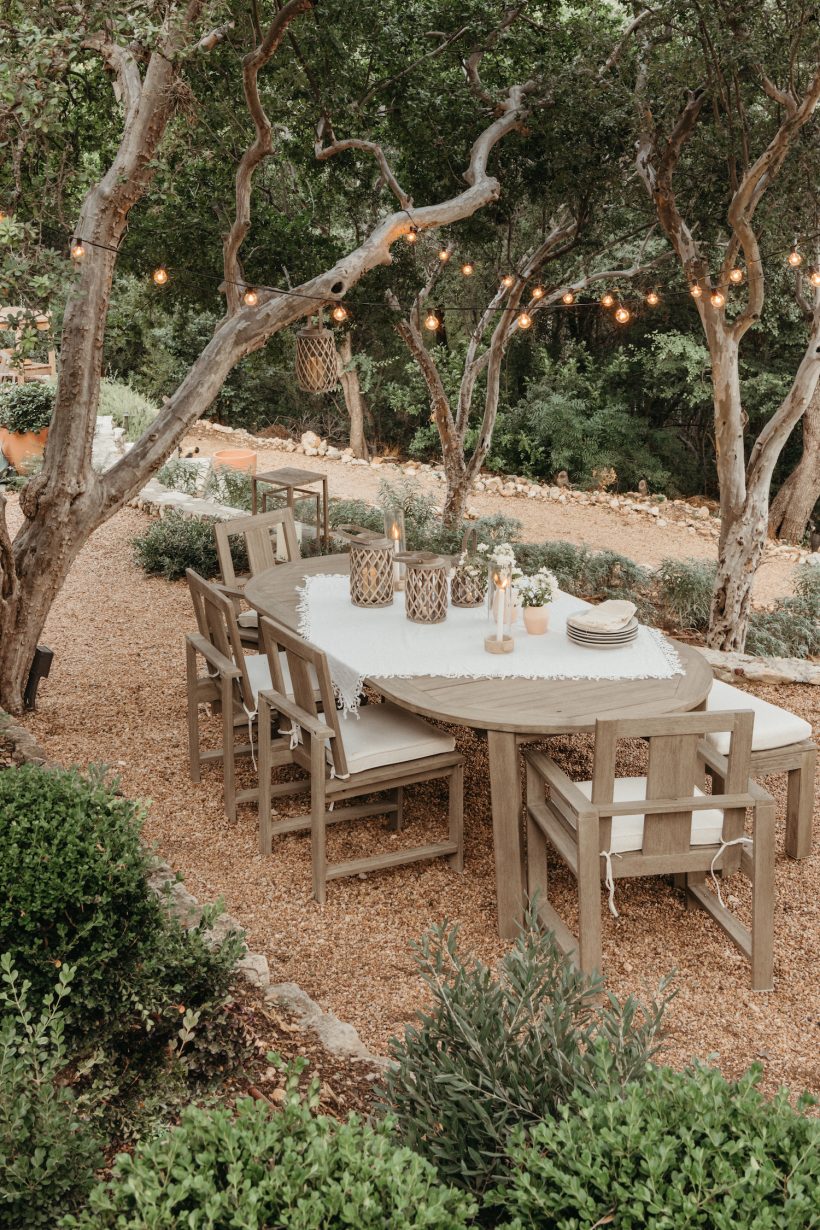 above: knotted Belgian linen on the table, handmade ceramic storm, bondi terracotta vase, globe-shaped outdoor string lights
In an effort to use more native varieties, here are the plants we focus on:
Japanese boxwood
Cherry Laurels
Indian Hawthornes
Mexican sage
Little Ollies (they struggled in the freeze, but they came back)
rosemary
Whale's Tongue Agave
White Guara
The end result is a freer, organic design that makes better use of greenery that can withstand the elements (if cared for properly).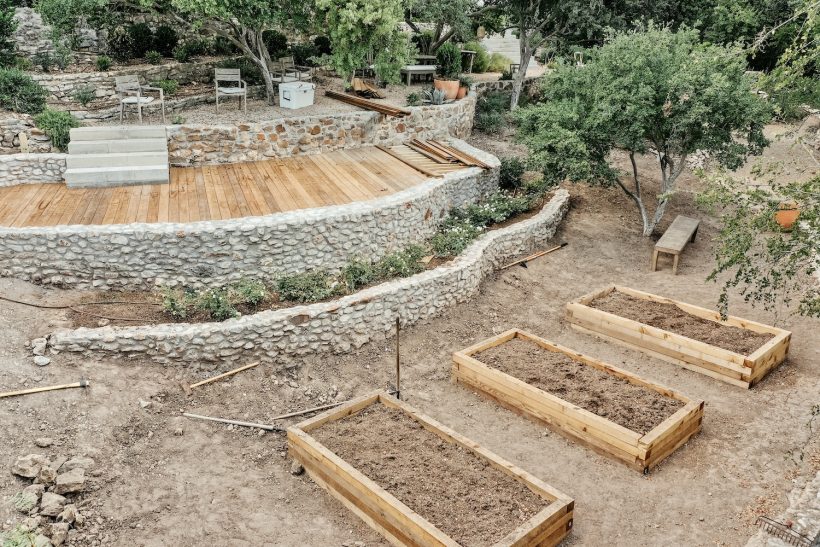 Adam and his father built this deck from Ipe wood. I am happy to have a large, uniform space for yoga sessions, dinner with friends and relaxing at sunset overlooking the vegetable garden.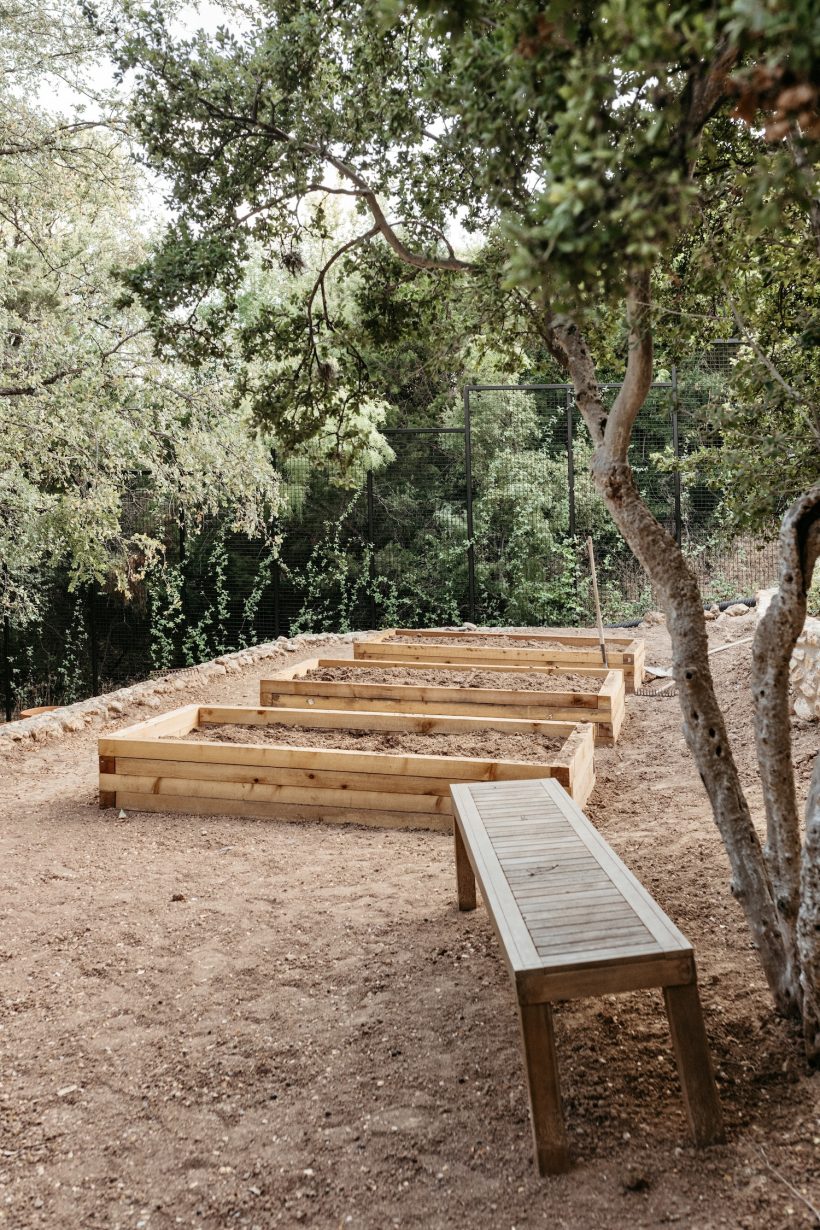 Adam and his dad have also built three of our larger vegetable gardens, and I'm excited about this next phase! This will be my own project and I will share more about how they build the beds (and what I'm growing!) in a separate post next month.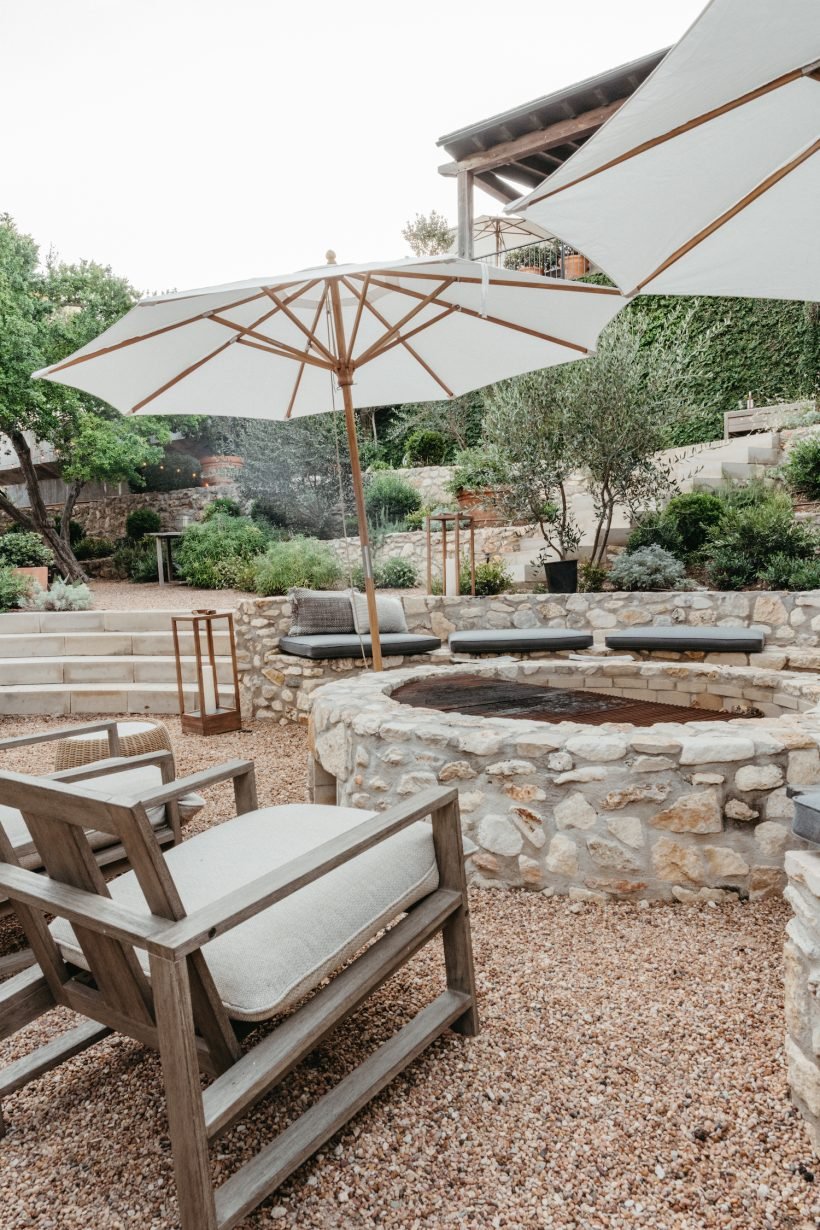 upper: indio lounge chair, 11′ market umbrella with teak base, outdoor cushion in slate ceramic barn, wooden floor mango lantern, empty table
Stage 7: Here's What's Next
What else next for the backyard? Well, we wanted to create multiple paths that lead to different areas of the space, and we wanted to create a trail through the woods behind the backyard for the kids to explore. I also want to grow wildflowers in an open field there, and someday I also want to put a pizza oven near the vegetable garden. But that's all for future projects! For now, we'll play horseshoes, make toys, and soak in the last days of summer in the backyard. And I definitely finished my work when I started planning my fall garden.
Do you have any questions about our backyard design? Drop them in the comments.
<! - Composite Start ->
<! - Kết thúc tổng hợp ->