Sports
Week 14 Fantasy Bust: Chase Edmonds, Russell Gage among players venturing on a starting or sitting bubble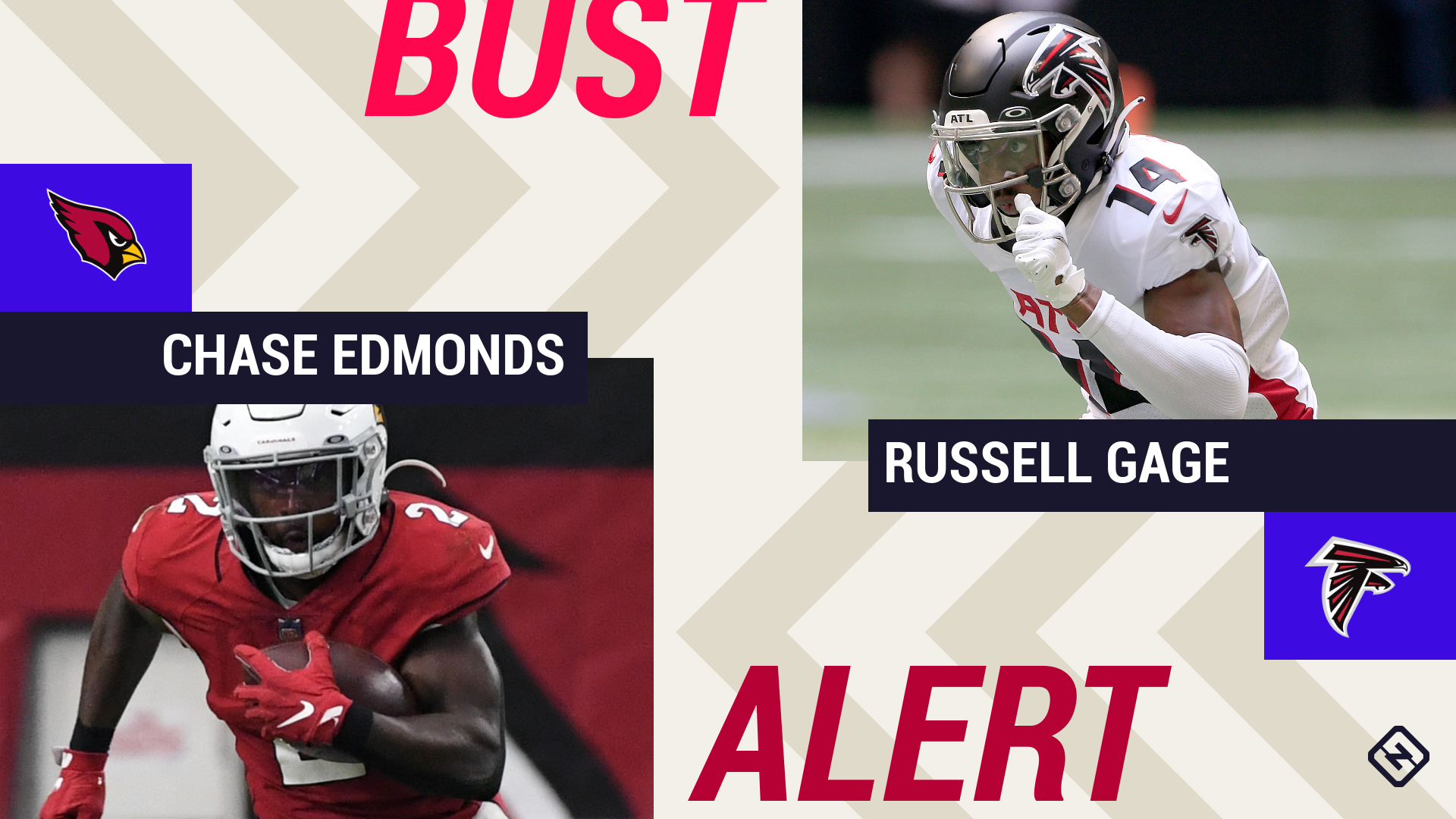 With four teams coming to an end (Dolphins, Patriots, Eagles, Colts) and injuries piling up, roster decisions won't be easy this week. For some, that might mean starting a venture, so we understand if you have to hit one on our Week 14 fantasy bust list below. However, we wanted to cover the starting, bench options, such as Russell Gage entering a tough game and Chase Edmonds on the verge of injury, and explain why they might be more of a risk. normal.
As always, even longtime stars can go bust in favorable matches, but it's hard to call superstars "bust" unless they're less than 100%, they're actually trending. direction goes down or they have a particularly brutal match. We mostly stick to naming the guys on the bubble who are just starting out or right away, not the guys who are simply going to have a good but not great week or the guys who are over 90% renunciation. Sometimes you don't have enough depth to rate these players properly (or you might disagree completely with our assessment), but at least you'll know who's at risk in the game. this week. There is nothing worse than being caught off guard by an imaginary fool.
WEEK 14 IMPACT: Sleepers | Start with 'em, sit' em
During Week 13, we correctly identified Teddy Bridgewater, Clyde Edwards-Helaire, Kendrick Bourne, Darnell Mooney, Hunter Henry, Dawson Knox, and Zach Ertz as busts. We're also worried about Najee Harris, who you could label as a Week 13 bankruptcy in the standard leagues. Russell Wilson, Sony Michel and Tee Higgins beat the bust tag we gave them, but for the most part we had a good week. We've started to get bolder with our choices, so naturally, we're going to be wrong here and there.
Overall, we're in the green, so it's going to be another solid week to find worrying players.
WEEK 14 PPR RANKING:
Midfielder | Run back | Wide receiver | Tight ending | VND / ST | Kicker
Week 14 Bust Illusion: Running Back
Ty Johnson and Austin Walter, Jets vs. Saints (Jackson Sparks). With Tevin Coleman (header) out, it's tempting to turn one of these defenders around, but against New Orleans' elite defence, that's unlikely to succeed. There's always a chance for a short TD or a series of junk-time catch-ups, but the floor is low for both rears.
Saquon Barkley, Giants @ Chargers (Vinnie Iyer). You can start him off duty as an RB2 at this point, but the Charger has tightened up against runaways and ugly QB situations as well as increased Devontae Booker usage Going up is not a welcome sign.
Pursuing Edmonds, the Cardinals battle the Rams (Matt Lutovsky). Edmonds is tipped to return after a four-week absence, and although he showed a solid foundation when healthy earlier in the season, his ceiling is limited by the lack of TDs (1). Edmonds' best dash of the year was indeed against the Rams in Week 4 (120 yards), but a repeat of that performance in his first game looks unlikely. He is still a solid scorer in the PPR tournaments but treads carefully in the standard tournaments.
WEEK 14 STANDARD RANKING:
Midfielder | Run back | Wide receiver | Tight ending | VND / ST | Kicker
Week 14 Fantasy Soccer Bust: Midfielder
Jimmy Garoppolo, 49ers @ Bengals (Sparks). Garoppolo has been a capable streamer the past few weeks, but since the Bengals are the top 10 unit against the fictional QB, it's hard to trust him, especially if Deebo Samuel (groin) and Elijah Mitchell (concussion) motion) is eliminated.
Derek Carr, Raiders @ Chiefs (Iyer). Now that he's dented and drowned in the desert at home, it's hard to drag him out of the garage for an outdoor test with a much-improved KC D.
Matt Ryan, Falcon @ Panthers (Lutovsky). Ryan has a TD in the last four games, so chances are you're not considering starting him. He will eventually get over his cold personality, but the Panthers allow fourth-less FPPG for QB, so Ryan is merely a low-key player in the two-QB/superflex leagues.
WEEK 14 USE DFS: DraftKings | FanDuel | Yahoo!
Week 14 Fantasy Football League: Wide Receiver
Odell Beckham Jr., Rams @ Cardinals (Sparks). Beckham Jr has scored two goals in his last two games for the Rams, but last time he caught just two of the five goals from within 28 metres. His target year ranks fourth on the team, so it doesn't mean he's automatically the #2 WR behind Cooper Kupp. On top of that, Arizona ranks as the 10th most defensive nation against fantasy WR, so it's hard to trust any Rams pass catchers other than Kupp this week.
Courtland Sutton, Broncos vs. Lions (Iyer). Oh, he's gonna do something here after all, isn't he? Not when Teddy Bridgewater couldn't target him with GPS. Sutton is a tough guy to trust even when looking like a good pair and could be just waiting for a senior QB who can give him the ball in the lower court, which won't come until 2022 .
Russell Gage, Falcon @ Panthers (Lutovsky). Gage made it through last week (11 catches, 130 yards) despite Matt Ryan's struggles, but he faces a much tougher challenge against a Panthers defense that allows for the second least FPPG in WRs. Gage can still succeed as a low-level player in PPR tournaments, but his ceiling is low.
MORE WEEK 14 DFS: The best stack | Best value | Squad Builder
Week 14 Fantasy Football Busts: Tight Ending
Tyler Conklin, Vikings vs. Steelers (Sparks). Adam Thielen (ankle) is likely to feature in this game against the Steelers, so you might think it's time for Conklin to shine, but Pittsburgh's weakness is wide defense. Steelers defense is so damn bad it ranks as a top 10 unit against fantasy TEs so we think this will be more of a Justin Jefferson and KJ Osborn game than a Conklin game .
Noah Fant, Broncos vs. Lions (Lutovsky). Fant hasn't scored since Week 6 and he hasn't had more than 59 yards since. With the status of the TE position, many people still have the ability to start a Fant based on an uptrend, but the trend is not good. The Lions were actually pretty good against the TEs (12th least FPPG), so it's hard to imagine Fant going to stand out this week with all the mouths to eat in Denver.
Week 14 Fantasy Busts: Defense
Los Angeles Rams @ Cardinals (Spark). The Rams' defense isn't what it used to be, and the last time these teams played against each other in October, Arizona scored 37 points – and that's when the Rams were playing their best football. If you're not willing to drop someone for a D/ST streamer, we understand if you're using this, but beware of possible negative fantasies.
Carolina Panthers and Falcons (Iyer). The numbers say a "yes" for the Panthers to say goodbye, but the Falcons should have some pride in attacking and fighting in a division match with Matt Ryan that doesn't allow them to have enough sacks and gear.
Baltimore Ravens and Browns (Lutovsky). Attacks continued to come for Raven, as top defensive back Marlon Humphrey (chest) was gone for the year. Secondary beyond vulnerability, so even low-powered Browns can light up the stats here.
<! - Composite Start ->
<! - Kết thúc tổng hợp ->