News
"We're not in a good place"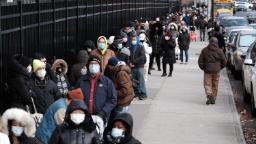 Do you have a sore throat, runny nose and muscle aches? It could be a common cold, a case of the flu – or Covid-19.
All diseases have similar symptoms, sometimes making it difficult to distinguish which disease is caused by the weather.
The case rate of Covid-19 has increased as the Omicron variant has spread, but The number of people hospitalized seems to be at a relatively low level. For those vaccinated, the evidence suggests that infection with this variant appears to be less severe, said epidemiologist and former Detroit Health Department executive Dr. Abdul El-Sayed.
"It's important to remember that a vaccine is like a 'warning' call to your immune system. So its ability to identify, target and destroy a virus will be high. much more every time we get another dose of the vaccine." El-Sayed said. "Meaning the symptoms you'll experience will be milder if you've been vaccinated."
However, that doesn't mean infections shouldn't be taken seriously, especially when considering the risk of overwhelming health care systems.
"Just because an individual's risk of severe illness may be lower, that doesn't mean that at the societal level, Omicron doesn't pose a real risk," he said. "Even a small percentage of a relatively large number can be a relatively large number."
Many cases of Covid-19 infection can feel like a cold or the flu. The best way to know is to get tested, said Dr. Sarah Ash Combs, a doctor studying at the National Children's Hospital.
"Without doing a test, I would say it's really hard to tell right now," says Combs. "We just need to treat cold symptoms in the same group" as Covid-19.
Symptoms to look for:
The early signs of colds, flu, and Covid-19 tend to be similar, El-Sayed said.
Both Covid-19 and the flu typically cause symptoms such as fever, fatigue, body aches, sore throat, shortness of breath, and vomiting or diarrhea, according to the CDC. US Centers for Disease Control and Prevention.
However, it is possible to distinguish a Covid-19 infection as evidenced by the headache and the dry cough that often accompanies it. Loss of taste and smell, which is the biggest warning sign of a Covid-19 infection, is still a possible symptom, El-Sayed said, although it's now less common than other variants, El-Sayed said. El-Sayed said.
"For people who are experiencing severe chest pain, especially as the dry cough is getting worse, that is when you should really seek medical attention," he warns.
The most important factor to consider is exposure.
"If you start to feel any of these symptoms, you should ask: Has anyone I come into contact with has Covid? Also quarantine and get a quick test," he advised. .
Even if you haven't felt symptoms yet, it's best to exercise caution if you're around someone who has tested positive for Covid-19.
El-Sayed added: "I think it is worth suspecting that it could be Covid when we have the Omicron variant that is spreading like wildfire.
At this point, it's safest to treat all cold symptoms carefully, says Combs.
When to test for Covid-19:
It's usually fine to settle your doubts about Covid-19 by taking a test, although when you do it will make a difference.
El-Sayed says: If you are feeling symptoms of illness, now is the time to get a test done.
For those who have been exposed but do not feel symptoms, it is likely that the virus has not developed enough to show up in a rapid test, he explained. In those cases, it's best to wait five days after exposure before testing and continuing to monitor, according to the CDC.
"Just because you get a negative test doesn't mean it's not Covid," El-Sayed said. "The best way is to test and then maybe test again in 12 to 24 hours, and if you get two negatives you can be more certain that it's not."
Whether it's Covid-19 or the common cold, it's always a good idea to quarantine while you battle a viral illness, he said. It is becoming even more important with the increasing risk of contagion with Covid-19.
<! - Composite Start ->
<! - Kết thúc tổng hợp ->