Game
Yes, you really should do all the side quests of Xenoblade Chronicles 3
During the holidays, we are republishing some selection feature from the past 12 months. Compilation of arguments, interviews, opinions and more from NL staff and collaborators, you'll find our usual blend of thoughtfulness, expertise, vanity, classic nostalgia, and — of course — enthusiasm for all things Nintendo. Happy holidays!
---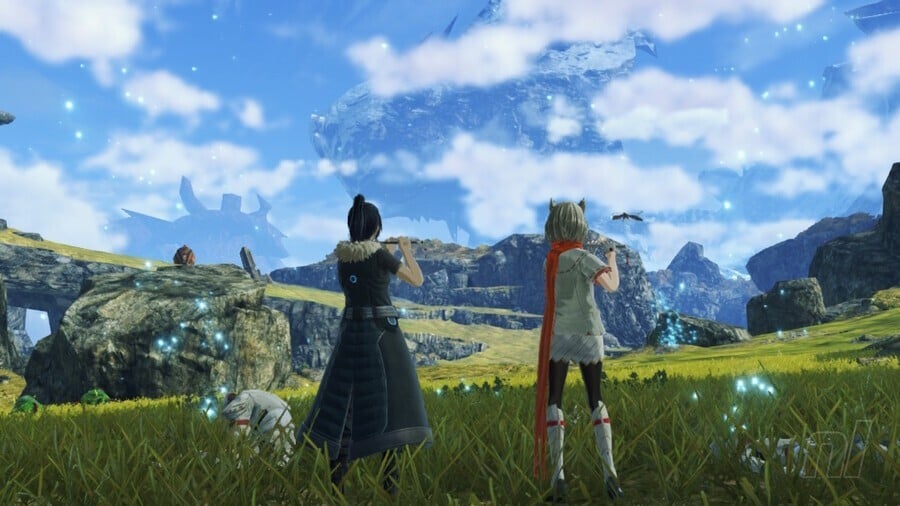 Soapbox features allow our writers and individual contributors to voice their opinions on hot topics and random stuff they've mulled over. Today, Alana said that you should do all the side quests in Xenoblade Chronicles 3 because they are so good. Or at least most of them…
---
The xenoblade The series is known for many things. Incredible tracks, beautiful worlds, philosophical ideas and questions, and – most importantly – billions of checklist-style side quests that will require you to collect the same item or destroy series of monsters many times.
Okay, that last one doesn't sound very appealing, but side quests are an essential part of RPGs, and — listen to me — Xenoblade Chronicles 3 features some of the best works both in series and genre.
I've long been a little advocate for Xenoblade sidequests – not because I want people to put themselves in the pain of repetitive fetching or trivial quests – but because I think they really enrich the game world. They help you discover more hidden areas, form human connections, and help you grow and improve your community. As a result, you get an even better understanding of how Bionis, Mechonis and Alrest work – present and past – and how each society/settlement works. But just think of filling in the Relationship Graph in Xenoblade Chroniclesor get every Rare Blade for their quests in Xenoblade Chronicles 2or tell stories in Torna – Golden Country makes me shudder.
Doing all the side quests will definitely still be intimidating, but I recommend looking for what you can.
Xenoblade Chronicles 3 is an exercise in "lessons learned" in many ways, and its side quests are one particular area where the game has improved over its predecessors. These are the most consistent missions in the series, with incredible writing and character building moments worth watching. They are also the most accessible by far as they are not as overwhelming as in previous games. You don't get loads of new side quest icons every time you go to a new place, and you never feel under attack.
Most of the game's fetch quests have now been reduced to Card Collection, requesting items that Colonial residents give you for delivery (virtually, without meeting in person). Now they are just discreet little checklists that never hide any story or character development behind them. I never felt like me yes to do these things, whereas, in previous games, I did.
So that makes the Standard Quests and Hero Quests (hear?) more meaty. The former is your typical side quest, while the latter unlock hero characters (and their respective classes). Admittedly, these can also be a bit of a checklist at times, but almost every time the writing and the characters intrigue me, because nearly every side quest is involved. to the main theme of the game, giving many of Aionios' characters purpose, causing them grief, or allowing them to form friendships.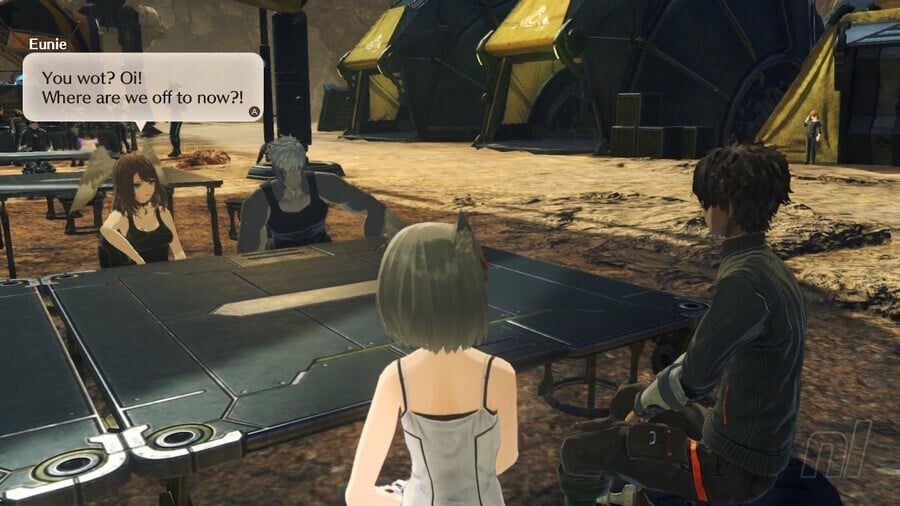 There will be very minor revelations about some Hero Quests, Colonies, and some of the game's villains in the future.. However, there is no reveal of the main story.
---
One of my favorite Standard Missions sees Noah helping a rookie, Schoon, learn to see off the dead. She doesn't think she can and struggles with her confidence. What can be a very cold, sad quest turns into a beautiful acceptance and understanding of death, and an examination of a blossoming friendship. It's beautiful and melancholy, and this is just one Normal side quests.
What elevates it, aside from the empathetic writing, is that sighting is an in-game mechanic and central to the game's story – a funeral-style mini-event for fallen NPCs that earn Term Points. ties to any Colonies to which he or she has been associated in life. Both Noah and Mio were sightless, and this assignment gives us insight into how Noah specifically coped with this role, while also showing us how the Other inhabitants of Aionios deal with it. All these little details come together and help strengthen your emotional attachment to the characters – and I'm not just talking about the main cast.
Then on the complete opposite end of the scale you have Dorin and Bambam, a hilarious pair from Colony 4 who end up leaving their 'home' and getting into some pretty amusing situations. . And while Noah and his friends were often dismayed by the troubles these two got into, they never really let them down, continuously assisting them throughout their many escapes. of the duo. So even in this dreary world, there's still a bit of humor, because the people who live there are humans (or Nopon, or High Entia, or cat people… you get it) and still live as normal a life as possible despite the ongoing war.
The way you get some quests is another thing that helps make the world and the Colony feel alive. You can get quests by finding question marks on the world map often near monuments or unusual locations. Other times, you'll see a little"I" above the character's head, meaning you overhear the character's conversation. Then, your group discusses the meal conversation, looks at the intricacies, and – if necessary – makes a decision. Take the initiative and help. Other times you'll get some interesting dialogue (which almost always involves teasing Lanz), engaging world building, or some really touching moments.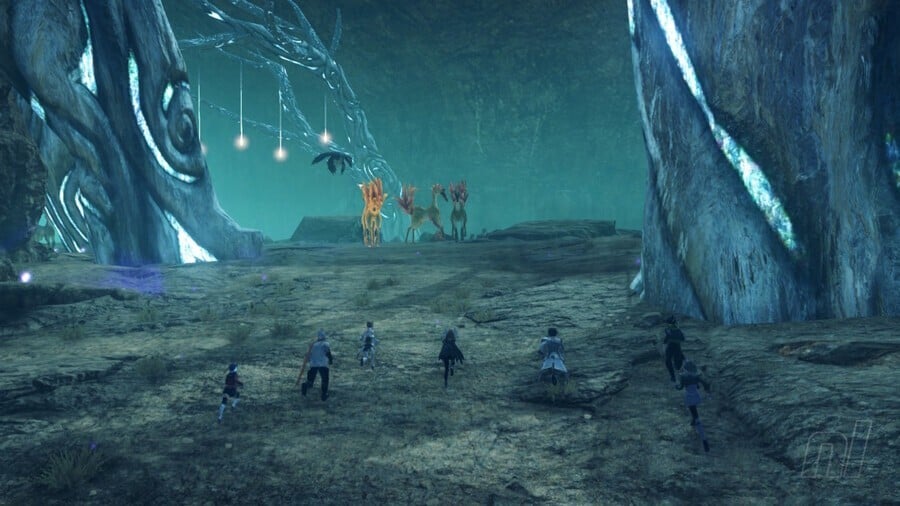 When you get quests from these chats, it feels much more natural to you than simply stumbling across a random person just now. happening It takes ten Slugger Bunnits to kill right now. Even if the side quests are suitable for people who "collect this amount of items, kill X that amount of enemies", I don't care because I feel like the characters' reactions and relationship improvement. Colonial relations are more than enough reward.
Nearly every side-quest deals with the main themes of the game, giving many of Aionios' characters a purpose, either to grieve or to allow them to form friendships.
Some of the quests I've picked up also take me back to locations and help me find landmarks I've missed or Unique Monsters I've come across. A specific quest from the Iota Colony asks you to explore a level 40 area branching off from the Eagus Wilderness. I gasped when I got there – dotted with soft, glowing trees, flora of various shades of blue and purple, and sparkling fruit in the dark, I was just stunned to see the map of the Fornis region is still much larger and just how peaceful and beautiful the area is.
I would never have known about the hidden storage that Colony Iota kept there without this quest and I might have missed the whole area. To come across it by chance would also be wonderful, but the added element is that it is hidden and A side quest with meaningful stakes and forming character relationships makes it all the better.
Hero quests could be even better at bringing this world together. These focus on a particular Hero – sometimes a Colonial Commander – and do a lot to establish your party's relationship with them (past and present), their relationship with Keves and Agnus, Their Colonies and the world at large. Some of this is actually acquired through the main story, but even the unimportant feels important.
One of the first optional Heroes you can get is Zeon. His quest involves you helping him save his Colony from the impending Agnus invasion. War is a common part of the game, but what shocked me was another person who showed up during the mission – a Consul, a member of a group of armor-clad men who seemed to hold all the chips. in Aionios. Many of these appear in the story, while others hold an iron fist in some of these quests. The fact that this group – however they seem to be superior – appears in these side quests makes the side plots just as important as the main story. Narrative rhythms in the main story permeate everything – they are everywhere and affect everything.
Other forks of Zeon's Hero Quests are a number of new Standard Quests, some of which provide insight into his leadership or those serving under him. And finally, you'll be able to do the Ascension Quest, a second Hero Quest to 'unlock' the full potential of the Hero (along with the job). Zeon's Ascension Quest is a perfect example of what I mentioned earlier – I don't care much about going back and forth or fetching quests if the article is good. And seeing how much Zeon has changed and changed throughout this mission is remarkable. It is also a perfect reminder of the tangible difference that Noah and his friends are making in Aionios; Zeon's attitude has changed in various ways as a result of the group's actions, and we can see how the Colony and his subordinates react.
Zeon is just one example; I don't want to spoil any of the other Hero Quests, but almost all of them do something meaningful that enriches the world and story of Xenoblade Chronicles 3. In fact most of them. they're not a chore so getting through is a really fun one, making these side quests absolutely essential to the story.
All these little details come together and help strengthen your emotional attachment to the characters – and I'm not just talking about the main cast.
When I started diving into quests and thinking about how they helped develop the world and characters, I immediately thought back to Xenoblade Chronicles X. In the Wii U exclusive, side quests shine and feel like real the game's stories because they helped me understand the characters, the planet Mira, and explore this vast, alien world.
I think Xenoblade Chronicles 3 takes it a step further. The quests all branch off from the main story points and help bring in the main themes of the game. They show Noah's kind nature and willingness to change everything and the world. They let the characters explore things, grow and learn naturally – both playable and non-playable. They taught us about Aionios, Colonial and different ways of life. All of this makes this amazingly large world a little more personal and a little less intimidating.
Doing all the side quests is definitely still scary, but I recommend looking for what you can (at least doing the Hero Quests!) and discovering new Aionios bags and people New in each Colony, which you will fall in love with.
How do you like Xenoblade Chronicles 3? Have you enjoyed the side quests so far? Share your thoughts in the comments!